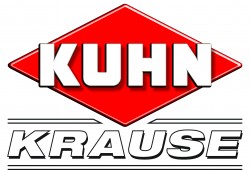 Kuhn Krause, Inc. is proud to introduce its new brand and product identity. Beginning in April, 2012, Kuhn Krause will change the paint color of Kuhn Krause-brand products to Kuhn Red.
This move is intended to strengthen and unify the Kuhn and Kuhn Krause brands through the Kuhn color and graphics. Several of these new machines will be on display at the National Farm Machinery Show in Louisville, KY, February 15-18, 2012.
This change is an example of Kuhn Krause's continued commitment to provide high-quality, innovative products and services by continuously improving our products, services, facilities and methods of doing business to better serve our dealers and customers. We invite you to learn more about us and our new unified brand strategy by visiting our website.
As a producer of high quality agricultural equipment since 1916, Kuhn Krause, Inc. is a recognized leader in the development and manufacturing of innovative tillage and grain drill equipment. KUHN Group acquired Krause Corporation and created Kuhn Krause, Inc. in May 2011.
KUHN Group is the world's leading manufacturer of agricultural implements, founded in 1828.  KUHN Group designs, manufactures and markets full ranges of hay and forage, livestock feeding and bedding, tillage, planting and seeding, manure and fertilizer spreading, landscape maintenance and crop protection equipment. KUHN Group employs in excess of 4,200 people worldwide, and  operates eight manufacturing companies located in the United States, France, Brazil, and the Netherlands. KUHN Group is represented worldwide through a large network of independent dealers served by a number of international marketing and distribution subsidiaries and independent distributors.