An integrated plan of print and electronic advertising means a better return on investment of your marketing dollars. With online content every bit as rich and powerful as the printed pages of Farm Equipment, we connect with the entire market and deliver your message to an engaged audience across the North American Ag Market.
By maintaining high standards of editorial excellence, Farm-Equipment.com delivers a dedicated audience of online visitors connected with our content and your marketing message. With Breaking Industry News, Video Blogs, Online Exclusive Content, Reader Commentary and much more, we provide more reasons for active, leading-edge dealers to come back regularly.
(click the image below to see a sample e-newsletter)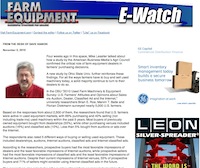 We also deliver a twice-monthly E-Watch e-mail newsletter to a large and growing audience of opt-in subscribers who look to us for up-to-date developments in the agriculture industry. With a dynamic, interactive format, we pull the reader in and create an atmosphere where they'll respond to your message.
Online advertising helps you enforce your brand message, complements your print campaign, builds traffic to your web site and blankets the market with coverage of your marketing message.
For rates and details about reaching our growing online audiences, contact Michael Ellis (mellis@lesspub.com).
Ag Equipment Intelligence is the one resource that gives you comprehensive coverage of the entire ag industry. The monthly reports included in this publication provide you with the best forecasting information and detailed insider data that you and your business need
to succeed.
Ag Equipment Intelligence not only tells you what's happening in your region, around the country and the world, but it provides insight as to what's coming and how to react. No filler, no bias, no conflict of interest. Just pure ag equipment industry news, analysis, trends and forecasts to help you stay ahead and increase your profits. 
Your subscription to Ag Equipment Intelligence now includes our brand-new monthly Dealer Trends & Business Outlook reports. Based on extensive farm equipment dealer surveys with partner Cleveland Research Company, these reports give you timely updates on how dealers see the upcoming month's sales, their major concerns, and how they are managing them. These reports are not available anywhere else — it's like getting 12 extra reports free with your subscription.
All Ag Equipment Intelligence subscriptions include a free copy of the 48-page annual Business Outlook & Trends Farm Equipment Forecast. This is a $199 value. 
To order, go to www.agequipmentintelligence.com or call 866-839-8455.