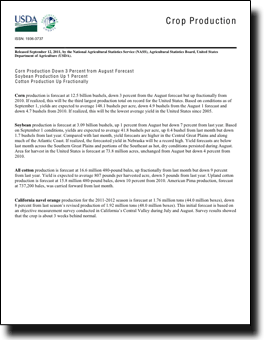 While many industry analysts view the USDA's latest crop report (September 12) as a positive for ag machinery sales, Adam Fleck, associate director of research for Morningstar, sees it as "neutral" for farm equipment manufacturers.
"Although the agency raised its price targets for corn a mid-single-digit percentage, driven largely by weaker U.S. production estimates from Augusts' update due to a continued difficult weather environment, these high prices will likely lead to some demand destruction for feed and ethanol use," says Fleck in a September 13 note.
The USDA still foresees the ending stocks/total usage at an incredibly low 5.3% (compared with a 5.4% forecast in August and an average 13.3% over the past 10 years), but the magnitude of the change this month was minor compared with prior reports," says the Morningstar analyst.
He adds, "In all, the agency's implied U.S. cash receipts from the three major crops were just 1.6% higher than August estimates, suggesting neither an incrementally more positive nor more negative near-term environment for North American tractor and combine harvester sales."
The agency's estimated corn yield per harvested acre was lowered to 148.1 bushels per acre, down from 153 bushels per acre last month. USDA raised the midpoint of its corn price forecast to $7 per bushel, from $6.70. It also raised its average soybean price forecast to $13.65 per bushel, from $13.50. The price forecast for wheat was raised to $7.85 per bushel from $7.60.