In early August, Stoll celebrated 10 years of sales activities in North America. To mark the occasion, Stoll North America invited selected dealers to join the celebration at Its North American headquarters in Fort Erie, Ontario, Canada.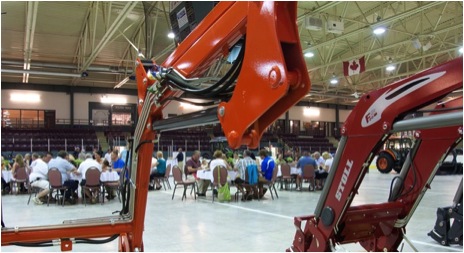 Thomas Neal, Managing Director of the North America Group, along with his management team, welcomed the group August 5-6. "It was a perfect time to join together with our dealer partners, to show off our newly completed loader line up," says Neal.  The Management team from Germany was also on hand to support the event.
The group introduced the ProfiLine, EcoLine and Compact Line. Marking the completion of the line-up.
ProfiLine
At Agritechnica in November 2007 in Hanover Germany, Stoll introduced the first FZ models to the public. These were the largest loaders in the range, designed for tractors of up to 300 hp. Stoll has been building on the line-up since.
September 2011 marks the completion of the line with the introduction of the FZ8. The FZ "ProfiLine" is suitable for tractors from 60-300 hp.
CompactLine
Also introduced by Stoll was the new FC "CompactLine" for compact tractors. The three sizes in the  FC range fits tractors from 15 to 50 hp. Behind the new launch is recognition of substantial development and future sales possibilities in this market segment. Promise is also seen in opportunities through expanding cooperation with OEM partners as well as a higher market penetration especially in the U.S., where more than 60,000 compact tractors are sold annually.
"We feel that we have the strongest line-up in the industry. Stoll has invested heavily in product development and we have increased production dramatically," says Neal, "We are in a great position to move forward to the next milestone."