2011 Dealership of the Year: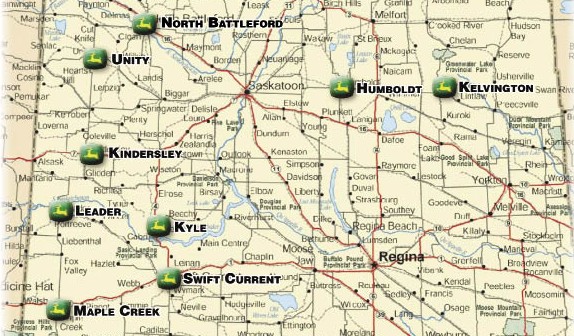 Category: Over $50 Million in Annual Revenue
Chad Elmore, Managing Editor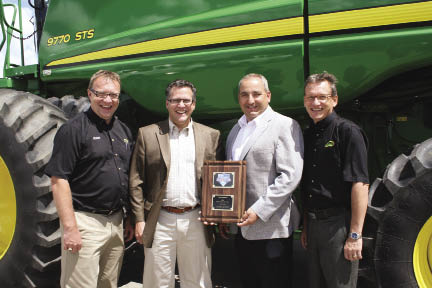 Robin Hayes, Duane Smith, Boyd Hofmann, Trevor Moe
JayDee AgTech
Founded: 1975
Major Line: John Deere
Shortlines: Brandt, Honeybee, Shelbourne, Seed Hawk, Bobcat, Brent, Unverferth, MacDon, Trailtech, CJ Trailers, Southland, Royal, Haybuster, Schulte, Degelman, Freeform, Mandako, Stihl, A&I Products
Locations: 9, all in Saskatchewan: Swift Current, Maple Creek, Kyle, Leader, Kindersley, Unity, North Battleford, Humboldt, Kelvington
Employees: 166
2010 Revenue: $198,780,293 ($166,897,616 in wholegoods, $22,118,919 in parts, $9,803,758 in service) — all dollars are Canadian
2010 Return on Assets: 24.3%
2010 Parts/Service Absorption Rate: 118.2%
Key Staff: Duane Smith, CEO/general manager; Boyd Hofmann, general sales manager; Trevor Moe, remarketing manager; Robin Hayes, corporate service manager; Marla Kerr, manager, human resources; Darryl Geissler, corporate parts manager; Art Ward, regional sales manager, Region 1; Jason Wilson, regional sales manager, Region 2; Bentley Carberry, regional sales manager, Region 3; Janet Ulsifer, corporate office manager; Jerome Nimegeers, corporate IT manager (previous partner)
Owners: Duane Smith, Trevor Moe, Boyd Hofmann, Robin Hayes
In the middle of planting season, a farmer in Saskatchewan experienced a catastrophic failure on his four-wheel-drive tractor. He called his dealer and, racing against the clock, learned that the dealership's loaners were already being used. The dealership's regional sales manager had to find another way to fix the situation quickly. With no time to meet with his bosses, he purchased a used tractor for $250,000 and shipped it to the customer's farm so he wouldn't lose a day.
"The customer was happy with the solution, and I didn't have to lose any sleep worrying about making that decision," says Art Ward, the regional sales manager who made the call. "It was in the best interest of the company, and we kept a valuable customer."
This level of trust is something often lost as companies grow, especially when the partners are directly involved in the day-to-day management of the business, as is the case with JayDee AgTech. With nine dealerships spread throughout the vast prairies of Saskatchewan, part of its secret to success has been the careful selection of its managers, striving to put people in place that understand the organization's core values. The dealer principals benefit from this by building a team they can trust to make the right decision. For JayDee AgTech, Farm Equipment's 2011 Dealer of the Year in the over $50 million category, it's a strategy that's working. Last year, the company posted $198,780,293 in sales.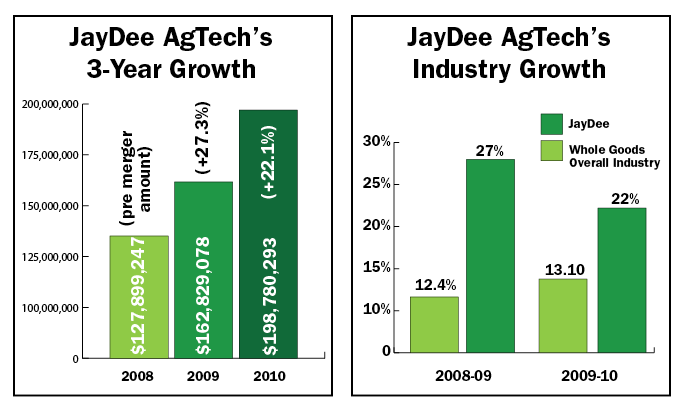 "I'm a firm believer in vision and strong leadership," says Marla Kerr, human resources manager, "and then you let your team go and they'll get you there. That's what I see happening here. These partners have a strong vision of what they're looking for in the future and they share it openly. And then everybody does their part to get us there. It's not just their vision, it's everybody's vision — that's key."
John Deere's Integrated Distance Training (IDT) features the benefits of instructor lead training — such as one-on-one interaction and live demonstrations — without traveling to a distant training facility. JayDee AgTech recently set up a dedicated IDT classroom at its Swift Current headquarters as well as in Humboldt. It will have a third in North Battleford. Tools required in the classroom include a large plasma screen in front so students can see the instructors, as well as speakers and microphones. Each student has a laptop and a monitor. One of the most important requirements — high Internet bandwidth — has been the largest deterrent for rural dealerships that want to offer IDT training. To date, there are 14 IDT centers in Canada (34 total in North America), with all but one of them located in the western part of the country. Between the equipment required and Deere's fees, JayDee AgTech's investment in training has been more than $300,000 per year.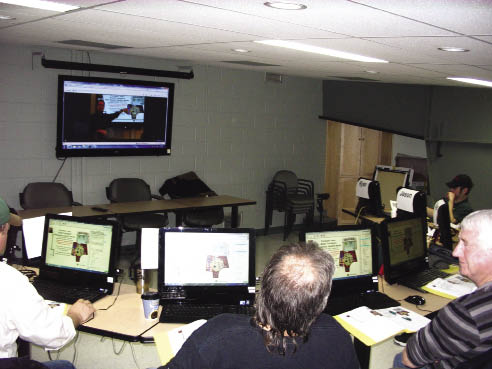 Founded in 1975, JayDee expanded over the past 5 years through a series of mergers. Today's firm incorporates the original stores in three different zones that are lead by regional sales managers (RSMs). Region 1, in the southwestern corner of Saskatchewan, is comprised of dealerships in Kindersley, Leader, Kyle, Maple Creek and the headquarters store in Swift Current. Region 2 has the towns of Unity and North Battleford. Region 3, in the eastern part of the province, has the towns of Humboldt and Kelvington.
"Much of the success comes from the fact that the firm's partners have gone out and found the right people, and then they've empowered us," says Ward. "We're not handcuffed when it comes to making decisions. In a lot of cases, whether there's a financial impact or other ramifications, they've allowed us to move quickly as long as we have the best interest of the customer and the company in mind."
"We're able to function — whether it's sales, parts or service — when the corporate leadership isn't present," says Ward. "We all have a good relationship, but in the absence of management, while they're out doing strategic things, we have to make sure that the day-to-day work gets done. They allow us to do that."
With that, Duane Smith, CEO and general manager of JayDee AgTech, chimes in, "I'll help Art with this…What he's trying to say is my best measure of good decisions is how much time I get to spend on my fishing boat."
Smith's comment serves as an example of the sense of humor and camaraderie that existed in the training room at the Swift Current location, where eight JayDee AgTech managers talked with Farm Equipment about some of the practices that lead to the dealership's success.
"The empowerment we have given our regional sales managers," says Smith, "is valuable during the busy seasons because our customers can get split-second answers instead of having to wait for the message to be relayed to upper management. Instead of losing hours or a day, our customers have a solution within half an hour. That's helped build customer loyalty. They know we're going to support them after the sale."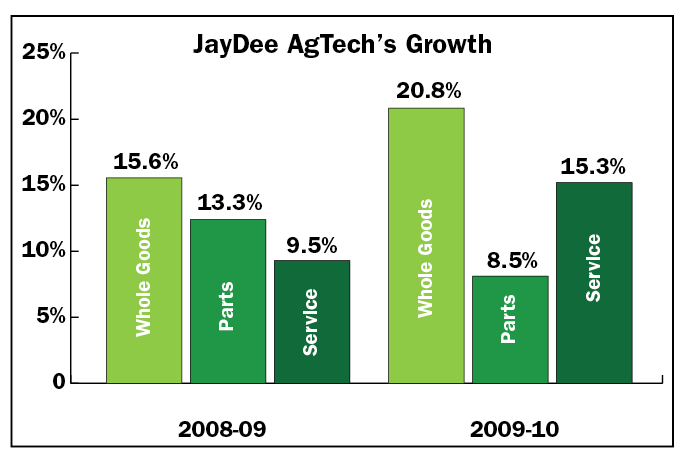 The Emergency Equipment Pool
Another source of JayDee's success has been its aggressive stance in turning used inventory quickly. But the RSMs make an exception when it comes to ensuring that their customers don't miss a day due to an equipment failure, says Jason Wilson, RSM of Region 2. "Every year, we make a point of setting machinery aside, including a four-wheel drive, a self-propelled sprayer, an air seeder and number of combines to support the customers — regardless of whether there's a market for that equipment. They're set aside, and they're dedicated as loaners."
In one example, the loaner program showed its value during harvest time, when a combine owned by a customer with 30,000 acres underwent a "thermal experience," one manufacturer's preferred term for a machine fire. The farmer's original combine was still smoldering when a loaner from JayDee AgTech was delivered to his field.
JayDee AgTech built a new shop at its Swift Current location 6 years ago. The 70 x 140 building features an overhead crane and four service bays, with enough room to prep 12 combines a day.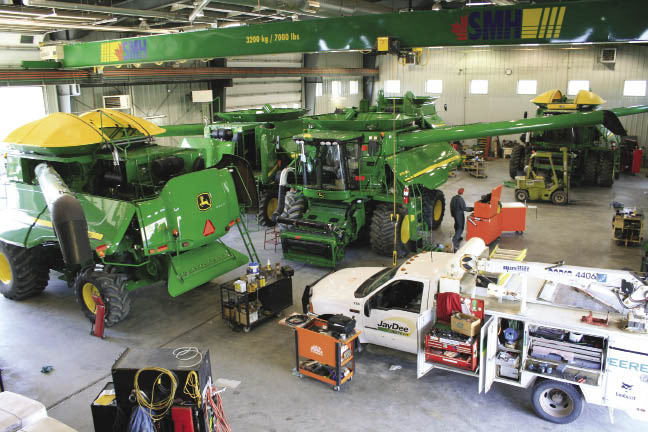 The farmer was once a user of multiple farm equipment brands from several different dealers, what JayDee AgTech calls a "rainbow customer." The service that farmer received has turned his color of choice to green.
The management team has a weekly meeting during which time they determine what types of emergency equipment each region needs on hand. "We monitor each region by what stage in the crop cycle they're at," says Trevor Moe, remarketing manager. "We keep X-number of units per region, and as farmers get closer to completing the work, we will share some with another region or sell it to a farmer. We run through that review process every week."
Constant communication ensures that each store knows what's available to be loaned, allowing the RSMs to make a decision within moments of taking a call. "We've moved a lot of equipment around very quickly to support our farmers," says Smith.
This level of support isn't limited to the wholegoods side of the dealership. "It's much more than that," says Robin Hayes, corporate service manager. "It's the service department supporting them and having the right parts in stock that makes it all work."
JayDee AgTech sells walk-behind snow blowers through the parts department. "In Humboldt last year, we simply could not keep a customer's snow blower running," says Darryl Geissler, corporate parts manager. "The parts manager at the Humboldt store finally said 'if this was me, I'd want my money back.' The customer had owned the snow blower for three months, and nothing we could do would keep it alive. We gave her all her money back. The parts manager made the call on that one, and it was right."
There's a bigger picture here that JayDee AgTech's leadership and its employees keep in focus at all times: happy customers keep coming back, and they will pay more when they know they can depend on receiving the best service possible. Playing hardball with a grower who's angry about a $1,500 snow blower could cost the dealership a combine sale a few months later.
And then there's just good, old-fashioned product support. "We've got a good team in our service department, from the service managers to the technicians. They go out there and work hard for us and the customers," says Smith. "They're on call during the busy times and some put in some very long overtime hours. They go above and beyond, and when one of our customers thanks them after they've been out to their farm on a Sunday evening, they feel good about it."
The customers treat JayDee AgTech's staff very well as a result. "Every Fall, some customers will hand us checks and say, 'please have a party with the staff, buy some beer and pizza because I appreciate the service they've given me.' I think that's the best measure of customer service you can possibly have," says Smith.
What the Judges Say About JayDee AgTech: This is one of the most impressive dealerships that we have judged in several years ... They had the highest dollars generated per employee at $1,197,000 per employee ... They had an excellent three-year growth period, which was tied for first place ... Their market share was decent. They had an outstanding absorption rate at 118%. Their ROA was the best in the large dealership category ... One of the interesting things that this dealership does is customer focus groups. What better way to find out what your customers actually want.  
On the Same Page
Before Farm Equipment traveled to meet with JayDee AgTech, Smith asked the dealership's management staff for their thoughts on the company's core values and other measures that lead to its success. He was happy to see their responses were consistent. The answers, he says, boil down to honesty, integrity and fairness.
"I know those sound like 'motherhood and apple pie' statements, but they are important to the way we run this business," he says. "My hope is that as partners we demonstrate those values to the managers and the staff, so that when they're doing individual transactions with customers they keep those in mind."
While dealer support is most easily appreciated when there is a problem in the field, it can be shown in other ways, as well. Another service feature is the extra care given to a customer during the field start-up of a new machine. That is a core principle for JayDee AgTech, and goes beyond simply selling farm equipment. By spending the extra time in the field, they can make sure the machine is suited to the customer's crop conditions, that they understand how to operate it, and how to maximize their ROI.
Doug Friend has worked as a consultant with John Deere dealerships for 20 years. His firm, Friend Management Inc., works with John Deere dealers throughout North America, including JayDee AgTech.
"Over the years we have developed more than 75 benchmarks for dealerships," says Friend. "The bottom line with JayDee AgTech is that they are driven by performance. Using our benchmarks as a goal, they succeed at reaching them. They fit in many categories as a 'model dealer' level, and are in the top 10 for performance.
"I know the numbers for Canadian dealers from one coast to the other — I see a lot of numbers. JayDee AgTech's performance levels are up there very high. The company has a culture of getting everyone to work together, and what they are doing is working."
Doing Great, Could Be Better
The showroom at the headquarters location in Swift Current, Sask. carries maintenance supplies, branded merchandise, tow ropes and more. Although created from mergers that involved nine locations, the company has worked hard to ensure each store doesn't lose touch with the communities they are located in.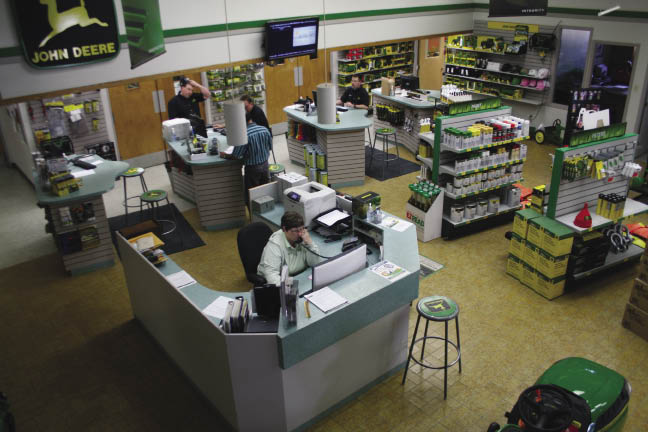 "As we discussed the Dealership of the Year Award, it was clear the management team feels we can still do much better," says Smith. "Our numbers are good, but we've got more room to improve financially. In the human resources department, there is more we can do for our staff. Building-wise, we're pretty conservative."
"They are not accepting the status quo and leaving it at that," says Kerr, the newest member of the management team. "That's one of the things that attracted me to this company — its progressiveness. The world is always changing and it's no different in this industry. We need to be able to adapt to the latest conditions."
Working as a partnership is a key principle, says Smith. "It's not a partnership from a legal business structure, it's a partnership with manufacturers we deal with, our customers and our staff. In a partnership you're only going to get along if it works for all parties involved."
That partnership is a key aspect to the relationship with the customer, says Patrick Chinkiwsky, who calls on JayDee AgTech as territory customer support manager for John Deere in Lethbridge, Alberta. "We performed a business optimization process for JayDee, which can help dealers prioritize their tasks after becoming larger through mergers and acquisitions. Through that process we found that customers really like that the JayDee stores haven't lost their small-town feel. They're able to maintain the close relationship customers expect from a Ma and Pa dealer."
While generally conservative with the money spent on each dealership's buildings, JayDee AgTech is reviewing architectural plans for a new facility at its northernmost location. The current facility in North Battleford, a city of 14,000, is leased and too small for their needs. The dealership has grown the past couple of years, and there are communities and farmers farther north that it wants to do more business with. The team hasn't seen the final budget for the project, but is hoping for $5 million.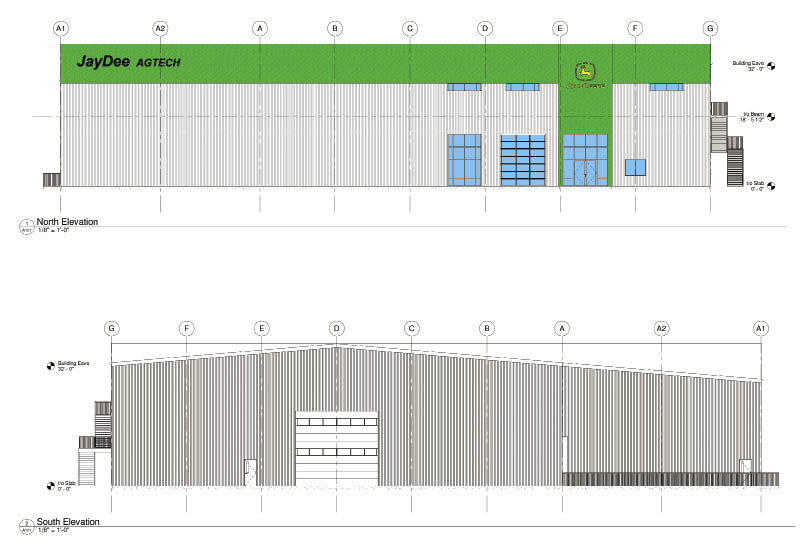 Cash is King
People skills may create a successful business, but sales make it all possible. When the management team focuses on the metrics that makes the biggest difference in a successful business, cash is king.
"All of our managers have a copy of a matrix scorecard. Each month they can plug in their current numbers, and the matrix will show how it's affecting their bonus," says Hayes. "They're managing zero SLA (service labor allowance), gross margin growth, net profit and their work in progress (WIP) as a measurement in the service side."
They keep a close eye on the sales and WIP on the service side. "We're constantly trying to minimize non-revenue labor, so our service managers are keeping our technicians busy with revenue-generating jobs," says Hayes.
Parts inventory is closely watched, as well. "We watch 'open documents' and make sure parts are invoiced in a timely manner because that brings money back to the dealership. We are aggressive about moving our dead stock out of the parts department," says Geissler. "If it's just going to sit there, we write it off and get rid of it.
"Dead stock is big area that we pay attention to," he says. He considers anything sitting on the shelf for more than 12 months to be "dead stock."
When appropriate, they will move parts between JayDee's stores. "Even though it's going to cost us some freight, we'll move stuff around and try to avoid those write-offs because those go right to your bottom line. None of the parts managers like anything touching their bottom line other than profit," says Geissler.
Non-revenue generating labor and WIP is watched, as well. "For WIP, we're working toward 125% or less of an average month's labor sales," says Hayes. "The WIP encompasses everything that's on the work order, too, not just labor but parts and miscellaneous, whether that be trucking charges, outside labor materials, whatever's on that invoice."
Non-revenue labor is kept below 25% now, says Hayes. "In that 25% there's about 15% right off the top for holidays and sick time. So we can't allow more than 10% shrinkage. It's one of those things that we're always striving to improve. Like with our zero-turn inventory, even though we've got really good numbers, we're always striving to improve on them."
Closer Look at Shortlines
As a John Deere dealer, JayDee AgTech carries shortline equipment where it doesn't compete with its mainline. These are constantly under review as part of their product mix.
"I think we've got a pretty good mixture now and we can supply most of the farmers' needs, but we probably are interested in weeding out a few yet," says Boyd Hofmann, general sales manager. "I think it's just as important for us to test a manufacturer as it is for them to test us. We provide our customers a high level of service in our parts, sales and service departments. The manufacturers we deal with need to live up to these standards, as well.
"If we sell a shortline company's products and they can't supply us parts that we can deliver to our customers, or if they don't have anybody in their office to support our service guys, no terms on their equipment, and no floor planning, why are we selling their product? We want to maintain our high level of service. If we can't keep that shortline at the same level, why would we risk upsetting a loyal green customer with 30,000 acres over a piece of equipment that the manufacturer won't help us support?"
Farmers know they're not buying a John Deere product, but because they are buying the machine from a John Deere dealer, they expect a 'John Deere experience' no matter what it is. If parts, service and sales can't deliver, it's JayDee AgTech that gets the black eye. "There's nothing worse than having your large combine, four-wheel drive and sprayer customer have a bad experience with a Brand X machine and have him visit a different dealer out of spite," says Ward.
Smith likes the shortlines and sees them as a traffic generator, bringing some customers of other colors to the dealership.
JayDee AgTech Timeline
1975: Jay Dee Equipment is founded by Duane Smith's father and uncle. They have two dealerships, one in Swift Current and Maple Creek (added in 1990), Sask. "Jay Dee" represents the first letters of its main line, John Deere.
March 1996: Duane Smith and Robin Hayes acquire the company, joining forces with Trevor Moe, who has a dealership in Kyle, Sask.
2002: Leader and Kindersley, Sask., dealerships acquired
Feb. 1, 2009: Jay Dee Equipment merges with Boyd Hofmann's Green Acres Equipment Ltd., Greenstar Ag and Turf Ltd., and Humboldt Farm Equipment Ltd. (with dealerships in Unity, North Battleford, Humboldt and Kelvington), creating one of the largest privately held John Deere dealer organizations in Canada.
Feb. 12, 2009: JayDee AgTech is announced as the name of the new company, the result of a contest that attracted 260 suggestions from customers.
Focus on Selling, Profits Will Follow
Smith learned a lesson about used equipment in 1998 (prior to the merger), when a bubble developed in Jay Dee Equipment's used equipment inventory and they had to hold an auction at the Maple Creek, Sask., location. Smith watched from the stands as combines sold for well under what they had paid in trade.
"That was a big turning point for us," says Smith. "For us to get money out of this business, we have to turn our used quickly. While we have a strong equity position, we are also believers in paying ourselves, too. We don't want to make the mistake of investing everything in the business and not have any investments outside of the business."
That auction experience changed the way the dealership approaches the business. "We had been focused on selling new machines, and we would sell used equipment if somebody stopped in to buy. If you focus, you can achieve your goals," says Moe, "so we now focus on used equipment on a daily basis." Moe was put in charge of the used equipment inventory from that day forward.
JayDee AgTech is aggressive with anything new that sits in inventory longer than 60 days, particularly with lawn and garden products.
The benchmark JayDee AgTech uses for its used equipment inventory it to divide its used inventory value by the value of its new and used equipment sales. That benchmark used to sit in the 12-15% range. With considerable focus, the range is now 10-12.5% and it's traditionally below that. Last year, the ratio was at 5.9%, compared to 10% the year before, the first year of the merger.
"That's been a big factor for the growth we've been able to experience because we've been good at generating turns and generating cash," says Hofmann. "We see too many dealers rolling new combines to get 55-60% market share, but then they get loaded up on used equipment. When they get loaded up on the equipment, it affects the pricing of the used equipment in the market place, not just for the dealer."
"At the end of the day it all boils down to cash. It's how quickly can we get that turned around," says Smith. "We've got money invested in parts, in employee time in the shop and of course equipment on the lots — we've got to get that cash back in the bank account. Once we turn it back into cash and get it into the bank, we can spend it on something else, keeping the cycle going.
Combines and a wide variety of headers covered most of JayDee AgTech's equipment lot when Farm Equipment visited the dealership in June.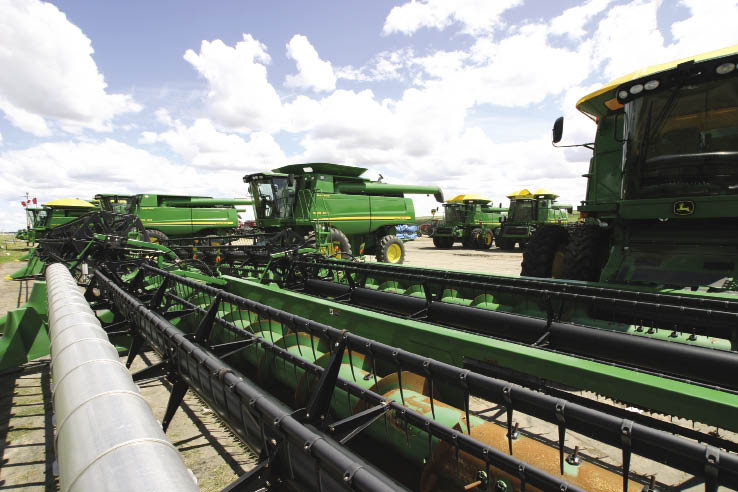 As much as 90% of the dealership's used equipment is sold to farmers within its trade area. Slow-moving or "off-color trades" are auctioned off. "We dispose of them through auctions vs. trying to sell it ourselves," says Moe, "so we aren't required to support it out in the field. We don't want to get stuck trying to fix something we don't have the expertise in.
"Turning used equipment helps the bottom line, as does watching the sales-to-expense ratios. In 1998 and in the early 2000s, we had some pretty lean years because of crop conditions, and that really made us focus on our expense to sales ratios, where we watch that bottom line," says Hofmann.
"Our approach with used equipment ratios is more aggressive than the industry norm," says Moe. "For most dealers, if they can get to 10% they're ecstatic about that. However, 10% is hardly acceptable for us. We'd like it to be around 8%.
"The year before we finished just over 10%," says Moe. " It was our loaners that kicked us because we had to keep some back for customer support during the extended harvest season."
These days, JayDee AgTech says its expense-to-sales ratio is as low as 7%. The norm for dealers in the area is 12%. That's down from as high as 13% in the early 2000s, when management first started focusing on it. Lowering that percentage was a 3-year process.
"Getting larger due to the merger definitely helps contribute to those better ratios," says Smith. "But there is a focus on it, as well. It's a scorecard, like individual expense items and what you can do to manage those. Thanks to the merger, we did save six figures on insurance from what each of the individual stores were paying."
There's a greater focus on selling, too, whether that's service, parts, used combine headers or new skid steers. "If we focus on keeping our people busy, our sales will go up, which in turn helps our numbers," says Hofmann. "As long as we're sales focused."
In the end, success can come as much from good management and hiring the right people as it does in the region itself. "We're in a good position as far as capital and debt are concerned, but we can't always pat ourselves on the back," says Smith. "We are fortunate to be in the market we're in. The ag business is big in Western Canada and leads to large sales volumes. But still I think we're in a good position even if there is a downturn in the market. Our cost structure is one that we're not going to go upside down if farming in this area takes a hit."
New Software Brings Cultural Change
JayDee AgTech sells Frontier, Saskatchewan.-built Honey Bee Grain Belt draper headers as well as Shelbourne stripper headers, made in England.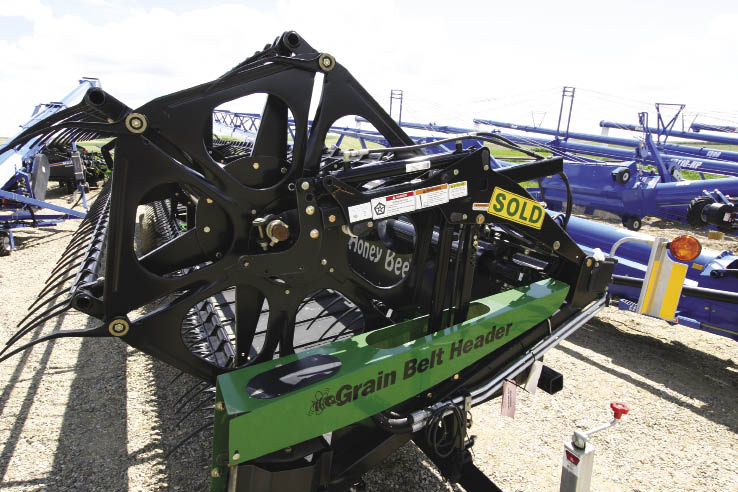 What the managers feel will be the largest cultural change since the merger will take place early next year when JayDee AgTech switches over to a new business management system. It goes live March 2012, the timing strategically placed after harvest and before spring planting.
"With the size we're at and with the multi-stores, we need to better communicate throughout departments and with customers," says Smith. "We made the decision to upgrade our network, the business system, the phone system, the quoting system — to hopefully tie everything together. The goal is to know our customers better and to serve them better."
Smith brought the entire management team in, evaluated the options, and then had the staff vote. The vote was to sign a new contract with PFW.
"We have multiple databases now," says Hayes. "After we switch over, we will have one database and will be able to tie different alerts into the system. If parts sees something in the database that sales should know, it can be communicated. At the same time, it will be integrated with the phone system so that when a customer calls, their phone number will pop up their entire profile on the screen. Every department will have access to that information if the call gets transferred. The customer will no longer think we're idiots when the same question gets asked by different departments."
It's a significant change for the dealerships, and it represents an investment in the high six figures. Change can be scary for some, and implementing it will be a "people thing," says Kerr. "It's an issue of change and it doesn't matter that it's technology or new uniforms. Change is a people issue and we'll manage that."
But it's also good that everybody's changing at the same time, says Smith. Once the change occurs, it will fully become JayDee AgTech. "It will no longer be, 'this is the way it was in our region before the merger'… It's our way now — the JayDee AgTech way. It will bring us together that much more."