When dealerships invest in their service departments, the money is on 'going big.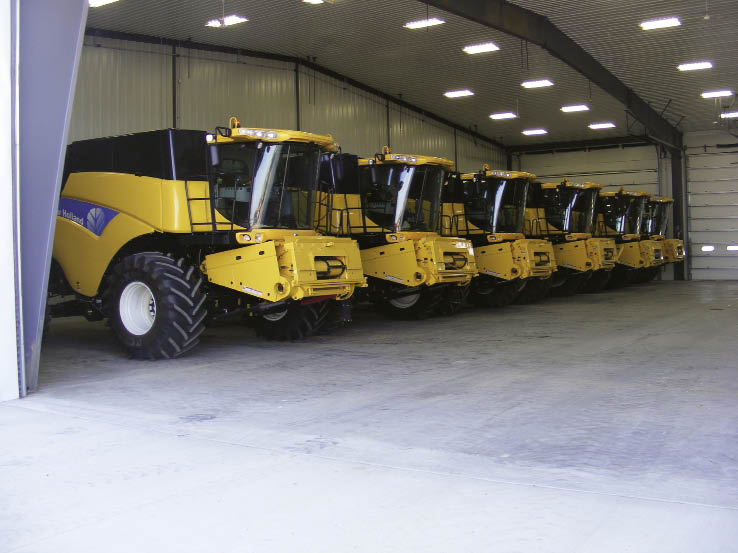 Galen Zerbe says they lined these six brand-new combines along the wall shortly after the new service addition was completed, just to see how many would fit. He was pleased that not only did they fit, Zerbe Bros. technicians could still get in there and work on them, too.
Chad Elmore, Managing Editor
When Zerbe Brothers put up a new service building in 1977, the 50 x 75 structure was a nice size for the time. Since then, the machinery sold by the dealership in Glasgow, Mont., has grown significantly in both size and volume.
According to owner Galen Zerbe, most customers decide to buy new equipment after harvest and want to take delivery before spring fieldwork begins. For this New Holland dealer, that can mean 15 new and 20 used air drills pass through the shop for a final inspection before shipping to the customer. That's in addition to combines, 4-wheel drive tractors and sprayers equipped with 134-foot wheel booms.
New equipment inspection was competing with the service department for floor space, and work had to be done outside to stay on schedule. Winters can be challenging in northeastern Montana. The season gets under way around November 1, says Zerbe, and sticks around well into March. Once the temperature starts dropping below zero and the wind picks up, it's no longer fun or productive to work outside.
This past winter was one of the coldest and snowiest on record, but Zerbe's 10 technicians could finally leave their Arctic gear in the office. In 2009-10 the dealership built a new shop to provide the floor space and height necessary to service the bigger equipment it's selling. The addition covers 100 x 120 feet with a 30-foot wide and 20-foot high door on each end. It shares a common tool room with the original shop, expanding Zerbe's total dealership area to nearly 35,000 square feet.
"If we didn't put this addition up," says Zerbe, "I would have needed to tell the salespeople to not sell so much equipment this year. We simply would not have been able to get everything delivered in time."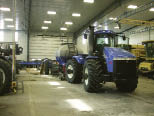 The 100 x 120 foot addition at Zerbe Bros. permits its technicians to prep 70-foot air seeders while hooked up to 4-wheel drive tractors, greatly improving efficiency during Montana's bitter winters.
Timing is Right. The "2011 Dealer Business Outlook & Trends" report compiled by Ag Equipment Intelligence (a sister publication to Farm Equipment) reported that 48.7% of farm equipment dealers plan to invest in their shop/service areas in 2011, up considerably from 2010.
When Farm Equipment asked dealers who have recently invested in their shop how that money was spent, "going bigger" was the common thread. For dealerships building new structures, installing overhead cranes is also popular.
Zerbe says he put a lot of thought into what the new service building needed to be. He toured several shops, which showed him what he didn't want. "Then I started doing the measuring, figuring out how we would get the big stuff in, how big the doors needed to be... I wanted it done right."
Most importantly, the techs were also involved at the planning stage. They wanted air and electricity reels throughout the shop and a wash bay with a separate door. Two overhead cranes and exhaust fans were also on the wish list, and all were provided.
"The building cost more than we planned, but I wanted it done right," Zerbe says. "I always figure if we're going to Chicago, there's no reason to get off the train in Minneapolis. We need to go all the way."
Were it not for the expanded service area, Zerbe says that in addition to telling his sales team to stop selling so much farm machinery, he could not hire more technicians, help they desperately needed.
"There are just so many billable hours in a day and so many days in a week," says Zerbe. "You can push people only so hard before it affects the quality of their work. In a service shop, a good technician can sell $100,000 worth of parts. Now that they're no longer working outside, they can be more efficient at turning equipment around."
Zerbe Bros. has already added a technician, and is looking for a few more who might enjoy small-town life in the Big Sky State.
As with any capital investment, utilization helps improve ROI. Zerbe says an added benefit of the roomier service area is that the technicians can work out of their service trucks. The dealership has a fleet of six trucks, each equipped with air compressors, generators, welders and 3,000 pound cranes. Every truck is stocked with common parts and supplies such as sealant and bolts.
"Each tech uses them as walk-around tool boxes" says Zerbe. "In the old days, they would need to carry their tools inside the shop and load it back up when they went out in the field. Now the trucks stay inside and are stocked all the time. Each of the trucks will put on 20,000 miles in the summer, and rarely move in the winter. But now they're used year-round."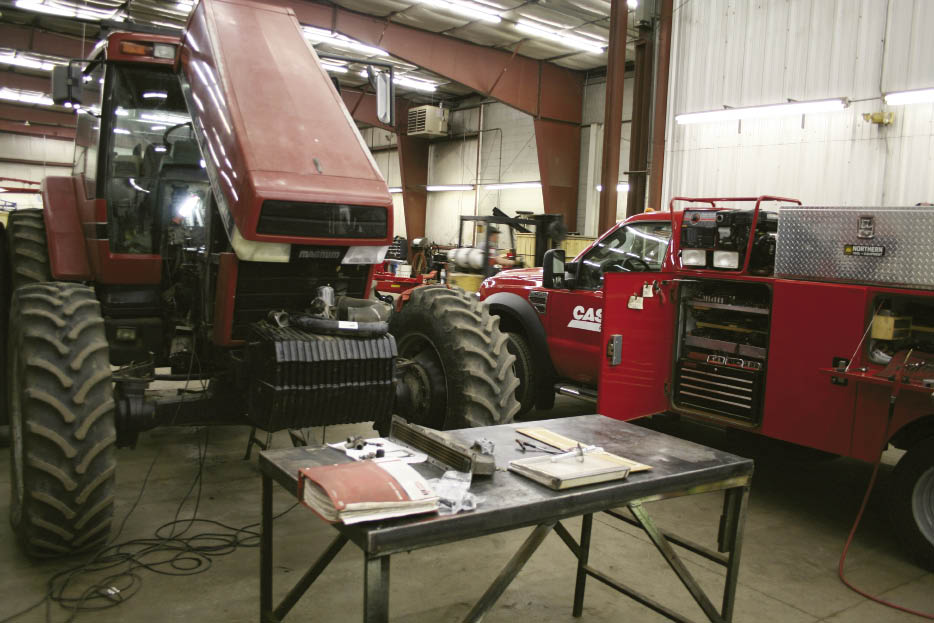 There's not much field service work to be done during March in northern Illinois. If the shop is designed to provide room for their service trucks, such as this one at Johnson Tractor in Rochelle, technicians can use their trucks like rolling toolboxes.
Moving Out and Up. Green Tech Ag Turf Inc., Winchester, Ontario, decided it was time to move out and up when the lease on its original facility expired. "The old shop was not able to productively manage today's larger equipment - it just didn't fit," says Ron Barr, "or if it did, there wasn't enough room for much else. We wanted a shop that was sized right and would allow us to grow our service business."
It makes sense, then, that the biggest difference between Green Tech's old and new shop is its size. "Our facility is almost 50% larger than what we had before," he says. "The doors are much bigger (two doors at 24 x 16 feet and one at 24 x 18 feet), making it easier to get equipment inside. We added an overhead crane to improve productivity and safety and installed an in-floor heating system, which has made the facility more energy efficient and improves the technician's working conditions. The new shop is bright and clean and presents a significantly improved image to the customer."
Green Tech's new shop has been well received in the community and is already attracting new business, says Barr. "At the grand opening alone we booked six combine winter service jobs, and business has continued to increase. Within three months of moving into the new shop, we had to hire an additional technician to keep up with the workload."
It's good to see business increasing, Barr notes, because the dealership is competing with several successful independent shops. "We're seeing some of those customers come back to us for their service needs."
An overhead crane and a flat floor helps make repairing the big tractors sold by Matejcek Implement safe and efficient. Shel Homola says the technicians appreciate the open working conditions as well as the cleaner environment.
Bigger and Better. Matejcek Implement's new shop in Faribault, Minn., is 100 x 150 feet with 35 x 18-foot overhead doors on the north and south ends of the building. "Today's equipment is larger all the way around, which made it very difficult and time consuming to get equipment into the older shop," says Shel Homola. "We set up the new shop with a center aisle, and the equipment goes into bays along each side. This saves us time by not blocking other machinery inside or outside of the shop. With the bigger doors we can get larger equipment into the shop, and leave items such as grain tank extensions open on combines."
Extra care was given to making the floor perfectly flat than what they had before, which improves safety when tractors are split drivetrain work.
But considering all of the improvements in the shop area, Homola says they are most proud of two 6-ton overhead cranes that travel along the ceiling. The cranes were incorporated into the structure so there are no beams in the way of work on the floor.
Going Whole-Hog. Jeff Suchomski, Suchomski Equipment Inc., Pinckneyville, Ill., says, "We went whole-hog this past year - we built a new shop. It might be small for some dealers, but it's a great improvement to our operation."
Suchomski put up a 64 x 72 foot building with 20-foot high walls and bi-fold doors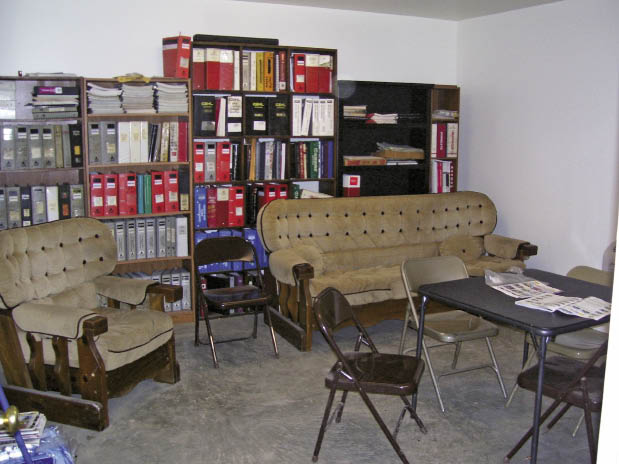 Jeff Suchomski says modernizing the service department at Suchomski Equipment has been a "great step up for a small dealer that won't go away." The dealership's service library is located in the new building's breakroom.
measuring 30 x 18 and 24 x 16 feet each. Wasting nothing, he left the original shop standing and divided it. An additional parts room went on the second level, and the lower level was turned into a receiving area. A show room to display the AGCO equipment carried by the dealership will also be included when the project is completed in the spring.
"We actually outgrew our facility 10 years ago and we just haven't had the confidence to build new until now," he says. "Our hope is that having a show room and cleaning up the customer counter will help attract the urbanites that have been driving by our shop to visit the competition down the road."
Selecting contractors to do the job was easy for Suchomski: "We're using people who do business with us. Everyone who worked on my building buys from us. The primary contractor has purchased equipment from us for years, while another carpenter farms and raises livestock. One electrician farms and is a good customer, while another one bought a lawn mower from us. We try to spread the wealth around."
In-floor heat in Birkey's new service shop in Hoopeston, Ill., makes for a comfortable work area. Craig Greenwood says the used-oil boiler they installed has needed more maintenance than they originally expected, but it was still worth it when it comes to the fuel savings.
Cramped Quarters. When Craig Greenwood, service manager for Birkey's Farm Store in Hoopeston, Ill., wanted to hire two additional technicians, it became apparent that the shop was already so cramped for space it was hurting productivity.
With construction businesses still reeling from the recession, Greenwood's timing couldn't have been better. "As we looked into the project we found contractors who were eager to have the work, so we moved forward."
The new shop in Hoopeston was built in the spring of 2010, and is 90 x 110 feet. The steel structure has minimal beam exposure in the ceiling to allow full use of the work area. It has a 24 x 18-foot tall door on one end.
"This is large enough to get anything that will go down the road inside. Once inside, we can unfold implements or attach headers to combines." Greenwood says that while customers are often impressed by a big new building, "I think cleanliness and technician ability are far more important to the business than customer perception."
In throughput and revenue, the results are proving that the technicians are more productive in the new shop. For Birkey's Farm Store, modernizing the service department in Hoopeston is a "long-term investment, and we have committed to be at this location long term. I can't see how it could not produce a good return on investment."
Better Visibility. Seeking better visibility for Lawrence Ag Equipment's line of Case IH tractors, David Hanger says the dealership's Dayton, Va., location is also using the opportunity to go big. "We're in the process of moving our dealership to a new location closer to interstate travel," he says. "The shop we are in was built with service in mind and is very functional, but we've just outgrown it."
The new facility will cover 30,000 square feet and include a built-in overhead crane.
Chabot Implements' 10,000 square feet service addition in Steinbach, Manitoba, is air-conditioned to help keep technicians focused during the busy harvest season.
Serious About Location. Chabot Implements recently added 10,000-square feet to its location in Steinbach, Manitoba. In addition to having a wash station big enough to back in a semi with a wide load so it can warm up overnight, the new building is air-conditioned.
"We thought it was worth the investment to keep our technicians fresh in the harvest season and during the long hours that go with it," says Bernie Chabot.
The investment was made because the business is growing fast, and "we needed to show we were serious about being a long-term dealer in this area. The results are great - the shop is busy, the techs are excited about it, the added space has increased the shop labor, and it's paying its way." FE