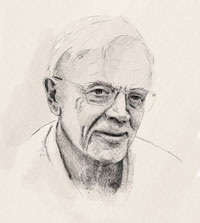 Leon Walterman
Case IH has named Titan Machinery, Fargo, N.D., as the operating agent of its bankrupt dealership, Walterman Implement in Dike, Iowa. Walterman, one of eastern Iowa's larger farm equipment dealers was shut down in late October. Court documents show that Case IH and CNH Capital forced the dealership into Chapter 7 bankruptcy, which claim misappropriation of funds and unpaid debt totaling $22 million.
Case IH and CNH Capital say they terminated their relationship with Walterman Implement because they are owed nearly $22 million. CNH auditors are combing Walterman's books looking for the money and documents they say Walterman Implement owes. They are also trying to determine if any money was misappropriated. A court-appointed trustee has been assigned to continue Walterman operations during the investigation.
Larry Adams, director of Regional Sales for Case IH, together with David Meyer and Peter Christenson of Titan Machinery, announced that Titan would operate the Walterman facility during bankruptcy proceedings.
According to Adams, "CNH acknowledges the difficult times that Walterman Implement has created for the dealership's customers and employees. However, in order to take care of those customers and employees, we have received permission of the bankruptcy court to operate the dealership under supervision of the court-appointed trustee.
"We are pleased to announce Titan Machinery Inc., as our agent in operating the dealership. The dealership will provide a full range of offerings, including equipment purchasing, financing, parts and repair services.
"Many of the former dealership employees displaced by that dealer's bankruptcy have been contacted for a review of their individual situations. The new management's intent is to retain qualified employees who complement the operation.
"We are pleased to be working with Titan Machinery to provide solutions for our customers. You should know that Titan Machinery, one of Case IH's largest Midwest dealerships, offers a full line of new and used farm equipment. With 22 locations in the
Midwest, including one in nearby Waverly, Iowa, Titan Machinery was the largest Case IH volume equipment dealer in 2004."
Meyer explains that Titan has agreed to operate the dealership in Dike throughout the bankruptcy proceedings. Pending the ruling of the bankruptcy court, Titan plans to acquire the dealership at an appropriate time, though Case IH would not confirm if the operating agreement with Titan would become permanent.
CNH Capital assumes all losses or gains of the business while in bankruptcy and will pay $25,000 a month to the bankruptcy estate.
Leon Walterman owns Walterman Implement. CNH Capital, the financial arm for Case IH, forced the business into Chapter 7 claiming misappropriation of funds and unpaid debt totaling $22 million. Walterman has denied any wrongdoing.
CNH Capital claims money is missing from the combine-roll program. Under the arrangement, a farmer buying a new combine turns the machine in at the end of the year for another one the following year. A second producer gets the 1-year-old combine, exchanging it later for another 1-year-old machine. The process continues from farmer to farm, each getting similarly aged combines annually.
According to filings in the bankruptcy case, employees of Walterman Implement sought contracts for the 2006 harvest and collected deposits. The money is supposed to be held in escrow by CNH Capital. But those deposits, which range from $15,000 to $22,000, were never deposited with CNH Capital or any other financial institution.
"The dealership has been spending the money collected from farmers for unknown purposes. The bank accounts, to the best knowledge, information and belief of the undersigned, contain little funds, if any," wrote James Longe, a special asset manager for CNH Capital.
Court documents also show several pieces of equipment were double financed by Walterman Implement. CNH Capital alleges the dealership sold pieces of equipment to farmers, then submitted paperwork to both CNH Capital and Agricredit Acceptance, in effect receiving payment twice for the same machine.
From February 2006 Ag Equipment Intelligence
FBI Looking into Bankrupt Iowa Dealer as Farm Customers Consider Options to Reclaim $22 Million
As a group of farmers from several states plan their next move in an attempt to recover $22 million they paid Walterman Implement in Dike, Iowa, before it was closed down in October, the FBI is now looking into the matter.
The Case IH dealership was forced into Chapter 7 bankruptcy by creditors who claim Walterman double-financed several pieces of equipment. It is estimated that hundreds of farmers from Iowa and surrounding states lost thousands of dollars each after the dealership was closed.
Tom Witom, a spokesman for CNH America, the Racine, Wis.-based maker of Case IH equipment, indicates that the company is cooperating with "an FBI investigation into the business practices of Walterman."
The Iowa Attorney General's office is also involved in the case, but says that it is unclear what recourse farmers may have under either state or federal law.
Stanley Webb, a Mitchellville, Iowa, farmer, has filed suit against Case Credit Corp., CNH Capital America and Walker-Schork International, Inc.
Webb claims that Case delivered a new combine registered in his name to the Rochelle, Ill., dealer, who sold it to a local farmer. According to the Des Moines Register, about 130 farmers who claim to have lost thousands of dollars to Walterman, recently met in Maxwell, Iowa, to discuss their options.
"The first step is going to be to look into the facts. There are a lot of assertions going around," said attorney Matt Cronin, who is representing the group. "If there's a basis for a lawsuit — and it appears right now that there is — that will likely lead to litigation."
An undisclosed number of farmers had been making payments to the dealership ranging between $12,000 and $22,000 in a "roll" program that would have provided them with new and previously owned combines.
Many of Walterman's customers have outstanding notes with the financing company of CNH America. Some fear they may be obligated to pay off the loans, even if they do not own the equipment.
"We are sensitive to the issues of having to make payment, and will work to support our Case IH customers. But, they did sign a binding contract that must be honored," said Frank Anglin III, Case IH North America Ag vice president in an interview with Ag Equipment Intelligence. "We're not at fault, and to come after CNH when it was not knowledgeable about any wrongdoing does not reflect a broad perspective."
Case IH and CNH Capital, which forced Walterman into bankruptcy in late October, claims misappropriation of funds and unpaid debt totaling $22 million. Walterman has denied any wrongdoing.
According to filings in the case, employees of Walterman Implement sought contracts for the 2006 harvest season and collected deposits. The money was supposed to have been held in escrow by CNH Capital. But those deposits, which range from $15,000 to $22,000, were never deposited with CNH Capital or any other financial institution.
Anglin said that from a broad perspective, "customers should've realized that the situation could not work economically for the dealer." Despite the immediate losses, it is possible that farmers participating in the program for some time may have come out ahead.
When Ag Equipment Intelligence asked what controls Case would be using to keep such a situation from repeating itself, Troy Price, vice president North American Agricultural Financial Services, mentioned it was an isolated incident. "We have full confidence in our normal audit process for identifying and preventing situations like this from occurring again."
As for inferences that Case IH was to blame or let things get out of control, Anglin insisted that it's not uncommon for a dealer to place orders well beyond his assigned number.
"Dealers are selling outside of their area because other dealers have not been aggressive." While the scope of the situation was unique, Anglin says that 30% of dealers sell beyond their immediate geographic area.
Titan Machinery, based in Fargo, N.D., one of Case IH's largest Midwest dealerships, is acting as the agent for Case IH and will continue operating the dealership during bankruptcy proceedings.
In a February 10 telephone interview with Ag Equipment Intelligence, David Meyer, Titan's president & CEO, commented that little has changed with the situation. While Titan would eventually like to purchase the dealership, no decisions will be made while the case is pending.
From February 2006 Ag Equipment Intelligence
Other Dealers Say They 'Saw It Coming'
As the Walterman Implement ordeal grinds itself through the legal system, some dealers say they "saw it coming." Ag Equipment Intelligence spoke with several dealers that observed the situation even before the dealer was forced into bankruptcy last fall. The dealers spoke to us but asked not to be identified.
When Ag Equipment Intelligence editors visited with dealers in Iowa last summer, months before Walterman Implement was forced into bankruptcy, it was suggested that some things weren't right with the dealership in Dike.
"I told you they were going to go belly up," one dealer says now. "Walterman had a plan that worked for awhile, but they couldn't keep it going forever. Before they started handling Case, they handled Massey Ferguson. In the early '90s, they went to Case and said 'We'd like to be your dealer and we'll order 50 combines.'
"If you think about it," says the equipment dealer, "they went from last place in the Case IH organization to one of the biggest in North America in 15 years without making an acquisition. That's pretty amazing. They did it from the inside out, while maintaining one store."
Dealers that Ag Equipment Intelligence spoke to about the combine-roll program report that such selling schemes are at best a house of cards.
With the "roll" concept, when a new combine is sold, the goal is to have 6 different owners for that piece of equipment. It would take 6 years to get through the entire process.
One of the problems with the setup, say dealers, is that Walterman didn't get enough money for the equipment up front. There is also some question about how many hours the equipment accumulated as it proceeded through the roll program.
One dealer pointed out that Iowa does not have laws prohibiting tampering with the hour meters on farm equipment. It is estimated that Walterman Implement controlled 20% market share in the state of Iowa. It is also known that the dealership sold equipment in dozens of states beyond the Midwest. This gave it significant leverage within Case IH in terms of volume discounts.
"Dike was selling on price," says one source. "Price shoppers are not loyal shoppers. I suspect CNH was cutting the dealership some lower priced deals on combines because of volume. Also, sometimes a dealership gets in so deep, the finance company knows he can't pay off his debt so they hope 'time' will right the situation and continue to extend credit and terms. As he gets in deeper, at some point there has to be a decision to pull the plug.
"With the huge inventory they had at Dike, it's hard for the finance companies to keep track of all the equipment, and maybe machines get financed twice. There may be no clear title on the equipment. I don't know exactly what took place, but when one dealer is moving as many combines as they were, you have to suspect some things were not right."
The entire Walterman affair is already impacting ag dealerships, particularly the larger dealer organizations.
"It's definitely changing the game," says another dealer. "You're going to see the bean counters come into the stores that are highly leveraged and they're going to be watching them closely for cash flow and whatever. They know they should have caught the Walterman situation sometime ago. It's going to put strain on the multi-store again. These guys are not going to be allowed to run a sloppy business anymore."
News Release from the U.S. Attorney's Office, July 2010
On July 1, 2010, the United States Attorney's Office for the Northern District of Iowa issued a news release regarding the status of the Dike Implement's scheme to defraud its customers and suppliers. Following are excerpts from that release.
The former owner and four employees of Walterman Implement, a failed implement dealership formerly located in Dike, Iowa, pled guilty today to charges arising out of a fraudulent financial scheme that led to the dealership's bankruptcy.
Leon Walterman, age 60, of Dike, the former owner, president, and chief executive officer of the company, pled guilty to a three-counts charging him with mail fraud, money laundering, and illegal wiretapping.
Court documents describe a scheme to defraud the dealership's lenders through the creation of fictitious sales contracts. Walterman and others fraudulently double-financed equipment sales by assigning sales contracts for the same piece of equipment to two different lenders, financed equipment sales in the customers' names when the customers had already paid for the equipment in full, and claimed customers purchased new equipment and traded in used equipment when they had not. Walterman Implement fraudulently received millions of dollars in cash, credit and equipment from the lenders. The dealership filed for bankruptcy in October 2005.
Walterman and his co-schemers maintained a false set of books, fabricated deposit slips and bank statements, moved equipment, switched serial numbers on and otherwise disguised and altered equipment to conceal the scheme from the lenders.
In order to keep track of the auditors' progress, intentions, and conclusions as they audited Walterman implement, Walterman instructed certain employees to intercept auditors' telephone calls. The employees placed a secret recording device on a telephone line in a Walterman Implement conference room used by auditors. Walterman used the information contained in the recordings to conceal the scheme to defraud the lenders.
Farm Equipment news item, posted February 18, 2011
Farm Equipment Dealer Gets 12 Years in Prison
Cedar Rapids, Iowa — Associated Press, February 17, 2011 — The owner of a failed farm equipment dealership in eastern Iowa has been sentenced to more than 12 years in prison in a financial scheme that authorities say bilked banks and farmers of more than $7 million.
Leon Walterman was sentenced Thursday in federal court in Cedar Rapids on charges of mail fraud, conspiracy to commit money laundering and illegal wiretapping. He pleaded guilty in July.
Walterman owned Walterman Implement in Dike. The dealership filed for bankruptcy in 2005. Authorities said the company double-financed farm equipment purchases and submitted false contracts to lenders.
The court ordered more than $10 million in restitution to be paid by Walterman and two other employees, who will be sentenced in March.
March 6, 2011 from various sources
Workers at Failed Iowa Business Sentenced in Fraud
Dike, Iowa — Two former employees of a failed farm equipment dealership have been sentenced to prison for their connection to a scheme that prosecutors said bilked millions from banks and farmers.
Two other employees received probation, and another person charged in the plot awaits sentencing.
Judge Linda Reade sentenced Allen Scott, 51, of Grundy Center, and Donna Zmolek, 57, of Dike, to three years and one month in prison Friday in U.S. District Court in Cedar Rapids.
Both Scott and Zmolek, who pleaded guilty to mail fraud, worked at Walterman Implement, which was forced into bankruptcy in 2005.
The two will have to serve three years of supervised release following their prison time, and they were ordered to share the burden of $10.6 million in restitution with the business's owner, Leon Walterman.
They were ordered to report to federal prison at a later date.
Also on Friday, employees Allan Wulf, 65, of Reinbeck, and Gary Miller, 46, of Dike, were sentenced to two years of probation on wiretapping charges. Reade also ordered Miller to pay a $2,000 fine.
Walterman, 60, of Dike, was sentenced to 12 years and seven months in prison in February. He pleaded guilty to fraud, money laundering and wiretapping charges.
A sixth person charged in the plot, implement dealer Lee Prunty of Rochelle, Ill., is awaiting sentencing.
For more on Farm Equipment's coverage of Walterman Implement and the fallout of the 2005 bankruptcy and resulting charges, click here