The 2019 Precision Farming Dealer Summit, held at the Indianapolis Downtown Marriott in Indianapolis, Ind., January 7-8, 2019, drew a sold-out crowd of 171 attendees, including 69 different dealerships across 26 states and 3 provinces.
Centered on the theme "Building Business Value with Recurring Revenue," the program featured 2-days of dealer-to-dealer roundtable sessions, panel presentations, general sessions and intense networking opportunities.
Precision Farming Dealer managing editor Jack Zemlicka noted during opening remarks that attendees would head home with actionable ideas to develop and implement money-making strategies derived from delivery of precision services.
"A consistent theme that I've heard from attendees during the last two days is that through the informative sessions, roundtable discussions and networking opportunities, they've taken home service-driven revenue strategies to deploy at their dealerships," says Zemlicka.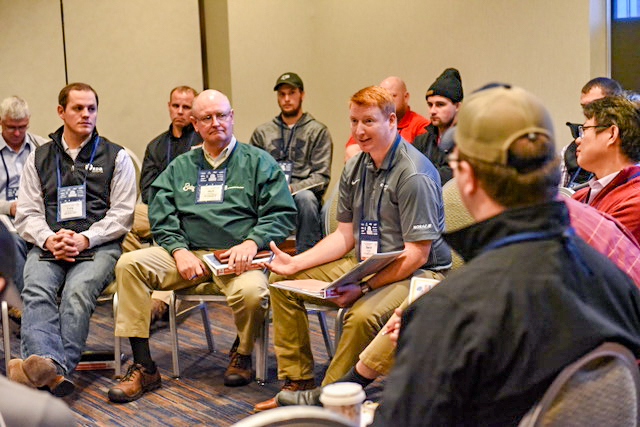 Among the highlights of the 2019 Precision Farming Dealer Summit was an opening general session sharing an insider's view on how to effectively manage and mentor precision employees to build a business from within.
Also announced at the Precision Farming Dealer Summit was the return of the Dealership Minds Summit, which will be held July 30-31, 2019, at the Embassy Suites by Hilton East Peoria Riverfront Hotel & Conference Center in Peoria, Ill.
From the single-location independent retailer to the multi-store farm equipment dealer, the precision manager to the technology specialist, intense knowledge sharing and networking were in abundance throughout the Precision Farming Dealer Summit.
The 2019 Precision Farming Dealer Summit was made possible with the support of these title sponsors: AeroVironment, AgDNA, Ag Leader, Charter Software, DigiFarm, Laforge Systems Inc., Montag Manufacturing, Praxidyn, Precision Planting, Reichhardt Electronic Innovations, Topcon Agriculture and Yetter Mfg. Co.
For more information on the 2019 Precision Farming Dealer Summit, visit PrecisionSummit.com. An in-depth recap of the Precision Farming Dealer Summit, including key session takeaways, will be featured in an upcoming issue of Precision Farming Dealer magazine.