Planning a precision legacy, overcoming the limitations of today's equipment compatibility and stretching marketing dollars for maximum return were building blocks of the second Precision Farming Dealer Summit.
Featuring a speaker lineup that included 13 leading dealer groups representing more than $750 million in annual revenue, the event held at the Hilton St. Louis at the Ballpark Hotel, on Jan. 9-10, drew a sold out crowd of 196 precision farming professionals from 92 different dealerships across 27 states, as well as Canada and Australia.
Emphasizing the theme Proven Business Blueprints, Precision Farming Dealer managing editor Jack Zemlicka noted during opening remarks that many dealers have the same questions when it comes to strengthening the foundation of their precision business:
How do we create, price and promote money-making service packages?
What are the secrets to conquering compatibility challenges?
How can we better measure and improve employee performance?
While no dealership has perfected the design of a precision farming business, the 16 speakers, 2 sets of roundtable discussions and intense networking opportunities at the 2 day conference sought to candidly deliver managerial cornerstones for turning promise into profit.
Takeaways ranged from the sensible (utilizing customers as "unpaid salespeople" to increase business) to the philosophical (what is a dealer's HABU — highest and best use) to help define their transitional objectives, and attendees extended their network of precision allies before heading home.
Informal Peer-to-Peer Roundtable Coverage
Among the highlights of the 2017 Precision Farming Dealer Summit were 14 dealer roundtable sessions that offered face-to-face opportunities to ask questions, discuss challenges and share solutions to pressing precision problems.
From the single-location independent retailer to the multi-store farm equipment dealer, the veteran precision ag manager to the newly hired specialist, the passion for precision farming was prevalent during each structured learning session and hallway conversations.
The pages that follow offer in-depth summaries of the Summit's top learning-intensive sessions. Stay tuned for extended coverage of the 2017 Summit online at www.Farm-Equipment.com and www.PrecisionFarmingDealer.com.
The knowledge sharing and networking opportunities for dealers were made possible by the support of 10 Summit Title Sponsors who were recognized during the dinner program.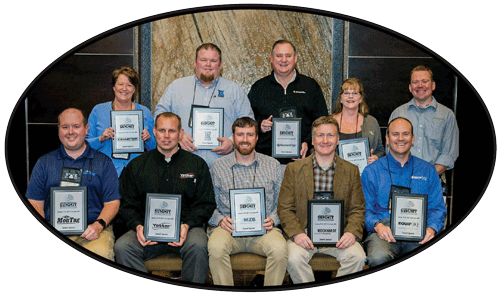 Top Row: (l to r) Anne Salemo, Charter Software Inc; Kyle Frazier, Laforge Systems; Tim Davis, Farmers Edge; Debbie Naujokaitis, CDK Global; Jack Zemlicka, Precision Farming Dealer.
Front Row: (l to r) Anthony Montag, Montag Mfg.; Derek Allensworth, Yetter Farm Equipment; Jordan Tackett, MZB Technologies; Jayme Paquin, Reichhardt Electronic Innovations; Chris Arend, Equip IQ.
Western Equipment Dealers Assn. was also a title sponsor.

  Dealers Who Attended 2017 Precision Farming Dealer Summit

4 Rivers Equipment, Greeley, Colo.
AC McCartney Equipment, Mt Sterling, Ill.
ACRES, Lowville, N.Y.
Advantage Farm Equipment, London, Ont.
Ag Info Tech , Mt Vernon, Ohio
Ag Technologies, Rochester, Ind.
Ag-Power Inc., Higginsville, Mo.
Agri-Service, Twin Falls, Idaho
Archbold Equipment Co., Archbold, Ohio
Atlantic Precision Agri Service, Coleman, P.E.I.
Atlantic Tractor, Clayton, Del.
Baker Precision Services, Orangeville, Ill.
Binkley & Hurst, Lititz, Pa.
Bodensteiner Implement, Elkader, Iowa
Brakke Implement, Mason City, Iowa
Butler Machinery Co., Fremont, Neb.
Carrico Implement Co. Inc., Beloit, Kan.
Castongia Tractor, Rensselaer, Ind.
Central Valley Ag, Oakland, Neb.
Cervus Equipment, Calgary, Alta.
CG Wellington Inc., Drayton, Ont.
Concordia Tractor Inc., Abilene, Kan.
Crop IMS, Effingham, Ill.
Crop One Inc., Clarkfield, Minn.
CTI, Wamego, Kan.
Deer Country Farm Lawn Inc., Manheim, Pa.
Delta Power Equipment, Warwick Twp, Ont.
Douglas Lake Equipment, Grande Prairie, Alta.
EIS Implement Inc., Two Rivers, Wis.
Farm Depot Ltd., Caro, Mich.
Fennig Equipment, Coldwater, Ohio
Garden City Co-op Inc., Garden City, Kan.
Gooseneck Implement, Minot, N.D.
Green Country Equipment, Dalhart, Texas
Green Line Equipment, Grand Island, Neb.
H & R Agri-Power, Hopkinsville, Ky.
Hammell Equipment, Chatfield, Minn.
Hanlon Ag Centre Ltd., Lethbridge, Alta.
Heritage Tractor, Creighton, Mo.
Hlavinka Equpiment Co., El Campo, Texas
Holland & Sons Inc., Princeton, Ill.
Hoober Equipment Inc., Intercourse, Pa.
HTS Ag, Harlan, Iowa
Hurst Farm Supply, Lorenzo, Texas
Hutson Inc, Murray, Ky
Icon Ag Solutions , Le Mars, Iowa
IMI Equipment , Kahoka, Mo.
Java Farm Supply, Batavia, N.Y.
Johnson Tractor Inc., Janesville, Wis.
Kan Equipment Inc., Marysville, Kan.
Kunau Implement Co. Inc., Preston, Iowa
Lamb & Webster Inc., Arcade, N.Y.

Larson Farm & Lawn Inc., Springfield, Mo.
Lasseter Equipment Group, Moultrie, Ga.
Legacy Equipment, Corning, Ark.
Linco-Precision, El Paso, Ill.
Lone Star AGRONOMICS, Abbott, Texas
MacAllister Machinery, Indianapolis, Ind.
Martin Sullivan, Lexington, Ill.
ModernAg Inc., Baxter Springs, Kan.
Monroe Tractor & Implement, Batavia, N.Y.
O'Brien County Implement, Sheldon, Iowa
Pape Machinery, Eugene, Ore.
Podolinsky Equipment Ltd., Petrolia, Ont.
Praireland Partners, Hutchinson, Kan.
Precision AGri Services Inc., Minster, Ohio
Precision Farming Solutions, Birdseye, Ind.
Precision Seeding Solutions, Premer NSW, Australia
Ramsey Bros, Riverton SA, Australia
RDO Equipment, Bismarck, N.D.
Reis Equipment Center, Carp, Ont.
Reynolds Farm Equipment, Nobelsville, Ind.
Ritchie Implement Inc., Cobb, Wis.
Rocky Mountain Equipment, Rocky View County, Alta.
Schlipf Precision Ag, Milford, Ind.
Sema Equipment Inc., Rochester, Min.
Sievers Equipment Co., Auburn, Ill.
Smith Implements Inc., Greenfield, Ind.
Soil Service Inc., Niota, Ill.
South Dakota Wheat Growers, Aberdeen, S.D.
Southern State Coop, Richmond, Va.
St Joseph Equipment, LaCrosse, Wis.
Stotz Equipment, Casa Grande, Ariz.
Straub International, Great Bend, Kan.
Swiderski Equipment Inc., Mosinee, Wis.
Sydenstricker Implement Co., Mexico, Mo.
Titan Machinery, Fargo, N.D.
Town & Country Inplement, Rock Falley, Iowa
Triangle Ag-Services, Fort Benton, Mont.
TruAcre, Muscatine, Iowa
Used Precision Ag, Fort Wayne, Ind.
Value Implement, Eau Claire, Wis.
Van Horn, Cerro Gordo, Ill.
Van Wall Equipment, Perry, Iowa
Vetter Equipment Co., Storm Lake, Iowa
Wade Inc., Greenwood, Miss.
West Enterprises, Geneseo, Ill.
Western Tractor Company Inc., Lethbridge, Alta.
Wm Nobbe & Co Inc., Scott City, Mo.
Wright Implement, Owensboro, Ky.
Xperience Ag, St Paul, Ind.
Youngblut Ag, Dysart, Iowa
Ziegler Power Systems, Shakopee, Minn.