In most niche equipment sales processes, dealers are quick and ready with the benefits of the given iron they're peddling. When it comes to butterfly (or triple) mower combinations (one mower placed in the front of the tractor and two pulled from behind) for hay production, dealers often veer from the norm.
Instead, dealers say it's often best to point out the hay producer's and custom operator's current equipment inefficiencies and get them thinking about how much time their one-trick-pony self-propelled investment is sitting idle in the shed.
In other words, they ask, "Wouldn't you like to get more out of your tractor investment?"
Drivers of Butterfly Mowing
While the giant self-propelled high-performance mower-conditioners have made news in recent years, the 15-foot self-propelled windrowers continued to be the most relied-upon method of hay production in North America.
Those investments are heavy ones when considering that, in some climates, they may spend all but the summer months accumulating spider webs.
They've also become limiting factors to optimal efficiency. The trend toward more chopping of hay, larger acreages to cover and the "hay-in-a-day" concept are all challenging grower traditions. If hay cut in the morning is going to be chopped in the early afternoon, there's no time to waste.
The use of butterfly mowers is gaining recognition as an easy way to increase the customer's capacity, as up to three mowers can be hitched to the front and rear of the tractor to create a 30-foot cutting width. This enables the producer or custom operator to sell off two 15-foot self-propelled windrowers, and reduce his payroll by one operator.
Coming Across the Pond
As one dealer told Farm Equipment, butterfly mowing is one of many other European-borne trends that have made its way to the states — but still 10 years later.
Butterfly mowing is widely practiced in Europe, where tractors have long had front hydraulics and PTOs. Because North American tractors haven't had these features "built-in," the adoption of butterfly mowing was stunted. Where it has grown, the European-designed tractors, such as Massey Ferguson and Fendt, have enjoyed an advantage.
But there are things happening now that are increasing the adoption of butterfly mowing, which Farm Equipment has learned is very bullish for sales — estimated by some as growing 20% annually and by others as "doubling year over year." (AEM statistics are not available on butterfly mowers.)
Today, the new tractors are coming factory-ready with the options to allow an implement to be operated from the front of the tractor, bringing much wider potential for the practice. Reliable aftermarket front hitch interfaces are also available to allow implements to be applied to the front of standard row-crop tractors. And finally, the secondary market for equipment is developing, making it more affordable for the second-tiered customer.
What Dealers Say...
Farm Equipment interviewed several equipment dealers who are succeeding in growing their sales of butterfly equipment.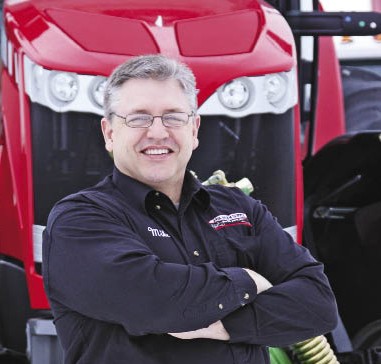 Michael Bookmiller, vice president, Java Farm Supply, Java, N.Y. Java Farm Supply is in its 7th year of butterfly mower sales. In 2004, the dealership was most interested in the big self-propelled mower-conditioners, but found that customers wanted the 30-foot cutting capability — but didn't want to tie up all their dollars in such a large investment. "For a while, we were the only dealership around that was selling the butterfly combinations," says Bookmiller. Today, the company typically sells 3 packages per year, about the same number as the big self-propelled mower-conditioners and 15-foot self-propelled windrowers.
---

Terry Petersen, D&D Equipment, Chilton, Wis. D&D Equipment is in its fourth year of selling butterfly mowers. "We focused early on the custom operators but found the windrows weren't big enough to stay ahead of their choppers." After a slow start ("we only got our hands on a couple of units that first year," says Petersen), the dealership pre-sold 7 units for the following season, and four salesmen at the company now focus on butterfly equipment sales.
---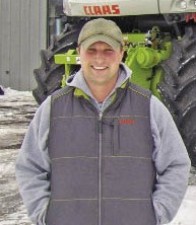 Garrett Lindstrom, Lindstrom Equipment, Inc., Menomonie, Wis. Lindstrom Equipment has been selling butterfly mowers since 2005 and has sold 16 mower packages since that time. In an area where there's lots of hay production with high importance placed on speed of harvest and nutritional values, Lindstrom says that butterfly mowing is a fantastic concept.
It's About the Tractor
The most compelling argument for moving to a butterfly mowing arrangement is the tractor and the customer's investment per power source. When up against the self-propelled windrower or mower-conditioner that spends more months in the shed than out working, the butterfly mower has a story to tell. Bookmiller says the mowers can now be disconnected from the tractor in a matter of minutes.
"We tell the customer his tractor's horsepower can be used for other things — that's how we sell the butterfly cutters," says Petersen.
By making an investment in a tractor with a front 3-point PTO hitch, the customer has the opportunity to do all kinds of chores outside of hay season, including packing bunkers, moving silage, hauling grain carts, spread manure, planting and tillage. "It triples or quadruples the purpose of the tractor," says Petersen, who notes that some custom operators are now doing snow removal with it, too.
Resale values have also become critical. "Tractors always have great resale values," says Lindstrom. "When your big self-propelleds are done, they're done. You can retire or rebuild the cutters after some time, and the tractor can still have thousands of hours of use left."
Profiling Candidates
There's no hard and fast threshold for the size of the customer that would consider butterfly mowers, say dealers. Each of them has some very large hay producers and custom operators using them, as well as some fairly small operators with whom self-propelled windrowers are losing favor.
Of course, if the climate allows 10 cuts per year, it removes some of the argument about the self-propelled unit sitting unused in the shed. Some manufacturers have said the sweet spot is in the 4-5 cuts per year range.
"The common denominator among our users is the under-1,500 cow outfits," says Bookmiller. "In our area, the butterfly systems don't typically go to the real large dairy operations, but on the other end, there's no real bottom end. Wherever labor-savings is important, it can make sense."
While Petersen confirms that customers come in all shapes and sizes, he follows the same logic that thief Willie Sutton shared when asked why he robbed banks. ("That's where the money is," he said.) "We've concentrated the most on the big guys — that's where the dollars and cents work best. We can get into the conversation of how much it's worth to get that hay into the bunker quickly."
Lindstrom, who notes that 60% of his butterfly mower customers are custom operators and that the dairies typically fall in the 700-cow range, says it's less about size and more about financial stability and the amount of help available. "The best candidates are those open to new ideas; the progressive ones." That doesn't suggest younger farmers are the best bet, he says. "They just need to be willing to accept change."
Conversely, he says, it should be a slam-dunk for some customers who remain so tradition-bound that they won't agree to a demo.
The ROI
The economic analysis starts with the tractor. While some are using 120- or 180-horsepower tractors when not conditioning the hay, Bookmiller strongly recommends 200-horsepower as the minimum to ensure performance in severe cutting conditions and on hilly terrain. "If you're buying a new 220-horse tractor with front PTO hitch, you'll end up spending more than a self-propelled mower-conditioner, but the advantage is the tractor utilization."
He, like the other dealers, walks the customer through the economics of consolidating the 16-foot self-propelled units into butterfly arrangements and cutting up to 30 feet with one machine. With one operator, he says his customers are putting hay into smaller windrows to allow more air flow for better and faster curing.
The mower packages fall in the $70,000 range, while an aftermarket front PTO system will run $15,000-$20,000. Meanwhile, a continuous merger can reach $130,000.
Lindstrom says that 1 butterfly mower can cut as much hay as 2 self-propelled windrowers, with the ad-vantage of having just one man and one motor. "It's 50% more fuel efficient than one self-propelled unit, so you immediately cut your fuel cost per acre in half. Then, you have just one operator vs. two, cutting the hourly wage in half."
He also attempts to assign values to operator fatigue, as the more comfortable tractor ride allows 15-16-hour days vs. a rough ride in the discbine, not to mention significant comfort advantages during road transport.
Lars Paulsson, Laforge Systems (a supplier of OEM and aftermarket front hitch and PTO systems), believes that to replace two 15-foot units, the customer must have a need that would exceed 20-plus acres/hour. He suggests dealers get to know their customers' cost of operation so they can be prepared to put the pencil to paper for each of these three cost/investment scenarios:
1 butterfly mower + 1 tractor + 1 operator for X hours of mowing
1 self-propelled mower-conditioner + 1 operator for X hours of mowing
2 self-propelled 15-foot windrowers + 2 operators for X hours of mowing
"It can boil down to simple math," he says.
Obstacles Exist in Complementary Equipment
According to Bookmiller, "there's very little question on whether the return on investment is there for the customer. It's a question of whether the customer will proceed given the economy and less-than-stellar commodity prices."
Dealer Takeaways
• Still in its infancy in the U.S., butterfly mower shows promise as new tractors are factory-ready for front-attached implements.
• The first wave of butterfly mowing and complementary equipment is being traded in, bringing a lower investment threshold and opening the concept to a new market of farmers and custom cutters.
• As systems grow in acceptance, the tractor, mowers and mergers may bring sales opportunities at the expense of self-propelled windrowers.
The major obstacle, say dealers, is the complementary equipment, and primarily the continuous merger. "If you take out the windrower," says Petersen, "you've still got to merge the hay so the high horsepower forage harvesters can get more acres done per hour."
He recalled a farmer he worked with last fall who ran a butterfly system with a hydraulic drive mower designed by D&D. "He loved the system and was serious about switching out his windrowers, but had a two-year-old merger that was not continuous — the continuous merger is an important piece of the puzzle. With a merger with little trade-in value, he said the initial investment was too high. So he said he'd need to run the windrower another year, then go to a new tractor and cutter.
"The merger is more money than cutter itself, so that — or using a triple rotary rake — is the next piece of the puzzle."
Just as the lack of a merger is an obstacle, the presence of one is an opener. Lindstrom says the customer with a continuous merger is often very interested.
Still, cost is an obstacle. Lindstrom also has some customers who own 2-3 self-propelled mowers, who, despite all the arguments in the world, simply find comfort in having a spare around if one breaks. "This is not an issue for us because we always have a demo and rental unit here for use if it comes down to that."
Demonstrate Support
Farm Equipment asked the dealers what advice they could offer their peers looking to build a business in butterfly mowers.
Petersen suggests finding 5-6 farmers who have some sizeable acreage and who already own a large tractor for other chores. "We go out and pick certain customers with a need, and invite them to our place for annual events where they can talk with other current owners and ask questions about why they chose the system. There's a lot of need out there, and the custom operators are ready to share how fast they cut the hay, lay it down quickly and keep the feed quality up."
Lindstrom agrees that customer qualification is important. "You want to know they have enough land to justify the setup. If they have 600 acres and running 300 of it in crops, it's probably not going to happen."
Bookmiller adds that it's critical to have a tractor on the lot set up for a front PTO and 3-point hitch. "Guys want to see it work before they buy it."
He also stresses uptime support, a critical differentiator for his dealership, which hangs its hat as hay harvesting specialists. "When something does happen in the field, there can't be a time — not ever — when you can't get that customer up and going again. We added a high-end service truck loaded up with parts to provide support on a 24-hour basis. We also keep loaner units on hand and can back it up."
Lindstrom agrees, noting that his dealership always keeps both a demo unit and a rental unit on hand for emergencies. "We also have 90% of the parts available, and will rob off our own units, to keep a customer going."
Bullish Outlook
All the dealers interviewed see strong growth in the years ahead. "All the farms are covering so many more acres today," says Bookmiller. The future, he says, is with the larger farmers.
"It'll go nowhere but up," says Lindstrom, "because tractors with a front PTO are becoming more common. With more tractors compatible with the system, it's only going to grow. As milk prices improve, the custom guys get paid quicker and the dairies buy more equipment. In 2008, I would've predicted we'd be selling 10 systems per year. With the slump recently, we've only been selling 5 per year, but we have 3 presold already for this year."
Petersen is encouraged by what the used market can do for the practice. "We've been in it long enough now we're getting trades. So the investment for the next customer can drop the price in half. Now, a guy with older tractor can put $15,000 into a front PTO hitch and buy used or rebuilt units."
Petersen adds that used mergers are coming available from the custom operators. "You can get into the system now for a whole lot less money," he says.
Lindstrom predicts that there won't be too many self-propelled windrowers sold in the next 7-10 years. "The smaller farms are going out of business and the bigger guys will need to get more done with less. The butterfly mowers make economic sense when it comes to fuel and even more so on manpower. That's a huge concern right there and ridding yourself of labor headaches is big reason to proceed — you can get by with 1-2 fewer guys who are capable of wrecking stuff."