In response to ongoing requests from both dealers and manufacturers about North American ag machinery demographics and the economic importance of the industry, the editors of Farm Equipment commissioned a new annual report for 2023 via the Farm Equipment100TM. This first-ever compilation took a deep dive beyond the 12-year tradition of the Ag Equipment Intelligence Big Dealer report (a joint project with Machinery Advisors Consortium) to focus on the largest movers and shakers comprising the industry.
The list below arranged the North American dealer groups by the total number of their ag equipment stores (stand-alone construction and/or other machinery types were not included in the ag stores if a separate facility.) This data, excerpted from an appendix in the Big Dealer Report, details the stores, state/province, product lines, employees, executives and business system software.
Click here to veiw the Top 100 of North America's Largest Dealer Groups
In total, the list of the 100 largest dealers includes 1,940 ag stores, representing nearly one-third of all ag equipment store rooftops in North America. In total, these 100 dealers comprise an estimated $52.6 billion in annual revenues. These companies employ more than 56,500 people in their local, rural communities.
These are the most-cited concerns of the largest dealers. as shared with Farm Equipment editors in their calls with the Farm Equipment 100™ dealer executives.
The Farm Equipment 100 companies average 19.4 stores each, 577 employees and carry 15 product lines.
In addition to the hard data, 6 Farm Equipment editors personally connected with dealers in late April and May. Most of the data was verified by dealers but came from independent sources in some cases.
Analysis of Plans by Dealers' Employee Totals
Analysis of the 12-month planning intentions by total employment numbers showed little difference than total stores analysis, as the largest are the most aggressive in plans to acquire, build, remodel and add new employees. Interestingly, though, the Top 100 dealers on the lower end of the total employment levels were significantly more interested in building new locations than those with employment in the middle range.
— 2023 Farm Equipment 100™, Segmented by Number of Ag Stores
Additionally, editors also asked 5 questions about dealers' plans for the next 12 months, which is summarized in the infographics below and drew a 74% response rate.
There are also plans in the works for a research panel to learn how the largest ag equipment dealers think and respond to specific topics and questions.
The 21st Century Equipment – 4Rivers Equipment merger that takes effect on June 12 is not reflected in the list that follows.
Email kschmidt@lessitermedia.com with any comments on the list, including changes. Farm Equipment will continually update the data as a service to subscribers.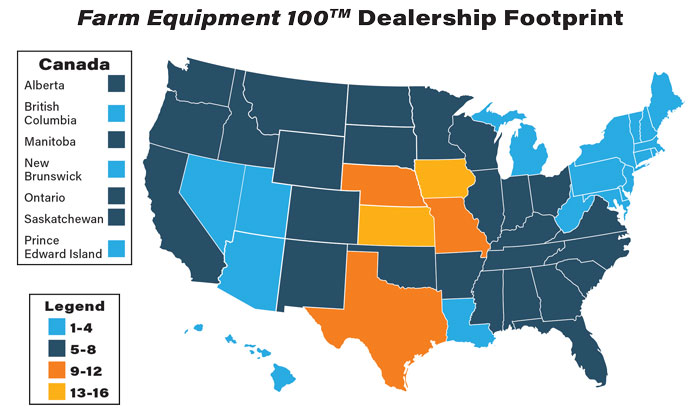 This map highlights the number of Farm Equipment 100™ dealerships represented in each state. The highest concentrations are in Iowa and Kansas, followed by Texas, Missouri and Nebraska.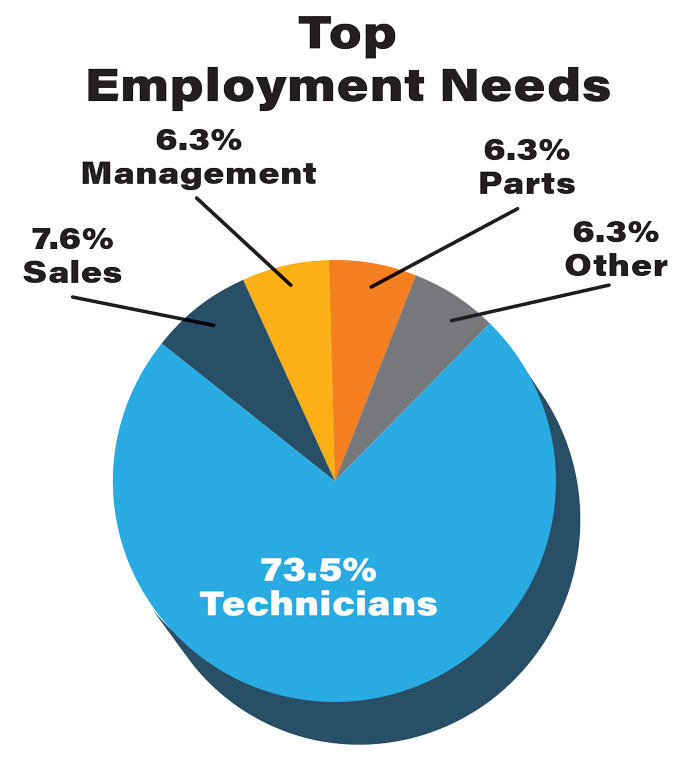 These are the most-cited employment needs of the largest dealers, as shared with Farm Equipment editors in their calls with the Farm Equipment 100™ dealer executives.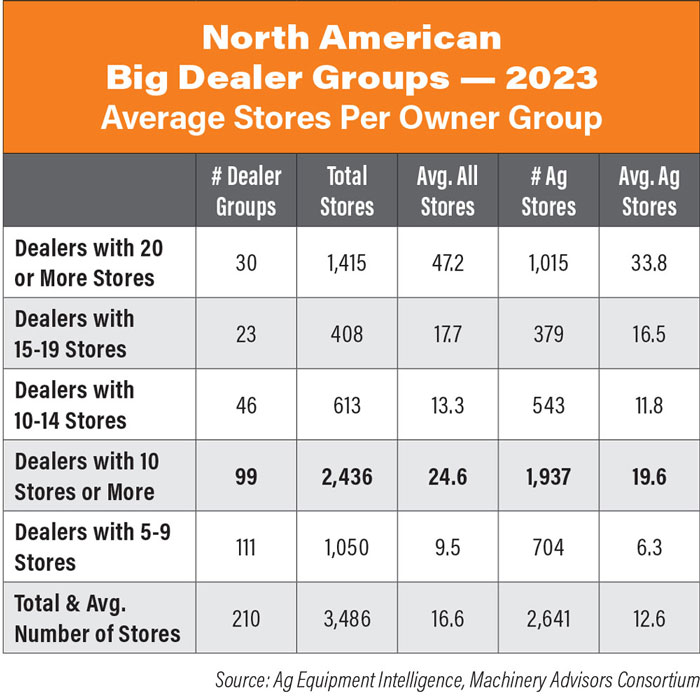 The number of ag stores operated by dealers with 20 or more stores rose 5% to 1,015 in this year's Big Dealer Report (published by Ag Equipment Intelligence), while the number of total stores operated rose 6.2% to 1,415. The average dealer with 20 or more locations now operates almost 34 stores and 47 stores overall. Visit AgEquipmentIntelligence.com to order the full Big Dealer Report.
Top Case IH Dealers
Titan Machinery
Rocky Mountain Equipment
Progressive Tractor
H&R Agri-Power
Birkey's Farm Store
Plains Ag
Monroe Tractor
Bane-Welker Equipment
Delta Power Equipment
Torgerson's
Top AGCO Dealers
Ziegler Ag Solutions
Butler Machinery Co.
Ring Power Equipment
Kelly Tractor/Atlantic & Southern
Quinn Ag Products
Agriterra Equipment
Agri-Service
Holt Ag Solutions
Parallel Ag
LDI (Lang Diesel Inc.)
Top New Holland Dealers
Mazergroup/li>
KanEquip
Bingham Equipment
Garton Tractor
Brim Tractor
Terapro
Avantic Cooperative
Top John Deere Dealers
United Ag & Turf
Ag-Pro Companies
Papé Machinery
C&B Operations
Quality Equipment
RDO Equipment
Brandt Holdings
Agrivision/PrairieLand Partners JV
Greenway Equipment
Hutson's
Based on the responses from Farm Equipment 100™ dealer executives, 41.1% plan to add a new store in the next 12 months. The top third of dealers were most likely to add stores.
What Keeps the Top 100 Dealers 'Up at Night'
Farm Equipment editors contacted executives at the Top 100 dealers about the biggest challenges over the next 12 months. In addition to the total tally in the chart on p. 24, below is a sampling of dealers' remarks in their own words. For more commentary, visit farm-equipment.com/dealer100.
"1. Employees, particularly service tech retention and recruiting. Certain locations are worse than others. Some have chronic struggles. 2. The sales side change in forecasted farm profitability for 2023 vs. 2024 and what that means for a cooling of demand. The magnitude of the impact on both the new and used equipment is something we talk about daily. 3. Interest rates and how it impacts our business, both in how we borrow and internal carrying costs and the producers buying. 4. Finally, the long lead times on parts and whole goods." 
"What are the OEMS going to do when a slowdown comes?  They make money by pushing their equipment out there. We're trying to understand where the peaks and valleys are going to be." 
"Direct-to-market business models, as dealers are becoming just service centers and manufacturers are going direct to customers. Then electrification and automation issues." 
"A big concern is the Colorado right to repair. If legislation like that went through in 30 states — in the breadbasket states — I'd question if we could remain in business. There'll have to be a federal act to govern it, or there'll be a real mess. Think about how the parts warehouses and parts run routes go away. And are manufacturers really going to sell parts at lower prices than what they are today? Very short sighted. It would be scary for the customers on the farm." 
"Used equipment is the biggest risk to our business, and we know what's coming down the pike. There are profitability and grain price worries on the horizon. If commodity prices waver, we'll have issues, and the used and new equipment will start backing up. Interest rates are affecting our buying already; we're no longer over-ordering today." 
"1. Drought. 2. Labor challenges and finding people who are still willing to work weekends and long hours in-season, and also the wages and experience. 3. Used equipment values after an inflationary period and with potential declining commodity prices 4. Expense load if the ag economy does what it did in 2014-2016. 5. Future 24-hour-a-day support requirements with autonomous vehicles coming. We already burn too many people out today in planting and harvest season; it will only get more demanding." 
"1. Concerns that the industry continues to ramp up production and build a glut of used inventory; we're watching it closely. 2. Ability to find technicians. 3. Evolution of the business in the next 3 years with new technology being introduced to growers and how to sell and support as it moves from transactional to a per-acre usage model. 4. The federal government's restrictions on carbon footprint and restricting nitrogen application levels." 
"1. The hangover from COVID-19. What used to be normal we may never see again. 2. High interest rates are bad for business. Things are pointing in the wrong direction for business." 
"Inflation, interest rates and moving used combines. We're back to 2014-15 type problems again." 
"Finding techs is the biggest challenge. We're solving by 'growing our own' with a virtual tech school. Then there's interest rates. We can't focus on things we can't control; there are always opportunities in the concerns." 
"Talent development and management is our top expenditure of time – finding, attracting and retaining talent. Competition for techs is huge. Nearby industries are offering $20 per hour more to come to work for them, and another nearby town is offering $35 per hour for general unskilled labor. Talent management and attracting and retaining is absolutely a priority. Most of the rest of the issues are just business — challenges in supply chain, weather and government that we can handle with the right team." 
"Product quality with Case IH. The replacement workers [during the UAW strike] meant lower quality. Almost all of our Magnum units delivered this year had to get reworked." 
"The diesel tech shortage, equipment availability, equipment pricing, decreasing net farm income and rising interest rates." 
"1. Technician recruitment 2. The challenges around putting values on trade-ins 9 months out and anticipating where the market will be. We have a tremendous used turn, but that's good until it isn't. 3. Deere's availability, which was previously a blessing for the dealer channel to hold margins. But if demand softens and Deere is catching up on product availability, there'll be a big impact on margin as well as new and used equipment turn." 
"Supply chain is #1, followed by the speed to market of new technology and new products. The product that is there tends not to be leading-edge. The OEMs need to spend and develop new products. Then it's interest rates and exchange rates. We have succession challenges at all levels, and it's difficult to attract new talent to the industry, especially in rural communities. Politics and the political climate is terrible." 
"1. Managing inventory during the ongoing slowdown while also managing higher interest rates. 2. Hiring and retaining qualified technicians. 3. Meeting both customer needs and demands while also meeting desired work/life balance of today's employee and current society expectations. 4. Preparing our sales and service staffs for the growing technology in today's equipment and properly supporting our customers' purchase desires and use of it. 5. Inflationary pressures continuing on products and parts despite consumer discretionary spending and net income getting pinched by multiple economic pressures." 
"The concerns are the same as they've always been – used equipment. Inventory is creeping up again. We've had a good ag economy, and the last several years meant more farmers buying more new and used equipment. It works fine until the economics of farming hits a road bump, and then dealers are carrying more inventory and exposed to risk outside of their control." 
"Finding staff, keeping staff and engaging staff are concerns 1-3. Then interest rates and the impact of a recession." 
For more commentary, visit farm-equipment.com/dealer100.