The latest edition of Beck's Practical Farm Research (PFR) on planter attachments shows the use of popular aftermarket closing wheels can result in an extra 5 bushels of corn per acre and 2.5 bushels of soybeans per acre. The results show attractive returns on investment for 5 brands of closing wheels under a variety of tillage systems, but one Beck's agronomic data specialist says closing wheels are only the "lowest hanging fruit" on the yield vine.
Jared Chester, agronomy and data information specialist at Beck's in London, Ohio, says the company's PFR study on closing wheels has shown consistent improvements in yields for aftermarket designs that replace OEM rubber-wheel pairs.
"PFR data indicates the proper closing wheel varies depending on a farmer's soil type and planting practices, but nearly all aftermarket wheels have performed better than the two solid rubber wheels that come standard on most planters," he says. 
Importance of Closing Wheels
Chester says closing the seed trench and optimizing seed-to-soil contact is essential for uniform emergence, which leads to higher corn yields.
"This is achieved by filling the seed trench from the bottom up and firming the soil while eliminating air pockets," he says. "Open slots also allow herbicides and insects, such as slugs, direct access to the seed. When planting conditions are not ideal, spiked closing wheels are essential to close the trench, eliminate sidewall compaction and prevent restricted root growth."
Top Performers
Beck's operates 7 PFR farms and 3 cooperator sites throughout the Midwest. The company awards the "PFR Proven" label to products and practices tested for a minimum of 3 years that show a yield gain each year and average a positive ROI. A number of aftermarket closing wheels have earned the label.
"While the most versatile PFR Proven wheel we've been testing is the Yetter Poly Twister, which works in a variety of soils and with various tillage management practices, no-tillers probably will be most interested in the Shaffert Zipper," he says. 
"We do a lot of no-tilling here at the London site, which has higher clay soils, and the PFR Proven Zipper works very well for us. It is cast construction, so it's heavier than many wheels tested and its spikes are sharper. It seems to do better in high-residue no-till scenarios."
Chester says throughout his tenure with Beck's, closing wheel design has evolved from the original Yetter Spiked models, which he says were stars at the time in a pure no-till environment.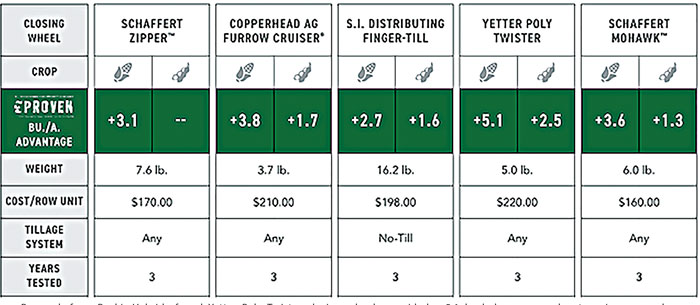 Research from Beck's Hybrids found Yetter Poly Twister closing wheels provided a 5.1 bushel per acre advantage in corn and a 2.5 bushel per acre advantage in soybeans, the best results among the aftermarket closing wheels tested in 2022. Photo: Beck's Practical Farm Research
"Since then, however, we're testing wheels with shorter spikes, and they seem more versatile than the original spiked wheels," he says. 
"You certainly get a yield bump in no-till fields with the newer designs, but they also work very well behind vertical and conventional tillage."
Installation is the key to good success with any aftermarket wheel, Chester notes. Every closing wheel manufacturer publishes a recommended installation for proper spacing, and Chester says the Beck's team mounts closing wheels exactly as the manufacturer recommends. From there, they can be adjusted in the field if needed.
"Growers need to do the same thing when they install aftermarket wheels," Chester says. "Print out the instructions and follow them to install them properly. Make certain they are spaced and shimmed correctly, and make certain they are centered on the trench."
The Next Expenditure?
While interest in closing wheels is high because no-tillers recognize they are a straightforward, relatively inexpensive method of boosting planter performance, Chester says switching from stock OEM wheels to aftermarket closers is only the first step — or "low-hanging fruit" — in improving productivity at planting.
"We can show rather quick return on investment (ROI) for installing aftermarket closing wheels, but after that, growers likely will have to make larger investments to significantly improve their planter's OEM-designed performance potential," Chester says. 
---
"Nearly all aftermarket wheels perform better than two solid rubber wheels…"
---
"Planter technology has progressed over the past 10 years as far as singulation, spacing and depth control. I can see a tremendous difference with seed singulation up to 98-99%." 
After replacing meters, Chester says the next logical investment to improve planter productivity would be improved downforce capability for row units, especially for no-tillers who are planting in high residue, varying soil types and other challenging conditions.
"These systems are expensive, but they are an investment with a positive ROI because it is so important to plant at the correct depth with the right bulk density surrounding the seed," he says.
Once closing wheels and downforce are addressed, Chester says growers still searching for better planting performance and stand establishment should look at row cleaners.
Tested Closing Wheels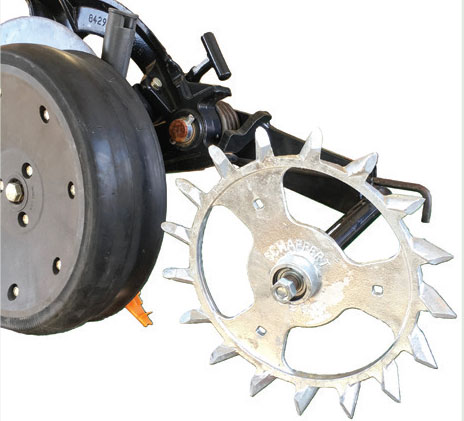 Photo: Schaffert
Schaffert Zipper — The Schaffert Zipper is an angled cast spike closing wheel. The non-aggressive 1-inch angled spikes feather the soil in the furrow while applying pressure to ensure the furrow is zipped shut. As the spikes close, they create indentions that allow moisture to sink in, improving seed-to-soil contact. Beck's analysts say the Shaffert Zipper showed much promise in no-till conditions with a 3.1 bushel per acre yield average advantage over OEM closers.
S.I. Distributing Finger-Till — The S.I. Distributing Finger-Till wheel is a steel closer that is lighter than cast-iron competitors and features spikes to fracture the seed trench sidewall. The wheel's action reduces compaction, while the interior fins break up clods and fine up the topsoil even in tough, wet no-till conditions.
Copperhead Ag Furrow Cruiser — The Copperhead Ag Furrow Cruiser was designed by farmers to eliminate sidewall compaction. It provides depth control, minimum sidewall compaction and elimination of air pockets. It functions in any planting conditions.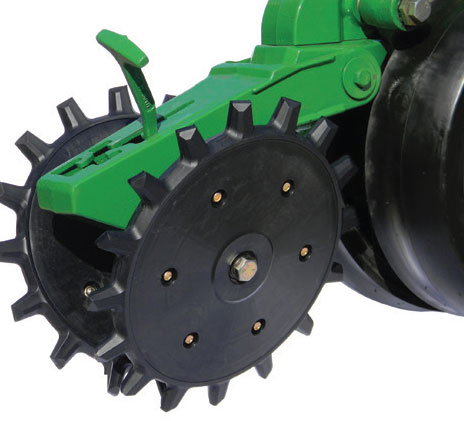 Photo: Yetter
Yetter Poly Twister — The Yetter Poly Twister performs in a wide spectrum of soil conditions and provided a 5.1 bushel per acre average corn yield improvement over stock closers in 2022 for the year's top performance in the PFR test. The wheel features twisted poly spikes and a rounded center to close the seed trench by crumbling the sidewall. The ring design maintains wheel depth and firms the soil, eliminating air pockets.
Schaffert Mohawk — Schaffert's Mohawk closing wheel fractures the soil with minimal compaction. The non-aggressive 1-inch angled blunt spikes feather the soil, and they apply light pressure to ensure the furrow is stitched shut.
"If you install row cleaners, look for a system that allows you to adjust them from the tractor cab," Chester says. "Adjustment on row cleaners is a real trouble spot, and being able to adjust them on the go can make a big difference on their performance.
"Overall, the more things you can monitor and adjust from the cab, the better your stands will be. The ability to detect problems and make changes in the field while planting — vs. waiting until the stand comes up and then discovering these issues — is critical and should be considered when investing in the planter."
More PFR Findings From Beck's
Beck's Hybrids publishes a Practical Farming Research (PFR) book after each year's harvest. click here to view additional PFR information, blogs, articles, videos and past research.