In late December 2019 we introduced you to a novel planter technology being perfected in Canada using ultra-high-pressure (UHP) water jets to cut through the toughest residue and compacted soil. After more than 10 years of testing and proof-of-concept research, Susterre Technologies plans to be taking orders this spring for fully functional retrofit systems for delivery in late 2023 across the U.S. and Canada.
Michael Cully, Susterre's CEO, says the heart of the system is adopted from industrial manufacturing processes designed to make precision cuts through metal using water jets capable of 60,000 pounds per square inch (psi) targeted in a very narrow (0.007-0.010 inch) stream.
"Susterre is providing a system to adopt these jets for use in agriculture, particularly for planting, and is offering new row units for any existing planter," he explains. "These row units feature water jets in front of the planter's disc openers and seeding mechanism and can easily cut through heavy crop residue with very little downforce.
"The fluid used in our system can be water or a starter fertilizer like UAN 28%," he explains. "If starter fertilizer is used, not only does it serve as a cutting fluid, but it also is injected 3-4 inches below the seed bed."
Cully says for a 6-row application, Susterre's system can be installed using the PTO from the grower's tractor. For 12- to 24-row applications, the company supplies power carts which provide a separate engine and pump assembly, along with water storage for the system. The system requires about 12.5 horsepower per row to run the water jets over what the grower current uses to run the planter.
"This application doesn't use a great deal of water," he explains. "If you think of a 30-row planter on 30-inch spacing moving at 5-6 mph across a field, we only use about 10 gallons of water per acre."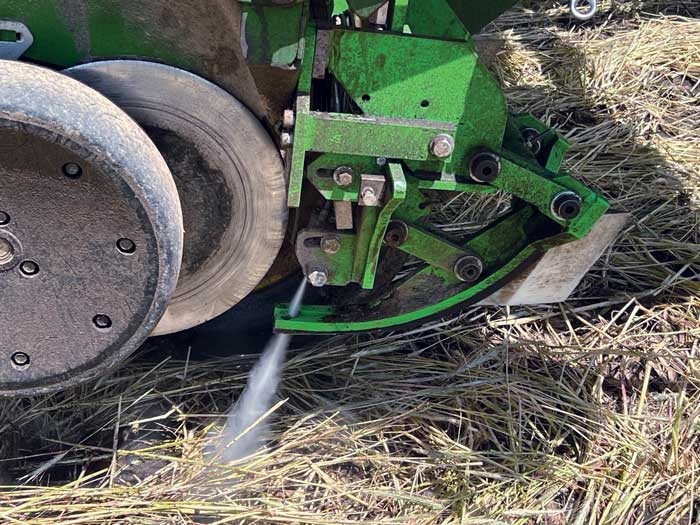 Susterre Technologies of Toronto, Ont., is commercializing ultra-high-pressure water-jet technology to provide no-tillers a method to plant in heavy residue with very little down-pressure. Photo Courtesy Susterre Technologies 
Cully estimates the use of UHP fluid jet technology reduces operating costs for a farmer by 10-13%, creating savings of up to $58 per acre, or about $81,000 savings per season on a 1,400-acre corn or soybean farm. He says growers can expect a return on investment with the system of about 2 seasons.
"No-till farmers find it particularly difficult to plant through crop residue in damp conditions," he says. "These conditions are most likely to occur early in the planting season and are often encountered in the morning after dew settles overnight.
"As a result farmers have been limited to planting during daylight hours when the field is relatively dry and this can eat into the optimal planting window which is typically only 2-3 weeks," he explains. "The UHP system cuts through residue in any conditions which makes it possible to start planting earlier and for more hours of the day."
Agronomic Results
After 4 rounds of prototyping and construction of a commercial size unit for testing during the 2022 season, Cully says Susterre's observations on side-by-side comparisons on farmer-cooperator fields have been encouraging from a production standpoint.
"We planted corn over heavy corn residue in Kentucky, and by mid-season we noticed the same variety of corn, the same population, everything, our corn was noticeably taller than where the grower planted with his own technology," Cully notes. "At harvest we saw a 6% yield increase over the farmer's planting."
In Tennessee, Susterre worked with a grower on double-crop soybeans. A month after planting (in a very dry summer) the water-jet stands were more uniform, and at harvest showed a 9% increase in yields.
"In Iowa we did a field that had residue from 2 seasons of corn plus a cereal rye cover crop that was about 'chin high' when we planted," Cully explained. "Again, the farmers told us our crop came up about a day earlier than their planting and showed visible improvements in canopy height. We ended up with about a 12% yield increase there."
Based on those examples, Cully says no-tillers might find they can save some inputs that currently go to make up for poor germination.
"In theory a grower could do a slightly lower seed population and still get the results they want from their field because of a higher rate of return on seed and inputs they plant with the water jets," he explains. "Also, because we inject chemicals into the soil, instead of placing them on the surface, we avoid a lot of runoff."
Cully says initial sales of the water-jet planting systems likely will be directly to grower-cooperators who helped test the systems, but as Susterre moves from product development to commercialization and sales the company hopes to build a dealer network to sell and service their products across North America.