As equipment continues to get bigger, the space needed to sell and service it needs to change as well. Each spring, Farm Equipment reaches out to dealers to learn about the facility upgrades they've made in recent years. The following profiles highlight some of the new construction projects dealers have undertaken in recent years to improve their customer and employee experience. Creating a more efficient work environment was a common theme among this year's projects, which include Van Wall Equipment, Intermountain New Holland, Bane-Welker Equipment and Ohio Valley Ag.
---
Van Wall Renovates Former GM Dealership: Denison, Iowa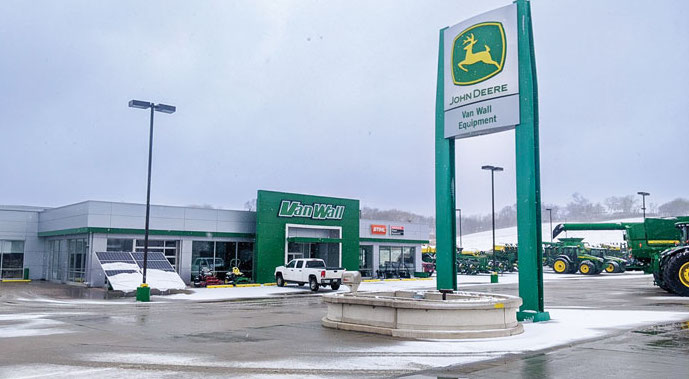 Photo: Van Wall Equipment
John Deere dealer Van Wall Equipment acquired its Denison, Iowa, location about 7 years ago. The store was built in 1952, and as store manager Ryan Morgan puts it, "The thing about a facility built in the '50s is it was built for 1950s farm machinery." 
Over the years, the Denison store had undergone a number of renovations and additions. "One of the last things we considered at our dealership was our parts and showroom area. And, of course, our parts and showroom area were very small and very tight. Don Van Houweling [owner and CEO of Van Wall] asked me to go look at the Adams Motor Company building. It was a GM facility. 
"Right away I thought, there's no way this will work. The concrete's not thick enough for our needs. It's a lower overhead. There's just really no way this is going to work," Morgan recalls.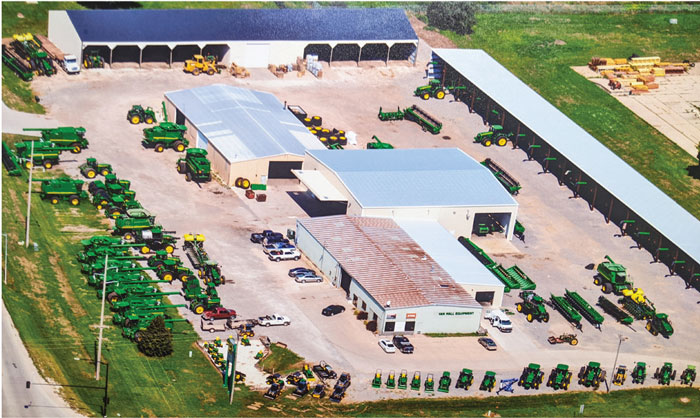 Photo: Van Wall Equipment
Morgan looked at the facility, which was located just across the road from Van Wall's store, and conducted a series of drill tests in the concrete. "Everywhere I drilled was over 6 inches deep on concrete. I thought, 'Oh boy, we could actually make this work," he says. 
Van Wall was able to purchase the building for 40 cents on the dollar. President Matt Van Houweling came up with a few unique design options for the inside of the new facility. "After putting a pencil to it, we figured out that the cost made sense and we could have a humongous showroom," Morgan says. "And to put that into perspective, at our old location, it was a big deal if we could fit a single lawn mower out on the showroom floor. It was that tight."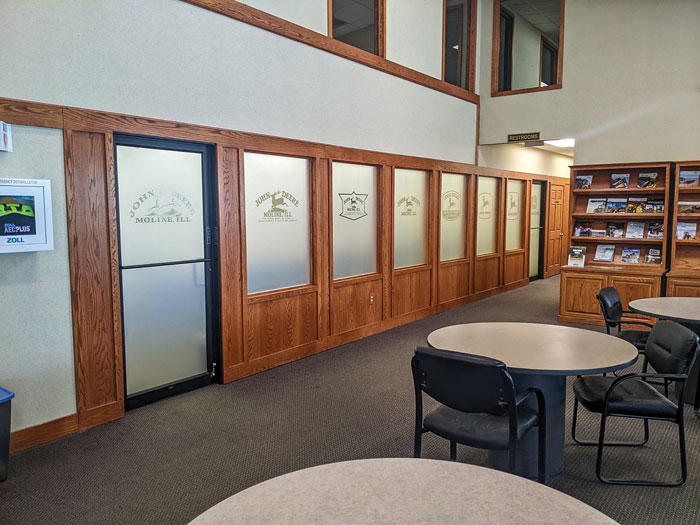 Photo: Van Wall Equipment
With the new facility, Morgan says they can fit 4 Gators, a half a dozen lawn mowers and 4 and 5 Series tractors in the showroom at all times. "That was a huge advancement. And with that, we were able to bring on another sales lead, and he focuses all on consumer products, and we were able to drive our CP business up because of our showroom facilities," he says. 
The new building also has a large meeting room that can be used for training and monthly store safety meetings and the like. The room is in the center of the building and has windows all around it. Morgan says they frosted the windows and had decals of the 8 iterations of the Deere logo made to create a show point for the store.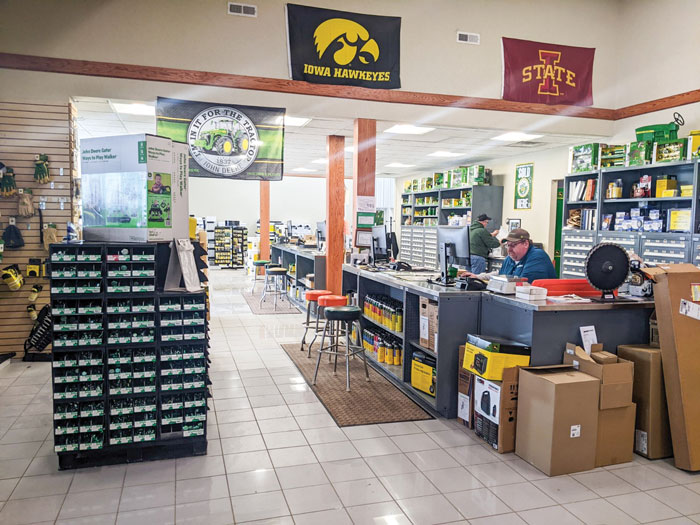 Photo: Van Wall Equipment
 "We put in a custom-built table and a projector wall. The table is wired with outlets and we can seat 18 people comfortably. We have done everything from store meetings to quarterly budget meetings, to training, to job interviews in that area," Morgan says. 
Van Wall still maintains the original building across the street, which had been renovated not too long ago and now serves as the Denison location's combine and sprayer shop. The wash bay at that location is also still utilized for all equipment. The old location also serves as the parts warehouse for larger parts like augers, Morgan says.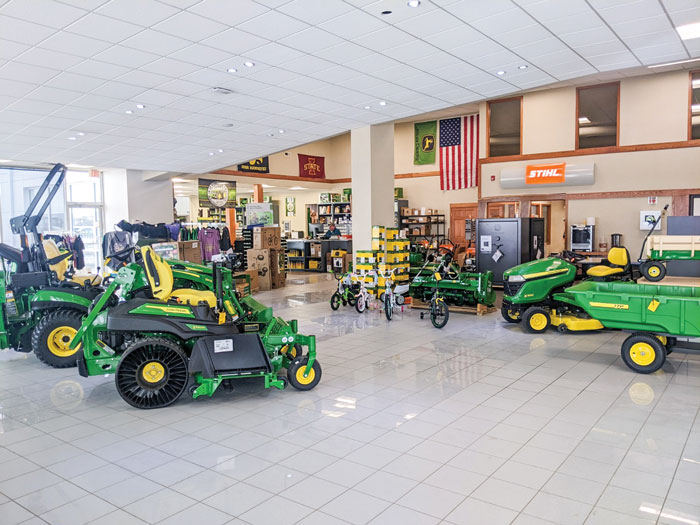 Photo: Van Wall Equipment
---
Intermountain New Holland Invests in the Future: Heyburn, Idaho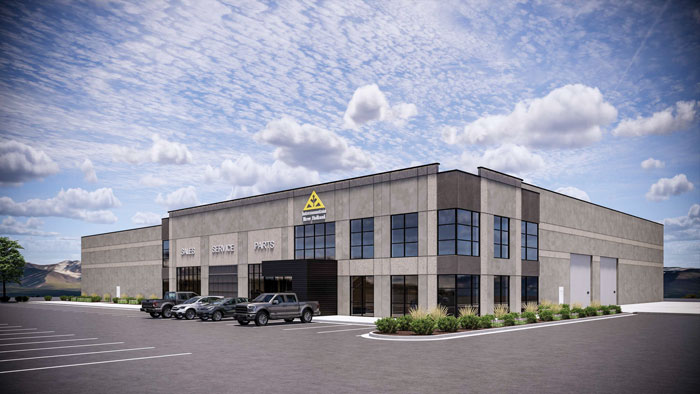 Photo: Intermountain New Holland
Intermountain New Holland is currently in the midst of a construction project to replace its 70-year-old facility in Heyburn, Idaho. Jarrod Hunt, president of the 2-store New Holland dealership, says the new facility should be finished in August 2023. He says they are viewing the project "purely as a return on investment and the future of the dealership." 
"I've spoken with many dealers who have gone through this process of updating or rebuilding new locations, and all of them have said the same thing — they were overwhelmed at the benefit the new dealerships had to not only the sales growth, but also the efficiencies within their operations and within the organization itself," he says.  

"We've game planned and modeled out a whole host of scenarios of if our sales go up by 5%, 10%, 25% because of this, if it takes 3 years for that growth to occur, what does that look like? Can we improve our efficiencies in the shop by 5, 10, 15%? What does that mean? Can we add more people? Can we get rid of people? All of those different, what if scenarios," he says.
When the dust settles, Intermountain New Holland will have about $9 million invested in the new facility, and Hunt says they want to make sure it's the right thing for the organization and that customers respond positively to it.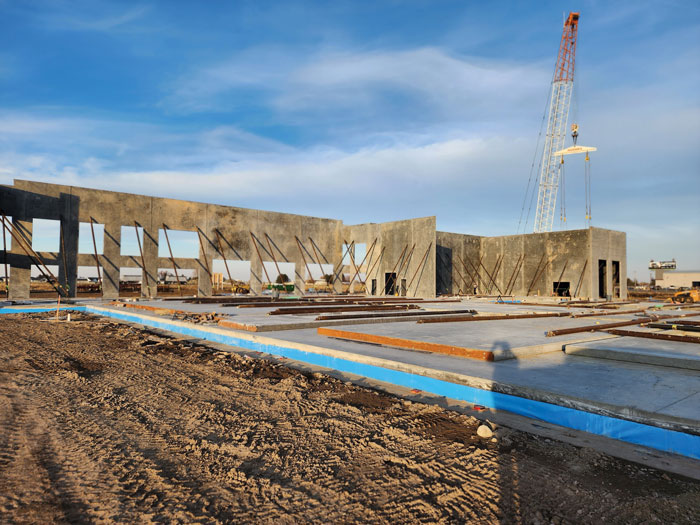 Photo: Intermountain New Holland
The new store is about 2 miles from the current location. Some of the must haves for the new building include being able to pull equipment directly into the showroom for display, a heated and enclosed wash bay and space for customer clinics and demonstrations. 

In the shop, there will be 2 Kenton bridge cranes that go the full length of the shop to add extra flexibility and safety for the technicians. The service shop will include 4 25x16 foot doors, a 30x16 foot door and 2 18x16 foot doors. "We'll have pull through capabilities if we need it, but also wide enough doors that we can easily handle harvesting equipment, combines, choppers, all that stuff without giving it a second thought of fitting into the building," Hunt says. 
He adds that the shop is being designed with an expansion plan in mind. "When the time comes, we can add another 10,000-15,000 square feet onto our shop area."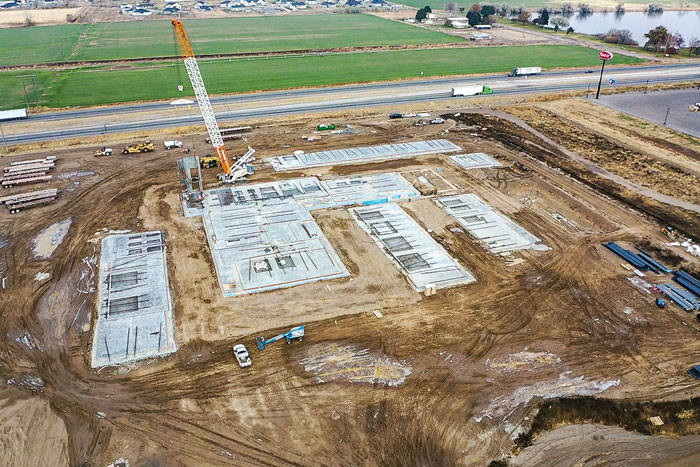 Photo: Intermountain New Holland
The parts department will feature 2 truck dock doors with levelers on them. This will allow the parts employees to drive a forklift right onto the back of a truck to unload orders. It will also have a vertical lift module for parts, what Hunt calls "a parts vending machine."     

Intermountain New Holland is working with Modula on the vertical parts system. Hunt says it not only saves on space but also improves how parts are tracked. The system will grow the parts storage area by 4 times compared to what they currently have. 
"The other thing that is a little different about this building compared to a lot of ones that get built is we're using tilt wall construction on this, which is basically just large concrete panels. And so there will be a full concrete wall that separates our office and showroom area from the shop to prevent noise from transferring over and being a distraction," Hunt explains. 
---
Bane-Welker Equipment: Winamac, Indiana

Photo: Darren Foster
Case IH dealer Bane-Welker has been making a number of improvements across its 15 locations. In January 2023, the dealership held ribbon cuttings at its Circleville, Ohio, and Winamac, Ind., stores. 
The Winamac store remodel largely involved repurposing the old combine shop and took about 8 months to complete. The original combine shop was 32 feet long, and an additional 32 feet was added onto the building.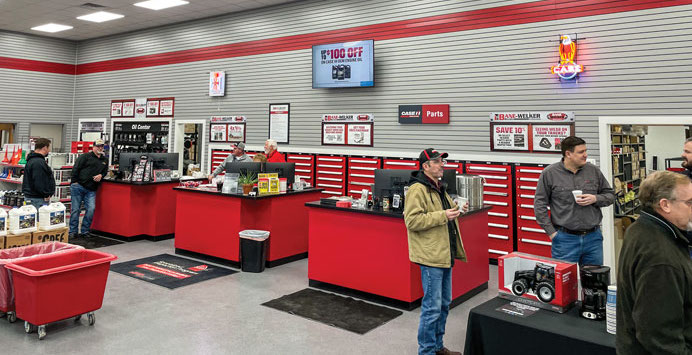 Photo: Darren Foster
In the service department, the new 10,800 square foot shop has A/C to help gain and retain service technicians. The wash bay, set up and additional parts storage is in another 80x80 foot building. 
Bane-Welker is also adding four 7,000 gallon storage tanks so they can offer bulk oil sales out of the Winamac, Ind., store. 
Along with the facility updates, the location also recently added Kioti and Echo equipment, both new lines for this location.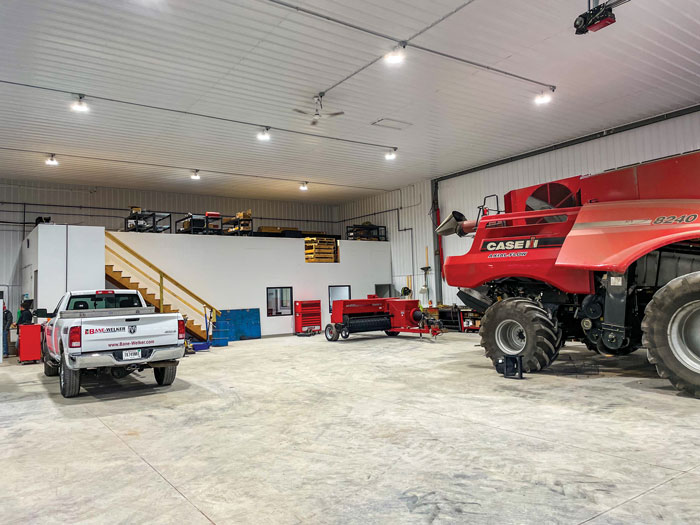 Photo: Darren Foster
---
Ohio Valley Ag: Mt. Vernon, Illinois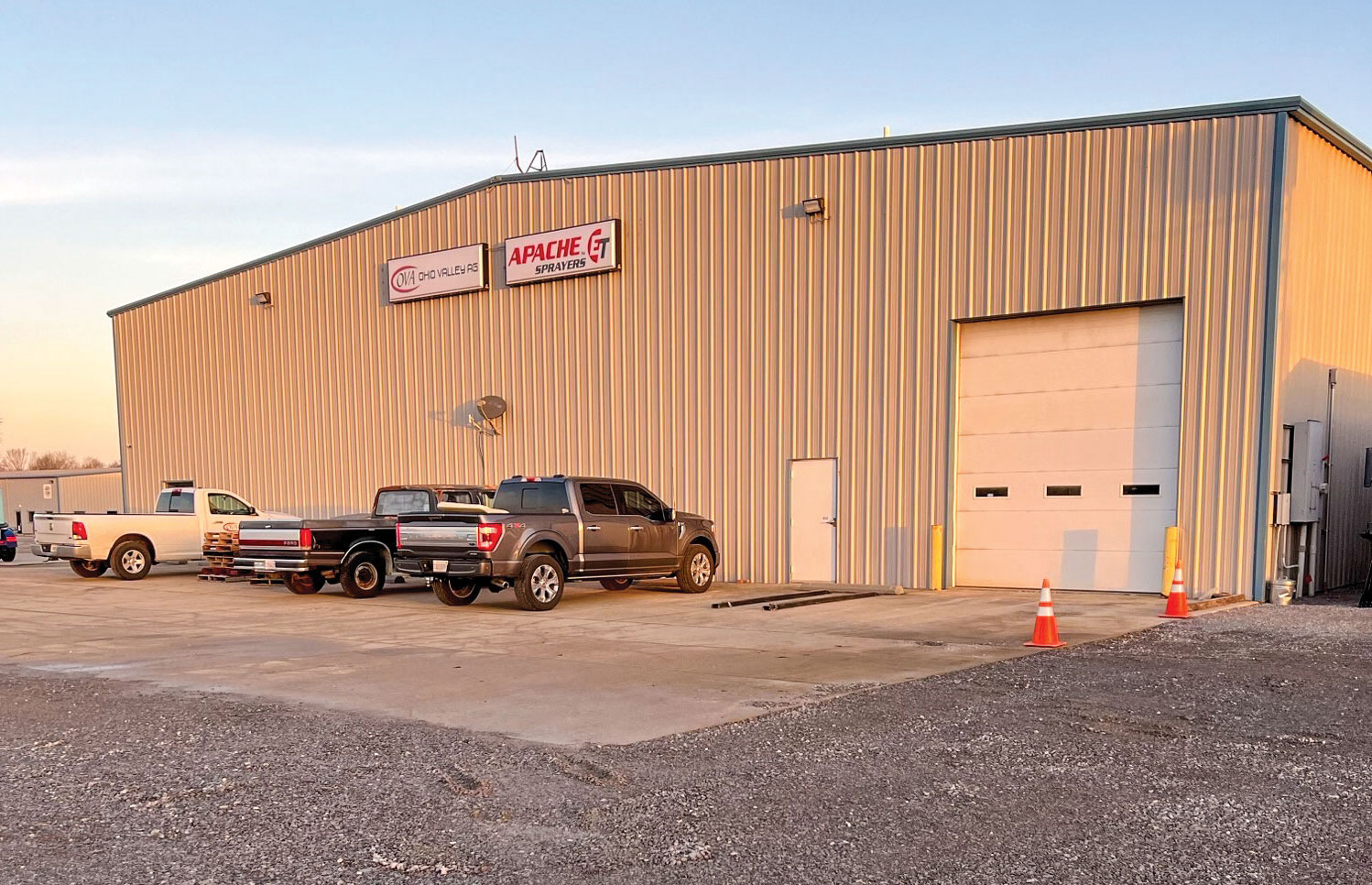 Photo: Ohio Valley Ag
Shortline dealer Ohio Valley Ag recently moved its Mt. Vernon, Ill., store to better serve its customers. "We moved from a 3,500 square foot facility to a full service 20,000 square foot facility," says Kevin Covey, general manager of dealer operations.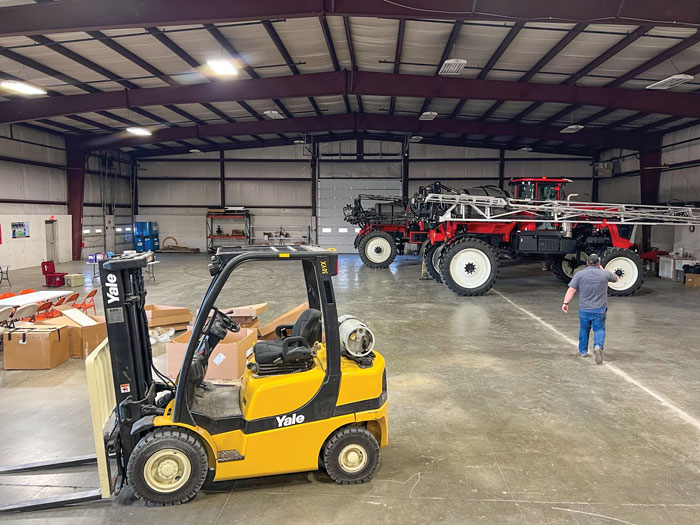 Photo: Ohio Valley Ag
"In doing so, we were able to expand our service and parts departments tremendously. We moved to Mt. Vernon 5 years ago, and the response from our customers has been outstanding. By moving into this larger, better laid out facility, we will be able to offer a full service shop, carry more equipment and parts in stock for quicker response times for our customers."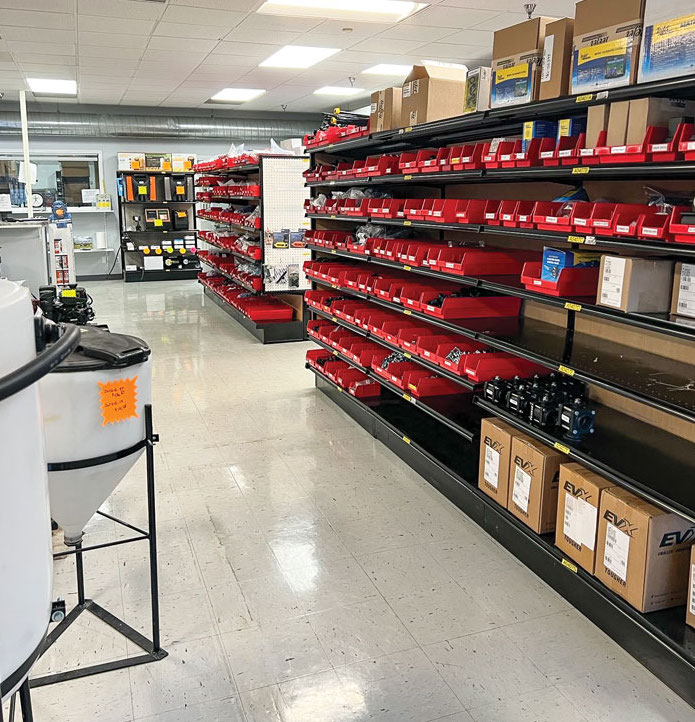 Photo: Ohio Valley Ag