Bernard Krone has become well-known during his time as a fourth-generation owner of Krone Company, which his great-grandfather started as a blacksmith in 1906 in Spelle, Germany. "The whole family worked as a company," he says. "My great-grandmother ran the farm and a little beer pub, which we had beside the blacksmith workshop." By the time the second generation took over, the company was manufacturing farm equipment. After World War II, Bernard's grandfather took over and led the company through what Bernard calls "its fastest and biggest growth in history."
Now 117 years old, Krone is one of the leading manufacturers of hay and forage equipment and employs over 7,000 people. The company's 2020-21 annual sales was around $2.3 billion, and its annual ag equipment sales for that period totaled $864.5 million. Krone also operates in the commercial vehicle business.
Part of Krone's legacy is its progressive approach to the hay and forage space, including manufacturing the first round baler in Europe and self-propelled mower conditioner, the Big M. Krone entered the U.S. market in the 1970s.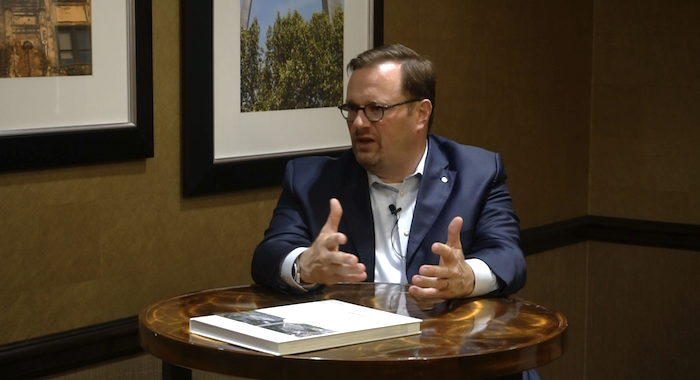 Bernard Krone is the fourth-generation owner of the 117-year-old company
 Even from a young age, Bernard said he always knew deep down he wanted to take over the company. Bernard's father made it clear from his early days that he wanted Bernard to join him in running the family business. "When I was in the first years of school, I was not so much into learning," he says. "But I remember my dad saying, 'Please Bernard, you have to learn. Otherwise, I don't need you in the future for running the company.'"
At a young age he was living next door to the company's factory in Spelle, talking with the employees and driving forklifts. "I would say from a very early age, it was my favorite place to be besides home," he says.
Even knowing his family's desire to have him join the business, Bernard first worked at a consulting firm after graduating. After his 2 years at the firm, his father told him he was needed at Krone to help with quality control at the factories.
"He said, 'It's a good time for you to step into the company. You will run a small factory, and you can make your own mistakes,'" Bernard says. "I told my dad I wasn't sure he could afford my daily wages as a consultant. He wasn't smiling."
Bernard began at Krone as a mechanic, where he made apprenticeship after 3 years before transitioning to the Krone quality department. After leading the quality campaign at Krone, Bernard took on more responsibility over the years before his father publicly and symbolically passed the reigns to him with one simple gift: the founder's pocket watch. 
"It was 2010, and we were in a big tent at a very old and famous circus," he says. "We thought it would be a nice space to present our new forage harvester models. At the time, I owned around 95% of the company.
"He thought a nice way to show my ownership to the public would be giving me the watch of Bernard the First, the blacksmith. It was a silver pocket watch that someone engraved "Blacksmith 1896" on, because that's when he got his master blacksmith's diploma. It was a way to show that now Bernard the Fourth was running the company."
Bernard was 33 when he first sat in the big chair at Krone. And in a way, he was keeping up a family tradition: his own father had taken over the company in his late 20s when Bernard's grandfather passed away in 1970. Bernard's father, Dr. Bernard Krone, passed away on Oct. 22, 2022.
Bernard entrusted Farm Equipment Editor/Publisher Mike Lessiter with a Krone family secret regarding his rise to leadership: his father had given him the watch a few years earlier, and at the time it was broken. For the ceremonial passing of the torch — or rather, the passing of the pocket watch — his father had gotten it repaired for him. 
He says that although many may have worried it would be tough to follow in his father's footsteps — an industry leader with 50 years of experience — Bernard wasn't worried. He knew it was time to go his own way and make his own mistakes.
---
Visit
www.farm-equipment.com/innovators-docuseries
to view this and the other episodes in the series.