In this episode of On the Record, we discuss the results of Kubota's earnings for 2022 and what percentage of its revenue is coming from North America and its Farm Equipment & Engines segment. In the Technology Corner, Noah Newman reports from the floor of the National Farm Machinery Show on a new announcement from Trimble. Also in this episode, a look at the latest update to the Ag Economy Barometer and the results of the 2023 Rural Lifestyle Dealer Business Outlook & Trends report.
This episode of On the Record is brought to you by BENZI.
BENZI delivers innovative solutions for power transmission. For 60 years we have been manufacturing PTO drive shafts, torque limiters, gearboxes, speed multipliers and speed reducers for agricultural mechanization. Our products are designed and tested to grant maximum performances in every working environment and our product range is by far the widest available on the market covering the vast majority of all power requirements and applications for agricultural PTO driven equipment
---
TRANSCRIPT
Jump to a section or scroll for the full episode...
Kubota North America Revenue Hits $8.2 Billion in 2022
Kubota reported its 2022 earnings on Feb. 14, including almost $20 billion in net sales. Domestic revenue decreased by $3 million year-over-year to $4.5 billion, while overseas revenue increased to $15.5 billion. This put the percentage of Kubota's consolidated revenue coming from its overseas markets at 77.5%, up almost 5 points from 2021.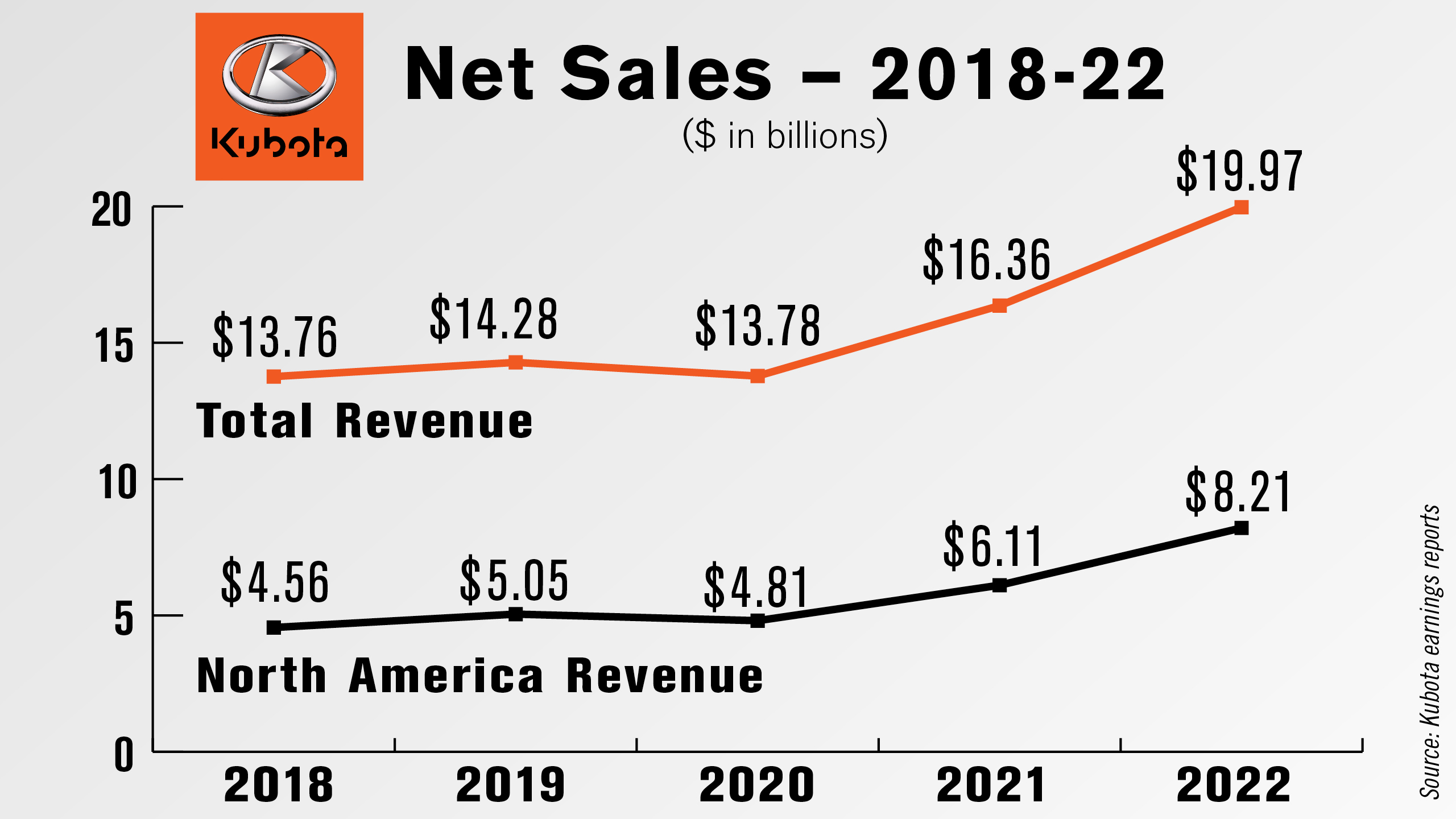 Revenue for the year was up 22% from $16.36 billion in 2021. North American net sales totaled $8.21 billion for 2022, up 34% year-over-year. Net sales coming specifically from the U.S. came in at $7.24 billion, representing 88% of Kubota's North American net sales for last year. Revenue from Kubota's Farm Equipment & Engines segment came in at $13.6 billion last year, which was a 24% year-over-year increase.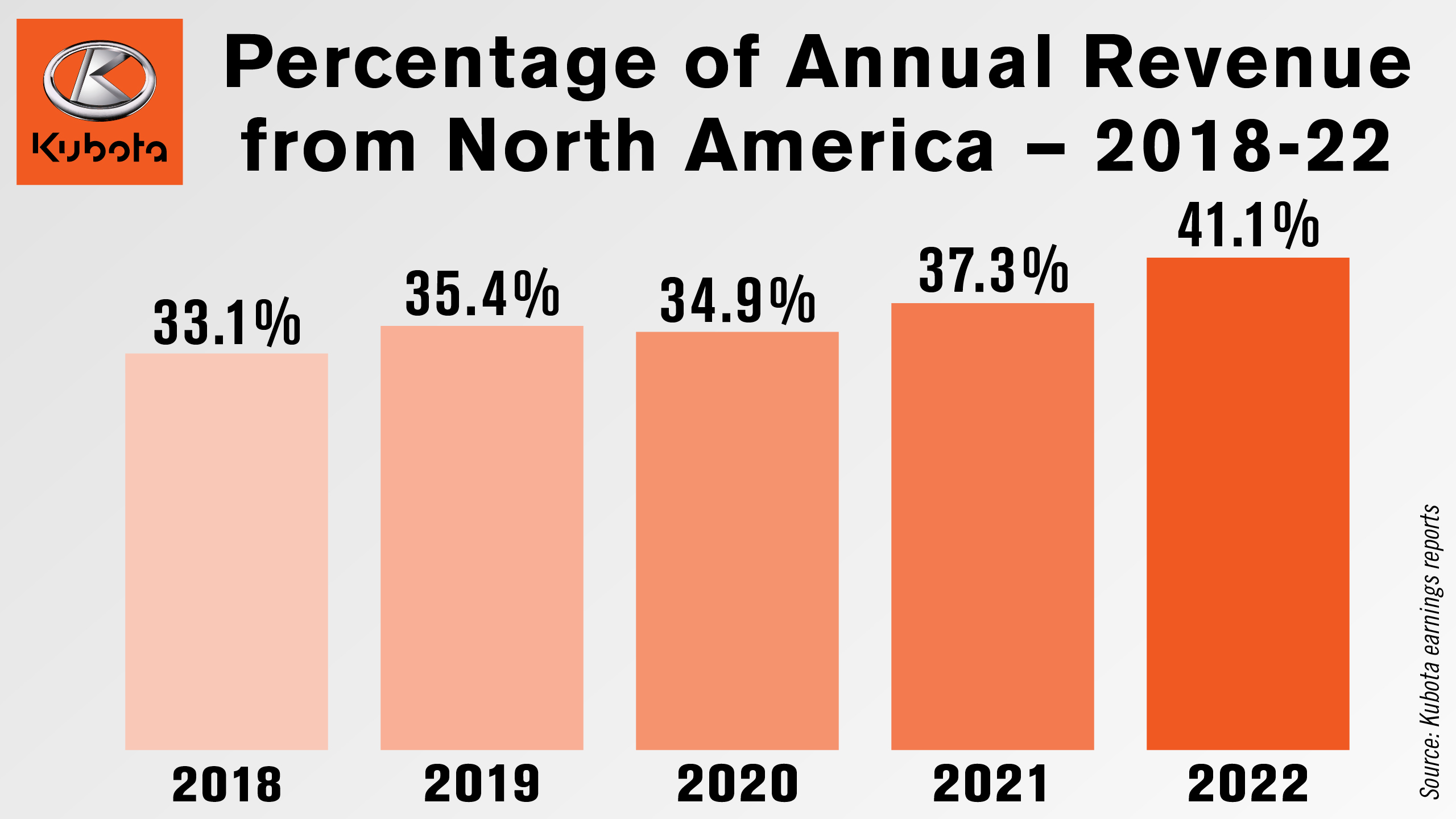 The percentage of Kubota's net sales coming from North America came in at 41.1% in 2022, its second year of increase after a dip in 2020. For reference, North American revenue made up 23% of Kubota's annual revenue in 2013.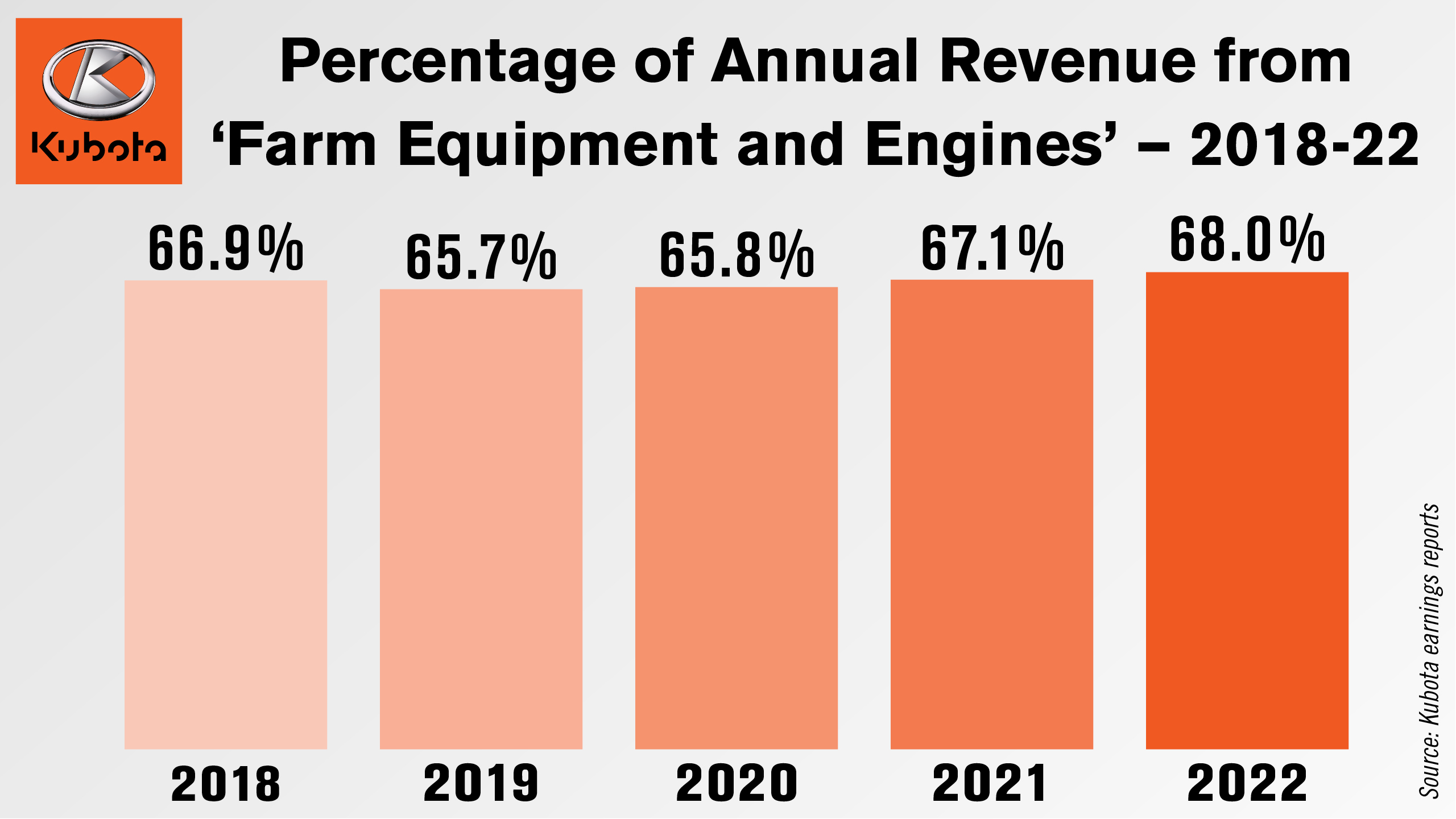 The percentage of Kubota's net sales coming from its Farm Equipment & Engines segment rose in 2022 for the third year in a row to 68%, the highest percentage seen in the last 10 years.
Dealers on the Move
This week's Dealers on the Move include Brim, Hoober Inc. and Hutson Inc. 
New Holland dealer BRIM has acquired the assets of Oregon dealership Klamath Basin Equipment, a 4 location New Holland agriculture and construction dealership. BRIM now has 11 locations throughout Washington and Oregon.
Case IH dealer Hoober Inc. has purchased the assets of Roork's Farm Supply, a single-store Kubota dealer in Elmer, N.J. Hoober now has 12 stores in Pennsylvania, Delaware, Maryland, Virginia and New Jersey. 
John Deere dealer Hutson Inc. has acquired Classic Power Equipment in Williamsburg, Mich., and now has 31 locations across Kentucky, Indiana and Michigan.
Technology Corner: Trimble's New Advanced Path Planning Technology
The Technology Corner crew is on the road this week, checking in from the National Farm Machinery Show in Louisville, Ky. We got our first look at several new products, including Trimble's new advanced path planning technology. Jesse Chisholm, north American sales director for Trimble, says the software-based technology will be a game changer for growers and equipment manufacturers, and represents the company's vision for the next step toward full autonomy.
"It works on a desktop application that allows you to essentially go in and map a field out and gives you the ability to create a dynamic path plan. This will optimize the coverage of that field depending on the vehicle size you're using. You can give it certain attributes about the field, irregular shapes or whether it's a 12-row piece of equipment vs. an 8-row. It will build you an optimal path for farming that particular field as well as other logistical pieces such as unloading and loading during field passes. That allows a grower to then begin to optimize inputs on the field and really start to make bigger decisions about the equipment they're going to use in the future to farm those fields."
The technology is currently available for 3rd party OEMs, according to the company. Be on the lookout for more details in the coming days about Trimble's new advanced path planning technology and other new products from the National Farm Machinery Show on PrecisionFarmingDealer.com.
Farmer Sentiment, Farm Capital Investment Index Rise
The Purdue University-CME Group Ag Economy Barometer Index rose again in January to a reading of 130, 4 points above its 2022 year-end index value. The January survey results also pushed the index 34% above its 2022 low point which occurred last June.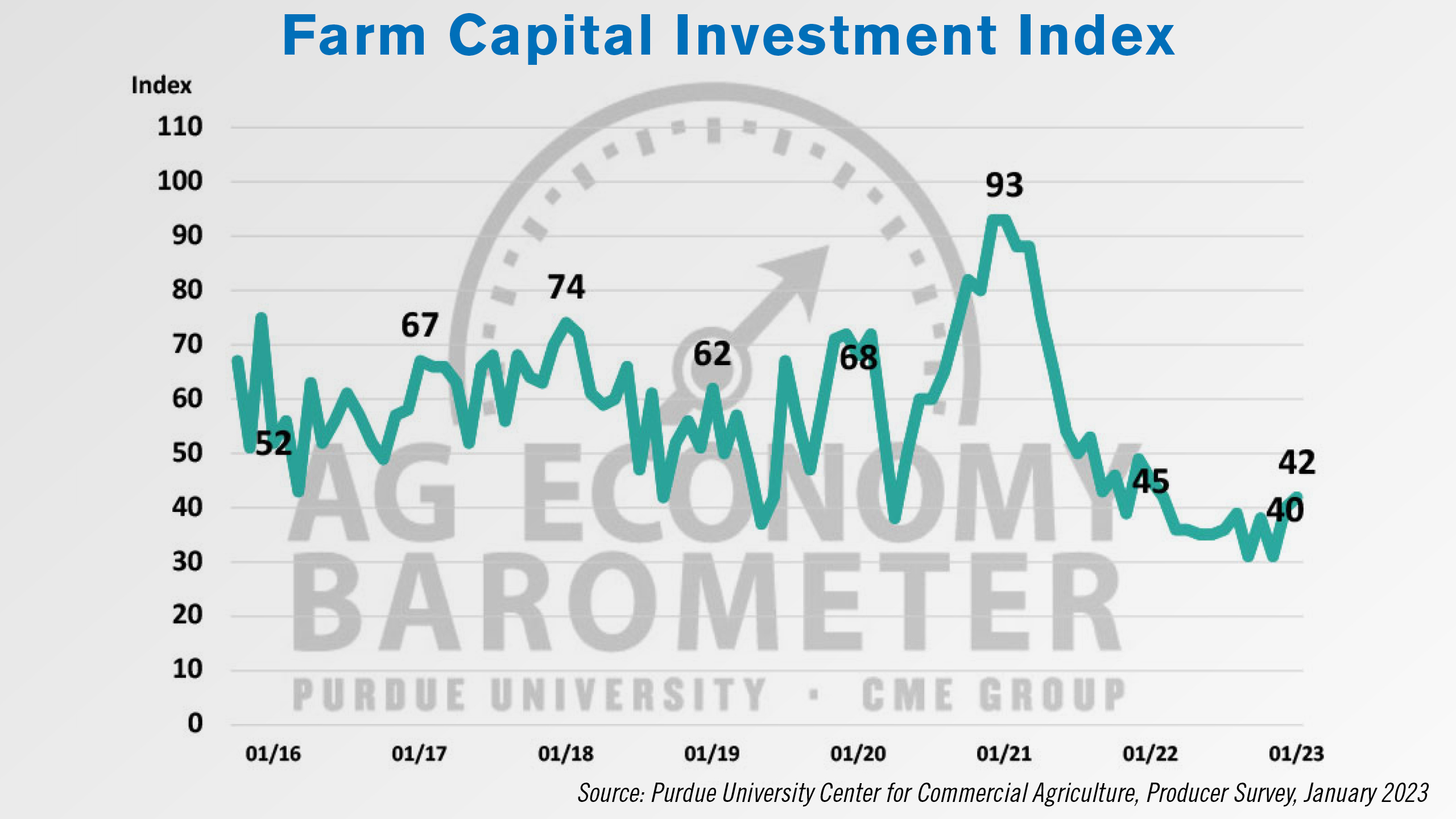 The Farm Capital Investment index rose to a reading of 42 vs. 40 in December, its second month in a row of growth. The index hasn't risen 2 months in a row since fall of 2020.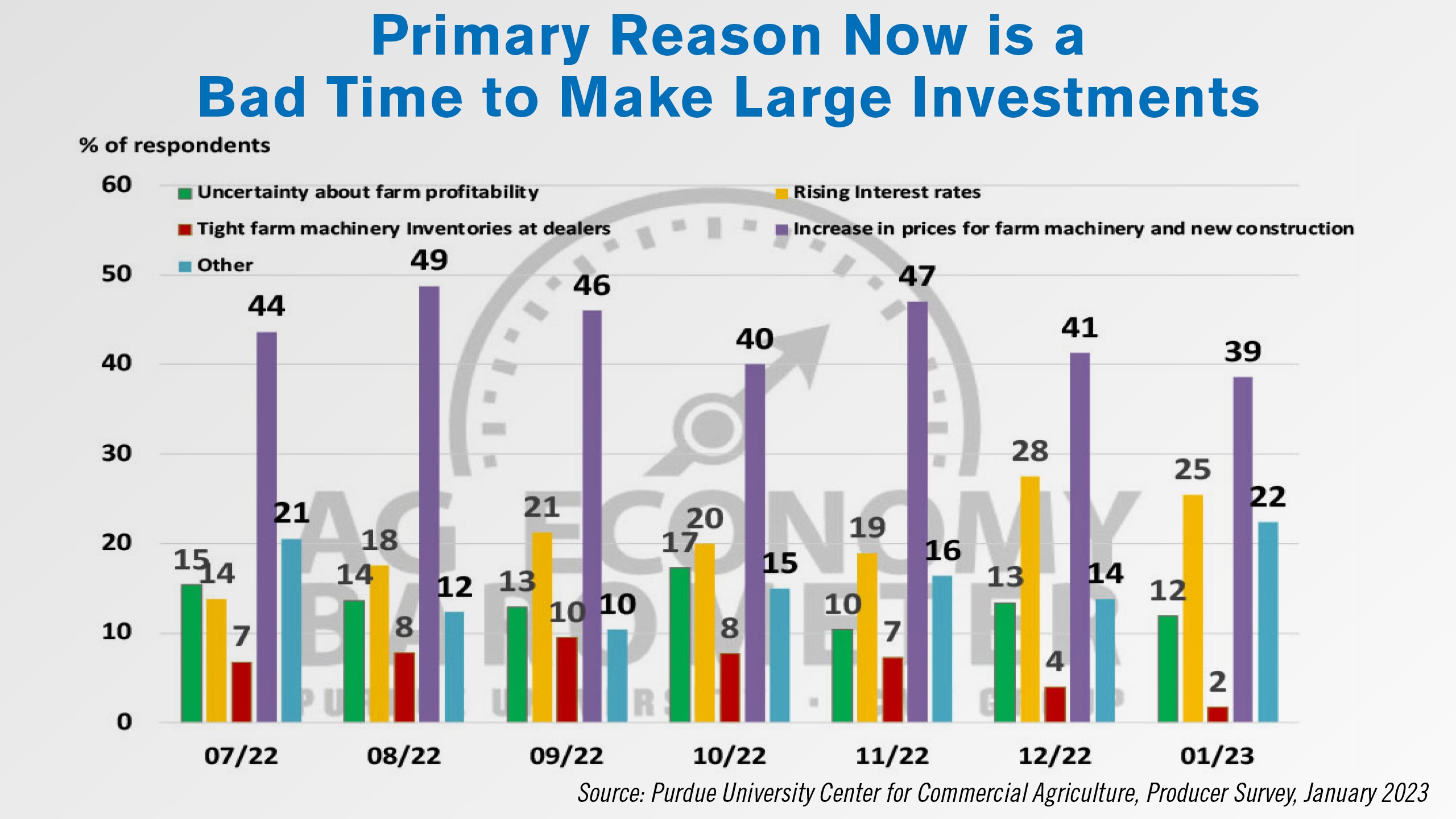 Some 70% of growers consider now a bad time to make large investments in their farm operation. Among them, 39% consider the primary reason to be the rising costs of farm machinery and new construction, the lowest percentage seen since July 2022. Another 25% said rising interest rates was their primary reason for not investing, down from 28% in December.
The percentage of growers saying low dealer inventories was their primary reason fell to its lowest reading yet at 2%.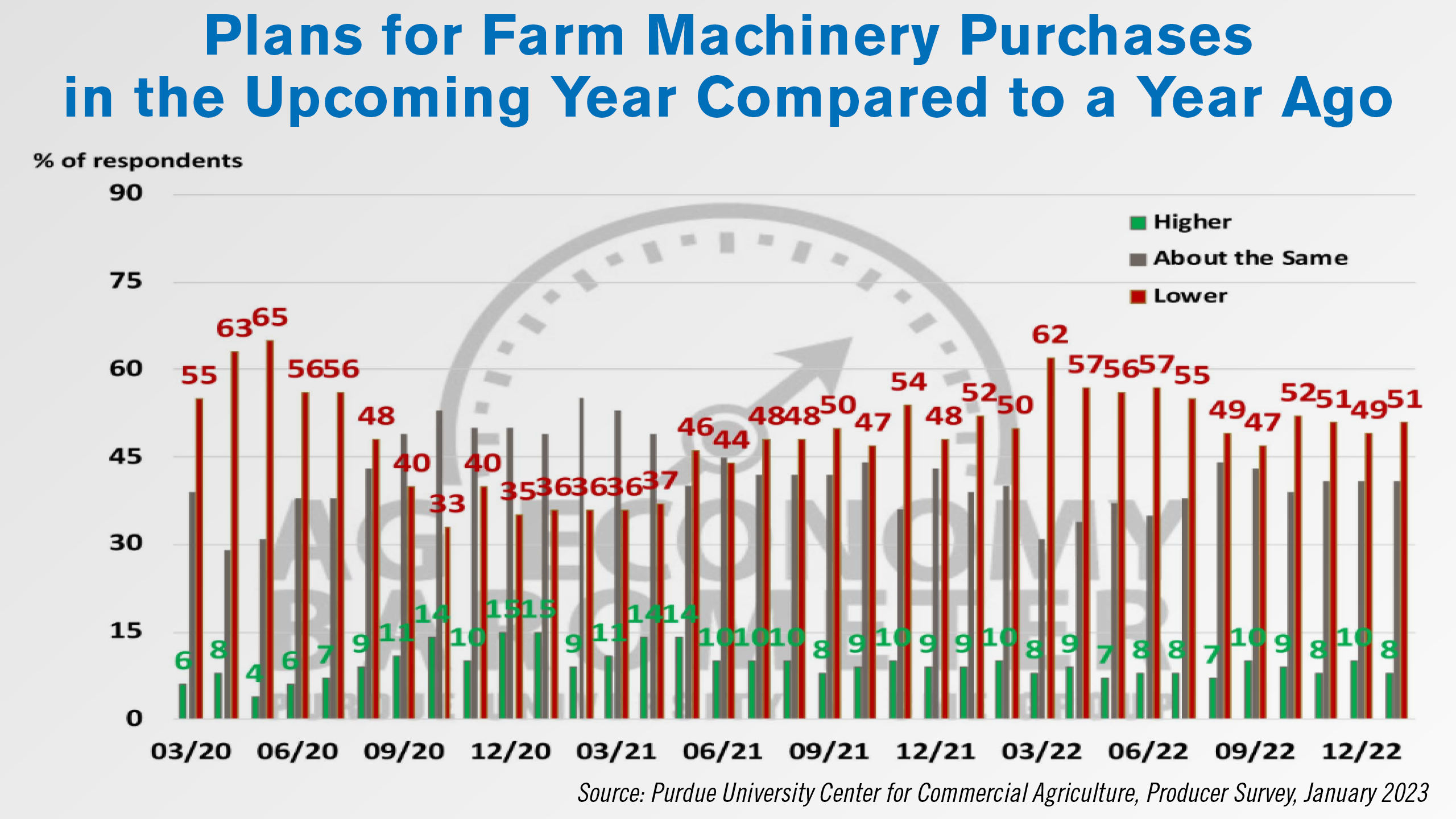 Some 51% of growers said their farm machinery purchase plans for 2023 were lower compared to 1 year ago, up from 49% who said the same in December. Some 8% of farmers said their machinery purchase plans were higher.
Rural Lifestyle Dealers Forecast Aftermarket Revenue Growth
According to the results of the 2023 Rural Lifestyle Dealer Business Dealer Outlook & Trends survey, dealers are forecasting growth in their parts and service revenue from rural lifestyle customers for 2023.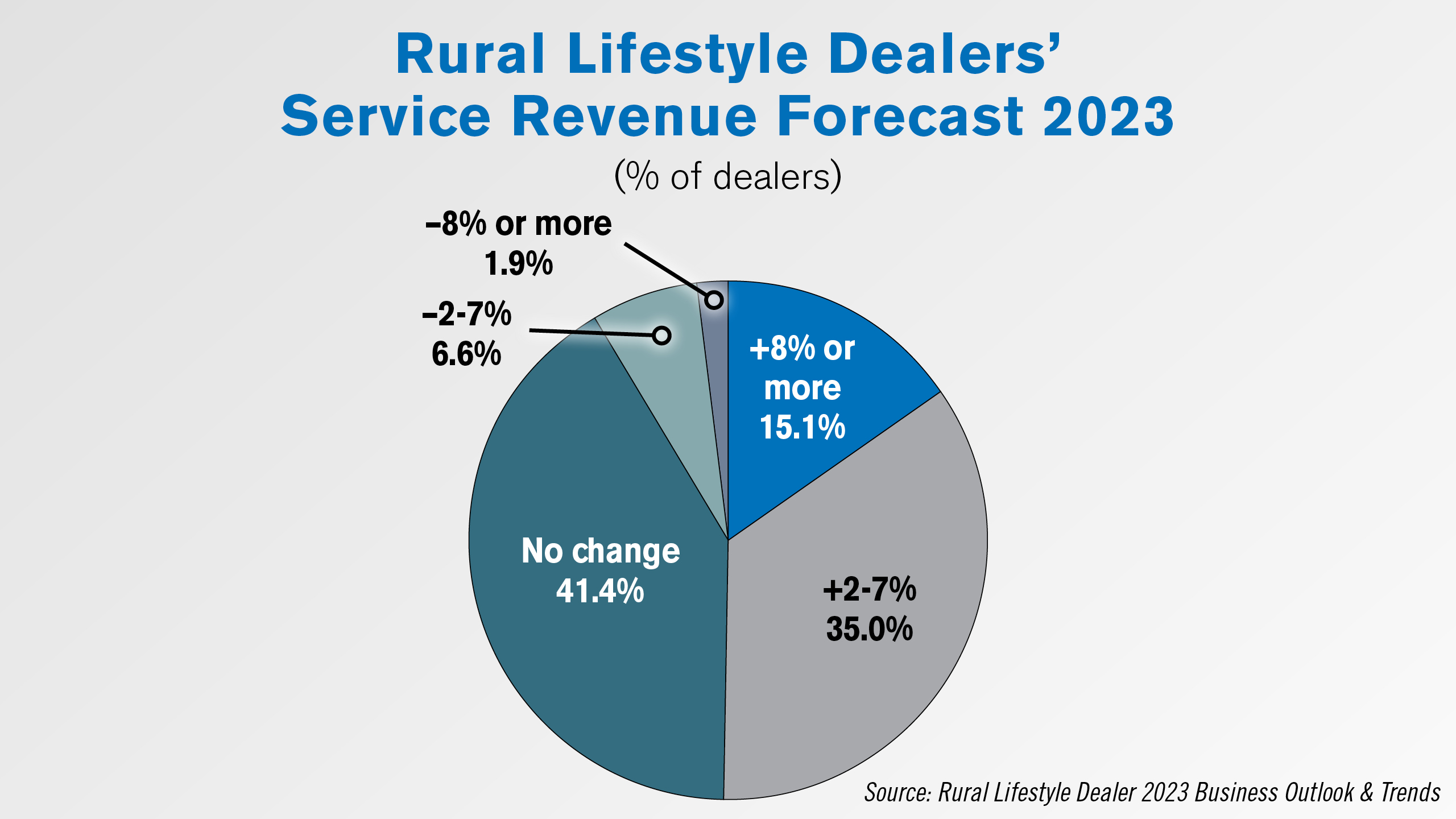 In their service revenue forecasts for 2023, half of dealers are forecasting growth of 2% or more, with 15.1% forecasting growth of 8% or more. Just 8.5% forecast a decline in service revenue.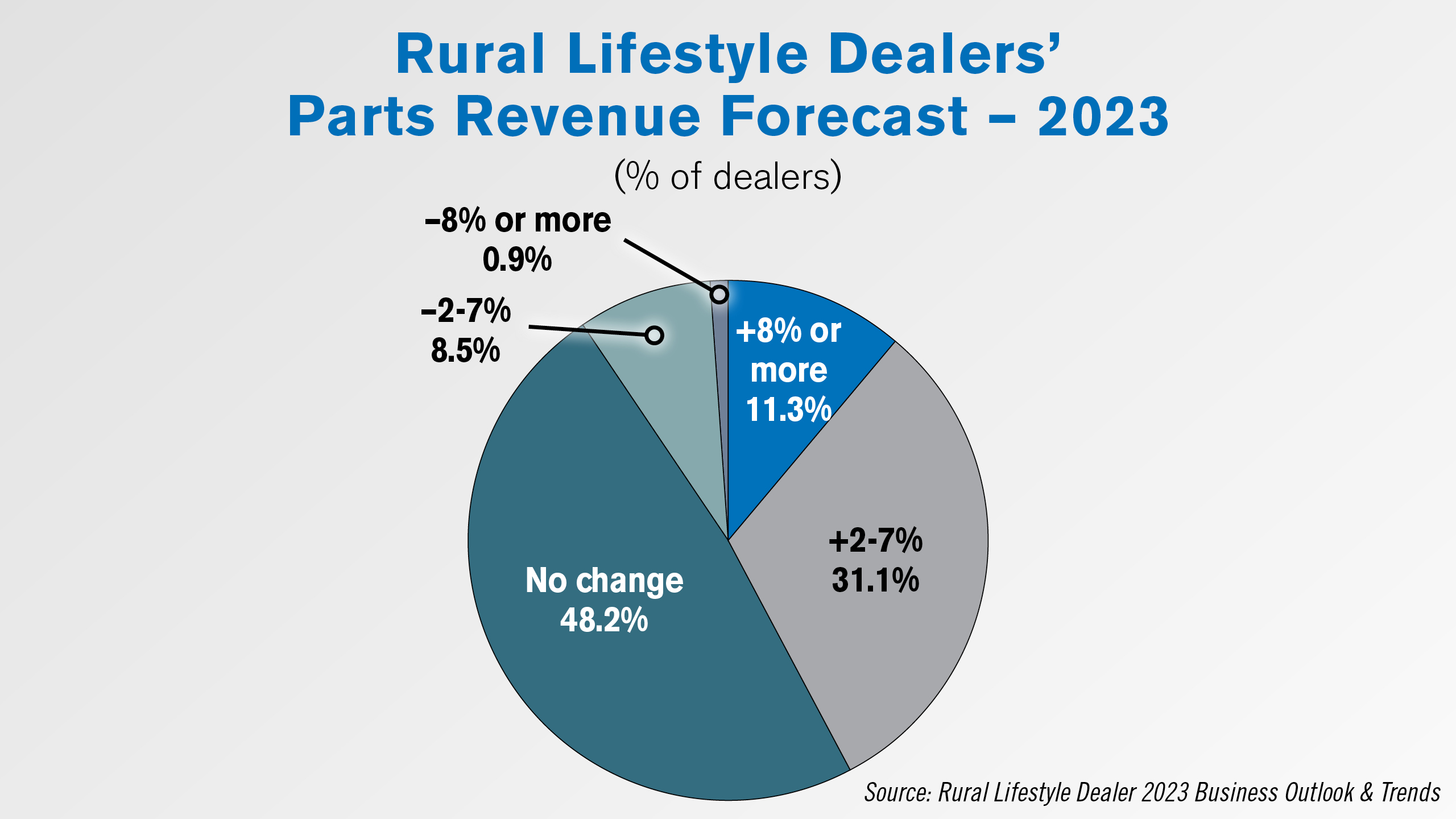 Looking at their parts revenue, 42% of rural lifestyle dealers are forecasting growth for 2023, with 11.3% forecasting growth of 8% or more. The most common forecast for 2023 was for no change in parts revenue at 48%. Another 9% of dealers forecast a decline in their 2023 parts revenue.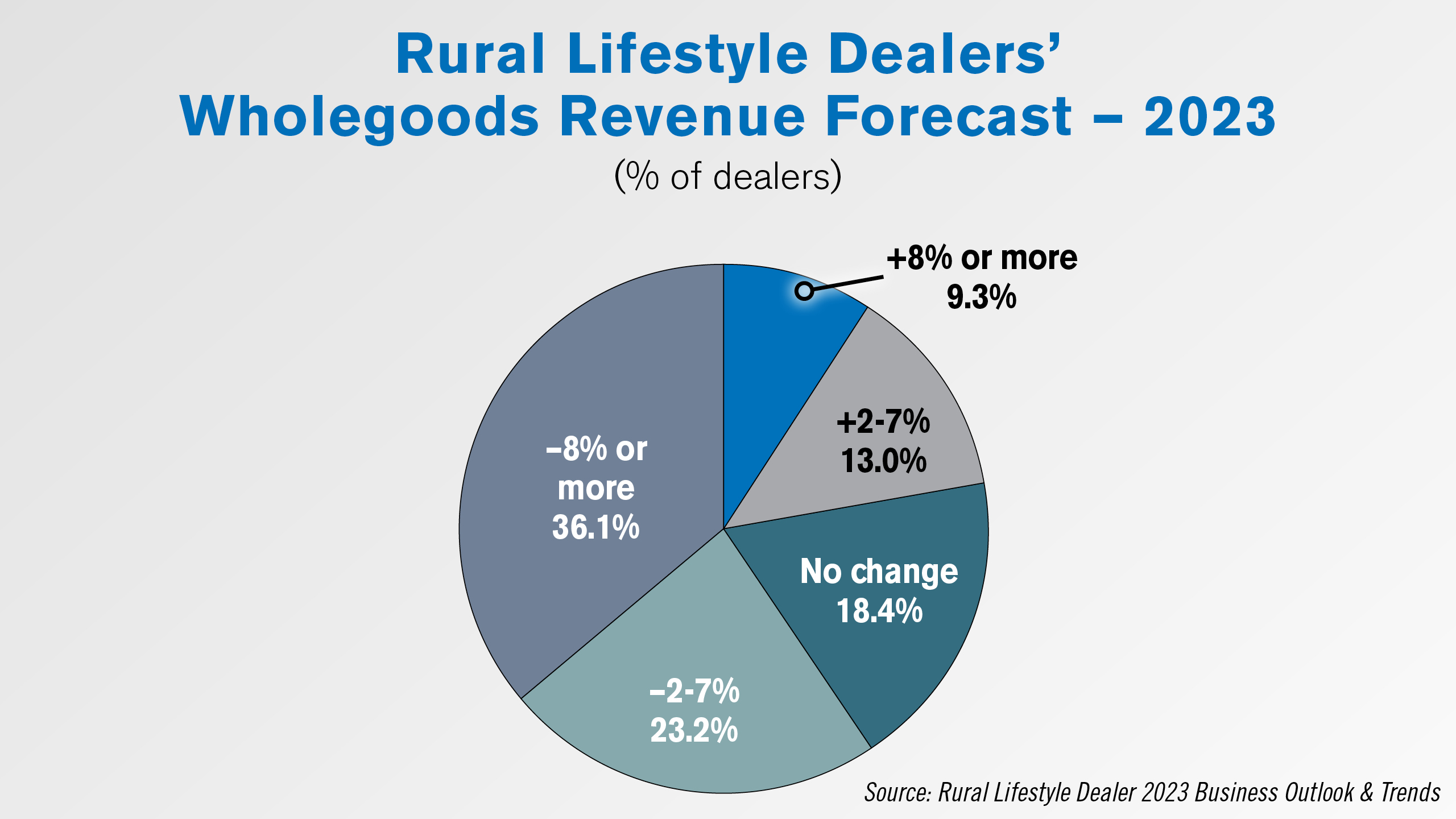 Wholegoods revenue projections were the least optimistic among rural lifestyle dealers. Over half of surveyed dealers forecast a decline of 2% or more, with over one-third expecting wholegoods revenue down 8% or more. Some 22% of dealers forecast wholegoods growth of 2% or more.
 One dealer put his forecast for 2023 into perspective, saying: "Since we are coming off a couple of fantastic record years, we will probably lower our inventory levels a little. And keep in mind, when I project lower sales in 2023, it will be lower than 2020-22, but perhaps still better than 2017-19." The survey found 94% of dealers were profitable in 2022.
Another dealer said the following: "With the (past) drastic increase in sales, it's good to see a slowdown so inventory levels can start returning to normal." 
A further breakdown of these latest results, as well as an historic look back at trends among rural lifestyle dealers will be featured in an upcoming Ag Equipment Intelligence special report.
DataPoints: Fertilizer Prices
 This week's DataPoint is brought to you by the Dealer Success Academy.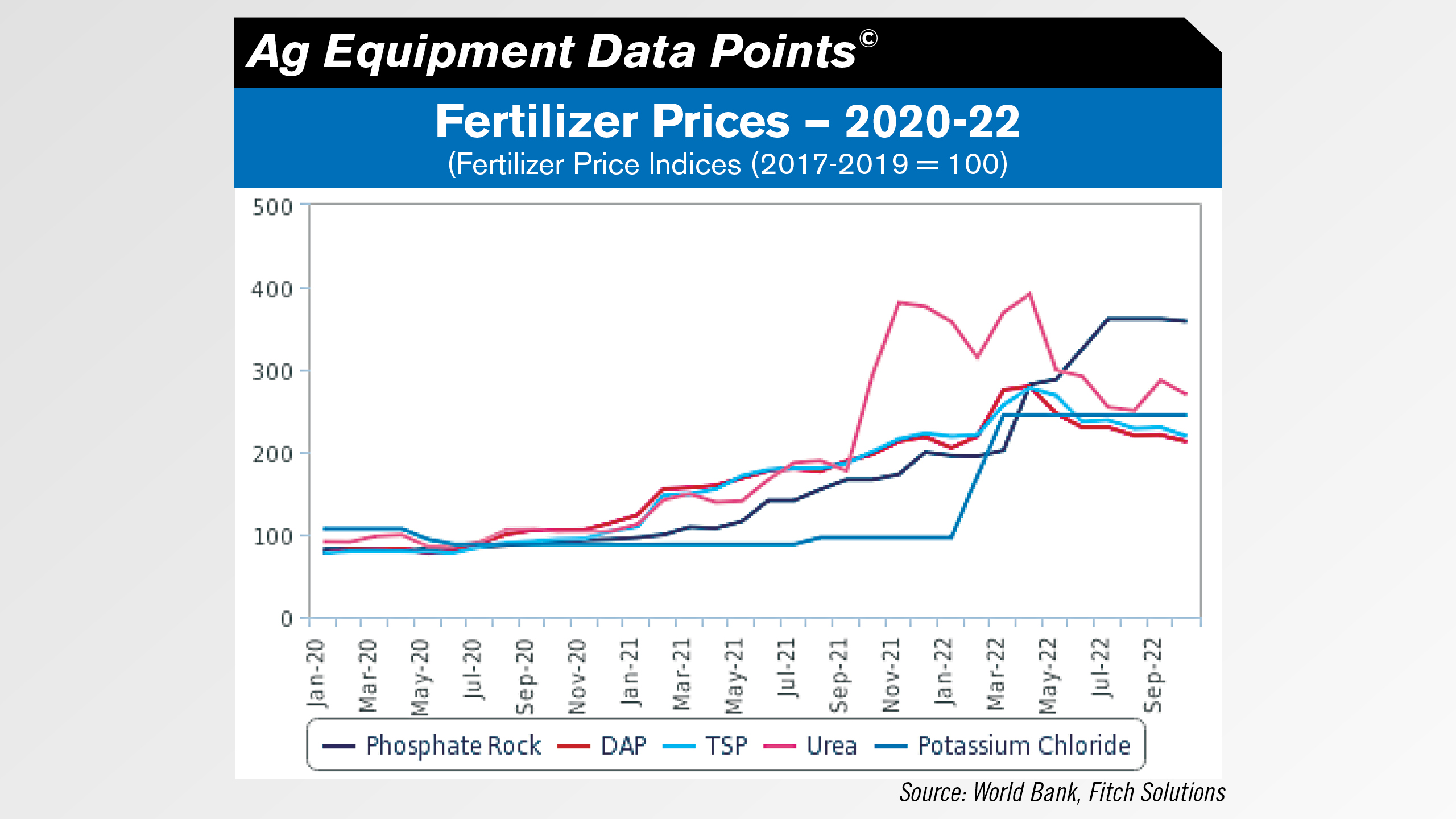 In the Fitch Agribusiness Key Themes for 2023 report, the firm stated it believes commodity prices will remain elevated in recent historical terms despite easing from the highs of the first half of 2022. This is due in part to the "elevated cost of fuel and fertilizer, which we see continuing from 2022 into 2023" as well as "the negative impact of high fertilizer prices on application rates during 2022, which will in turn weigh on crop yields through the 2023 cycle.
---
On the Record is now available as a podcast! We encourage you to subscribe in iTunes, the Google Play Store, Soundcloud, Stitcher Radio and TuneIn Radio. Or if you have another app you use for listening to podcasts, let us know and we'll make an effort to get it listed there as well.
We're interested in getting your feedback. Please feel free to send along any suggestions or story ideas. You can send comments to bthorpe@lessitermedia.com.