In this week's episode, we take a look at Kubota's first half results for 2022 and how the company's ag and construction segments have grown in North America in recent years. In the Technology Corner, Michaela Paukner examines how dealers can leverage their manufacturer relationships to better serve their customers. Also in this episode: could Linamar being making moves to take a leadership position in electric ag machinery and a look at Avant Market Group's 2022 Power Brand Study's tillage and seeding market results.
This episode of On the Record is brought to you by Associated Equipment Distributors — the leading association in North America strictly dedicated to the equipment distribution industry.  AED offers a wide range of education, events, advocacy and reports for companies of all sizes and all roles within your organization.  Learn more about AED by visiting www.aednet.org/agdealers
Kubota Grows NA Revenue, Will Focus on CE Sales
Results for the first half of Kubota's 2022 fiscal year have seen the company continue to grow its North American revenue.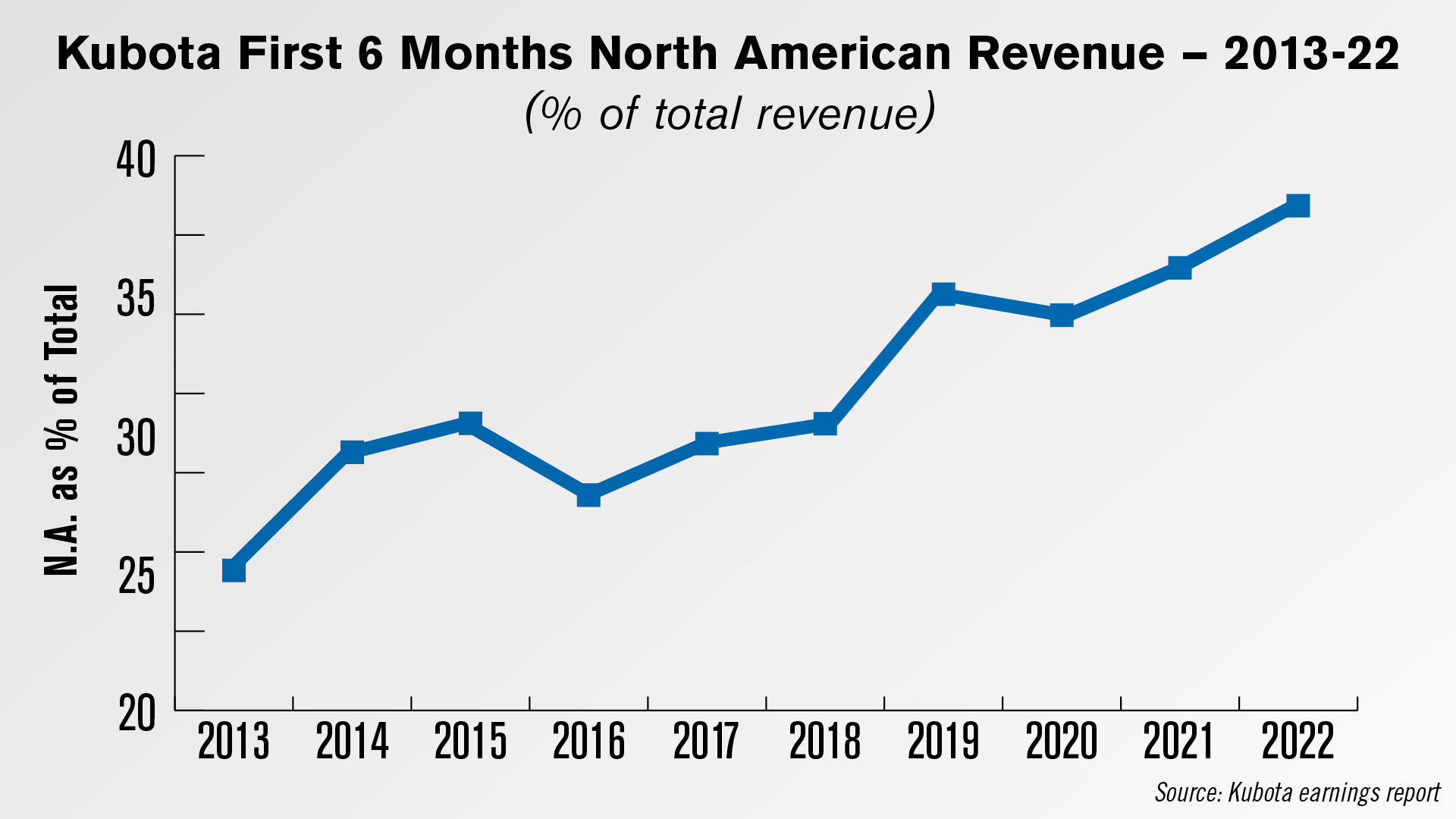 The last earnings report showed $3.6 billion in North American sales, up 21% year-over-year, and $9.4 billion in total revenue. This means North American revenue made up 38.1% of Kubota's total revenue for the first half of the year, the highest-half year percentage recorded in the last 10 years.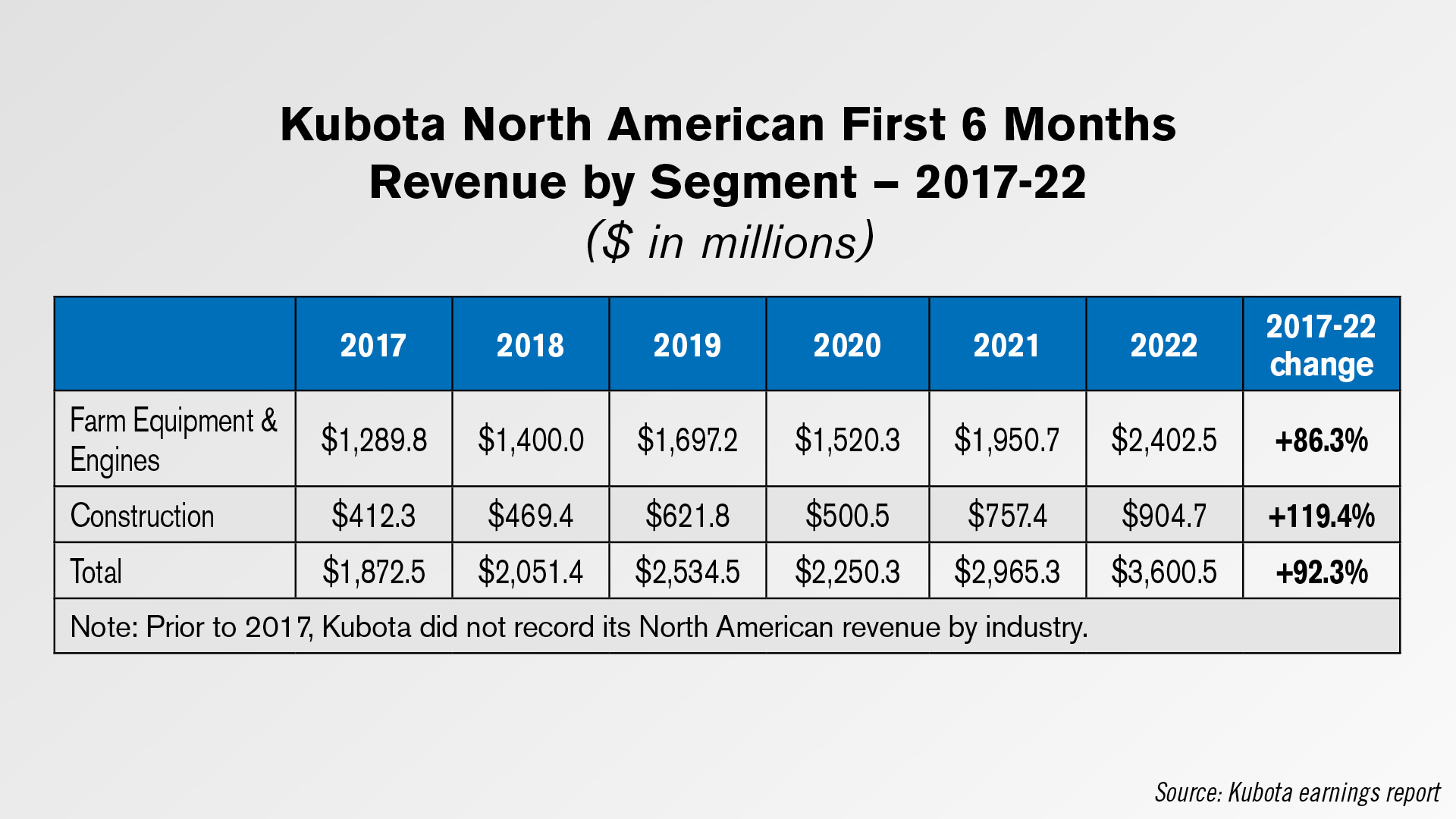 North American ag revenue rose by a greater percentage than total North American revenue did for the first half of 2022, up 23% year-over-year to $2.4 billion. However, since 2017, Kubota's North American ag revenue has risen 86.3%, below the 119.4% increase in construction revenue over the same period.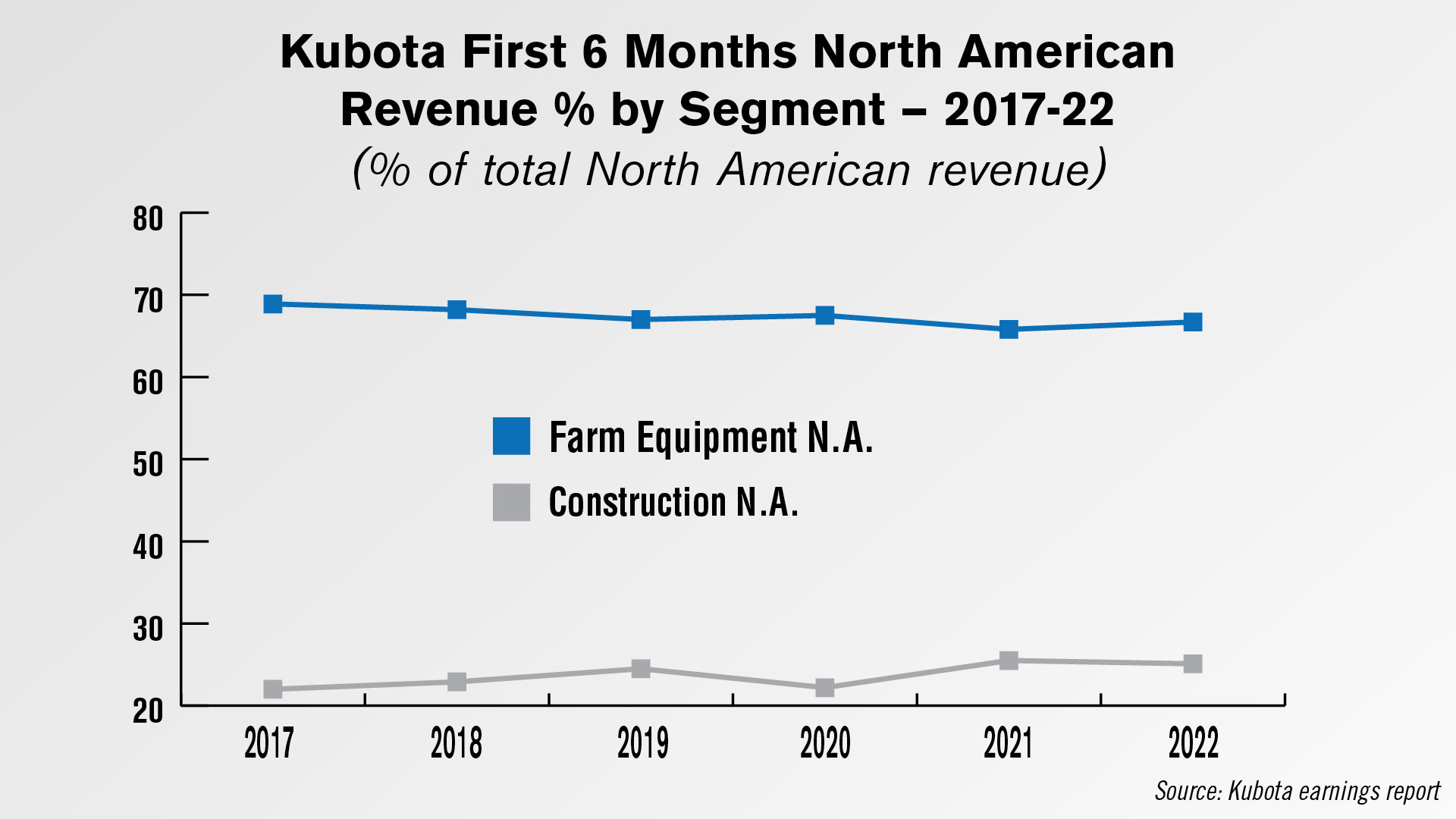 The percentage of Kubota's North American revenue coming from ag in the first 6 months of the year fell slightly over the last 6 years, from 68.9% to 66.7%. Meanwhile, it's percentage coming from construction has risen from 22% to 25%. This was the second-highest percentage recorded in the last 6 years, down slightly from the 25.5% reported in 2021.
Speaking at the company's Aug. 4 second quarter earnings call, Executive Vice President and Representative Director at Kubota Masato Yoshikawa said the company's mid-term growth target in the U.S. is the construction market, saying:
"In our mid-term plan, the major growth in North America is not in residential tractors, but rather in construction machinery and other non-tractor areas, and we are determined to increase these areas. We are currently preparing a production plant for construction equipment in North America in Kansas. We are also considering making additional investments in the future."
Dealers on the Move
This week's Dealers on the Move include AgRevolution and Sydenstricker Nobbe Partners .
AGCO dealer AgRevolution opened a new location in Vincennes, Ind., on Aug. 15. This is the dealership's 7th location.
Deere dealer Sydenstricker Nobbe Partners announced on Aug. 16 that it had acquired the Deere ag & turf assets of McCoy Construction and Art's Lawn Mower Shop.
Technology Corner
A close working relationship between OEMs and their dealers results in success for the companies and their customers.
Iowa-based independent precision dealer Youngblut Ag carries several lines of Yetter row cleaners, harvest equipment and closing wheels.
Pete Youngblut, the dealership's owner and operator, says there are times when he has a particular product line in mind for a customer but identifies some hangups.
That's when he reaches out to Andy Thompson, territory/AOR Manager at Yetter, to explain the customer's situation and brainstorm solutions. After what's usually a lengthy conversation, they identify the best option for the customer and strengthen the relationship among all parties.
"When we look at the retail customer, bringing the farmer in with that, we tend to have a pretty strong bond. People working with people all the way down to that retail customer," Thompson says.

"For me in the business, Andy has been a phenomenal asset," Youngblut adds. "There's nothing better for the end user than knowing that 'Hey, I'm working with this independent dealer, and he's got backing all the way up to the manufacturer."
Youngblut says selling turns into a byproduct with this approach — as the focus is on building the relationship with the customer and showing them that the dealer and manufacturer have their best interest in mind.
Watch more videos from Youngblut and Thompson's interview with Precision Farming Dealer.
AEI Observations: Could Linamar Take a Leadership Position in the Electric Ag Machinery Market?
Linamar Corp., an advanced manufacturing company based in Ontario, has been building up its ag equipment portfolio in the last 5 years through acquisitions. The company announced in April of this year it would acquire tillage implement manufacturer Salford Group and completed its acquisition of MacDon Industries on Feb. 1, 2018. Before then, Linamar had had a relatively low-key presence supplying Harvestec-branded corn headers, combine header trailers and related equipment built in the group's Hungarian factory. Linamar had owned White Farm Equipment in the 1980s and Western Combine Corp. in the 1990s (manufacturing the rotary combine for Massey Ferguson), before selling to AGCO in 1996. 
The company is also now taking its first steps into the electric vehicle market, according to recent analysis by BMO Harris' Peter Sklar.
Sklar noted that one interesting development is that Linmar disclosed it has been awarded its first commercial vehicle eAxle win for a delivery truck. He said,
"The eAxle is essentially the entire propulsion system for a battery electric vehicle including the electric motor, gearbox and all the associated software. While this is only a small contract of about 5,000 units per year, what we find notable is that Linamar is acting as the Tier 1 supplier for the entire system, which indicates a high level of competence at Linamar in electric propulsion systems."
The potential for Linamar to apply its electric propulsion system manufacturing ability to its growing ag equipment division could allow it to penetrate the emerging electric-powered farm machinery market. 
Report Credits Deere with 55% of U.S. Tillage & Seeding Market
According to Avant Marketing Group's 2022 Power Brand Study, 54.5% of surveyed farmers own John Deere-branded tillage and seeding equipment. The study surveyed 400 corn and soybean farmers across 20 Corn Belt states, who were required to have at least 500 tillable acres to participate.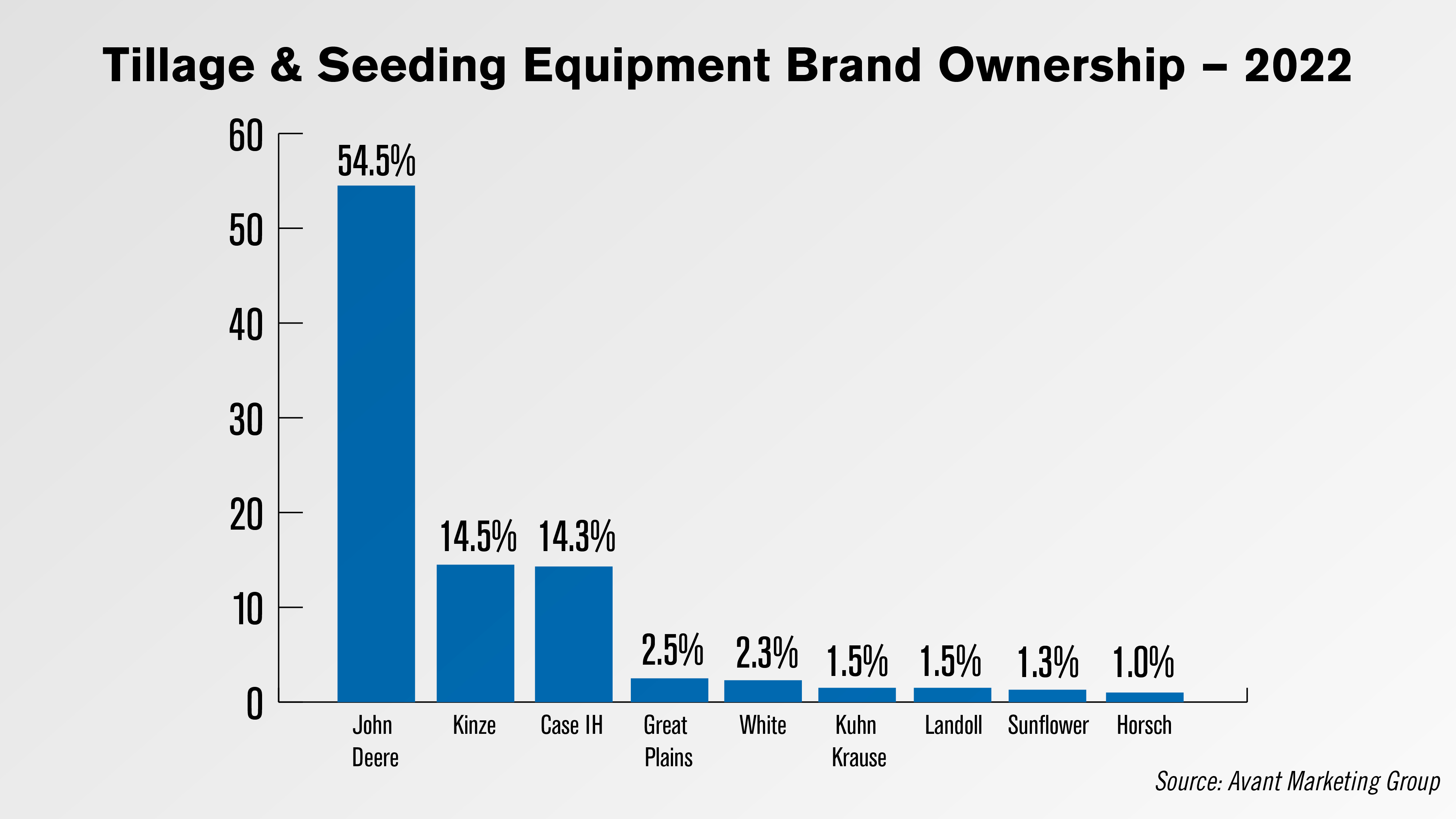 Kinze was the second-most owned equipment brand in this category at 14.5%, followed by Case IH at 14.3%. All other mentioned brands were mentioned by only 3% of farmers each, with only 1% of farmers owning Horsch-branded tillage and seeding equipment.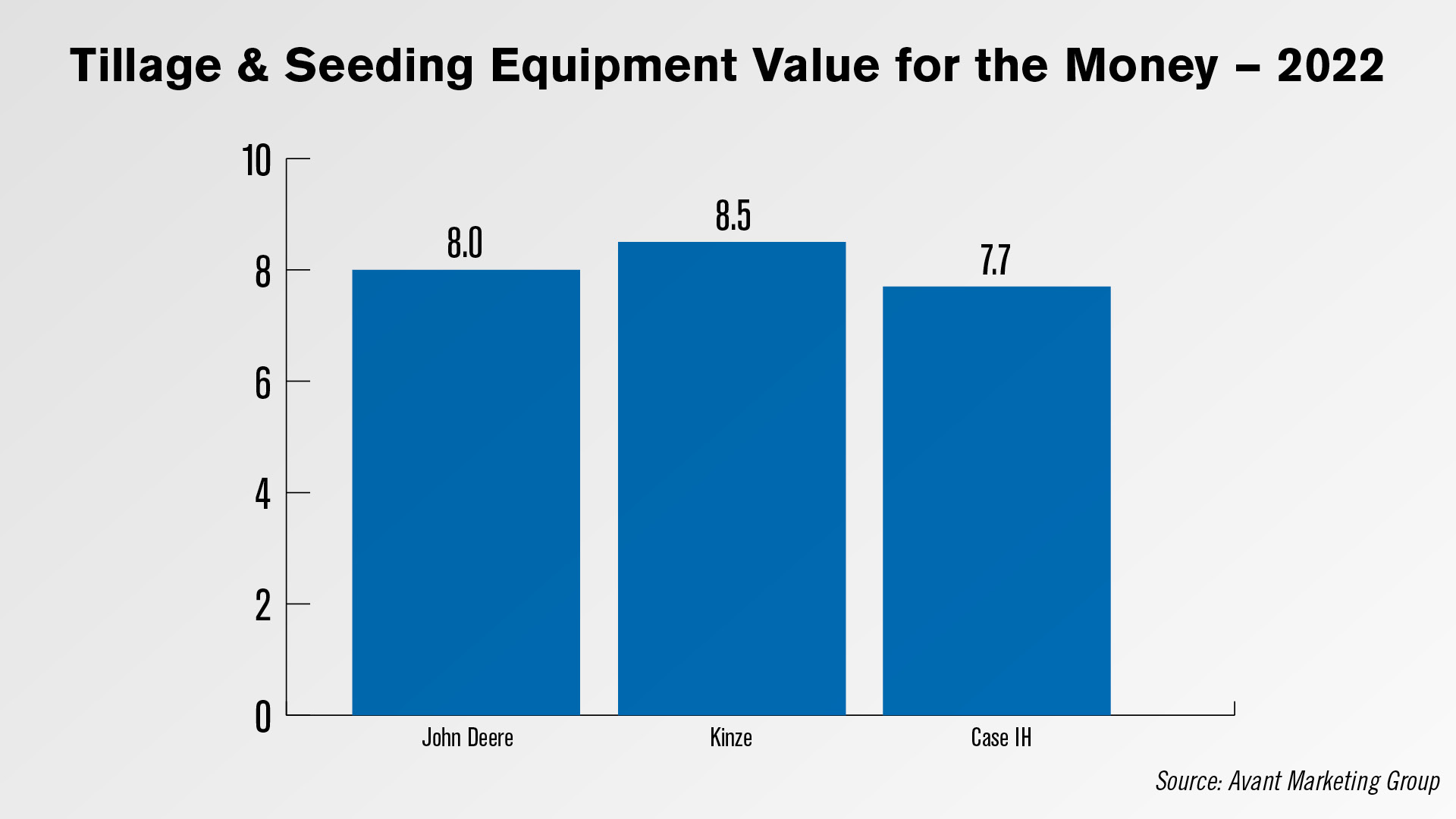 When asked to rate their seeding & tillage brand based on the value for the money, Kinze was the top rated at 8.5 out of 10, followed by Deere at 8 and Case IH at 7.7.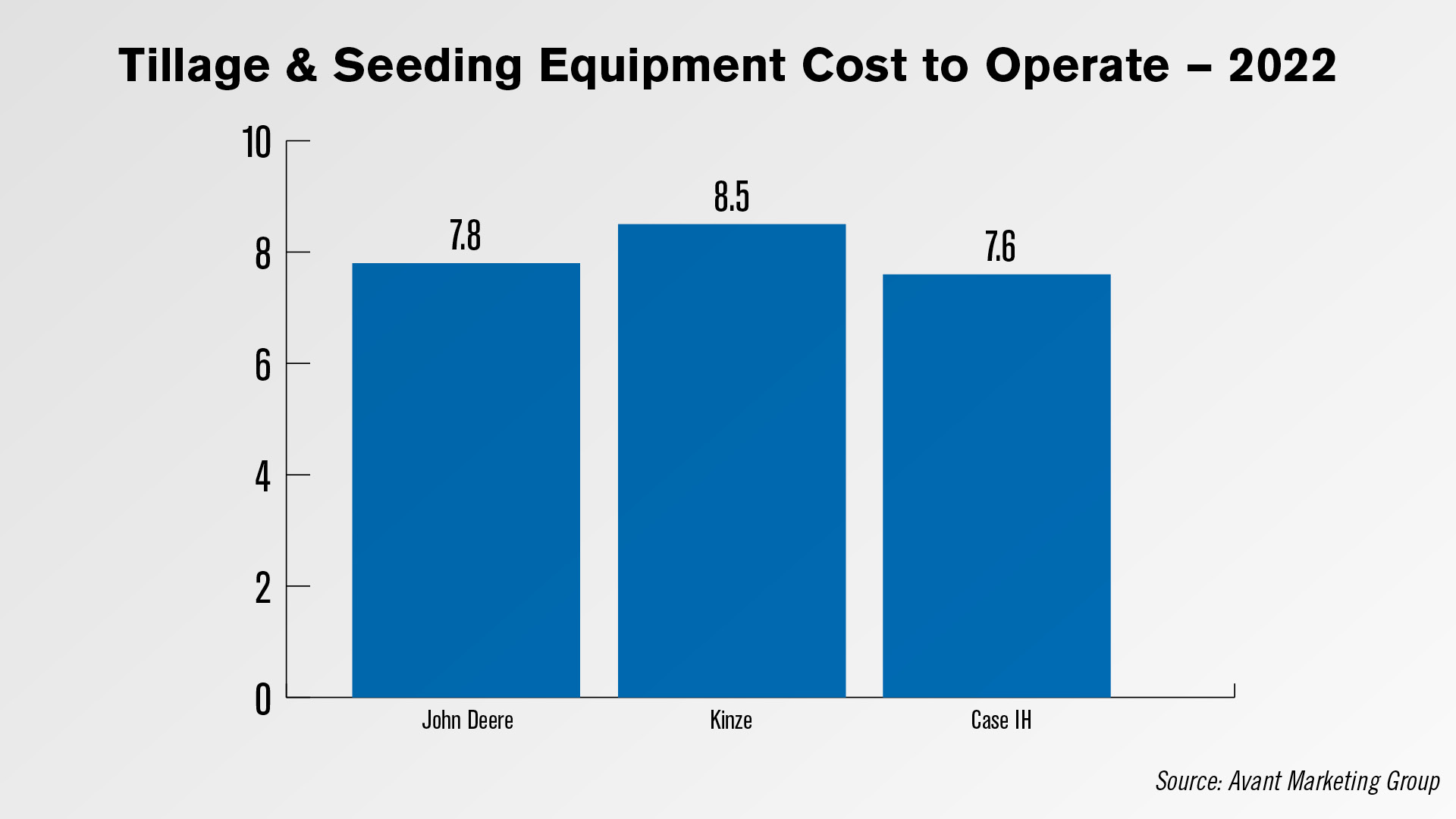 Kinze also received the highest rating on its cost to operate at 8.5. Farmers rated John Deere at 7.8 in this category and rated Case IH at 7.6.
Surveyed farmers said the three most important attributes they look for in a tillage & seeding equipment brand are trust, quality and performance.
---
On the Record is now available as a podcast! We encourage you to subscribe in iTunes, the Google Play Store, Soundcloud, Stitcher Radio and TuneIn Radio. Or if you have another app you use for listening to podcasts, let us know and we'll make an effort to get it listed there as well.
We're interested in getting your feedback. Please feel free to send along any suggestions or story ideas. You can send comments to kschmidt@lessitermedia.com.