Dealer principals and financial executives should watch to understand newer, more modern capital and funding sources that can fund their strategic growth or help them diversify the wealth built through the dealership.
The webinar will touch on ideal returns on equity and assets and the drivers for those.
1. Consolidation and Generational Changes are accelerating and affecting Equity / Net Worth of Owners
Producer & OEM consolidation
OEM incentives in a highly competitive environment
2. Many Owners would benefit from knowing more about the management of and options for their Balance Sheet
Especially in the Cycles - Cash, Credit & Capital, Asset Turns
Leveraging Debt & Equity - Real & Perceived Risks vs Opportunities
3. New forms of Equity building, and capital access are available now in addition to:
Family Investors - Generational
Traditional Private Equity - 3-5 Years
Bank Loans
This FREE webinar is brought to you by Farm Equipment magazine and Franchise Equity Partners.
Email Ben Thorpe at Farm Equipment with any questions about the webinar.
---
About the Speakers
George Russell
George Russell started with International Harvester in 1975 , then worked for Case and later CNH Industrial where he held executive and global positions in both Ag and Construction Equipment in product development, strategy and sales & marketing. He left CNH in 2006 as VP, Case CE Europe, Africa, Middle East to start working directly with dealers. He leads several dealer best practice groups in Ag and CE as well as leading workshops for OEMs and AED programs such as "Professional Sales Management", "Branch Management", "Parts & Service Profitability"", and "Financial Leadership and Growth". He writes a regular dealer business improvement column for Farm Equipment magazine and co-authors the annual 'Big Dealer' report for Ag Equipment Intelligence as part of his focus on growing & consolidating dealerships. He is a founding member of Machinery Advisors Consortium.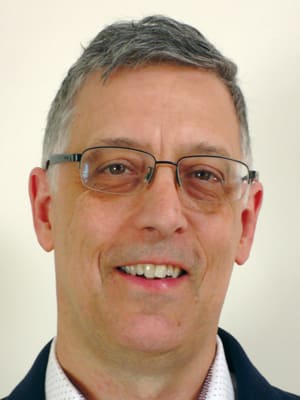 Jim Henderson
Jim Henderson is the Founder and Managing Partner of Exemplary Innovations. He is a former co-founder of Keymark, Inc. an Inc. 500 technology solutions business, where he implemented several breakthrough solutions ranging from customer mix optimization, emerging technology packaging, solution pricing and more. Jim successfully exited the business and has been helping mid-market industrial equipment channel resellers, dealers and manufacturer representatives to breakthrough to the next level.
Mike Esposito
Co-Founder and Managing Partner
Franchise Equity Partners
Spent 28 years at Goldman Sachs in Investment Banking and was a Partner for 20 years
Ran Global Financial Institutions Group in Investment Banking
Prior to this position, Mr. Esposito ran the European Financial Institutions Group from London
Served as the Co-Chairman of the Firmwide Commitments Committee which underwrites all equity transactions, Co-Chair of the Investment Banking Division's Client and Business Standards Committee, member of the Partnership Committee and member of IBD's Executive Committee
Owner of four Jersey Mike's restaurants
Graduate of Brown University and Harvard Business School
---
About Franchise Equity Partners
Franchise Equity Partners is a private investment firm specializing in providing capital to franchise businesses and their owners. Its differentiated approach combines extensive corporate finance and operating experience with passive, permanent, minority capital to enable growth, ownership simplification, succession and estate planning, among other strategic business opportunities. FEP invests across five industry verticals: automotive dealers, restaurants, beverage distribution, heavy equipment dealers and other consumer and business services. FEP has an initial target portfolio size of $1 billion and is an independently operated portfolio company of certain funds and accounts managed by HPS Investment Partners, a leading global-alternative investment firm, with over $92 billion of assets under management.
For more information visit: www.fep-us.com