Last year brought a series of hurdles for dealers to jump through. Customer demand was up, but there wasn't much to sell them. Prices went up and so did interest rates. And all this impacts how customers will think about their purchases for 2023.
To shed light on how his dealership made it through the year, Jim Wood, chief sales & operations officer at Rocky Mountain Equipment — a Western Canadian Case IH dealer with over 30 locations — sat down with Farm Equipment to go over what he learned throughout last year and how it impacted their business. 
How did RME fare in 2022? What factors played a role in your performance?
Jim Wood: I would say 2022 exceeded expectations. Coming out of the pandemic, we weren't quite sure what to expect from the supply chain. We're so used to always having availability for new equipment from all manufacturers. I think it made us better communicators and better managers with the situations we had because we definitely did a better job planning out when stuff was arriving, planning pre-sales, scoping out when the used was coming in and when it was available. There was quite a demand for used equipment, which we always seemed to have enough of, so we were able to sell down some used. 
Dealer Takeaways
Be prepared for a shift in the supply chain to avoid having excess inventory in 2024.
Watch for your larger customers selling your trades themselves.
Your customers may be worried about future innovation in the industry being stalled by ongoing supply chain issues.
The commodity prices have been good up here in Western Canada. The crops were average to above average. Producers are pretty optimistic, and they don't like to pay taxes, which is always good for us.
What are your expectations for 2023? 
Wood: I would say we're cautiously optimistic. From a market side, commodity prices are strong. There doesn't seem to be any downside to the next 6 months as far as commodities go. It's more about the challenges of supply chain. The OEMs have adopted, just like we have, much better communication on issues. Going into 2023, we feel more comfortable than we did in 2022. Everybody's quite transparent about the position they're in and the challenges they're having. That helps us plan our business better.
---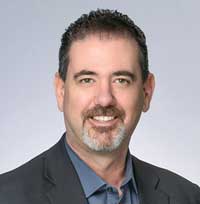 "The customers are learning that whether it's new or used, it has to be a planned purchase…"
---
As far as used and new, we're eagerly looking at allocation every time it comes up with our OEMs and ordering what we can. Demand isn't dropping off. We feel that because new is in short supply, the new demand is there, the used demand is there. My fear is that in 2024 the supply chain might change, and we may be looking at some extra inventory that we don't have a market for, but I'll gladly deal with that when the time comes.
How are rising interest rates and equipment prices impacting your sales team?
Wood: Our average farm size is probably anywhere from 3,000-5,000 acres. We have some larger farms and some smaller farms. But a lot of our business is done with large fleets, and they're cost-per-hour, cost-per-acre buyers, who want to keep it within so many hours. With the delay in equipment, all of a sudden they're putting on more hours, which is costing them more. Our business has changed, where we don't have a lot of multiples anymore. The smaller farms who used to be able to buy a new piece once in a while, they're buying that 1- or 2-year-old piece of equipment. The challenge of the larger farmers keeping their equipment longer, of course, is that the next-in-line customer is buying something with more hours on it.
The other issue is, when the new equipment goes up for some of these larger buyers, so do their trade values too. It's that consumer base — like the 100 horsepower tractors and below — where you see these large increases. There's generally not a trade. I think that's where we've seen a lot of pressure as well.
Lastly, when you have a product such as 4WD tractors that are in short supply, sometimes a lot of these larger farms — whose unit after a year is getting a 12% price increase and is worth what he paid — all of a sudden want to sell the trades themselves, and there goes that next in line trade that we have. There are a lot more challenges than in years past for sure.
How has your dealership changed the way it manages used equipment given the ongoing shortage?
Wood: The No. 1 thing is there's less than there was before. There's less choice. Everybody's in the same boat. Our combine allocation is still pretty good. It's not like 4WD tractors, so we're still constantly churning that business. The other thing about used is the fact that you're always trying to predict the values and hedge the exchange [of Canadian to U.S. dollars] and get as much difference as you can, so on and so forth. With the delays in the service departments too, we're not able to recondition as much equipment as we have in the past, too. So that's a challenge trying to fit in customer work, internal work and then warranty as well. But as far as used goes, we're still a one-to-one ratio. Things are still flowing fairly well.
How were your 2022 aftermarket sales? What are you projecting for 2023?
Wood: We've seen great growth in our parts department, but we also came out of a drought last year, which was an anomaly. It was a fairly strained year for parts after September just because the harvest was so light because of the drought. But we've sold more parts across the counter with used not coming in as much over the last 6 months. We're spending fewer dollars reconditioning used as well. So we're up overall. Some of it's due to price increases, some of it you would attribute to the drought. But I know there's a lot more parts going over the counter.
On the service side, the challenge is manpower and skilled labor. Our shops are plugged full. Our yards are waiting for combine inspection. It's not a lack of customer demand. It's not that the customer doesn't want to spend money. It's purely a labor shortage right now in Western Canada. And it's not just ag. There's a lot of economies running full swing right now. Definitely a large part of our workday is trying to recruit. Our sales group is fairly steady, same with parts and even the precision farming group. It's mainly just technicians. It's that 1-3 year apprentice that seems to have the highest turnover.