For North American dealers, the start of the war between Ukraine and Russia might feel like a long time ago. It was almost one year ago on Feb. 24, 2022, that Russian troops invaded Ukraine's western border and began an assault on the capital city of Kiev. Millions of Ukrainians have since fled the country as the conflict continues to this day.
In the ag equipment world, manufacturers like AGCO, John Deere, CNH Industrial, JCB and Kubota were fast in condemning the war and shuttering their Russian operations. The North American ag equipment industry came to accept the loss of the Ukraine and Russia ag equipment market until the conclusion of the war, which proved to have little impact on business.
For Adriano Luz, CEO of 16-store Ukrainian AGCO dealer Amako, the impact of the war was immediate. In a March 11, 2022, report from Ag Equipment Intelligence, Luz said the challenges in Ukraine's agricultural market had reverted to the most basic tasks. Farmers were limited by export restrictions, as well as an inability to use the U.S. dollar or any other hard currency or send money in or out of the country, which affected the dealership's ability to bring in parts and equipment. They faced fuel shortages keeping technicians from driving out to customers and had to establish new routes to bring equipment into the country.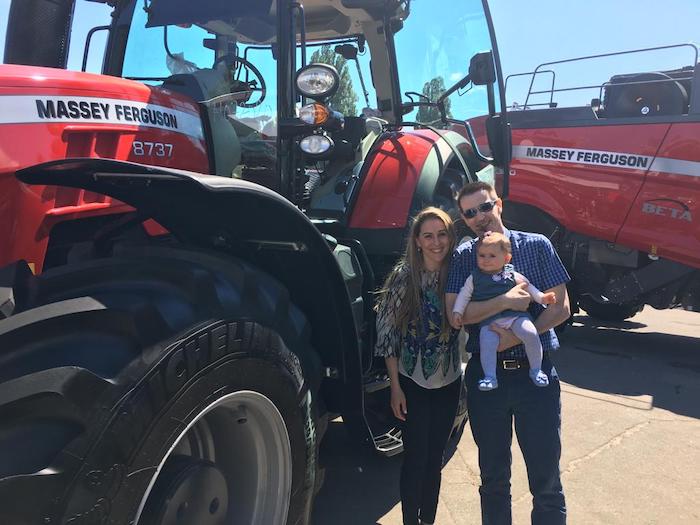 Source: Amako
Now, almost one year later, Luz says Amako is still operating and still serving its customers, though nothing looks how it did before. Luz works out of the UK where his family lives and most of the staff in Ukraine are working remotely, with only 20 people on average working in their main office in Kiev at any time. And since the Kiev location has frequent electricity and internet connection issues, most staff are operating out of whichever branch is closest to their home.
As of Jan. 10, only Amako's location in Kherson was not open, as they need special authorization to operate after the city was re-captured from Russia.
2022 Financials
Luz says exchange rates were one of Amako's biggest challenges in 2022. Though it's something the company has always had to deal with, it changes how the dealership measures financial success.
"If you operate in certain areas, like South America or eastern Europe, you need to account for currency exchange rates," he says. "You are buying in U.S. dollars or euros and selling in the local currency. But when you're facing devaluation, which can be 30-40% in one year, you can have big losses. So if you just measure a dealer by their sales, it doesn't work in certain countries. 
"In 2021, our annual revenue including Iveco was around $90 million, and then in 2022, we had $52 million. But then you have to look at net income. An investor would say, 'OK, guys, $90 million, that's great. Wow, it's fantastic.' But I think in 2021, our net income was $3.5 million. We are in a country with high interest rates and high currency exchange rates." Luz says interest rates can reach up to 20% in Ukraine.
He forecasts the company will net $2.5 million in 2022 from $52 million in gross revenue, which brings the company's margin from 3.9% to 4.8%, a figure he's happy with. 
He says they accomplished this by not depending solely on wholegoods sales and focusing on keeping their stores fully absorbed through their aftermarket business.
"Our dealership locations are fully absorbed through their parts sales,"  he says. "We truly concentrate on aftermarket, and we offer our own extended warranties. For example, at the end of 2022 we launched a warranty for 10,000 hours for 300 horsepower tractors. So if those repairs aren't completed on time, we are delivering replacement machines to those customers.
"We don't only offer parts for machines we sell. We concentrate on certain other brands, and within those brands, certain models. For example, we don't offer parts for balers, but for certain combines of certain brands, we have a good selection of parts."
Luz says Amako, as an AGCO dealer, has service contracts with customers for certain Case IH and New Holland machines throughout Ukraine.
"When we hire, we need to be looking for people who are already specialized in certain Case IH equipment models or who have experience with New Holland equipment," he says. 
As part of their focus on aftermarket support, Amako offers its customers repeated training on new technology, such as training new operators farmers bring in. This offers the added bonus of keeping the machines in better working order when their drivers are more prepared.
Source: Amako
Amako also offers its customers smart glasses that allows their technicians to provide remote service from their customers' perspective, and for some equipment sales, the glasses are included in the purchase. "It saves us money, it's quick, and it helps the customers help us. We provide better service and keep the customers engaged," he says.
A Backup for the Backup
Luz says that since the war started, he's had to make decision he never would have imagined. 
"One year ago, I would never think about each of our locations having their own generator," he says. "Some of our locations have 2 internet connections. The problem is not if they fail, but if the internet providers have a problem with electricity, we could lose our connection. We need to have a backup to the backup." 
"How can you motivate people when their basic requirements — security, electricity, hot water — are not there? So if you talk about being creative and thinking outside the box, these words have a very different meaning. We don't know what will happen tomorrow."
Ultimately, Luz says the team at Amako is performing well and the company is improving through what he refers to as "this mess."
---