In this episode of On the Record, we take a look at farmer sentiment and how it's being boosted by their strong 2022 profits. In the Technology Corner, Noah Newman discusses Indianapolis-based agtech company Smart Apply and their Intelligent Spray Control System. We also take a look at John Deere's production ag equipment backlogs and what it spent on R&D in 2022. And finally, dealers are reporting that the rate of used equipment price increases is slowing, though they remain up year-over-year.
This episode of On the Record is brought to you by BENZI.
BENZI delivers innovative solutions for power transmission. For 60 years we have been manufacturing PTO drive shafts, torque limiters, gearboxes, speed multipliers and speed reducers for agricultural mechanization. Our products are designed and tested to grant maximum performances in every working environment and our product range is by far the widest available on the market covering the vast majority of all power requirements and applications for agricultural PTO driven equipment
---
TRANSCRIPT
Jump to a section or scroll for the full episode...
Farmer Sentiment Improves on Strong 2022 Profits
Farmer sentiment saw a sharp improvement in December according to Purdue University-CME Group's Ag Economy Barometer Index. The monthly reading rose 24 points to 126 in December.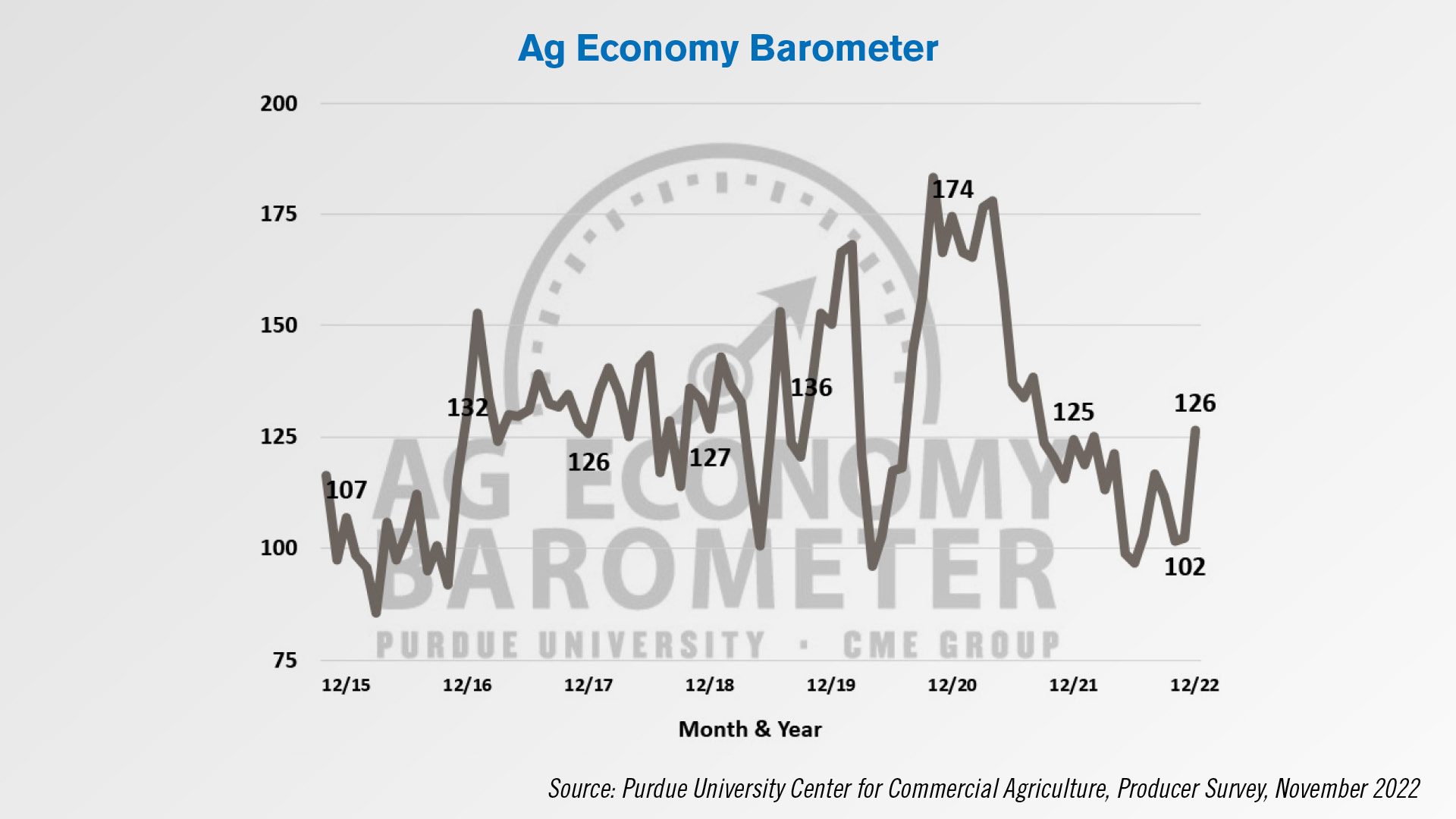 December's sentiment reading was the most positive of 2022, just barely eclipsing the February index value. The biggest shift from November to December was producers' improved perception of current conditions.
A recognition among producers that farm financial performance in 2022 was stronger than expressed in previous surveys was likely the primary reason for the improvement in the Current Conditions Index.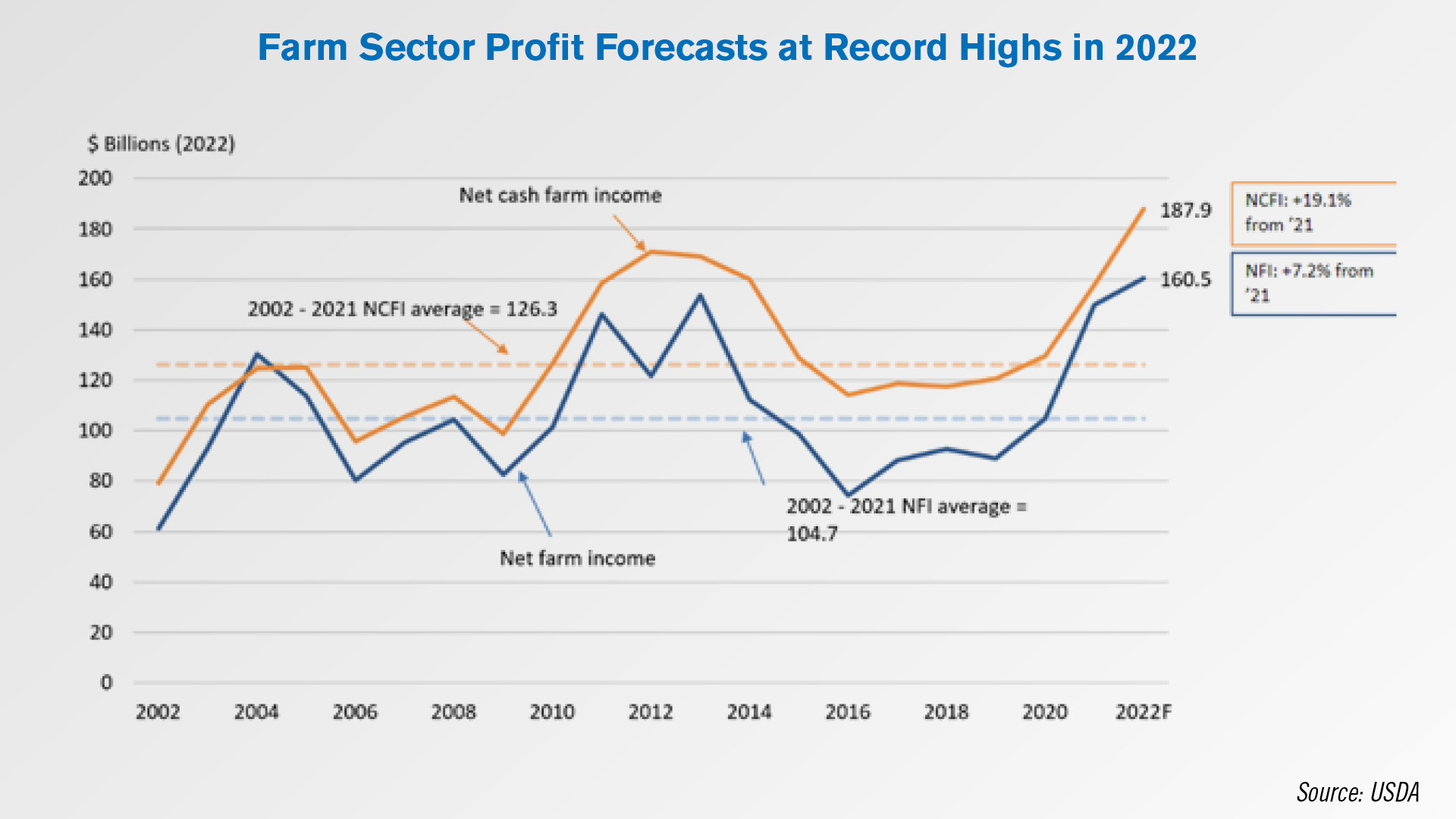 That aligns well with USDA's Farm Financial Forecast released last month that suggests 2022 net farm income is going to reach its highest level since 1973 due to high commodity prices.
The Farm Capital Investment Index climbed 9 points this month to 40 which was the highest reading for the index since February.
Although the Future Expectations Index also rose this month, farmers expect their farms' financial performance in 2023 to be weaker than in 2022, citing higher costs as a key reason. 
Dealers on the Move
This week's Dealers on the Move include Titan Machinery, Parallel Ag and Claas.
 Case IH dealer Titan Machinery has entered into a definitive purchase agreement to acquire the Idaho dealership assets of Pioneer Farm Equipment. The deal includes 5 full-line Case IH ag dealerships located in southeastern Idaho.
Effective Jan. 1, Ag Solutions Group and Livingston Machinery rebranded as a unified company. Both businesses will officially be recognized as Parallel Ag. Thirteen stores across the Midwest will adopt the new identity.
Claas recently broke ground on a new company owned retail operation in western Kentucky. An aggressive timeline calls for a service team and parts facility to be in place before the 2023 fall harvest, while permanent full-service facilities are constructed. Ag Revolution will continue to provide service during the transition as well.
Smart Apply's Intelligent Spray Control System Reduces Chemical & Water Use by 50%
This week's Technology Corner spotlight shines on Indianapolis-based agtech company Smart Apply and their Intelligent Spray Control System, which combines precision spraying and data to enable specialty crop growers to cut back on chemicals and water.
According to a decade's worth of research at various universities, the system reduces chemical and water use by 50% on average, with up to 93% less chemical run off and 87% less airborne drift.
Smart Apply uses LiDAR to detect the presence, size and density of trees or vines. Each nozzle of the sprayer is controlled by Pulse Width Modulation that automatically adjusts spray volume to multiple zones of individual plants. It stops spraying when no plants are detected. GPS tracking is used for exact speed and map location.
Using the system's Android tablet, farmers can adjust settings and chemical applications to automate the spraying process. There is also an option to switch to manual spraying. Smart Apply captures data such as chemical volumes applied, speed, chemical savings, tree/vine counts and operator performance. The data is uploaded to the Cloud and archived. Farmers have the option of integrating their data with the Deere Operations Center.
Sold as a kit, the system is compatible with virtually all air blast sprayers. It's currently available through 24 authorized dealers with more than 320 locations around the world. Smart Apply is in the process of recruiting more dealers and the company hopes 2023 is their breakthrough year.
John Deere Reports Record Backlog, R&D Spending in 2022
Thanks, Noah. On Dec. 15, John Deere filed its 10-K annual report with the SEC, which includes details about the manufacturer's operations outside its normal earnings reports.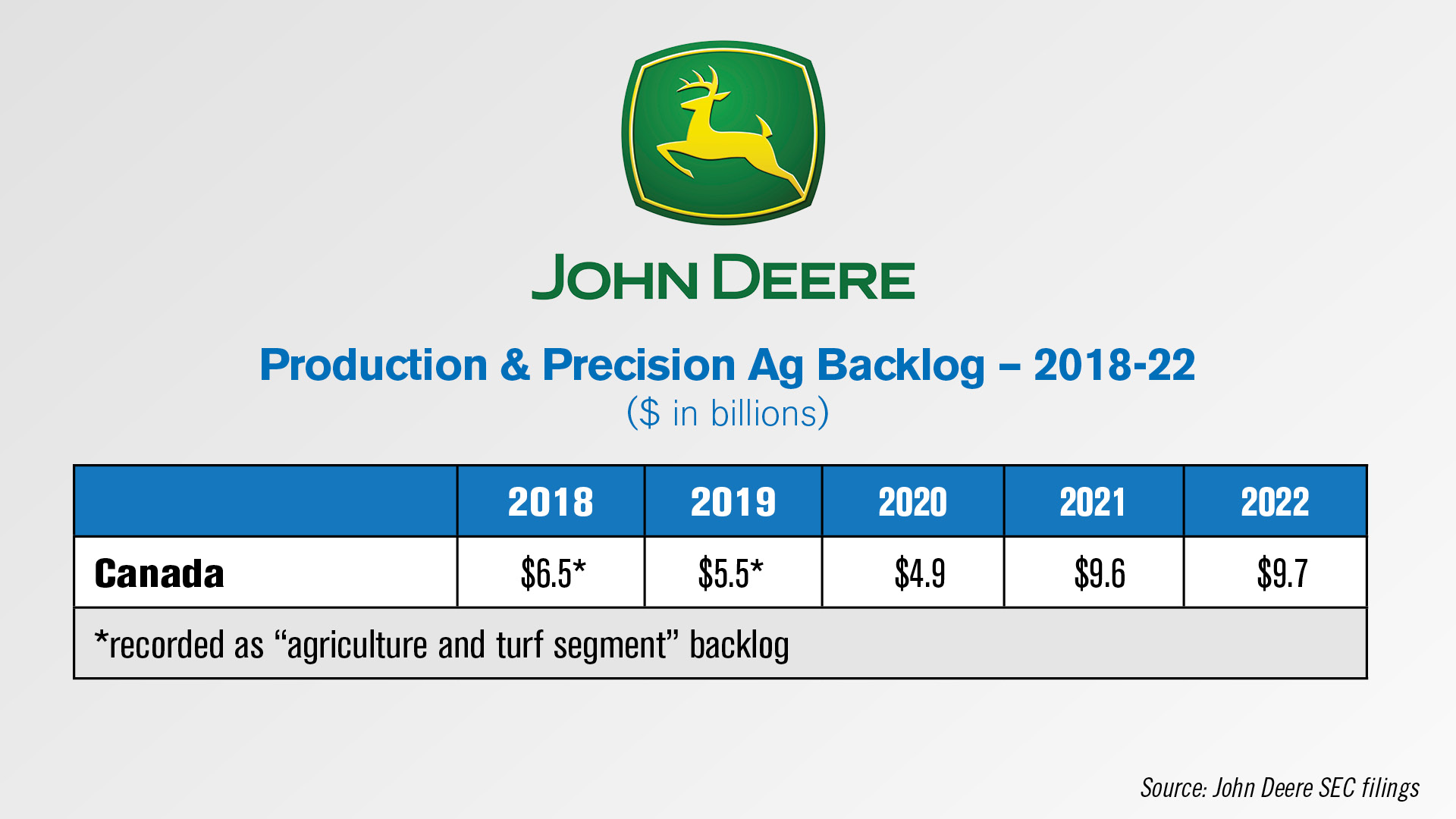 According to the filing, as of Oct. 30, 2022, John Deere's backlog of orders was valued at around $9.7 billion for its production and precision agriculture segment. At the same point in 2021, Deere said its backlog was valued at $9.6 billion.
"Demand for the company's equipment remains strong, as order books are full through a majority of 2023," the filing said. "Agricultural fundamentals are expected to remain solid into 2023, and retail demand will comprise most of 2023 sales. The company expects dealer stock inventory replenishment to occur in 2024."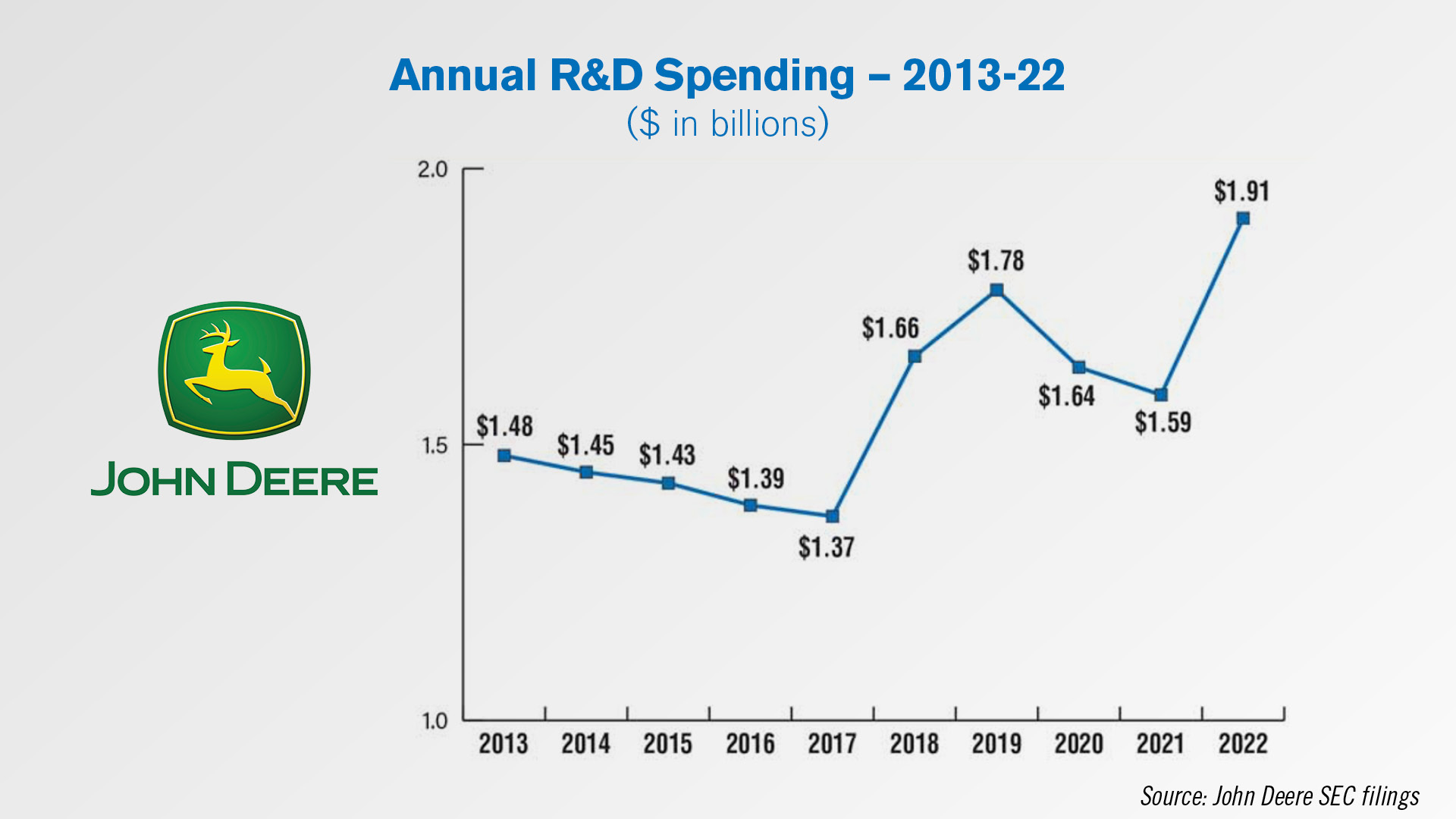 After 2 years of declining research and development spending, John Deere reported over $1.9 billion spent on R&D in 2022, a 21% increase from $1.59 billion spent in 2021.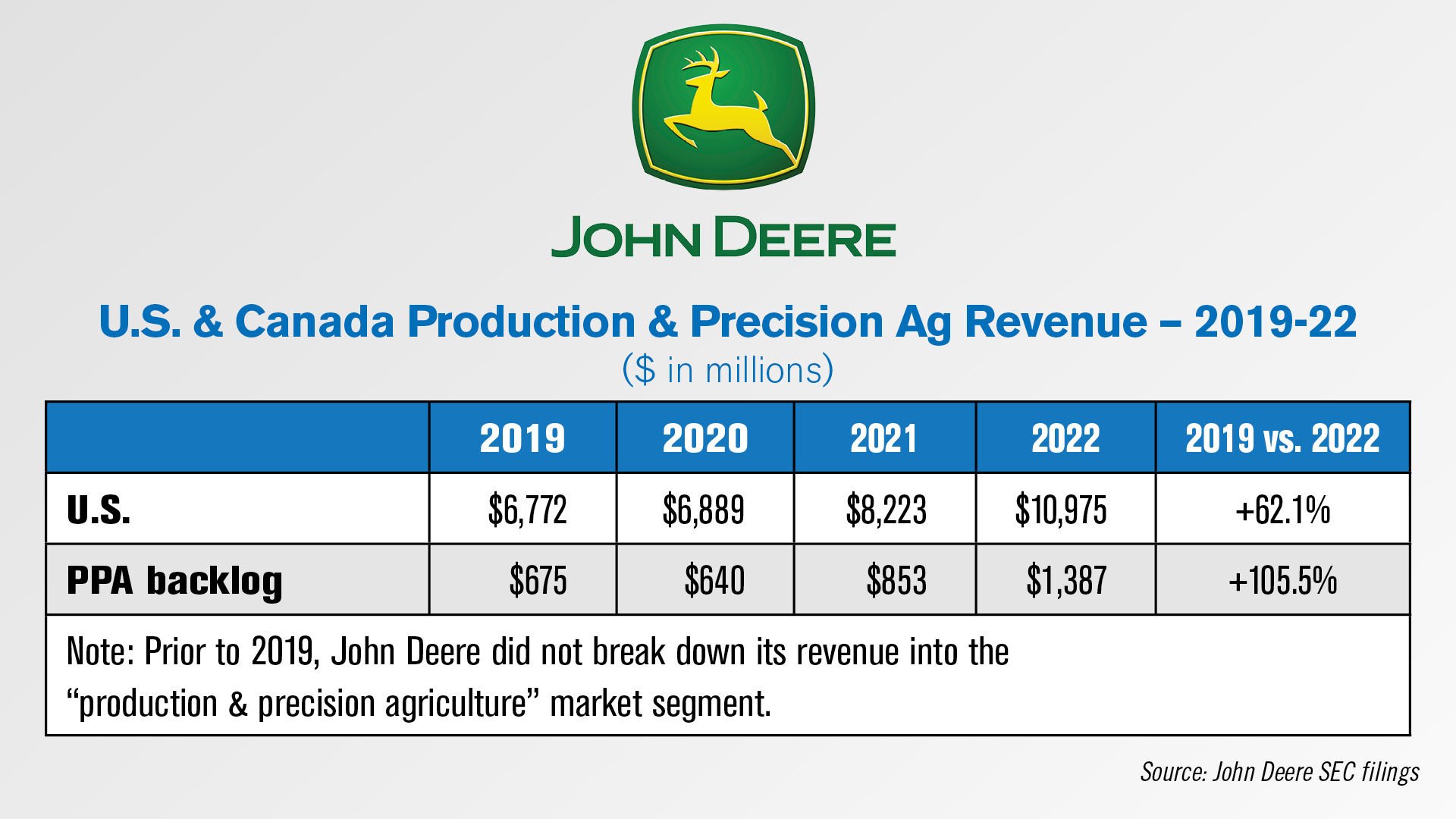 For its production and precision agriculture segment, John Deere's 2022 U.S. net sales came in at almost $11 billion, a 34% increase compared to 2021. Canadian sales in the segment were up 63% to $1.4 billion. Since 2019, John Deere's production and precision agriculture segment net revenue in Canada has grown 106% vs. the 62% growth seen in its U.S. sales.
Used Equipment Price Increases Slow 
According to the latest edition of the Ag Equipment Intelligence Dealer Sentiment & Business Conditions Update, dealers are reporting that used equipment price increases have begun to slow. Though all equipment categories saw used price increases up year-over-year in November, some categories saw notable month-over-month declines in the rate of price increase.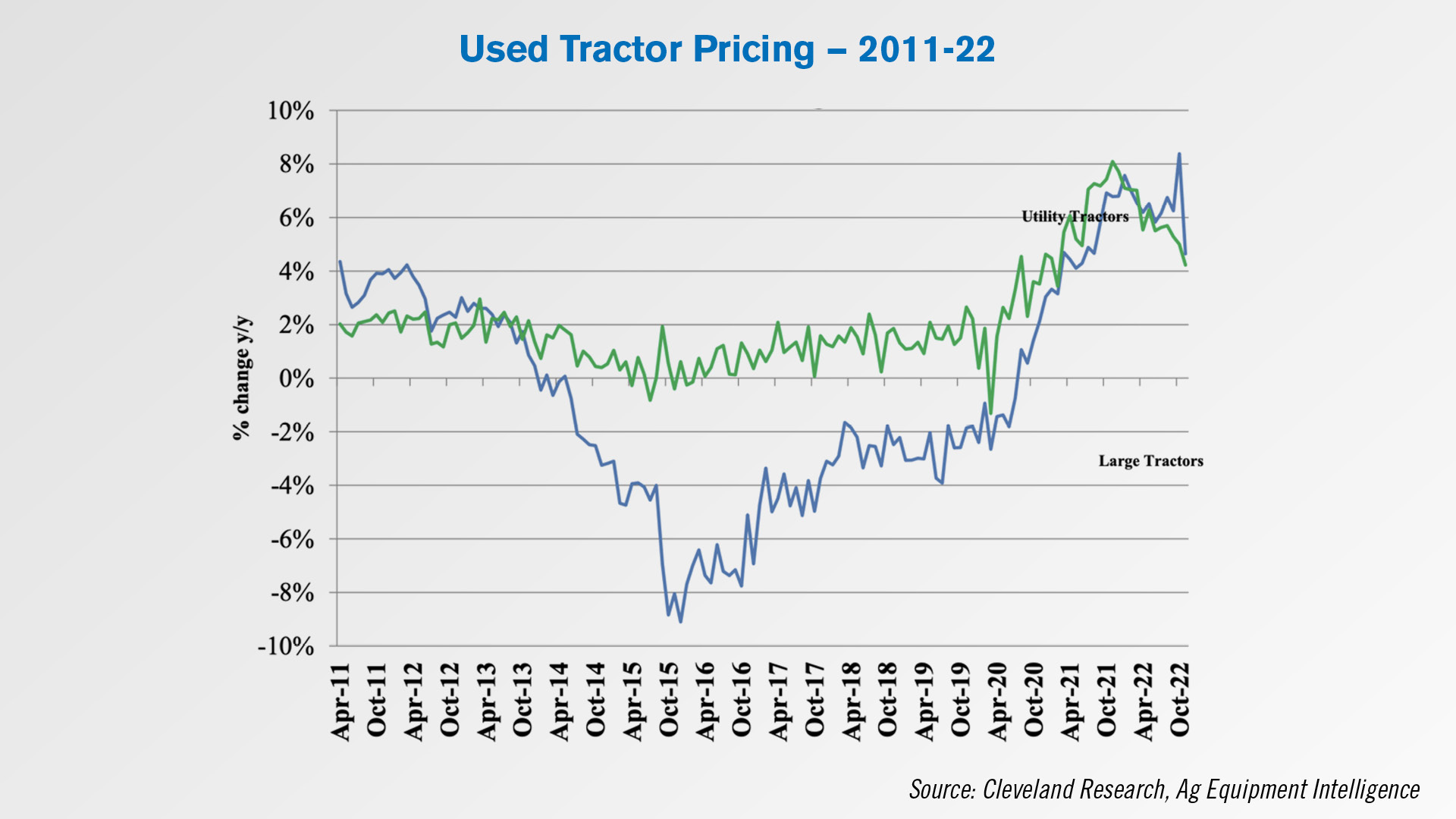 Used 4WD tractor pricing showed the most notable month-over-month decline, recording a 4% year-over-year price increase vs. a 9% increase in October. Used row-crop tractor pricing was up 5% year-over-year in November, down from a 7% increase in October.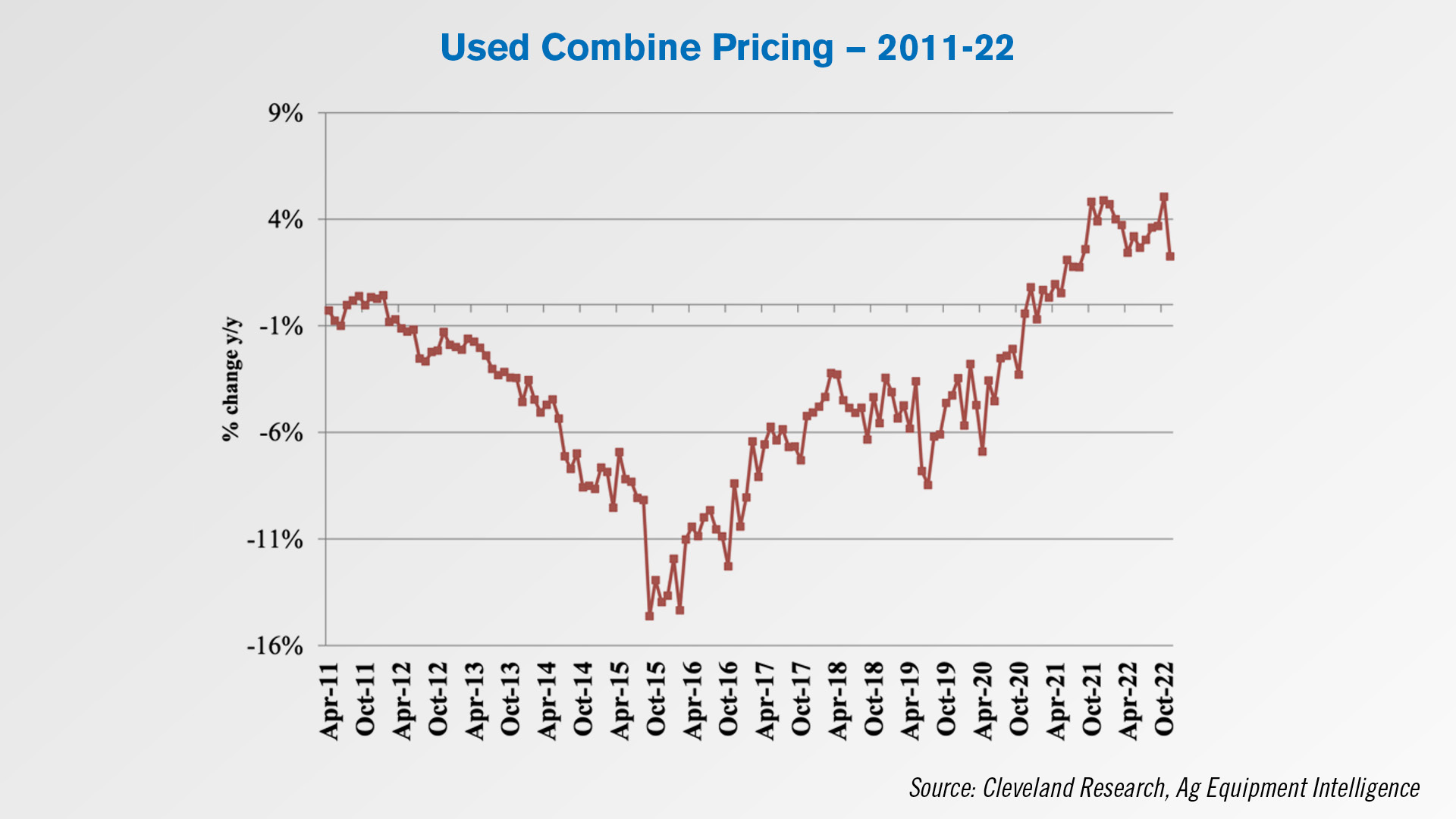 On the combine side, used price increases were up 2% year-over-year in November vs. up 5% in October.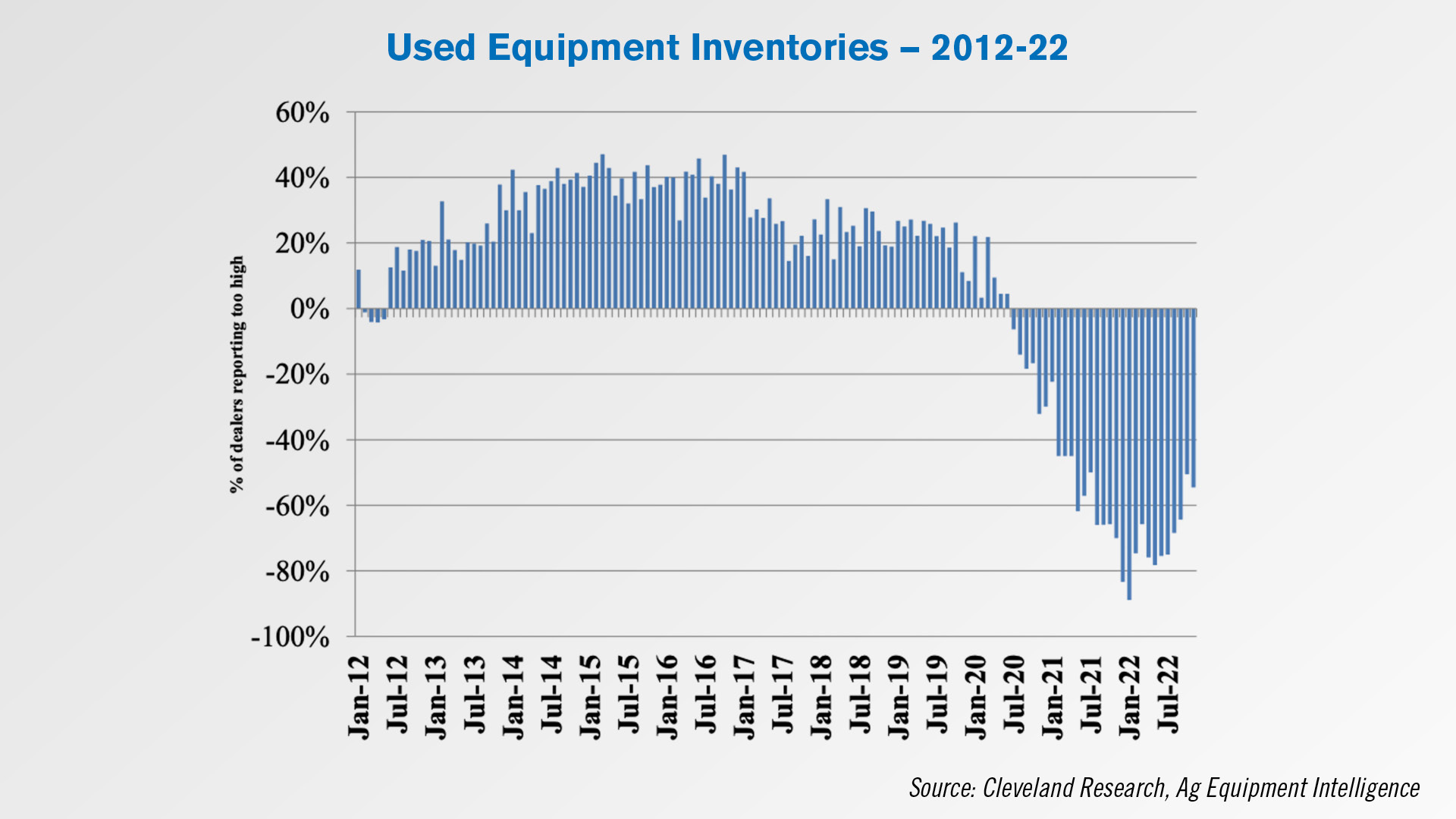 The net percentage of dealers reporting their used equipment inventories as "too low" has been on the decline since early 2022, when it peaked at almost 90%. In the latest update, a net 55% of dealers reported used equipment inventory vs. the net 51% who said the same in October. The net 28% of dealers said their used combine inventories specifically were too low in November.
DataPoints: Brazil's Agricultural Production
This week's DataPoint is brought to you by the Dealer Success Academy.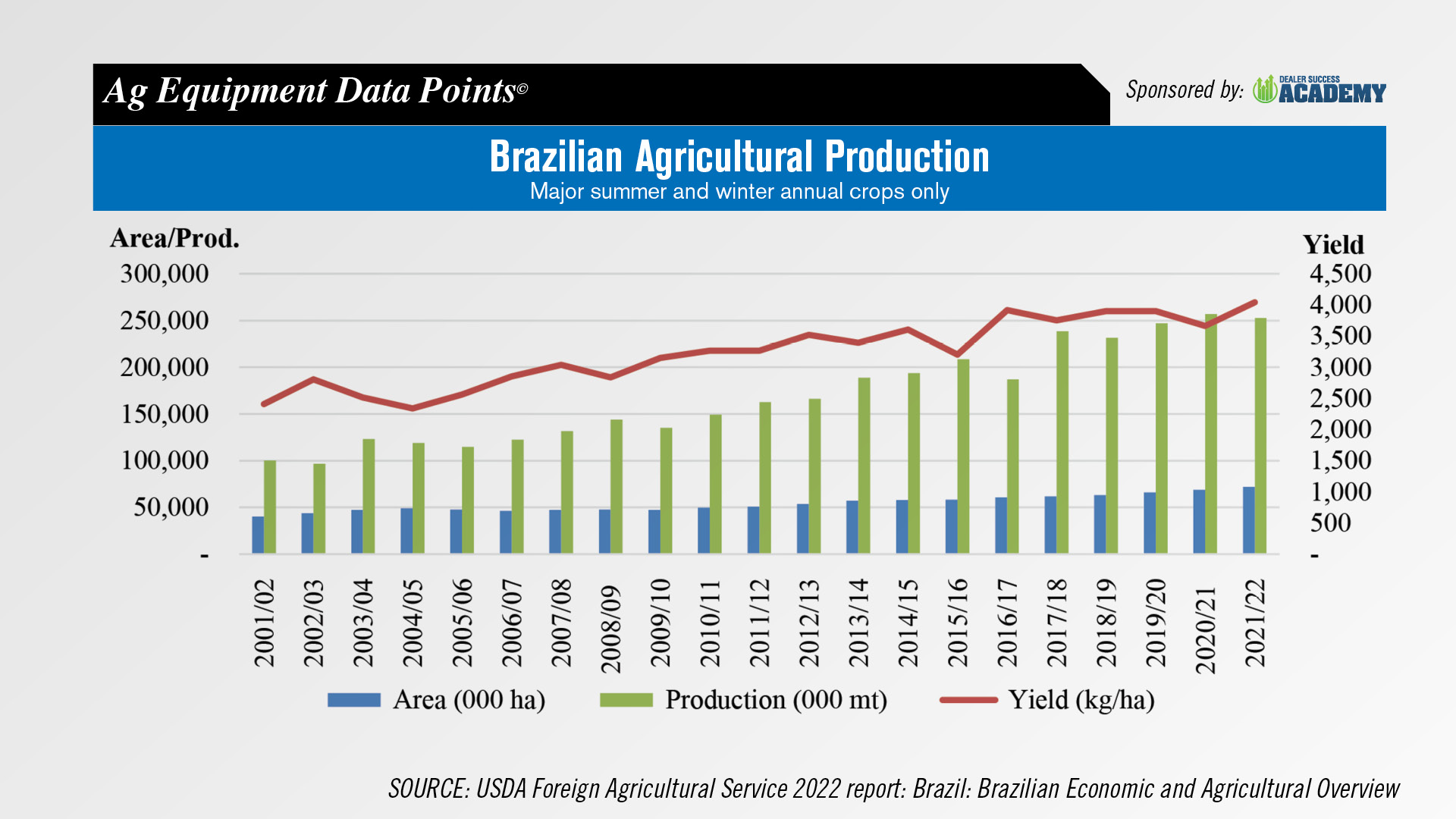 With heavy investments in research and technology since the early 1970s, Brazil has achieved significant increases in agricultural production without great expansion of land use. Favorable climate conditions allow farmers to grow 2 crops per year in a large portion of the nation, and grain yields have increased nearly 50% over the past 20 years.

---
On the Record is now available as a podcast! We encourage you to subscribe in iTunes, the Google Play Store, Soundcloud, Stitcher Radio and TuneIn Radio. Or if you have another app you use for listening to podcasts, let us know and we'll make an effort to get it listed there as well.
We're interested in getting your feedback. Please feel free to send along any suggestions or story ideas. You can send comments to kschmidt@lessitermedia.com.