According to the results of an Aug. 3 survey from Farm Equipment, CNH dealers are seeing less wholegoods revenue impact from the ongoing UAW strike than they initially predicted. The strike began in May, when 1,200 UAW workers at CNHI's Burlington, Iowa, and Racine, Wis., factories walked off the job as their contract expired. Negotiations are set to restart in mid-August.
Wholegoods Revenue
Some 39% of CNH dealers said there'd been no impact on their new wholegoods sales from the strike, almost double the 20% who predicted they'd see no impact in a similar survey Farm Equipment conducted in May.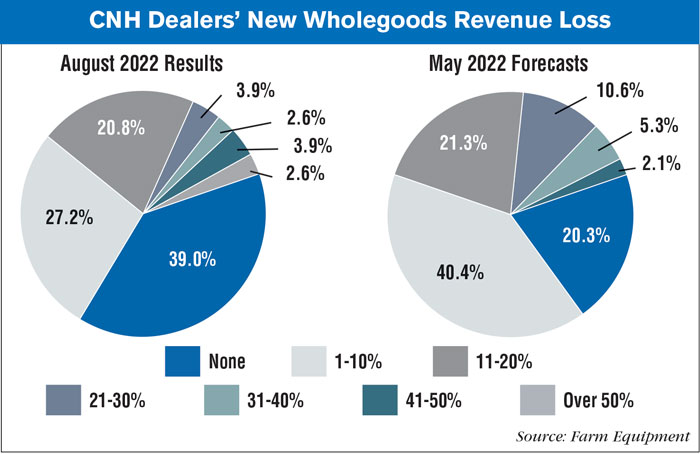 A little over 27% of CNH dealers said they'd seen a 1-10% sales loss vs. the 40% who predicted the same 3 months ago. Another 20.8% said they'd experienced an 11-20% loss in new wholegoods revenue, just below the 21.3% who predicted this loss in May.
Almost 4% of CNH dealers reported a wholegoods revenue loss of 41-50% (almost double the percentage forecasting this loss in May), while 2.6% reported a loss of over 50%.
When asked to forecast their loss should the strike continue for another 3 months, about 77% of CNH dealers predicted a loss, below the 80% who predicted the same in May. It should be noted the May survey asked dealers to forecast their losses should the strike continue for 30 days or more.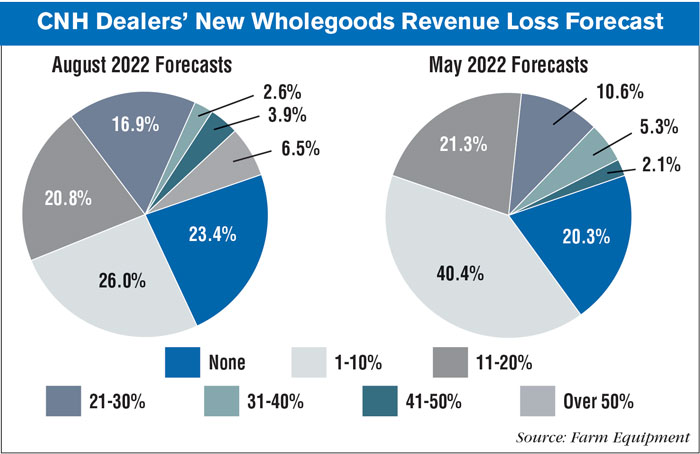 Some 26% of CNH dealers forecast a loss of 1-10% if the strike continues another 3 months vs. 40% who said the same in May. The percentage forecasting a 21-30% loss rose to 17% from the 11% forecasting this loss 3 months ago. Over 10% of CNH dealers forecast a new wholegoods revenue loss of 41% or more, while just 2.1% forecast the same in May.
Has the Equipment Quality Changed?
When asked if they felt the equipment they've received from the striking factories had dropped in quality, just 21.1% of CNH dealers felt it had. Several dealers mentioned quality problems with the two factories had been present since before the strike.
The following commentary was left by CNH dealers:
CNH dealers who answered yes:
Oil leaks, bolts not torqued properly.
Missing parts.
Maybe a little, but we have quality issues on Racine built produces that were built last year that are worse than normal.
Equipment had loose bolts, hose clamps. This has been common for the last 5 years.
Lose hydraulic lines. Electrician connections not tight. Seals leaking. Bolts left loose. Cabs leaking. Parts missing. Wheels not tightened. Sprayer plumbing leaks. Routing issues hoses and harnesses.
Wiring.
Quality control is terrible. Regular pre-delivery is twice as long because of finish errors that would normally not need dealer attention.
Loose hardware, misrouted/loose harnesses and connectors, fit and finish issues, paint quality concerns.
CNH dealers who answered no:
Pre-strike with union labor, the quality dropped from the onset of COVID due to supply chain issues and plant labor. It started before strike.
We have had problems with quality from those factories for years.
Actually the quality is better than last year when the UAW was still at the plant,. The thing we see is timing of product is worse, not quality.
Planned Purchase Impacts
When asked if their customers' planned purchases had been impacted by the strike, 45.6% of CNH dealers said it had.
Dealers left the following commentary:
CNH dealers who answered yes:
Reduced dealer allocations for Magnums means not enough tractors for customers.
Yes, due to weaker commodity pricing and drought.
Product availability impacted.
Delays in delivery of product.
No delivery.
They want product, but we cannot supply it. Losing lots of sales.
Machines not showing up on time, so they go to another brand.
Can't get equipment or price it anyway.
Equipment deliveries for units on order have been pushed further out, 2023 model production is being allocated below what the market is currently calling for.
Delay in delivery.
They are putting off trading equipment because of timing and allocations of equipment.
Things are delayed coming in.
Pushed/delayed manufacturer slots have meant we will likely be unable to deliver/sell some units in the current year.
Longer time frame for delivery.
Not able to get the product.
They now have to look 2 years out.
They are buying Korean machines instead.
Delays continue.
They want to update equipment because of high hours on their existing machines.
Units have not arrived and are now scheduled after season so they will not be sold as ordered in a usable timeframe for our customers harvests.
Tractor trades have stopped.
Their leases have expired, so we have had to buy their tractors to keep them going.
They have not received their new equipment and therefore their trade in equipment is also not able to be delivered to the next customer that has purchased it.
No availability of equipment.
Time delay.
Cannot delivery trade-in tractors and new ones have not arrived.
Customers are either delaying the purchase of equipment or purchasing a competing brand.
If you can't get new tractors, you cannot sell one or give the customer any kind of timeline on delivery.
No confidence.
Delivery time on heads built in Iowa are getting pushed out to after season.
Cannot place an order for any new Case IH.
We cannot supply product.
Lead times are stretching on products from these locations.
Compiled Commentary
Dealers were also able to leave general commentary on the strike at the end of the survey, which is compiled below by the dealers' mainline brands.
John Deere dealers:
CNH Industrial has a large non-North American manufacturing footprint. They can move tooling and production easily and probably will.
Case IH dealers:
CNH should move production to a southern state (right to work) or Mexico.
The strike has not had major impact on business yet. Poor crop yields combined with supply chain issues.
As a dealer I have not followed this strike, I actually did not know it was still going on, with only 1200 workers impacted that seems like a small portion of the CNH workforce, they should get back to work and be glad they have what they have.
If the dealer and customer had been receiving quality workmanship products from the factory in the past, which we were not, I could see more into the strike.
There has been little to no communication to dealers since the beginning of negotiations from CNH. We have no idea what is even happening, if anything at all is happening. The only mention of the strike we ever get is when we ask for clarification of a delayed unit from sales support and the response is "delayed due to ongoing strike."
I wish CNH would go to all non-union production. Unions serve no purpose in modern business and only add additional expense and headaches.
Company is not saying a word to the dealer network to let us know what's happening so we can plan. Shame on them.
I feel the companies are inflating their prices and the cost of labor while having an effect on the bottom line is not the main reason for major price increases.
Neither party is genuine.
The UAW is one of the main reason that the prices are high now. CNH should make plans and move the plant to a non-union state.
It's really neither side but both sides that need to come to the table in good faith to resolve this issue. This shouldn't be that hard as Deere settles its strike in a month. We should know what they settled with its group on that really should make it easier to come to an agreement. If they are asking for more than what Deere settled for them they need to back off what they are asking for. Not sure the status of either item I mentioned but someone in the company and Union knows and details. Should not have been this hard.
Both parties need to agree on working, the dealers and their customers are awaiting something good from both groups. If this continues red customers will be looking elsewhere.
We cannot wait any longer for new products to be produced. The dealer is taking the brunt of the additional expense of not being able to deliver new products. [We are] losing customers to reduced trade values on trade-ins, because the customer has to use the trade-in and put more hours on it after the deal and trade price was agreed upon.
AGCO dealers:
Hopefully this will allow AGCO to surpass CNH in North America.
New Holland dealers:
They need to do away with union workers and hire their own workforce.
It seems like the striking workers really don't understand they are replaceable, either by automation, domestic non-union workers or foreign workers at other plants. They really need to wake up and realize they have a good job that others are happy to take from them.
Everyone needs more individuals who want to work. Government programs have resulted in lazy people who make more by sitting at home rather than earning an honest days wage. It's forcing companies to look at more automated ways to build their products because they have fewer and fewer people who want to work. Higher labor costs will only result in manufacturers moving plants to places like Mexico.
Kubota dealers:
Both sides need to mutually come together. Meet in the middle somewhere and get this strike over.
UAW are holding NH hostage.
Unions have outlived their usefulness and now harm our country by interfering with the efficiency of competitive markets, encouraging mediocrity and promoting strife.
For additional coverage on what happened during the CNHI/UAW trike, click here to read Ag Equipment Intelligence's full timeline of events.
---
Click here for more Industry News.