As part of Sydenstricker Nobbe Partners' plan to diversify its operations and succeed in the aftermarket segment, CEO Ted Briscoe explains the company is looking for "break out opportunities," including its e-commerce site in Moscow Mills, Mo.
Fast Facts
Sells 10,540 individual parts
12,000 square foot location with plans to triple size
Sells to all 50 states, top states are New York, Ohio, Texas, Florida and Michigan
13 employees
Ships 800-1000 packages a day
Briscoe says the location sells over 10,000 parts out of a separate 12,000 square foot logistics center at the Moscow Mills store, with plans to move to a new location triple the size in the works. Sydenstricker Nobbe bought the location in the summer of 2018 and was fully moved in by Christmas. He claims it's not abnormal for the logistics center to move more than 2,000 packages on a Monday.
"These aren't people buying hats and t-shirts, they're buying oil, oil filters and tractor weights," says Briscoe. "We get about 10% of our parts business online, and we sold over 12.5% of our compact utility tractors last year online."
"We've got to make it easier for people to buy the way they want," says Manager Shawn Miederhoff. "If it's 10 p.m. on a Sunday when the customer has time to think about what they need, we have to be ready to sell then."
Miederhoff has been at the Moscow Mills, Mo., location since 2003 when it was owned by a different dealership. He says 2010 was the year he began to "really start recording" the dealership's e-commerce sales (originally operating out of the back of the parts department), noting they sold $55,000 worth of product that year, which they now sometimes can do in one day.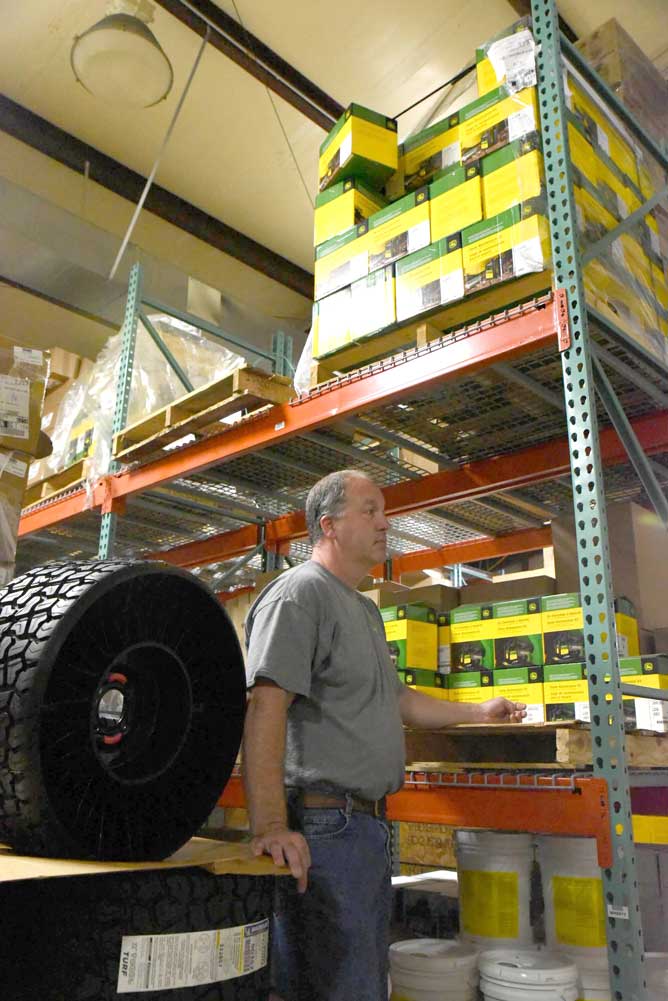 "I'm always going over what has sold in the last 24 hours and tracking our reordering," he says. "We're constantly looking at new products, looking at our competition to see what opportunities we're missing out on."
Miederhoff says the e-commerce location sells through several online platforms, including Amazon, eBay, Shopify, Walmart and possibly Home Depot in the future. The location has done very well selling Michelin Tweels, as well as filters and basic maintenance items. "Lawn and garden is our bread and butter," he says. "It's filter kits, blades, belts, pulleys for decks. After that it would be pedal tractors."
In addition to selling lawn and garden items and general merchandise, the location also sometimes fills orders to other locations for in-person customers. The location has 5 trucking routes that run through Mexico, Mo., 3 days a week.
Organizing & Operating
To streamline operations, the location's shelves are organized by frequency of sales. The aisles closest to the main areas of employee activity have the fastest moving parts (like fuel filters or spark plugs), while those that sell less frequently are in aisles farther away. Miederhoff points out, however, that the title of "fastest moving" can be temporary.
"We get a lull about every couple of months, then we rearrange our shelves," he says. "Around Christmas time, we may move the pedal tractors up and push back all the filters a little bit, just so you're not traveling as far. Even though it's only a 12,000 square foot facility, Sherri, our primary picker, will put in 25,000 steps on the busiest days."
The store routinely ships more packages than the local Moscow Mills post office can handle, requiring special truck pickups.
"We ship out more than our local post office can handle, so our stuff gets loaded onto a truck and is treated almost like a post office pickup," he says. "That white truck that sits in the parking lot is a postal truck. They come here first and then go to the local post offices and pick up their stuff. Then it goes straight to St. Louis."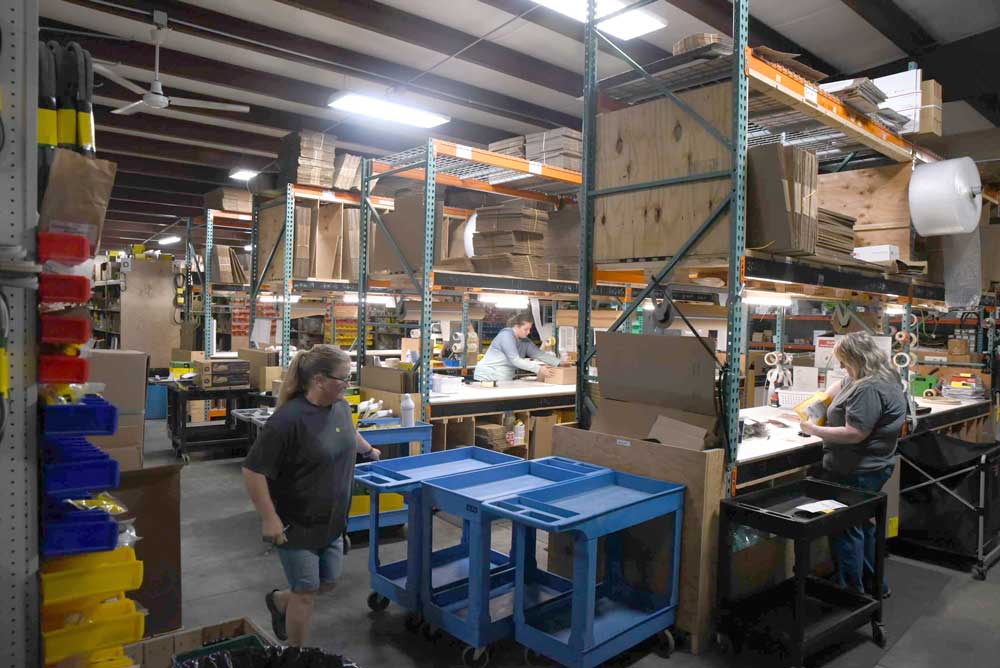 Despite the shutdowns related to COVID-19 and the current supply chain issues plaguing the industry, Miederhoff says they've been relatively well-off, though now the issue is delivery.
"There was also a break in the supply chain, and there still is, don't get me wrong," he says. "We were fortunate enough we got our stuff in early. We hardly ran out of much last year, and that really helped us a lot.
"At the moment, it's not so much the supply chain as much as it is a delivery delay. I don't think there's a trucking line out there that's not jam packed full. If people have the product, now they can't get it delivered."
The e-commerce business at Sydenstricker Nobbe Partners has been expanding, and Miederhoff says they've been eying the large ag space as their next venture.
"In the next 5 years, I see our e-commerce getting a little bit further away from Deere, mainly as a protection," he says. "Ninety percent of what we sell is John Deere, so we've got to split the blanket. We are really making a push on Honda parts right now.
"We're also looking into non-John Deere oil supplier to offer a secondary line of oil. But you can only fit so much in the building. So that means some of that is coming with the expansion into a different building."