---
Pictured Above: Salford Group's headquarters building in Salford, Ont., is home to the global firm which employs 500 people and operates a dealer and service network across North America and Russia.
---
In 1978, farm equipment dealer Jake Rozendaal saw the need for much heavier-duty tillage equipment to work the heavy clay soils in his local area near Salford, Ont. With designs of his own, he launched a side enterprise under the name of Salford Farm Machinery and began producing a beefed-up moldboard plow and a companion field cultivator.
Local demand for the implements was immediate and what Rozendaal started as a part-timer in his own shop near Ingersoll, quickly grew to become his primary business.
Salford Farm Machinery continued to grow and established its name on both sides of the border until in the late 1990s, Rozendaal realized the business was becoming much bigger than his original expectations.
"If the company was to continue to flourish it would have to grow," says Brad Baker, vice president of sales and marketing for today's Salford Group, a global entity which has become a leader in tillage, seeding and application equipment.
Salford Group at a Glance

Founded: 1978
Product Groups: AerWay Tillage & Pasture Management, BBI Spreaders, Valmar Application, Independent Series, Conventional Tillage, Seeding and Commodity Carts
Manufacturing Facilities: Osceola, Iowa; Cornelia, Ga.; Salford, Ont. (also sales site), Norwich, Ont.; Elie, Man. (also sales site); and Omsk, Russia
Territory Managers: Find your local territory manager at www.SalfordGroup.com/territory-managers


Baker says Rozendaal solicited outside investors to help raise capital to take the firm to a new level, and by 2004 the group began moving to increase North American sales and leverage global connections by developing an air seeder design for Russia and Eastern Europe.
"The Russian market was looking for robust North American made tillage and pneumatic seeding equipment with North American build quality that suited their needs, and under the leadership of Geof Gray, the general manager of Salford Farm Machinery (today's CEO), the products helped move the company in a strategic high-growth direction."
Going Global
Soon, Salford tillage equipment and air-seeders were being sold overseas as well as in western Canada and the U.S. The Ontario-based company known for high-quality tillage equipment and pneumatic seeding had become a player in the world farm equipment market almost overnight.
"At the same time, vertical tillage was just emerging as a management tool for broad-acre growers, and Salford was assembling a group of individuals with agronomic and tillage backgrounds," Baker explains. "We realized the company had a good platform to bring a VT tool to market.
"We purchased an innovative patent called the coil-tech coulter that winds inch-and-a-quarter spring steel in a fashion it could be attached to a cultivator in a swivel manner to run a wavy plate," he says. "That was the beginning of our RTS (residue tillage specialist) line as one of the earliest examples of VT equipment in the industry."
Baker says Salford's timing of the RTS line was aligned well with the explosion of interest in VT.
"We had the right product at the right time and it afforded us new opportunities in both the northern plains and the Corn Belt of the U.S.," Baker explains.
The RTS line provided farmers the efficiency they needed to handle the increasing amounts of residues high-yield crops left behind, plus it could be pulled faster than a traditional field cultivator — with minimum soil disturbance to maintain and maximize soil structure.
"RTS became the bread and butter of the organization and was actually where our brand was built," Baker says. "We went from a successful regional equipment manufacturer to a true supplier for North America, Russia and Europe."
In the ensuing years Salford adapted its VT technology to a range of different models to meet the needs of a wide range of farmers and individual farm needs. 
"Vertical tillage at its root provides minimum soil disturbance while dealing with residue with a vertical coulter," Baker explains. "We were creating an array of different tools to suit customers in different regions. Farmers liked VT but some couldn't take full advantage of it because of their soil type or they needed more pinning of residue.
"We had to vary the configurations available, so we designed hybrid tools which would move a bit more soil. We introduced chisel shanks and made them retractable to enable the tool to be used for VT where applicable, or in heavier soils, the shanks could be engaged to combat compaction — or used as application shanks. This also led to the development of the I-5100, the predecessor to Salford's most aggressive high-speed tillage tool, the 5200 Enforcer. This tool completed the spectrum of tillage in the Salford line, by maximizing soil and residue mixing action. By creating a large amount of space around each individually mounted concave coulters, it is incredible how much volume the machine can handle without plugging.
"The RTS could be used for spring tillage and for early applications for the best of both worlds and it became truly a multi-purpose tool which reinforced its desirability on many farms," he explains.
In 2011, the RTS line was rebranded the "I" Series, because the coulters were mounted individually — not on a gang or rank — to enable better performance in many conditions and improve obstacle protection by allowing each blade to handle obstacles on its own, as opposed to obstacle protection on a whole gang of blades.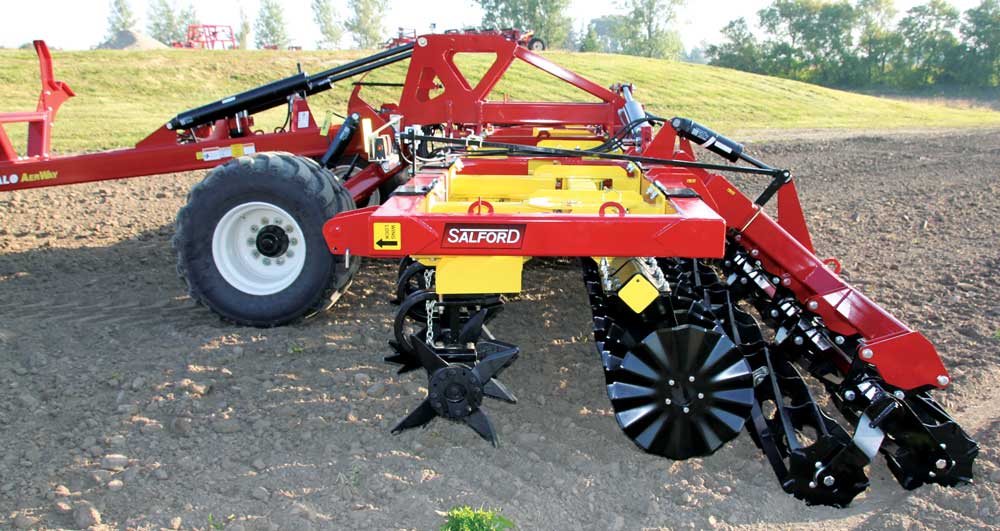 The AerWay is one of two models of the new HALO line of high-speed vertical tillage equipment introduced in late 2020 and features ground aeration tines in front and vertical wavy coulters in the rear.
"There are six 'I' Series models ranging from the I-1100 to the I-4200 in order of tillage intensity they provide," Baker explains. 
Today the "I" Series is a mainstay product for Salford Group with on-the-fly adjustments for varying field conditions, hydraulic shanks and finishing systems, and fore-and-aft elevation control for tillage intensity. Baker says the platform will remain a workhorse as the company plans to further refine it in the future with additional modernization adaptability to precision controls. 
In 2007 the company acquired a plant in Osceola, Iowa, to manufacture tillage equipment.
In 2010 Salford started manufacturing equipment for the Russian market in the city of Omsk, Russia. The Omsk facility continues to grow and manufactures many of the seeding and tillage products for the Russian market.
By 2013 Salford Farm Machinery was busy producing its tillage lines and double-disc air seeders for Canadian and overseas markets, along with commodity carts. That same year, the firm was acquired by GenNX360, a New York-based private equity group, and officially became Salford Group.
Acquisitions & Growth
"The new investors provided the strategic capital for us to make other acquisitions," Baker explains. "By 2014 we bought BBI, the spinner-spreader manufacturer in Cornelia, Ga., and in early 2015 acquired Valmar AirFlo, of Elie, Man., a manufacturer of pneumatic granular application equipment.
"Not long after that we purchased AerWay of Norwich, Ont., whose technology for agricultural aerators meshed well with our VT development, plus their manufacturing facility is only 15 minutes east of our headquarters in Ontario.
---
"As a company, we seek to remain in close contact with customers through our dealer organization and to remain agile enough to meet needs they may have that aren't being addressed elsewhere…"
---
In less than 2 years Salford Group found itself in the granular fertilizer application business and manufacturing from three new facilities based in Cornelia, Ga.; Elie, Man., and Norwich, Ont.; in addition to the existing Salford manufacturing sites in Salford, Ont., Osceola, Iowa, and Omsk, Russia.
"Today we've used the technology of our acquisitions along with our own developments to claim granular application as one of our core competencies," Baker explains. "We've become a leader in the field with an extensive range of precision granular application controls on booms, spinners and sub-surface VT applications.
"We're also taking that technology to the establishment of cover crops as increasing numbers of growers begin to see the value in maintaining crops and residue on their fields throughout the season," he explains.  
Company Goals
Baker says Salford Group's goal is not to become a full-line organization, but to be a shortline manufacturer that excels in areas of its specialties such as tillage, the development of granular material application and cover-crop seeding. 
"As a company, we seek to remain in close contact with customers through our dealer organization and to remain agile enough to meet needs they may have that aren't being addressed elsewhere," Baker explains. "We work constantly to reduce bureaucracy and to provide our employees the leeway and encouragement to take developmental risks without the fear of being punished if those efforts fail.
"It's our culture to provide unique, high-value products," he says.
Recent Introductions
Salford introduced its new HALO Series in October, 2020 as a new generation tillage tool based on a single frame design. 
"The frame itself is designed for high-speed use, maneuverability, narrow transport, consistent depth control and adjustability," Baker explains. The first models are the HSD (high speed disc) and AerWay (aeration tines on the front row and wavy coulters on the rear). 
"The AerWay is an especially unique VT tool, able to provide excellent soil fracturing and residue management while minimizing the impact on soil structure," he says. "We plan a number of variations on the HALO platform in 2021."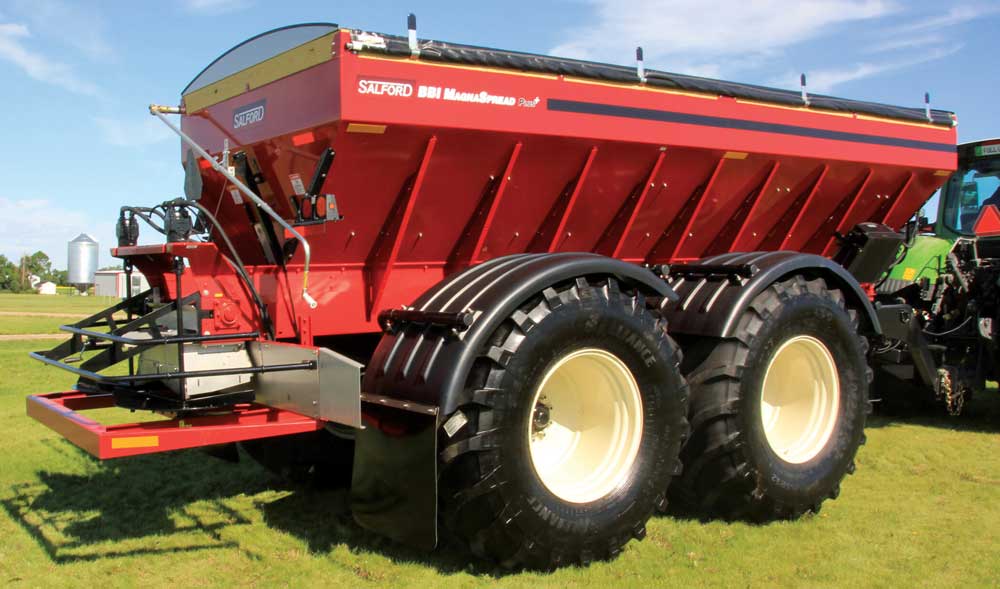 The new-for-2020 MagnaSpread Plus+ is a dual-purpose spinner-spreader capable of applying fertilizer in 120-foot swaths along with a full output of ag lime.
Salford also has been busy recently developing chassis-mounted pneumatic air-boom commercial floater and sprayer fertilizer spreaders. 
"In 2018 we were the first company to introduce a 90-foot air boom commercially ready for the market, a move that made us an industry leader in applicator productivity," Baker explains. "Also, our variable 3-bin hopper is unique in the industry — allowing 4 hopper configurations with very simple adjustments.
"We were also the first to introduce an on-center row-crop boom with in-row drops for post emergence application. Because of that innovation we developed an allied supply agreement with John Deere and in 2019 and OEM supply agreements with Case IH, RBR Machine, GVM Inc. and Oxbo."
In Spinner-Spreader technology, Salford released its MagnaSpread Plus+ dual-purpose fertilizer/ag lime spreader in 2020, allowing for maximum swath (120 feet) for fertilizer use along with maximum output for lime use.
"Because we are one of the few ag equipment companies to offer both spinner-spreader and air-boom fertilizer application technology, we can serve a wide range of customers," Baker explains. "We invested heavily in spinner-spreader technology and were one of the first companies to develop a spinner system for urea that would consistently and evenly apply at 120-feet driving intervals with no overlap. 
"In 2018 we launched the Sniper — a 120-feet capable spreader with sectional control. The patented design is simple and very reliable over the long-term and is available on both pull-type and chassis-mounted offerings."
Dealer Organization
Salford Group has a diverse dealer network across North America and Russia comprised of full-line outlets, shortline dealerships and farmer dealers who share the company's values of integrity, people, customer focus, innovation and sustainability. 
"The structure of their business is not nearly as important to Salford as is their commitment to service and support the products, and to build and maintain relationships with end users," Baker explains. "We look for dealers willing to learn our product line well enough to communicate its true value to customers and to put themselves behind those products in their local communities."
Baker says growers can use the Dealer Locator found on the company website at www.SalfordGroup.com to locate outlets handling the specific equipment in which they have an interest.
"Not every dealer carries a full product line, so by searching for the product group it's easy to find dealers who handle that equipment," he says. "Overall, our parts distribution and product support stretches across America's heartland and Southeast, through the Great Lakes region and into the Canadian West."