According to recent surveys, both farmers and dealers are leaning toward getting the COVID-19 vaccine once it's available, though only by a slight majority.
A recent poll conducted by Farm Equipment showed 51.1% of surveyed dealers would be getting the COVID-19 vaccine once it becomes available to them, while 38.1% said they would not be getting the vaccine. Some 10.8% of dealers said they plan to get the vaccine, but not right away.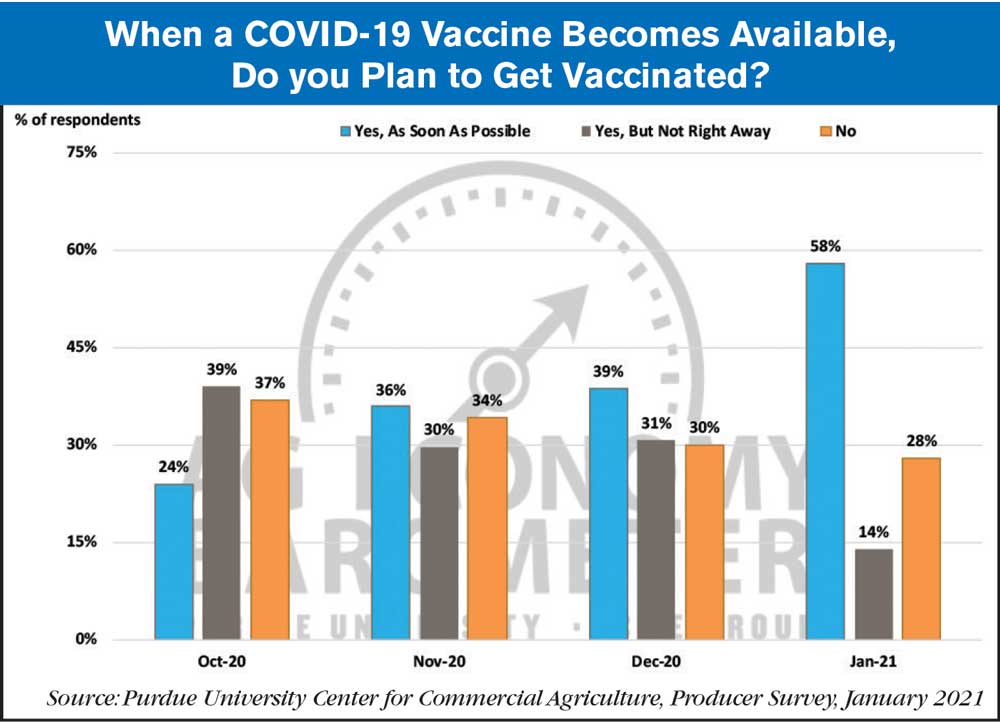 A separate poll from the Purdue University Center for Commercial Agriculture showed 58% of farmers in the January survey planned to get the vaccine, while 28% did not. Since the question was first posed to growers in October, the percentage indicating they would get the vaccine has increased from 24% to 58%. The percentage planning to not receive the vaccine right away dropped from 39% to 14% and those not planning to get the vaccine at all fell from 37% to 28%.
This data comes as the U.S. moves through the first stages of its vaccination programs. As of March 2, 2021, data from the Center for Disease Control showed nearly 52 million vaccination doses had been given in the U.S., with 20.3% of the population 18 years old and older receiving at least one dose. Over 10% of the U.S. population 18 and older had received 2 doses and been fully vaccinated.
Click here for daily updates on U.S. COVID-19 vaccination numbers.