Gigabytes of farm data are being collected, stored and in some cases applied to improve on-farm decision making. But behind the algorithms and analysis a profitable precision business is rooted in relationships. 
Understanding the integration of technical capabilities with customer experience to maximize profitability was a core focus of the 5th Precision Farming Dealer Summit held at the Union Station Hotel in St. Louis, on Jan. 6-7.
Featuring a speaker lineup that included 10 leading dealer groups representing more than $1.1 billion in annual revenue, the event drew a sold out crowd of 162 precision farming professionals from more than 64 different dealerships across 24 states and 4 provinces.  
Emphasizing the theme Defining Precision Progress with Data-Driven Solutions, speakers and attendees zeroed in on how to advance their precision objectives through targeted integration of progressive technology and services to strengthen customer trust and confidence. 
Tom Rosztoczy, owner of Stotz Equipment based in Avondale, Ariz., noted that dealers can be adept at providing the best on-farm analytics, but if they can't explain it to customers, its value is minimal.
"People don't become farmers because they want to spend a lot of time doing data analytics. Those two things are almost mutually exclusive," he said during a dealer executive panel at the Summit. "We're still in a business where people do business with people. We think we're in the equipment business or we think we're in the precision business, but we're still in the people business. In particular, our farmer customers think that way and they will do business with people they trust."
While no dealership has perfected the model for fully leveraging the value of data-driven solutions for customers, the 14 speakers, 3 sets of roundtable discussions and dynamic networking opportunities at the 2 day conference, sought to candidly deliver actionable advice and experiences to put dealers on the path to progress.
From the single-location, independent retailer to the multi-store farm equipment dealer, the veteran precision ag manager to the newly hired specialist, the passion for precision farming was prevalent during each structured learning session and hallway conversations.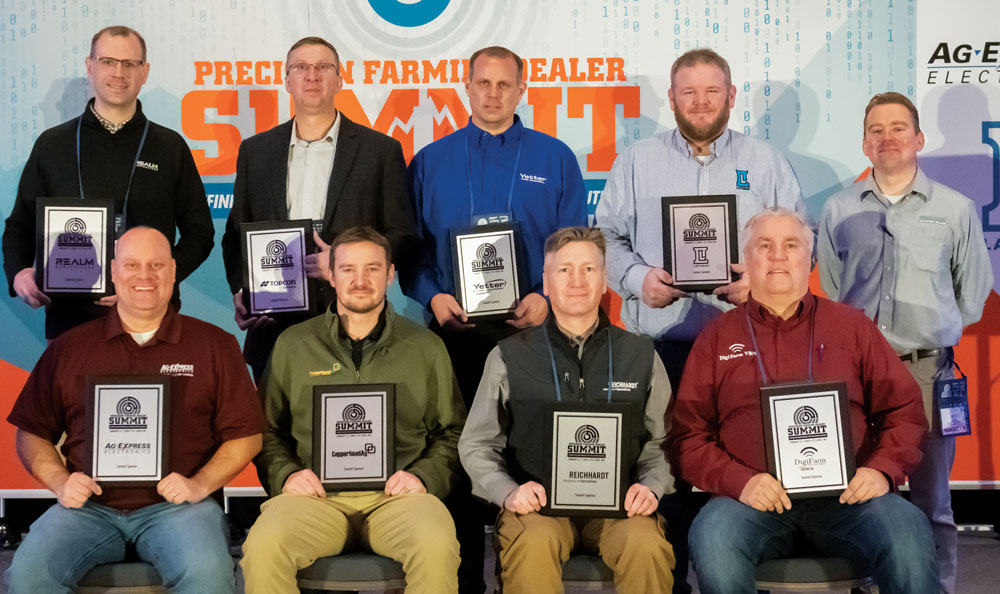 Thank you to the 2020 Precision Farming Dealer Summit title sponsors. Top: Steve Tippery, RealmFive; Travis Alhorn, TopCon; Derek Allensworth, Yetter; Kyle Frazier, Laforge, and Jack Zemlicka, Precision Farming Dealer. Bottom: Jim Steinke, AgExpress; Jake Jass, CopperHead Ag; Jayme Paquin, Reichhardt Electronics; and Steve Riddle, DigiFarm
Driving Decision Making with Data-Based Precision Relationships
3 Disruptive Tech Trends that Will Shape Your Precision Business of the Future
People + Technology = Leading Precision Ag
Pick Solutions Over Sales to Become Precision Systems Integrators
Help Your Precision Staff Flourish from Onboarding to Seniority