The following article is based on Mike Wiles' presentation at the 2018 Dealership Minds Summit. To watch the presentation, click here.
YouTube is a great platform to tell stories and attract potential customers and it continues to grow rapidly as the "go-to" source for practical information. Many dealers have formed their own channels and posted videos, but with very few exceptions, those efforts have attracted limited audiences. When deciding how YouTube fits with your marketing mix, it's important to understand where video is appropriate to tell your unique story and how it can be used to build customer relationships and sell product. There are some guidelines that must be followed or the time spent producing the videos will be wasted and the videos languish in a digital wasteland with millions of other videos that no one ever watches. Before offering these tips, here's my background.
I started a YouTube channel in 2012, while managing a dealership in southwest Missouri that had a significant clientele of rural lifestyle customers with a thirst for education. They didn't grow up on a farm and needed an unbiased place for training about tractor terminology, options, buying tips, operation, maintenance and safety. I couldn't find a YouTube Channel to send them to so I started my own. Later this month, it will pass 30,000 subscribers and continues to grow at an accelerating rate. You can check it out for yourself at www.YouTube.com/TractorMike.
I spoke at the Dealership Minds Summit in Iowa City about my channel and YouTube; it was titled "Video Marketing – What Works and What Doesn't." Let's get the answer to my subject matter out of the way first. What works with YouTube videos boils down to 3 things: 1) videos that entertain, 2) videos that inspire, and 3) videos that educate. What doesn't work is everything else. Selling stuff on a video doesn't work unless you educate people first about how to use it, which can be extremely powerful. Telling your personal dealership experience can inspire customers to want to buy from you when they find out that your business philosophy and values parallel theirs. So you want to use video to help your customers get good information and know your business philosophy, history and background.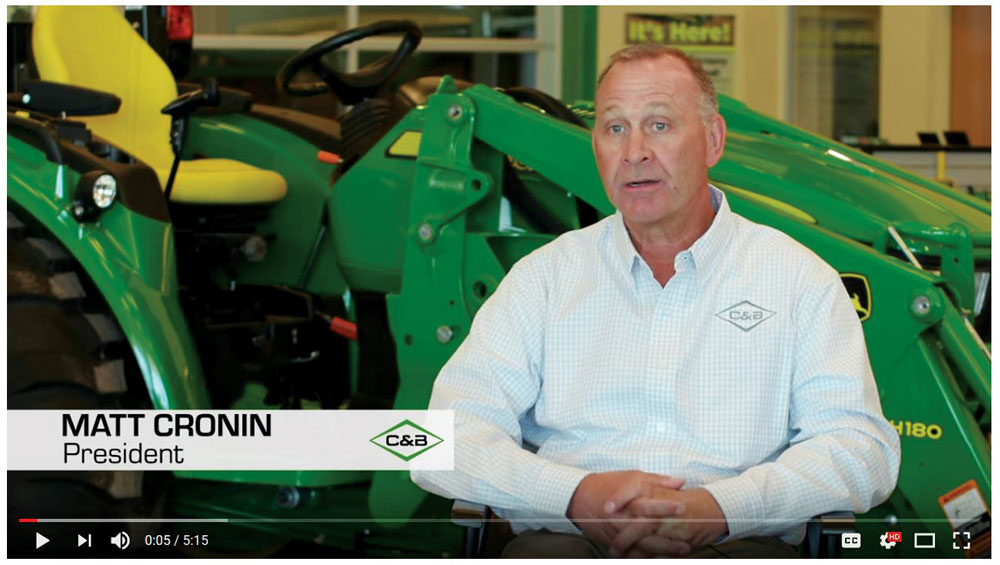 Telling the unique story of your dealership on video can start building a relationship with potential customers, even after business hours when the store is closed. Such videos are especially effective when there are staff members who are comfortable on camera. Matt Cronin, of C & B Operations, tells the story of his dealership in this video as if he's sitting across the table from you. You can view the video at Deerequipment.com/about.
Now, where specifically should you use video? There are 8 areas that I feel a dealership can benefit by producing and posting YouTube videos, which are linked to the website and available for sharing on social media and we'll look at each in depth. Then, I'll share 15 easy secrets to make your videos more attractive. 
Video is a great way to build relationships and that's the real goal. The person, who is watching on the other end, is getting to know you. It's a one-sided relationship, but that's OK, when they enter the dealership after consuming your video offering, they'll have built up a level of trust and will be deeper in the sales funnel than someone who hasn't seen your videos. It's tough to determine the return on investment when that's the case, but it can lead to additional sales and give you a leg up on your competitor. Here's where to use video…
1 Relationship Building/Branding/Telling Your Story
A tractor or combine is a major investment, it's not something that will ever sell on Amazon. One of the main reasons customers buy from a particular dealership is because they perceive that if a service issue arises, that's where they'll receive the best care. If it's a multi-store operation and the owners are three states away, the perception may exist that customers are just a number to them. Even with a single store it can be difficult to get to know the entire customer base. Whether part of a one or multiple store operation, you can use video to tell the story of how the dealership was formed, to communicate the core values of the business and to let prospective customers know the commitment to good customer service. If the owners are adept at projecting empathy and professionalism on camera, it can help to build relationships and portray that they'll have the backs of their customers if there's ever an issue. A video can tell your story to a large number of potential customers on your website a lot more efficiently than trying to conduct open houses for face-to-face meetings and be just as effective. Here's an example of a very powerful video by C&B Operations that represents the point: www.youtube.com/watch?v=PyhXUiR4Vo0
2 Service Advice/Targeting Segments
Educating customers about how to service the products you sell shows you care about taking care of them, and establishes you as an authority on the equipment. These videos can also help reduce the volume of phone calls coming in to the dealership that waste a lot of time for your service personnel and eliminate costly mobile visits to resolve operator error. They'll also attract far away business, especially if a neighboring dealer isn't taking good care of their customers. Service videos work well with any equipment buyers, but especially consider them if you're trying to serve different market segments. If your lot is stocked heavily with combines and articulated tractors, you may have difficulty convincing lawn and garden and compact tractor customers that you want to serve them as well. Having a bank of "how-to" videos showcasing your expertise on these segments proves your commitment to those products. Here's a good example from A.C. McCartney: www.youtube.com/watch?v=BYpYqyN829I
3 Product Introductions
Anytime there's something new on your lot, video is an especially powerful way to show it to potential customers. OEM videos tend to lapse into product evangelism which kills view time. Having a salesperson, who is excited about a new offering, record their thoughts on video can be a great selling tool and a way to get other salespeople on board as well. Since dealership sales departments are one step closer to the end user than company representatives, many times they can tell the product story better. If they see the new product as a serious way to increase their commission checks, that excitement will come across on the video. Here's a great example Altorfer Cat: www.youtube.com/watch?v=ki1L6dvoiXE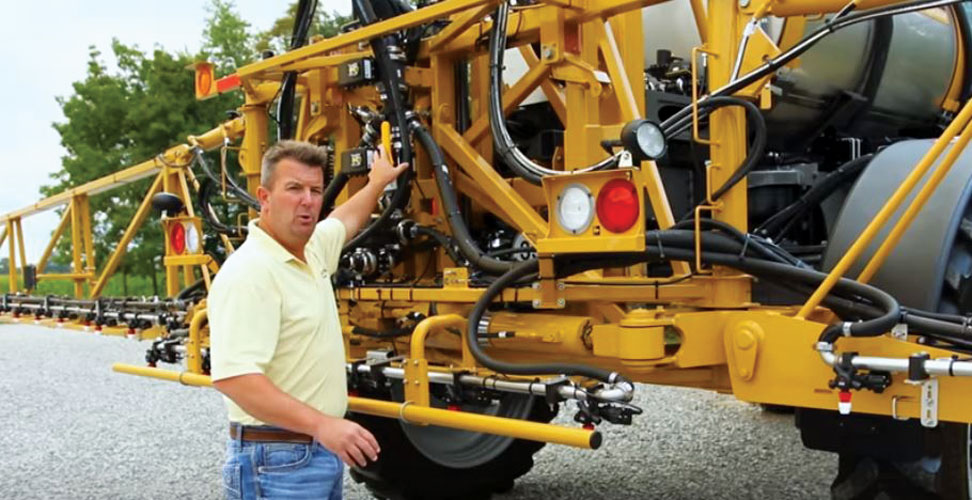 Showing new products to a large audience on YouTube can be extremely effective, especially when the person on camera is excited about the features of the machine. The enthusiasm of Chris Miller of Altorfer Ag Products about the new Rogator 1100 C sprayer really comes across in this video: https://bit.ly/2NOzeN3, which has over 6,000 views.
4 News/Special Events Coverage
This is especially important during acquisitions. Most of us like to buy from people we know and from locally-owned businesses with the same core values. Once a big conglomerate moves into town and buys out the local dealership, there's immediately some resistance to the new owners. Customers traditionally don't like change, and there's going to be a lot of coffee shop speculation about what the new owners will bring. We've had something like that where I live and the word is that the new owners have increased the shop labor rate by about a third. Competitors have seized on that and the uncertainty may be costing the newly-acquired local dealership some loyal customers. A video explaining the future direction of the dealership from the new owners could be especially effective at squashing unwanted rumors. Unfortunately, I couldn't find a good example.
Covering news events with video can make customers feel "in the know" and part of the dealership family. At the time of the Summit, a major plant for Vermeer Manufacturing had been hit by a severe storm. When there's an event like that, a video that relates facts and quiets rumors about the effect on the end user can be greatly effective. It not only tells customers that you're concerned about their well-being using the products that you sell, it also lets them know that you are important outlet for the supplier and can get fact-based information from them. 
At the very least, a video telling what to expect at your upcoming open house can add to the attendance and the customer having a good experience. Here's an example from Washington Tractor: www.Youtube.Com/Watch?V=Fotrrr_6DDI
5 Seasonal Reminders
Most of these relate to service issues, but not all. You could do a video in December showing all of the potential Christmas gifts you have available. Videos would be appropriate for planting or harvest seasons that show the optimum time to get to the parts counter to avoid long lines, or that the shop is slow in November and a combine or baler service could be done in the off-season and save freight charges on parts. Here's an example of a video helping customers winterize generators by James River Equipment: www.youtube.com/watch?v=s09uespbfJE
6 Employee Recruiting
One of the biggest challenges of all businesses right now is finding good employees. What better venue to attract potential staff than to show your great workplace and tell the benefits of employment while showing happy, well-adjusted workers going about their daily routines? Here's a good example by HJV Equipment: www.youtube.com/watch?v=YN7YvpuhmZs
7 Testimonials/Customer Profiles
There's no more effective way of promoting a dealership than letting the best customers tell your story for you. A side benefit of producing videos focusing on top customers is they tend to get shared by their friends and family and spread the word about your great services. Here's an example from Caroline Implement: www.youtube.com/watch?v=wIfB75X0-Ew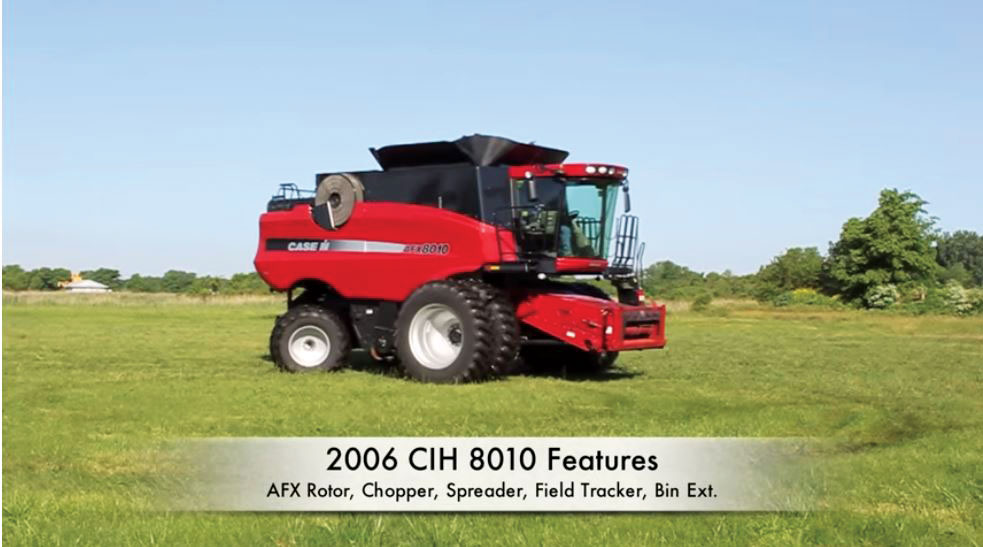 Birkey's Farm Store utilizes YouTube videos to remarket trades. The video for this combine, https://bit.ly/2QaaE5N, discusses the options on the machine and shows the major moving parts functioning properly. Far-away customers can be attracted to machines marketed in this fashion almost as effectively as if they were operating them on the lot.
8 Remarketing Trades
This is a greatly underused resource. Why not do a quick video of your larger, or harder to move, used inventory machines showing all of the good and bad of each? By videoing the machine in action with all of the options functioning, customer will have confidence the product is field ready. I always like to show the positive attributes of the machine while also pointing out any obvious imperfections, the key is total transparency. If you've ever had a customer drive 5 hours to see a trade that wasn't as good as represented on the phone, you know the danger of overselling trades to far away people. Birkey's Farm Store has a great example of how to do it right: www.youtube.com/watch?v=SUHrrGpVNPw
---
15 Ways to Make Better Videos
Once you're using video in the appropriate applications, how do you attract viewers? There are lots of tweaks you can make to your video efforts that will greatly improve your watch time, and once Google figures out your videos are holding viewers, they'll send more people to them. Here are 15 easy tips, all identified by simple two-word headings.
GET REAL
The video needs to reflect your business; you don't have a guy with a deep announcer voice welcoming people in at the door of your dealership. Your videos need to be regular people who work there answering common customer questions, just like they were there asking them in person. Highly-produced "agency" videos that look like a television commercial, don't work on YouTube. 
HAVE FUN
I've seen many videos done by folks with a lot of knowledge, but they look like they're about to go before a firing squad. Not everyone is cut out to talk in front of a camera, but almost always, the videos will get much better as the person doing them gains experience. It's important to get the spokesperson to loosen up and relax. That may involve the marketing person building a relationship before filming so everyone is comfortable, or it could just require a good Margarita before starting the camera! 
HAVE GOAL
What is the purpose of the video? Ask yourself that before filming and make sure you head in that direction.
LOSE SCRIPT
There's nothing more boring than someone reading a script in a video. It's OK to have a good guide for filming, but make sure the person on camera uses their own words.
LOSE MUSIC
On a farm equipment dealership video, music is distracting in my opinion. Maybe that's just me. The video needs to reflect the dealership and you don't have a live band in the showroom.
LET'S TALK
Especially if you're filming used equipment for remarketing, there needs to be some narrative. Tell me what you're looking at. Without any comments from you, we might just as well be looking at pictures.
CLONE SUCCESS
If you have one video with 20,000 views and all the rest have around 100, figure out why that one video was so successful and do more like that. The audience will tell you by their views what they want to see.
LINK, SHARE
Always link your videos to your website. That website needs to be a store that's open 24 hours a day where anyone visiting can learn more about you and your dealership and be building a relationship with you even if you aren't open. Share every video on social media and encourage others to share them.
ANSWER COMMENTS
Viewers will ask questions under your YouTube video post. By answering every comment, you'll enhance relationship building. Also, Google likes you to answer questions and you want to do everything you can to make Google happy.
FILM LANDSCAPE
It's a pet peeve of mine when someone films a video on their phone with it flipped vertically. It's perfectly acceptable to shoot a video with your phone, just make sure you film with the phone in the landscape position.
THE POINT?
The people who find your video are going to decide within an alarmingly short time whether they'll continue to watch or not. Get to the point, IMMEDIATELY.
TITLE HOOK
A lot more people will watch a video titled "How Not to Die on a Compact Tractor" than one titled "Farm Safety Tips." Critics call it "click bait," but intriguing titles get more views.
GOOD DESCRIPTION
There's a place below the video on YouTube to describe what's in the video, fill it out. That's one way Google knows what's in it and who to direct there. The more descriptive you are, the more views you'll get.
GOOD THUMBNAIL
You can select what thumbnail picture represents the video; choose something that catches the eye of the web traveler. Tube Buddy (www.tubebuddy.com/TubeBuddyThumbnails) allows you to use a still from the video and upload a logo to go with it.
AFTO
Always have a call to action or "Ask for the Order" (AFTO) at the end. Do you want them to subscribe to your channel, visit your Facebook page, "Like" the video, etc? Ask them to do that at the video's conclusion.
Video is the best way to build relationships with prospective customers, letting them know who you are and what products you offer. If you have someone on staff who enjoys being creative and is good at telling your story, freeing up their time and turning them loose with a camera can yield great results.
Titan Machinery's Jeff Bowman: 7 Key Changes to Transform Dealership Marketing
The Importance of Improving Your Marketing ROI & How to Do It
Target Customer Interactions Using Content Marketing
How YouTube Fits in the Marketing Mix & Making It More Effective
Getting Results with Do-It-Yourself Marketing
Leveraging CRM for Farm Equipment Leads and Sales
How to effectively use digital marketing for ag equipment dealers
Good Data Takes Digital Marketing Further for Farm Equipment Dealerships