The following article is based on Tim Whitley's presentation at the 2018 Dealership Minds Summit. To watch the presentation, click here.
"Data is the currency of the internet," says Tim Whitley, CEO of Team SI, a full-service marketing firm headquartered in Little Rock, Ark. "The smartphone to the person right or left of you is being served different ads all the time. No person's ads are identical to their neighbor's and data is leading that charge." 
Whitley presented at the recent Dealership Minds Summit in Iowa City and says data is driving today's advertising trends and each individual equipment dealer's marketing plans. And if it's not, data should be, Whitley argues. 
He says return on investment in the marketing realm won't be found in a single silo of digital avenues, but through online business directories, a website, Facebook page/ads, tracking phone calls, etc. "They all work together," Whitley explains. "There's not specifically one best digital tactic because it depends on your data." 
Learning, understanding and then using marketing data is what will make the difference when it comes to sales, website ranking and even during times of changes, such as mergers or acquisitions. 
Seeking that Sale – Online 
Whitley says data helps business owners directly target a sale, by sending the right digital message to the right customer on the right media channels. Even within a dealer's business umbrella, each location will have its own market and target customers. No one site is the same. 
In a study Team SI and Google performed, some interesting statistics about online browsing/sale conversion rates came to light. First, what many could anticipate was confirmed — that 93% of people start with a search engine such as Google when looking for a product. Then, the study revealed that a potential customer will visit up to 7.2 different websites browsing through product comparisons, Whitley explains. He says that from the equipment sale sites to dealership sites, then review sites and even actual manufacturers' pages, there are definitely tiers of product research a person goes through in this process. 
On those 7.2 websites, he says if a price was not given for the piece of equipment or no photo provided, they saw no action whatsoever taken by the buyer. In contrast, 77% of people did continue forward to browse through online reviews about the product and the dealership's reputation, whether on Facebook or business directory sites. 
"Seventy-seven percent of those people are making decisions whether they come into your store or not by the reviews online," Whitley summarizes. "No one expects you to have five stars, because then it does look like your employees just went on there and gave it five stars. They're looking for reality." 
A bad review is not a bad thing, he adds, but says that a timely and professional, caring response to it and the perception a potential customer comes away with is what truly matters. More often, customers are likely to continue pursuing the product if they feel a dealership cares about quality service. 
After the online reviews are read or watched (video is very important today), Whitley says 50% of that group then will visit the physical business location within a single day. "This is important because this is the time they click on directions to get there. By gosh, the directions better send them to the store and not to an open field or closed location, because otherwise you've lost them," he emphasizes. "That is so very important."
The Team SI/Google study then found that it takes 1.7 visits to the dealership to convert to an actual purchase. It may be different for every location, but this is on average, Whitley explains. 
These connections and then, follow-up ones through phone calls or extras such as geofencing, are tactics that work collaboratively to increase sales, but also cultivate vital relationship. 
Why are each of these steps/statistics important? He offers this final number: 75% of marketers agree that lack of education and training on data analytics is the biggest barrier to making more key business decisions on data insights.
Getting Along with Google
Speaking of data insights, Whitley wants marketers to make peace with Google because he knows — from experience — the search engine giant can be very helpful when approached appropriately. 
"If you are with Google, they are with you," he says. "Think about this for a second. It is not a pay-to-play game like Facebook; they are always going to show physical locations first. Their whole algorithm is based on putting you above the manufacturer. You have to just follow their rules." 
The rules of Google, Whitley says, are a business must have high quality scores, a website speed that's incredible, hosted by somebody reliable, fresh content, be in the business directories and a site that doesn't break. 
When it comes to any other kind of advertising mechanism, if a website and listing in an online business directory isn't perfect, Whitley says a dealership is just wasting money. "If Google doesn't like your website because it's not fast enough or mobile friendly enough, none of the rest matters. Don't spend a penny until those things are corrected." 
This all funnels into the need for a quality website. As a business' No. 1 digital storefront, a website must be watched, updated and links kept current. He says linking to used equipment or new equipment, for example, will show a lot of strength to Google.
"But here's the important part," Whitley adds. "If you don't have a data-driven plan going after the right audience and you're sending the incorrect audience information into your sales funnel or website, it will impact your Google ranking." 
He says it's important to not send unrelated traffic to a website and conversely, make sure the conversion rate to sales is high for the right readers. This ties into gathering leads that are relevant and truly potential clients. 
The other way to keep on good terms with Google is to have a website that takes no longer than 8 seconds to load on the home page. Many times, large pictures cause the delay and Whitley advises dealers to use images that are reduced file size, compressed and not taking a long time to bring the page up. Then, don't use many sliding banners on the home page, because he says readers barely see two banners before they have scrolled down. Reducing those maximizes speed, and the content in the banners should be constantly refreshed. 
"Content is king because people in the research funnel are looking for answers," Whitley adds. "So give them answers. Put the information inside of your blogs, on the details page for a promotion, inside news and events." 
Analyzing & Testing
Whitley says the great thing about digital marketing is it can be used very strategically in a dealership's favor. We know ads can be placed directly and tailored to customers, and he advises dealers never stop testing the success of each marketing attempt. By this, he means review what tactics are working, when, with whom and keep putting effort into each level of leads (see AOR map below). For instance, some leads may be red customers , not too promising, but he jokes: "Put some little hearts on the red, show some love. Then, give the yellow some attention and keep the green sustained." 
Then, change the strategy every single month, he says. 
Whitley compares the equipment industry to the automotive, saying that in some ways, it's the same, but in others, very different. When it comes to marketing, he says equipment dealers sell less volume and build more relationships than the automotive dealers generally do. "But the reality is that the automotive sector has taught our shoppers to research, shop and negotiate price," he adds. 
This is decreasing the trust and loyalty that held strong in previous decades. Whitley emphasizes that this hasn't happened because of anything equipment dealers have done, but because the auto industry has led the way in this trend. 
So, analyzing and testing? With these challenges, Whitley says, it's even more important to have a grasp on the customer trends and habits and having someone in-house who knows how to maximize data and follow the analytics is worth the cost. "If you have these people and start maximizing leads, you could pay for them very quickly," Whitley adds, and explains this is different than a website manager who keeps promotions up to date and provides SEO tags.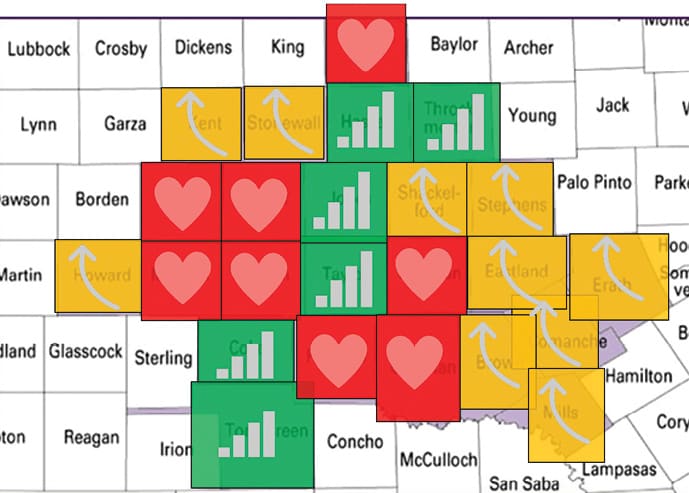 He encourages everyone to sign up for Think with Google. It's free and will automatically send consumer insights, competitive analysis, trends, track a website's speed and more. The other free resource he recommends is Google Trends, which shares the market's perception of brands, including how many times a specific brand is being searched. Google Analytics provides conversation data, call data, etc. 
Whitley explains that having a good grasp on these things is what allows marketing dollars to be spent more wisely, but also helps you understand the results of past efforts. "Usually your map will change every month because of cross-shopping, incentives, etc.," he explains. "What you can do is start refocusing efforts in very specific ways. You can use data to shift and move money from red areas to yellow and take away from green if need be." 
He warns dealers though, to not move all money from the green and reliable customers in terms of marketing efforts. "Guess what happens at that point? It turns red." 
Managing Mergers with Marketing
"A lot of things are going on with mergers and acquisitions," Whitley says. "Everyone is feeling it." 
He relays that through his experience with consolidation in the automotive industry, he has some ways to help a dealer manage the transition. In the auto world, he says the general plan is to send a direct mail and worry about the signage in the front of the building. Within the farm equipment realm, he asks readers to imagine if they are a consumer in the sales 'funnel' of that newly acquired dealership. It will totally confuse them, and especially if they are in the online research phase. "Don't just set an auto-redirect on your website," Whitley advises. 
As a real-life example to the problem of this plan, he shares the recent Amazon Prime Day situation. Amazon.com had website glitches in the early hours of this year's Prime Day. Whitley says the site was only down for 2-3 hours but every time someone Googled Amazon, stories would pop up that said the site was down. "So, guess what?" he adds. "Target saw a 35% increase in e-commerce sales on Amazon Prime Day. The whole point of this is we can't do a simple redirect from the deal we're acquiring to here's this new site, new logo and we're not going to talk about the acquisition." 
Instead, he wants dealers to get the CEO on camera, explain the acquisition and why that move is important to the customer. Always make sure the video relays the benefits to the client. Then, prepare the online business directories. He says sleepless nights are sure to ensue if the main directory isn't claimed and more are being added. 
Then, start preparing talking points for all staff members so that the video aligns with them. Whitley says to make sure the acquired dealer's customer list is acquired and begin doing a customer ID match. Then, he adds, that video can be sent directly to the list, explaining the changes. 
Next, Whitley says acquisitions will go smoother if a social strategy is put into place. Merging Facebook pages can be a pain, and those details need to be considered right away, how to merge them, and go forward under the consolidated brand. 
Don't forget search engine optimization, which is needed to make Google happy. "The SEO is not paid, it's organic," he adds. "So, if the acquired dealer has been around for 40 years, for the next 5 their terminology is probably going to get Googled."
Dealerships should make a point to have keywords inside of their website that explain the new location was previously owned by whomever and then link the video near it. "You don't ever want to lose a potential person coming in for service that has had a long history with you," Whitley notes. 
Then, discuss if a rebranding strategy is needed. "This is the perfect time," he notes, and says to keep in mind through the entire process what is in it for the customer, not what's easier as the marketer. "A lot of people when they acquire dealerships see their sales go down and that is the reason. You want to keep a strong, steady platform going." 
Final Thoughts
"You have to win in every micro moment," Whitley concludes. "If you can win in each micro moment, you will have less [competitive brand buyers] on your map." 
He says that equipment dealers must realize that what works in one country, county, city or village isn't necessarily going to work in the next. "This is exactly YOUR company," he emphasizes. "Every area is going to be different, but you can still know all of this by the data." 
"We don't need everyone to hear our message — we need the right people to hear our message to sell our product," he summarizes. 
A bit of good news he shares is that online to customer conversion rates are higher in the farm equipment industry. 
"The automotive website has an 8% conversion rate," he says. "Guess what ours is? Generally speaking, when you combine calls and forms, ours gets up to 9-14%. That is huge. And we don't' have the annoying popups they have to grab more leads. Thankfully we haven't gone there yet."
Titan Machinery's Jeff Bowman: 7 Key Changes to Transform Dealership Marketing
The Importance of Improving Your Marketing ROI & How to Do It
Target Customer Interactions Using Content Marketing
How YouTube Fits in the Marketing Mix & Making It More Effective
Getting Results with Do-It-Yourself Marketing
Leveraging CRM for Farm Equipment Leads and Sales
How to effectively use digital marketing for ag equipment dealers
Good Data Takes Digital Marketing Further for Farm Equipment Dealerships