In an age of intense industry consolidation and pressure from the major lines to either expand or sell, it's rare to come across a single-store farm equipment dealership that has broken away from a larger dealership group. Rarer still is for that single store to be excelling in an area that is steep with competition — both in line and from competitive brands. However, that is just the case for Greenland Equipment, the 2018 Dealership of the Year in the Under $75 Million in Revenues category.
Owner Arthur Lepp and his former partners purchased the dealership — then called Johnston Farm Supply — in 1998. The group grew the dealership to a 4-store operation, but then in 2004 Lepp, who had a majority ownership in the location, bought out his partners share in Johnston Farm Supply as a single location. "It was highly unusual," Lepp says of a John Deere dealership breaking off from a multi-store operation. "It may have happened in one or two situations in Canada, but I know it's very rare. And Deere seemed to like what I was doing … they said, 'We understand why you're doing this.' I was given a kind of checkup as long as I understood that we would be consolidated at some future date in time."
The caveat that the dealership would likely be consolidated at some point didn't cause Lepp pause though. "Being from a multi-store network and from my previous history with an oil company, I knew there were a lot of amalgamations happening," he says.
"I bought it on my own with the idea that I'd just see how it went for a year or two. I looked at it as, I'll just do a yearly plan and see how we go. It was rough for a while, the road was a bit bumpy … but once things stabilized after a few years, it actually went really well. And it's been going quite well, and we've got the numbers to prove it," Lepp says.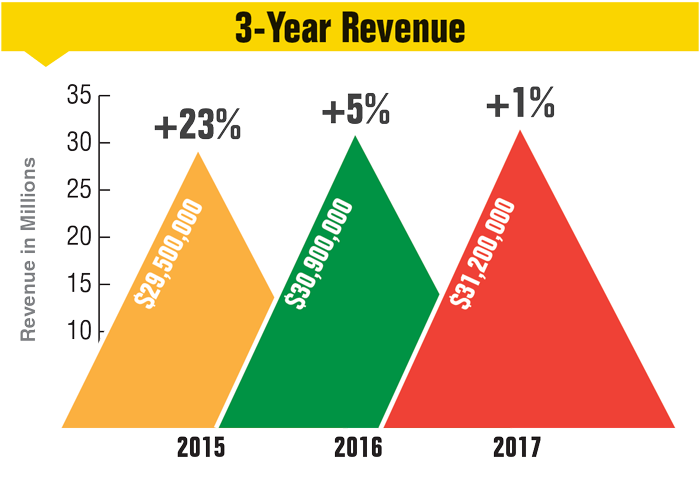 Of all the Dealership of the Year nominees, Greenland Equipment was the only one to show positive revenue growth for all 3 years.
And Lepp is correct. Greenland Equipment does have the numbers to prove it. With return on assets for 2017 of 19.63%, the judging panel noted it was the highest of all the nominations — in both categories. The dealership's 3-year sales growth (see 3-Year Revenue Growth chart above) was the only example among all the nominees to be positive for all three years. In 2017, Greenland had 42% market share.
Greenland Equipment
Founded: 1998
Employees: 27
Owners: Arthur Lepp
2017 Revenues: $31 Million
2017 Market Share: 42%
Return On Assets: 19.63%
2017 Parts & Service Absorption Rate: 103%
Locations: 1
Business System: CDK
Major Line: John Deere
Shortlines: Degelman, Brandt, MacDon, Lemken, Farm King, Unverferth & Echoxt
Making A Mark
Greenland Equipment covers about a 20-mile radius, with a wide range of customers. The dealership is surrounded by other dealers of just about every brand and in-line John Deere competition as well.
In addition, there are four other Deere dealers surrounding Greenland in the region. "There are two different owner groups within a 25-40 mile radius. So, when you're talking about 25 miles, that's a pretty narrow margin. A guy can really drive either way if he's decided that we aren't doing our job," says Lepp.
To ensure customers aren't taking their business elsewhere, Lepp says looking after the customers is the dealership's No. 1 priority. Greenland Equipment's executive team holds an annual strategy meeting in January. The team spends two and a half days off-site working through the dealership's processes. "We spend those days stratigizing where we're going, what we're going to implement and what we're going to try," Lepp explains.
He adds that the strategy meeting is always customer-driven and focused on how the dealership can improve serving its customers better. "I've tried to instill in our managers and our staff that the world out there isn't always what it might appear to be and that we can compete at all levels as a leading organization in the industry," he says.
Lepp says the dealership is successful because they aren't afraid to be innovative and try new things. Sometimes it works out, sometimes it doesn't, but Lepp says it's important to keep trying. "We've tried a few things that didn't work but you keep on projects that do work. Maybe we haven't hit our numbers or our benchmarks on everything, but we've tried some things that have worked really well, and the customers notice it, they recognize it," he says.
Greenland Equipment Video Interviews
Visit www.FarmDealerOfTheYear.com to watch exclusive videos with Greenland Equipment. Filmed on Location by Farm Equipment editors, these videos are sponsored by CDK Global Heavy Equipment.

Watching the Numbers
Greenland's Comparative Management Review from John Deere puts it in the top 20% of dealers over the last 8 years. While the dealership is monitoring its key metrics (absorption, inventory turns, sales, etc.) on a monthly basis, each department holds a weekly meeting to review its stats.
"We have sales meetings weekly. They call it tailgate meetings in the shop. Our parts manager does something similar with his staff. Sometimes it's 2 minutes, sometimes it's 15, just depending what's on the nature of what's on deck with current projects," Lepp says.
"The first thing [managers are reviewing] more than anything is to troubleshoot anything that looks like it's an immediate customer concern, so we can address it and change that process and we don't keep repeating a mistake. Then from there, to follow sound procedure basically, as we've spelled out. And making sure there isn't something unusual or odd or an incomplete process happening. Or if there's a short fall or a breakdown in communication of some kind."
Diversified Operations Call for Diversified Service
James DeGraff, Associate Editor
While the foundation for the Manitoba region remains wheat, canola, barley and oats, Greenland Equipment General Manager Arthur Lepp notes a definitive trend toward crop diversification over the past 15 years, including the growing presence of corn, soybean and edible-bean operations. With new crops come new demands for the availability and maintenance of specialized machinery.
In response, Lepp says Greenland has taken on a number of shortlines, from Brandt to Degelman, to broaden its customer appeal and provide growers with more options for automation, seeding or harvesting efficiencies. Establishing relationships with several leading seed providers has enhanced Greenland's customer base as well.
In addition to expanding equipment services, Lepp says the dealership is committed to precision service as well, crediting John Deere for support with resources to keep growers connected. A key example includes Greenland's partnership with two nearby Deere dealers to establish a shared RTK network for customers. With high-value soil being a key advantage to the Manitoba region, accessible RTK helps to improve the quality of land contouring, ditching and water management practices.
"We've got a couple of weak coverage areas in our network, so our cooperative agreement helps us to combat that," Lepp says. "They use ours and we use theirs so we can retain a full concept for annual prescription costs and maintain our towers."
The offseason enables unique opportunities for Greenland to expand their service reach further, notably through partnerships with nearby research farms to inspect and repair a series of plot combines, planters and tractors on their fields.
In doing so, Lepp says technicians can keep up to speed on their repair skills while also immersing themselves in the community and broadening our customer base.
"We really enjoy that business. They're good people to work with and it keeps us up to speed on emerging research and what's happening while also serving as a stream of revenue."
Future endeavors for the dealership include a focus on integrated solutions, particularly crop imagery and other agronomy-related services. Partnering with a respected local agronomist, Greenland Equipment is currently conducting a series of trials with customers to collecting aerial maps and information on fields.
Lepp says the trials serve as an opportunity for promotion for customers and preview into another potential avenue of sold services.
"That's our newest, growing horizon because that's the one we think has the most growth potential," Lepp says. "Maybe it's not providing an amazing amount of volume, but we believe it'll contribute to machine sales by having our people involved in these demonstrations. We grow a wide variety of high value crops and have some very sophisticated farmers. They want to be leading on what they're doing, too."
Department managers first address any immediate concerns with the staff, and then drill down early orders, aged inventory and margins. "If we're slipping anywhere, they try to determine the reason and figure out if we've got an unusual event or consistent short fall happening. He can address that and have an immediate impact," Lepp says.
"I believe our ability to service our customer has more to do with how fast we can address problems and concerns that come up. The challenge is the ability to be able to address the concern and change that procedure or change that behavior or whatever it may be … our ability to do that quickly and efficiently is one that puts us ahead," he says.
In addition, the department managers usually meet weekly to tailor those meetings as needed to work the strategy plan set earlier in the year. They also review all financial numbers monthly. We just highlight where there's a concern or if we're falling off track. The benchmarks are clearly communicated. The managers know the benchmarks that we need to achieve, and then I give myself a self-talk because I'm a sales manager, and look at how my turns in the sales department are weekly or where we need to re-evaluate wholegoods that are lagging and determine what needs to be dumped or figure out how to trade somebody for that item," Lepp adds.
What the Judges Had to Say …
Farm Equipment's independent judging panel offered several reasons for selecting Greenland Equipment as the 2018 Dealership of the Year.
"Greenland Equipment scored first in four of our major reporting areas and second in the fifth. They had the highest ROA of all nominees this year, both large and small. Their absorption rate is near the 100% range. Their 3-year sales growth was the only nominee with positive growth all three years. The real positive was that Greenland generated nearly $1.2 million in revenue per employee. This is outstanding for a single store operation."
When it comes to wholegoods inventory turns, Lepp says the dealership needs to improve; currently Greenland is at 2.2 turns. "To us, that is a failing grade. I'm completely disappointed with it and it's nothing to aspire to. Three to four is where we should be. Right now, in this market, there's still an awful lot of used inventory, and that's a concern," he says.
In the parts department, it can be a bit easier to control turns, but Lepp says like many dealers, they do struggle with knowing how to balance parts inventory to ensure they have the parts customers want on hand but also not tying up cash in old inventory. "I've said this many times. If something's been sitting there for 365 days, and no one has bought it, why are keeping it. Get rid of it?" he says.
Industry consultants regularly preach that dealerships should be working to achieve 100% parts and service absorption. With an absorption rate of 103% for 2017, Greenland Equipment has excelled in this regard. Lepp says the key to their success has been aggressively marketing their product. The addition of a cold storage facility 3 years ago has helped the dealership promote and take on more off-season inspection work. Greenland has two or three special promotions each year for booking inspections. In addition, they have a full package of value-added services that are offered when a piece of equipment is sold. "That includes aftermarket warranty, service inspections and whatever would be an enhancement for that customer and the experience of owning a John Deere or driving it," Lepp says.
To help keep employees focused on absorption, about 6 years ago Greenland began offering a cash incentive for inspections. One person is designated a scorekeeper and all staff can participate to track the inspections coming in and the company does a cash payout monthly to those bringing in inspections. The incentive worked and inspections went up. Lepp says, if handled well you are creating a repeatable process. Staff are paid as soon as the work order was started. In other words, when the work hit the shop.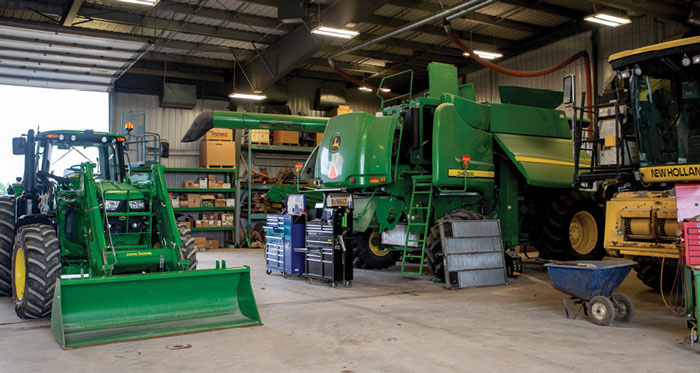 Key to Greenland Equipment's success in achieving a 103% absorption rate has been adding service programs in the off season to keep work flowing through the service department.
In addition to the service department incentives, all employees are eligible for a performance bonus package. "That's over and above any callout fees or overtime or anything extra. It's just a reward because you participate and you care and you want to see follow-through with customers," says Lepp. "It's all about repeat business and it is all about knowing your customer ."
Prior to year-end, Lepp estimates what the bonus will be, and employees will get a check for about half just before Christmas. After the fiscal year wraps up, and provided performance reviews are positive, the balance is paid out.
Focus on Results
In an effort to continuously improve, Greenland Equipment regularly reviews its processes to determine if any changes need to take place. The management team will exchange ideas on any areas where improvement is needed and plot some ideas on how to address the problem or improve a process. They create an action plan and set dates to achieve their goals. Lepp has assembled a results and action oriented team, and he says that has helped set Greenland Equipment apart from the pack. "I don't have a lot of time for political posturing," he says.
---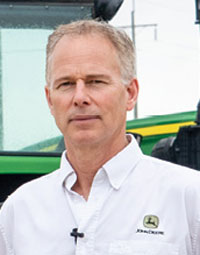 "The ability to be able to address the concerns and needs, and change that procedure or change that behavior … our ability to do that quickly and efficiently is one that puts us ahead…"
— Arthur Lepp, General Manager, Greenland Equipment
---
Looking back on working with other dealers and owners, Lepp recalls seeing people who didn't have that same drive for results and action. They were not "exerting themselves a lot, not being attentive to calls, not taking action after a meeting, procrastinating on something that should have been done very promptly," he says. "I am so absolutely grateful for the people I have around me who are that results and action oriented, too. They really dig in."
Lepp says the employees and managers feed off of each other, and that helps the whole dealership succeed. "We all have our headaches and we all have our things that don't go as planned, but it's how we deal with those things matters. After something's happened, an event or something went haywire, how quickly and how fast did we get at the problem and get it addressed? Whatever that situation, whether it had been a breakdown, bad communication or a messed up work, we make sure that at the end of the day that we provide solid value for our customer. Make sure that they're looked after and that they return to continue a long term relationship. For us, it is all about repeat business and maximizing the customer experience."
Much of the dealership's results-oriented culture stems from the struggles faced during the early years after becoming a single store. "I had to focus on the business like I had never focused on it before," Lepp says. "And I'm not saying I was withdrawn from it before, but I think I was insulated somewhat from some of the marketing. Because to drive the business, whether you have 18 stores or one, you still needed someone to have a very key finger on the marketing."
Keeping a Pulse on the Market
Lepp says used equipment inventory will make or break the dealership. Finding the right people to manage the used equipment inventory has been a challenge. Lepp took over managing used equipment for the dealership very soon after the buy out. "Do I have all the answers? No. Am I the best marketer? No. But I do know what's going on," he says. "And I know how to work our way through to make sure that cashflows are working and this means working with my bank and my accountant, and keeping strong relationships with John Deere and all our other suppliers."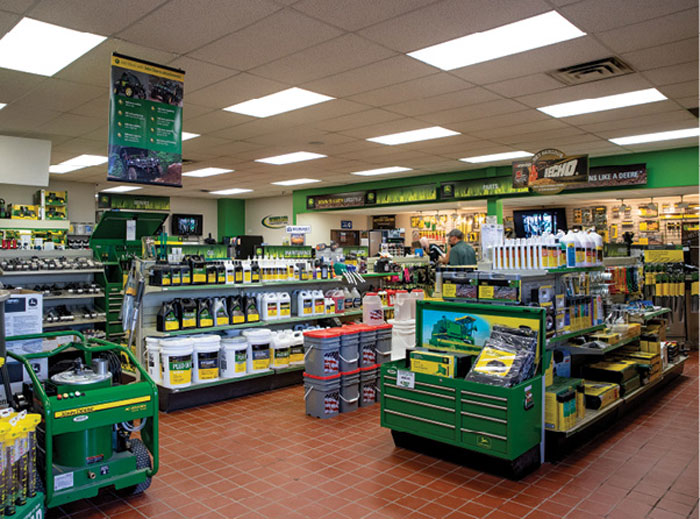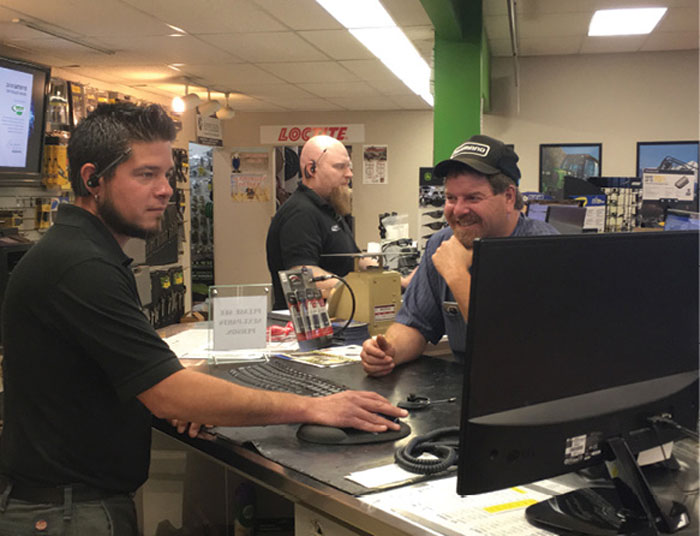 Watching inventory turns is one of the main metrics Greenland Equipment monitors. General Manager Arthur Lepp says it can be a challenge to balance having the parts customers want on hand and not tying up cash in old inventory. That said he also stresses if something has sat for a year, there is no reason to keep it in stock.
While Greenland Equipment has a good handle on its used equipment inventory right now, that wasn't always the case. "In this business, there's always something that doesn't move. You could have 10 items or 100, there's always something in that inventory that's bottlenecking you, it's slowing you down. It's cashflow that needs to be pushed out, sold, retailed, blown away, auctioned. You need the discipline to do something with it," he says. "And that part I had to relearn. I had to build a different network of people to work with on that wholesales side. That's critical, whether you've got 30 stores or one, you've got to have it."
Lepp says they are up front with customers on what they can give them for a trade in, and are willing to flat out turn down the trade. "We'll tell them we can't take it or 'We can give you what's a very unacceptable price for it and help you, Mr. Customer, because we like you, we want to do something. But we agree right up front, this isn't a really good number for it. And you've got a good piece, but this is where we're at.' And basically saying we would either revert from there or take it in and make my own action plan ahead of time and dispose of that unit," Lepp explains.
How to Disconnect to Avoid Burnout
About 15 years ago, Arthur Lepp learned that when he left the dealership each night he needed to "turn it off" and not worry about the business until the next morning when he walked back into the dealership.
"When I wake up in the morning, I figure out how I start this whole thing up again. It's just like you're starting procedure for a machine which where you have a sequence of switches to start. And you just keep flicking the switches in sequence until you start it back up again. Because you've got this department, you've got that dilemma with the sales team, you've got a problem with a machine, maybe a service truck you have to replace. You've got a problem with the building, you need to keep inventory from growing roots. So you just keep flicking the switches on but you have to focus on how to shut them off," says Lepp, general manager of Greenland Equipment, a single-store John Deere dealership in Carman, Man.
Lepp writes down the tasks or projects he needs to complete for the day before he leaves the dealership. He also makes sure he has an action plan set up so that he is able to be done with it when the day ends. "Some people don't understand this, but I'm actually emotionally done with it. I may not have fixed the problem, but I'm done with it for the day. But I know that as of the moment I walk in, or if I look at this thing in the morning and see something I need to do immediately because it's a high impact thing … Boom, you're on it right away. You didn't sit there and worry about it at night," he says.
Essentially, he says, it comes down to finding a way to emotionally shut that part of your brain off so you can function properly and have a life outside of the business. Lepp has seen some of his managers struggle with this same problem and has coached them on it. Some of it is as simple as eating right and making sure you are getting enough exercise, Lepp says.
"I'm not stuck at my desk a lot, I'm buzzing around, I'm like that. But make sure there's some physical activity, some exercise. You know? A gym membership, a ball team, hockey, just something like that?
Or hire a trainer for a while just to get yourself in a proper, good routine to help expel some of that intensity from your work. But it's trying to find a balance with it, he says. "I've seen managers go through that. And I probably knew five things at random that I could help them with. And it has helped. That fact I could just guide them, with a thought process or idea has been beneficial. These guys I have are really invested. Some times, I have to just say literally, 'Could you go home already?'"
Used equipment is one of the dealership's biggest challenges and Lepp views it as the biggest challenge facing the industry over the next 3-5 years. "For the industry and for the business, it's used inventory, the values of that used inventory and our manufacturers' approach to keep continuing to drive market share in a market that can't take it."
Greenland Equipment is only marketing new equipment to less than 5% of its customers. Lepp says when late model used equipment is priced so close to the same as new equipment, it's hard to find a market for it. "You really run into a saturation between your new and late model used equipment. It's just reality. And with a declining a population of farmers, there's fewer farm units to sell to," he says.
---
"You have to be completely proactive rather than reactive to hiring – and may I even say firing. And putting diligence into that process. You know how a spark can turn into a forest fire……"
–Arthur Lepp, General Manager, Greenland Equipment
---
To help manage the problem, Lepp says, they haven't "bitten of an exorbitant amount of new sales to get a whole lot more market share for short term gain, which in the long term could potentially kill us." Instead, the dealership has taken a middle stream approach when it comes to new equipment sales so it can better manage its trades. "We can size it to what the business can handle," he says.
Lepp says dealers have to keep their pulse on what the market is doing by talking to your customers so you know what they want and what they are looking for. You can't become complacent, he says. Lepp has also developed a network of international contacts that he works with to move used equipment. Greenland Equipment sends equipment to Kazakhstan, South America, Africa.
While Lepp would jump at the chance to buy another store, there aren't currently any opportunities in front of him. For now, he plans to continue viewing the business year-to-year and stay committed both to his community and his staff. As a single-store John Deere dealer, the extra effort by the our team can go a long way and is necessary to remain successful," he says.
"Sometimes when staff are challenged with, 'Why do we have to do extra, why are we doing this, why do we have to stay late, why do we have to stay after closing time to do this extra job for this guy or that guy?' Well, I guess my response is the alternative is we could be like the other local dealership in town, it no longer exists " he says.