Prioritizing the people side of a precision business, reinforcing the return in investment approach to selling services and leveraging long-term trust of customers for recurring revenue were building blocks of the third Precision Farming Dealer Summit. 
Featuring a speaker lineup that included 12 leading dealer groups representing more than $1.3 billion in annual revenue, the event held at the Galt House in Louisville on Jan. 8-9, drew a sold-out crowd of 165 precision farming professionals from more than 70 different dealerships across 26 states, as well as Canada, Australia and South Africa. 
Emphasizing the theme Bridging the Precision Profitability Gap, Precision Farming Dealer Managing Editor Jack Zemlicka noted during opening remarks that many dealers have the same questions when it comes to strengthening the foundation of their precision business: 
• How can we successfully leverage agronomic services into our precision business?
• What's the secret to high productivity and low turnover with my precision staff?
• How can we more effectively track and measure billable time to increase precision sales?
While no dealership has perfected the design of a precision farming business, the 14 speakers, 3 sets of roundtable discussions and dynamic networking opportunities at the 2 day conference sought to candidly deliver managerial cornerstones for turning promise into profit.
Candid Dealer-to-Dealer Roundtable Coverage
Among the highlights of the 2018 Precision Farming Dealer Summit were the 21 roundtable sessions that offered face-to-face opportunities for attendees to ask questions, discuss challenges and share solutions to pressing precision problems.
CLICK HERE TO SEE MORE
Takeaways ranged from the sensible (making ROI "the" driver of every business decision) to the philosophical (will the flow of venture capital money into precision start-ups continue?) and attendees extended their network of precision alliances before heading home.
From the single-location independent retailer to the multi-store farm equipment dealer, the veteran precision ag manager to the newly hired specialist, the passion for precision farming was prevalent during each structured learning session as well as hallway conversations.
The pages that follow offer a detailed look inside the diverse perspectives, advice and experiences from the 2018 Summit's unique, knowledge-sharing environment. Look for extended coverage of the Summit online at www.PrecisionFarmingDealer.com and www.Farm-Equipment.com.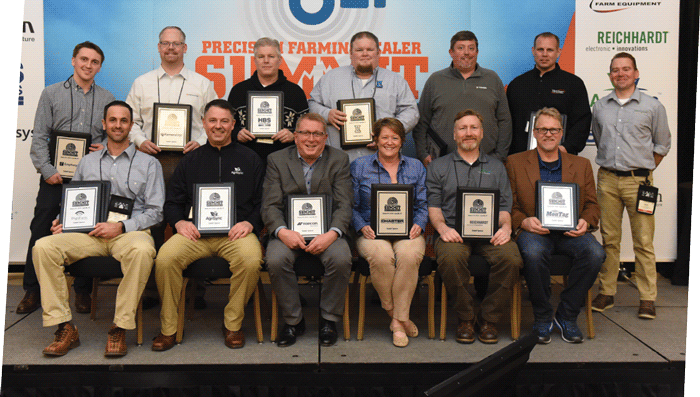 The knowledge sharing and networking opportunities for dealers were made possible by the support of 12 Summit Title Sponsors who were recognized during the dinner program. 
Top Row: (l to r) Geoff Pace, e-Emphasys; Dallas Ford, Farmers Edge; Michael Prengler, HBS Systems; Kyle Frazier, Laforge Systems; Kory Kress, Trimble; Derek Allensworth, Yetter Mfg.; Jack Zemlicka, Precision Farming Dealer.
Front Row: (l to r) Dave Dusanek, DigiFarm VBN; Casey Niemann, AgriSync Inc.; Harlan Little, Topcon; Anne Salemo, Charter Software Inc.; Jayme Paquin, Reichhardt Electronic Innovations; Brian Johnson, Montag Mfg.

Dealers Who Attended 2018 Precision Farming Dealer Summit
| | |
| --- | --- |
| AC McCartney Equipment, Wataga, Ill. | ModernAg Inc., Wamego, Kan. |
| ACS Ag Technology Specialists, Wakefield, Neb. | Nix Implement Co. Inc., Lamesa, Texas |
| Advantage Farm Equipment, London, Ont. | Northern Plains Equipment, Minot, N.D. |
| Agri-Service, Twin Falls, Idaho | P&C Ag Solutions, Reese, Mich. |
| AgriVision Equipment, Glenwood, Iowa | Pape Machinery, Eugene, Ore. |
| Bader & Sons Co., St Louis, Mich. | Pattison Agriculture, Swift Current, Sask. |
| Baker Precision Services, Orangeville, Ill. | Precision Ag Solutions, Rochester, Ill. |
| Binkley & Hurst, Lititz, Pa. | Precision Agri Services Inc., Minster, Ohio |
| Burks Tractor, Twin Falls, Idaho | Precision Consulting Services, Ames, Iowa |
| Butler Machinery, Fargo, N.D. | RDO Equipment, Moorhead, Minn. |
| Central Valley Ag, Randolph, Neb. | Redline Equipment, Archbold, Ohio |
| Concordia Tractor Inc., Abilene, Kan. | Reynolds Farm Equipment, Nobelsville, Ind. |
| Crosscape Precision, Cape Town, South Africa | Ritchie Implement, Cobb, Wis. |
| Deer Country Farm Lawn Inc., Manheim, Pa. | Roeder Brothers, Maquoketa, Iowa |
| DKF Prescription Mapping, Patoka, Ind. | South Plains Precision Ag, Plainview, Texas |
| EIS Implement Inc., Two Rivers, Wis. | Southern States Cooperative, Harned, Ky. |
| Fennig Equipment, Coldwater, Ohio | Stoller International, Pontiac, Ill. |
| Findlay Implement Co., Findlay, Ohio | Stotz Equipment, Casa Grande, Ariz. |
| H&R Agri-Power, Hopkinsville, Ky. | Sydenstrickers, Atlanta, Mo. |
| Hlavinka Equipment Co., El Campo, Texas | Taul Equipment, Cecilia, Ky. |
| Hold Ag Solutions, Yuba City, Calif. | The Mill, White Hall, Md. |
| Holland & Sons Inc., Dixon, Ill. | Titan Machinery, West Fargo, N.D. |
| HTS Ag, Harlan, Iowa | Town and Country Implement, Rock Valley, Iowa |
| Hurst Farm Supply, Lorenzo, Texas | TriGreen Equipment, Athens, Ala. |
| Johnson Tractor, Rochelle, Ill. | Used Precision Ag, Fort Wayne, Ind. |
| Kan Equipment Inc., Marysville, Kan. | Value Implement, Eau Claire, Wis. |
| Koenig Equipment, Anna, Ohio | Van Horn Cerro, Gordo, Ill. |
| Linco-Precision, El Paso, Ill. | Vantage Northwest, Twin Falls, Idaho |
| Lone Star AGRONOMICS, Abbott, Texas | Vetter Equipment Co., Storm Lake, Iowa |
| Martin Sullivan, Roanoke, Ill. | West Enterprises, Geneseo, Ill. |
| Mazergroup Portage, la Prairie, Man. | Wideland Group, Toowoomba, Australia |
| Mid-State Equipment, Janesville, Wis. | Wm Nobbe & Co. Inc., Scott City, Mo. |
| Midwest Tractor Sales, Vandalia, Ill. | Wright Implement, Owensboro, Ky. |
| Mitchell Equipment Inc., Atkinson, Neb. |   |