---
New technology possible through smartphones and certain apps make it possible for customers to show a service technician the problem they are having remotely. The technician can then determine what steps to take next. Photo Courtesy of Agrisync
One of the biggest challenges for farm equipment dealerships today is how to best adapt to the growing demand for mobile services. According to George Russell, founding member of the Machinery Advisors Consortium (MAC), the decision comes down to relying on existing business systems to handle service requests or adopting third-party programs.
"What many dealers have relied on has been their dealer business system, which tracks the technicians time and materials used for jobs in the service department, as well as the costs for parts," Russell says. "The capabilities of the dealer's business system will determine whether or not they can expand its functions to include things like route planning and mobile invoicing. This will help determine whether or not they are able to use their current system or will need to employ a third-party system, which can interface with their existing business system."
Russell has seen farm equipment dealerships changing their business systems to be able to embrace new technology that has been readily available in other industries for quite some time. New demands for mobile service have created a new market for system developers to move into the farm equipment industry, which Russell believes is lagging.
"There is a tremendous opportunity for business system vendors to move ahead faster for their dealer customers," he says. "I'm seeing more and more dealers seeking out systems that utilize capabilities already in use in other industries."
Dealer Takeaways
• Business management software and some apps can help plan efficient routes for mobile techs to ensure they aren't crossing paths with each other or crisscrossing the county all day.
• Evaluate each service call request based on the problem and the time of year to determine if it makes sense to send a mobile tech out to the farm or if the job requires service to be done in the shop.
• Mobile service should cost more to cover the insurance for the truck, parts inventory and the convenience of having the tech come to the customer.
Farm equipment dealers are in search of programs or systems that plan routes utilizing a much higher level of sophistication like those used by FedEx and UPS.
Adapting the technological advances available for mobile service today goes beyond the bottom line. Russell says it involves a major change in the traditional dealer mindset. "Some people are early adopters who are willing to take the risk involved with new technology. Other dealers prefer something with a track record before they jump into it," he explains. "It'll depend on the mindset of the dealership more than anything else."
GPS & Smartphones
Russell says two major advances brought farm equipment dealerships into the electronic era. The first was the implementation of GPS guidance systems in farm machinery, which provided farmers with real-time kinetics for superior accuracy in the field.
"This started speeding up adoption of advanced technology in farming," Russell says, "And it opened the door for dealers to expand services they could offer. For example, today they're selling subscription RTK services, a milestone where dealers went beyond their traditional service department. It also forced them to invest in people who could maintain and deploy that technology."
The second major advancement in technology that changed mobile service delivery was the arrival of the smartphone in 2007. Russell says this allowed farmers in the field to instantly connect to information about their machinery as well as linking with others to solve problems. "They could also use this new capability for diagnostic purposes by sending videos and photos," from the field to their dealers to help resolve machine issues, he says.
Remote Control
Farm Equipment's 2016 Dealership of the Year is working with technology offered by John Deere to improve its mobile service operations. Deere equipment owners can utilize remote display access through JDLink-equipped machines, according to Scott Meldrum, integrated solutions manager for Van Wall Equipment of Perry, Iowa.
"The remote display access requires the users to also be connected via their cell phones to be able to communicate," Meldrum says. "Remote Display Access is very useful for machine setup (i.e. sprayer and combine settings) or for a call-center application."
Taking Command
AGCO dealer Lang Diesel of Chanute, Kan., has also turned to its major line to help keep its customers up and running in a variety of ways. For example, the dealership relies on AGCO's AgCommand Fleet Management program to stay on top of scheduled maintenance for its customers' fleets. There are also various preventative maintenance programs Lang Diesel encourages its clients to use in order to extend the life of their machinery.
"The impact of this type of program should allow for a more profitable customer as well as a more profitable dealer," John Stewart, store manager/sales manager for Lang Diesel, said in the Farm Equipment magazine dealer mobile service survey earlier this year. "We are continually striving to limit any downtime that may impede our customers from doing the task at hand."
The program has helped Lang Diesel create more efficient routes for its technicians. For example, if a customer has multiple sprayers out in the field, Lang Diesel can send a technician to the location who is 5 miles away at another job instead of one 30 miles away at headquarters.
"We're trying to utilize it but it doesn't always work out," Stewart admits. "If our number one goal is taking care of the customer, sometimes technicians are crossing lines. But at least you can track it and know that is happening."
Internet of Things
Plenty of third-party developers have tailored their proprietary software systems to align with the needs of the farm equipment industry by borrowing best practices used in other industries in applications dealers specifically encounter with their agriculture clients.
These days, farm equipment dealerships receive service calls in three ways — traditional requests, regularly schedule maintenance calls and requests initiated by the machine itself.
Machine-generated requests are the latest way dealers attempt to remove the burden of fleet monitoring from their customers while creating an efficient way to repair and service equipment. According to Mike Pandl, vice president of marketing for MSI Data, makers of Service Pro field service management software, the trend toward machine-guided maintenance has increased gradually over the last 5 years, with software providing all-encompassing programs that help dealers keep track of billing, scheduling, routing and communication.
"The latest trend is actually communicating the service needs on behalf of the customer," Pandl says. For example, if a machine is due for maintenance at 500 hours, the machine's computer can send a notice to the dealership's service department and the farmer so an appointment can be scheduled.
Pandl says these services are handled through the Internet of Things (IoT), which — simply put — is the interconnectivity of devices embedded with sensors, electronics and actuators that enable them to send and receive data. The IoT represents a significant trend in the farm equipment industry, according to Pandl, and the majority of manufacturers either have or are building into machinery, monitoring equipment for machine health and maintenance needs.
The IoT first found its way into the farm equipment industry on tractors so farmers could better control their equipment in the field. Today, the onboard technology extends into monitoring and communicating the machine's condition. There are various types of data and information ag machinery can communicate. In the case of a full or partial breakdown, a "fault code" is sent by the equipment, complete with a level of severity, so a dealer can decide whether the problem is urgent or a visit can be scheduled at a more convenient time.
According to Pandl, this type of software is better suited to equipment that is capital intensive and requires a significant investment, such as tractors, combines, irrigation pivots and sprayers. This is especially true for larger pieces of equipment that can't be easily transported to the dealer's service shop, with the aim of minimizing service technician farm calls.
"The larger pieces of equipment can be difficult to take to a shop for service, so you send a technician, which is expensive for everyone," Pandl says. "The ability of the machine to communicate its health and avoid having a technician come by fixing a repair before it becomes a failure is the ideal scenario."
From Start to Finish
Once a piece of machinery sends a request for service via this system, qualified personnel at the dealership makes the determination on how to proceed with repairs.
While the software cannot diagnose the problem, it does track the technician's time by way of a mobile app component designed to be used on a smartphone or tablet. The app tracks time for technicians against each specific work order and is closed out by the technician in the field. The app also tracks all parts used, each inspection performed and can provide details about the asset that is being serviced, which includes warranty information.
"The mobile piece is intended to replace any and all paper typically used in the field," Pandl says. "Labor time is the most important for equipment dealers because labor is where they make most of their money as service operations."
For billing, the unit is connected to the accounting system the dealership uses for the rest of its operations. The software is compatible with most popular accounting software, including QuickBooks, Sage 100 and NetSuite.
"This software is designed to manage the entire service process and pass the work orders into accounting and can be used for billing other work, equipment sales and field work, too," Pandl says.
Much of this type of software also has built-in scheduling capabilities that offer a variety of ways technicians can maximize their travel time. A key objective of this function is to give customers a smaller, more accurate window when they can expect a technician to arrive. For example, the visibility Service Pro provides may allow a dealer to offer a customer an ETA with a 15-minute window vs. several hours.
"The ultimate goal is to give the customer an estimated window, and the better the dealer is at managing the travel and the schedule, the easier that is to accomplish," Pandl says. "This system has a visual view of all the technicians relative to the customer's location. All of these things are visibly available so the scheduler or dispatcher can make a decision without having to place a lot of phone calls. Those phone calls waste a lot of time, but the system using the mobile app means the schedule can be optimized throughout the day."
App on Tap
Another way dealers are connecting directly to their farm customers for service calls is through mobile apps that help diagnose problems using the power of a mobile phone only. AgriSync is an app that connects farmers and their cadre of "advisors" for remote diagnoses of issues using live videos, images and texts to explain what's happening with machinery.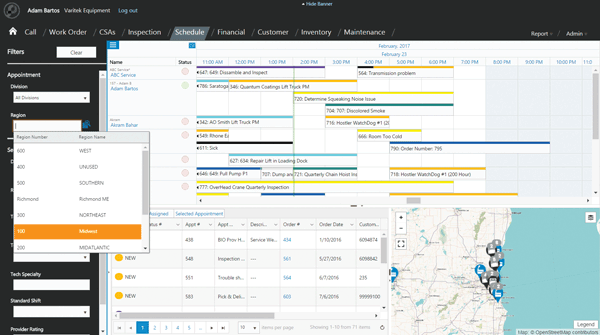 Software can help make scheduling and tracking mobile service more efficient by allowing the technician who is currently closer to a customer to make the visit vs. one farther away. Photo Courtesy of MSI
"The farmer who once had a flip phone and speed dial to call local advisors through their ag equipment dealer or co-op," says Casey Niemann, president of AgriSync. "Now they have access to all of their trusted advisors live via field optimized video on a smartphone app. This provides rapid response and live video support without the wait time and travel time."
For dealers, AgriSync allows them to track and optimize the time of their most valuable problem solvers.
Once a ticket is submitted, a technician receives a text alert describing the issue that needs resolution. When the advisor connects with the client via live chat, the advisor — in this case the technician — has control of the call and the camera, capturing images within the live call that can be automatically added to ticket details for later reference. After the conversation is complete, farmers provide feedback about the quality of service received from advisors and the advisors have the ability to mark the call as "flagged" for further attention or "billable" while receiving instant feedback about the customer service interaction.
Considering the immense amount of technology placed in and around farms and the equipment needed to successfully run them these days, Niemann believes an app like this is a must-have to run an efficient business — for dealerships and end-users alike. With so many components that can give out at any time, it simply isn't economically feasible to have service technicians make on-farm visits for every potential issue, according to Niemann, since each one costs between $400-$600 in travel and opportunity costs.
Marty Albrecht and his fellow integrated solutions specialists at PrairieLand Partners in Kansas utilize technological advances to help clients solve issues in the field themselves. Recently, PrairieLand — a John Deere dealership with 9 locations in Kansas — held a day-long precision ag clinic for its customers and introduced them to applications such as AgriSync with the hopes of encouraging them to download the apps.
"We have found during the stress of a problem out in the field, it's usually not the greatest time to get a guy to download an app," Albrecht says.
"You can even do support sessions outside of your dealership with peer advisors," Niemann says. "Internally, a new hire could be out at the farm and not be sure which button to push. This app could help with mentoring and make onboarding much faster because it's not happening in a classroom, but in real-world situations. That advisor is more competent to engage in solving real problems if they have a mentor in their pocket with their smartphones."
Keeping Service Trucks Profitable
Some business systems, such as ASPEN from Charter Software, also offer real-time visual overview of open work orders viewable upon logging into the system. The software incorporates a mobile app called AIM, or Aspen Interactive Mobility, for technicians on the road. Through this app, technicians are able to clock onto work orders, take pictures of equipment being serviced, request parts and look up repair history.
Two unique features of the system, according to Anne Salemo, president and CEO of Charter Software, are the capabilities to automatically charge higher rates for mobile jobs and to monitor inventory on service trucks in real time.
Salemo is a firm believer that mobile service trucks must pay for themselves, so dealerships are in the right to charge higher rates for these calls along with requisite fees. "This is something important people need to look at when pricing their mobile services," she says. "While you already have a service call charge, adding additional margin on parts and labor rates will generate revenues for the truck."
The amount of shrinkage involved with mobile services is one of the top concerns among service managers, according to Salemo. While loading up a service truck with appropriate parts is one way to cut down on trips back and forth to the shop, those parts also may wind up sitting unused for a long time. Costs related to this should be accounted for, Salemo says.
"While the labor often gets reported properly, parts are issued to a truck, and a tech may or may not end up consuming those parts," she says. "That's why the business system should be tracking what was issued to our mobile techs that didn't get billed."
Still Phone First
Albrecht of PrairieLand says most of the time, customers will call into either a service manager or a shop foreman and will get assigned a technician, if necessary. Occasionally, a call will come into PrairieLand's centralized Remote Support Center, which requires dispatching a technician to the field.
"Usually, these calls are operational problems with guidance and precision products and we talk them through it over the phone," Albrecht says. "If a technician is needed, we have a process to contact the service manager of the store, and they will assign a tech."
PrairieLand's integrated solutions specialists determine if a job should be performed in the field or on the customer's site based on the problem and the time of year. If a customer is running in the field and goes down, the preferred method would be to get a tech to the field. However, some jobs are more involved and require in-shop maintenance.
"Throughout the dealership, I could very easily see techs crossing paths now and then, but then also get into a gray area of responsibility and customer preference to a certain store," Albrecht says.
PrairieLand isn't relying on the app exclusively at this time, and the company uses cell phones and mobile hotspots for laptops a great deal. However, their customers continue to rely on phone exchanges to solve many issues.
"Within the Integrated Solutions team, we work hard to solve as many problems as possible over the phone," Albrecht says. "Customers understand that we can't just jump in a truck and drive out to them every time they call."