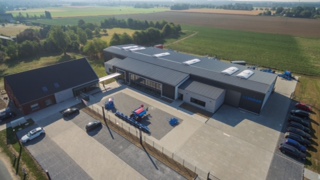 Lemken, the agricultural machinery specialist, has invested more than 5 million euro on a new training facility located 4 kilometers away from the manufacturer's headquarters in Alpen, Germany.
The AgroFarm training facility, which covers an area of 1,400 square meters, includes separate training areas for plows, stubble cultivation, sowing and crop protection product groups. The site also has access to adjacent fields to demonstrate implements directly in practical use. Together with the modern seminar rooms in the facility, some of which offer direct views of the hall through windows, up to four groups can be trained concurrently in the new facility.
All of the training units consist of three modules: Participants are trained in theoretical background knowledge first, followed by practical exercises using the implements in the hall before they are finally given ample opportunity for testing and practicing outside in the field. The program extends from training on fundamentals and innovations for sales staff and Lemken employees through to specialized training for service staff of specialist agricultural machinery dealers and after sales colleagues in more than 50 international markets.
An existing farmhouse on the 11,000 square meter site was restored to its original glory. It now houses the canteen, and the adjacent generous garden further supports a pleasant learning environment.
Lemken established AgroTraining as a separate training department in 2008 due to the company's large number and diversity of sales markets and the sophisticated technology with its numerous operating options. The team of 6 provides training to about 5,000 employees and sales partners every year.