Titan Machinery Inc. plans to build a 20,000-square-foot location that will take the last remaining space in one of the Sioux Falls Development Foundation development parks.
The new space will consolidate Titan's two Sioux Falls locations, the Case Construction dealership at 4201 N. Cliff Ave. and the New Holland agriculture dealership at 6308 W. 12th St.
"It's amazing how many customers I see at both places," store manager Matt Leighton said. "So hopefully it will give our customers a one-stop shop for both sides of the business."
The location in the development foundation's seventh development park is near 60th Street North and Marion Road. Titan bought 12 acres. It will include the company's full offering of equipment-related services, including rental, parts, service and sales.
For the latest news on dealer growth, including acquisitions, consolidations and new locations, visit our Dealers on the Move feed.

Dealers on the Move is brought to you by business management software provider Equip IQ.
Dealers on the Move
"We like the ease of access, and it's fairly close to I-90 and I-29," Leighton said. "We have customers from 150 or 200 miles away at certain times, and we also try to serve them through shipping parts."
Titan, which is based in West Fargo, N.D., owns and operates a network of full-service agricultural and construction equipment stores. It has 91 dealerships in 11 states and 19 dealerships in four European countries.
"Sioux Falls is a key growth area for Titan Machinery," said Dave McCarthy, region manager. "It's a major market for us and one where we want to put a huge commitment into the construction business. We're a company that takes this area and takes our customers very serious."
The new location will be state-of-the-art, he said, and give the growing business more space. About 35 people are expected to work there.
As the Sioux Falls area has set records for construction in recent years, the boom has fueled growth for Titan.
"We're directly linked, and Sioux Falls is an awesome market," McCarthy said. "The counties in that area seem to demonstrate great growth and potential. This is one step to demonstrate our commitment to our customer. It's a huge investment."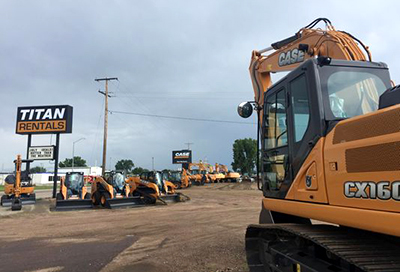 Titan Machinery will consolidate its operations at 4201 N. Cliff Ave. and 6308 W. 12th St. at a new location in northwest Sioux Falls.
Finding an industrial building to fill what Titan needed would have been "extremely tough," said Rob Fagnan, a partner with Bender Commercial Real Estate Services who represented the business.
And while he was able to find potential sites for new construction, not all of them had the needed infrastructure.
Construction is expected to start soon and by finished by next summer.
Completing the land sale in the development park, however, required some additional cooperation.
To secure enough property for Titan, the development foundation bought two acres from Spee-Dee Delivery Service, which had bought it in case of expansion. But the deal also would have left three acres in the middle of the park with no access. So Worthington Ag Parts Inc., which built its world headquarters in the park in 2011, purchased the final three acres.
"I love the area. Everything is going well," said Mike Winter, president of Worthington Ag Parts. "It's been a very good move for our organization."
The business, which is a distributor for combine and tractor parts, along with new and used farm equipment, has a 50,000-square-foot facility with 50 employees.
"I do think down the road we'll either expand our parts express warehouse facility or it may become an assembly facility for Capello corn heads," Winter said.
The development foundation started developing its seventh park in 2001. Selling all the land is "a huge accomplishment," said Dean Dziedzic, vice president of economic development.
"It validates the need for Foundation Park to be able to open up 820 acres in the northwest quadrant of the city and to have available land in our inventory," he said.