Research at Oklahoma State University on nitrogen uptake in corn has shown that almost two-thirds of the nitrogen is taken up within 7 inches of the plant, according to Ron Lloyd, director of agronomy for 360 Yield Center, Morton, Ill. In corn, he says, "We know that most corn roots are within 4-6 inches horizontally of the stalk."
With that knowledge, the industry is giving placement of crop nutrients the same level of emphasis as it has given to the rate and timing in applying these materials.
"It really doesn't matter if it's nutrients or plant protection, it's really about getting it on at the time that the plant needs it and the place that matters most. This led to the development of 360 Y-DROP, a sidedress application tool that can be used from V4-VT stage in corn — to place nutrients right at the base of the stalk. So as the N starts to move down through the soil, it has no choice but to come in contact with the massive root system that's really close to that stalk. It can now grab a lot more of it than if we were placing it farther away, like in the middle of the row," says Lloyd.
He adds that producers are using 360 Y-DROP in cotton, canola, wheat, sugar beets and other crops. "I don't want to pigeonhole it to only N, because it's really a nutrient story."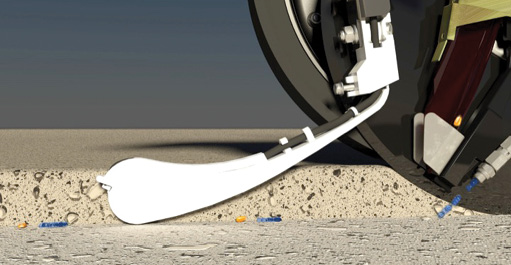 AccuShot is a planter attachment for in-furrow application of fertilizers for individual corn seed. As the seed drops a predefined dose of liquid fertlizer in placed next to it. Photo Courtesy of Great plains mfg.
In addition to the 360 Y-DROP system, 360 Yield Center has also introduced 360 UNDERCOVER, which targets fungicide, insecticide and/or nutrient applications where it's needed most — under the crop canopy. It is mounted on the Y-DROP riser, which is connected to the coulter system or sprayer, which allows the grower to apply pesticides and foliar nutrition down in the canopy with up to four nozzles for thorough plant coverage. It also provides for multiple nozzle choices, which allows for adjustments for application speed and pressure.
Stressing nutrient placement also resulted in the development of the AccuShot system by Great Plains Manufacturing. In this case, AccuShot is an in-furrow placement of nutrients (or crop protection) that is accomplished during planting.
This planter attachment provides for feeding each individual corn seed with a predefined dose of liquid starter, which is placed right next to the seed for early uptake of nutrients.
"The closer we can stay to the seed without being on it, the bigger our impact is on yield. So the setup screen, will ask you how big a machine you have, how many rows you've got. Although it compensates for speed, it will ask for an estimated speed," explains Tom Evans of Great Plains. "It will ask where you want to place the input. So if you set it at –0.5, it will actually start it a half an inch before the seed is placed. If it's +0.5, it will start the fertilizer squirt a half an inch from the seed."
"I think the fertilizer part of the business is probably 15-20% of what AccuShot's capabilities. You'll see used with trace minerals, micronutrients, growth regulators, all the things that farmers are and will be working with," says Evans.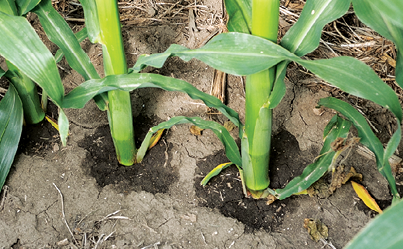 The 360 Y-DROP and 360 UNDERCOVER can apply fertilizers and pesticides simultaneously. While Y-DROP places nutrients at the base of the stalk, UNDERCOVER applies pesticides under the crop canopy (seen above). Photo Courtesy of 360 yield center
---
Special Report Table of Contents
Three years of low grain prices are forcing farmers to minimize production costs. Developments in how they apply inputs will be an important part of growers' cost cutting.
---
Few signs point to a recovery in crop prices in the near term, which is making it imperative growers find ways to hold down costs.
---
Developments in applying crop nutrients and pesticides have come fast and furious during the last decade. Many of the newest breakthroughs are aimed at 'site-specific' management of inputs, nozzles and individual nozzle control, and soil applications.
---
---
---
---
---
---
---
---
---
September Sourcebook 2016 Issue Contents
-->