---
Pictured Above: PrairieLand Partners, a 9-store dealership in Kansas, recently opened a new facility in McPherson, Kan. The facility, at 84,000 square feet plus a mezzanine floor, is nearly 35,000 square feet larger on the ground floor than the previous facility.
---
A company-wide initiative to upgrade its 9 stores is the force behind PrairieLand Partner's new facility in McPherson, Kan. The 84,000 square foot facility plus a mezzanine was designed with a "blank slate" approach, literally counting steps to build efficiencies and improve customer service.
PrairieLand Partners is Farm Equipment's 2014 Large Multi-Store Operation Dealership of the Year. The 9-store John Deere dealership was formed through the merger of Deer Trail Implement, Conrady Western and Pankratz Implement in 2008.
"Since we've merged, we've addressed facility needs across our company. Our priority is to provide facilities that take care of our customers and offer a quality place for our people to work," says Darrell Pankratz, CEO for PrairieLand Partners. He took over from Doug Neufeld, who recently retired. Previously, Pankratz was director of sales for PrairieLand and before the merger was CEO of Pankratz Implement.
Coming Together
The original store in McPherson was built in the 1960s and had 50,000 square feet on the ground floor. The store's challenges included its physical size, limitations in the service area, as well as its location. "If we expanded there, we would have ended up with a 'Band-Aid' approach. Also, we had a separate facility for storage and we wanted our team all working together," says Pankratz. "We were 'land locked' and close to a couple of neighbors, including a refinery, which restricted how much space we had. The other part of it was we had the opportunity to sell the facility. So when you combine all those factors, along with the fact that we were in a good position in retiring debts and the interest rates are low, it was just really good timing from a capital expenditure standpoint," Pankratz says.
Kelly Pitts, left, is store manager of PrairieLand Partners' new facility in McPherson, Kan. Doug Neufeld, who recently retired as CEO, was instrumental in initiating and overseeing the project. Loren Balzer, aftermarket manager, led much of the design effort.
The project also received a boost from the city of McPherson. "We were able to buy land that was right along an interstate, so it has good visibility and they were really good to us in terms of how they priced it. A big part of the new facility was the welcoming business environment the community offers," Pankratz says.
McPherson County granted PrairieLand industrial revenue bonds and up to 10 years of property tax abatement. The location offers accessibility along with visibility as the state of Kansas will soon be building an interchange off the interstate within a mile of the new store.
Setting Goals
Loren Balzer, aftermarket manager, led the design effort and interfaced with the architect, contractor and subcontractors. "The biggest thing in the design of what we did here is the flow — the productivity and efficiencies that would be generated for our employees as well as for our customers in the long run," says Balzer.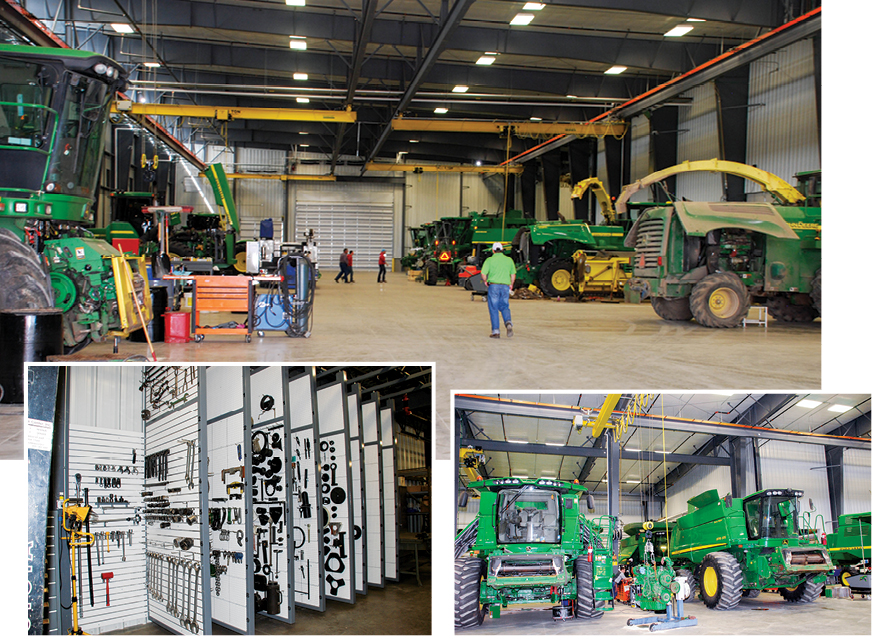 The new PrairieLand Partners facility in McPherson, Kan., has a 42,000 square foot shop with space for 24 technicians. The shop includes amenities to help technicians do their jobs better, including a room for specialty tools, an engine repair room, equipment set-up areas, two wash bays and more.
Pankratz says Balzer's experience in the aftermarket department gave him the insight to improve work and traffic flow. "He gathered a lot of input from our employees to learn how to build it, so there are fewer steps for employees to take. Now, we can handle more customers, speed up our delivery and work better as a team," Pankratz says.
The design addresses sales areas for the diverse markets that PrairieLand serves — production agriculture, small acreage farms, turf, lawn and landscape and industrial segments.
Designing the Space
The property includes 33 acres total, much larger than the previous location's 14 acres. This gave PrairieLand plenty of space to build a facility to meet current and future needs. To start the process, Balzer used a blank Excel spreadsheet — not a complicated design program — to start laying out the departments.
Adding more space to the dealership's learning centers was important to PrairieLand. In addition to a seminar-style conference room, an online training center with extra space for hands-on training was included as well.
"We didn't know for sure how many square feet would be consumed to get what we needed, so we just took a blank sheet. I'd look at things like I have 5 combine techs and 5 forage techs and 5 tractor techs and some lawn and garden techs and just kept on going like that. I knew I would need 'X' amount of square footage for parts and that's how we designed the space that was needed and the flow that was needed.
"We had to figure out with this large of a facility how our technicians could reach their service manager and quickly get the parts they needed," Balzer says.
Pankratz adds, "We came from a facility that was quite a bit smaller and now our parts delivery people are walking fewer steps than before."
Takeaways
When planning an expansion, watch how employees do their jobs to uncover ways to save them time.
Ask employees what tools and spaces they need and find ways to accommodate their requests during the expansion.
Find ways for customers to interact more easily with your team and plan for those collaboration spaces.
Expansion is about building new spaces, but also about new functionality your dealership could take on, such as for company-wide training.
Adding Functionality
The new store's entry features a 6,500 square foot retail space (up from the previous 4,000 square feet) and includes an area for displaying smaller seasonal equipment. Customers are greeted by a reception desk, with another reception area toward the back of the store. The sales, parts and service departments are visible and located around the retail area.
The parts counter increased from 4 to 6 stations, with fast-moving parts located in Stanley Vidmar cabinets right behind the counter. Behind the cabinet wall is storage for parts that are ready to be picked up and other frequently requested parts. Additional parts storage is located on the first and second floors.
The warehouse features 30-foot ceilings and two outside docks, one at a level for semi-truck deliveries and the other for pickups and smaller delivery trucks. The total parts storage with mezzanine and warehouse space is 20,000 square feet, double that of the previous facility.
"A lot of dealerships will have a separate warehouse, but Loren's integrated that into this facility. Our parts guys don't have to leave the building, so it adds a tremendous amount of efficiency," says Pankratz.
PrairieLand gained significant improvements in its shop area, including nearly doubling its size to 42,000 square feet. Currently, the facility has 22 technicians, with room to grow to 24 technicians. There is a separate shop area and entrance for lawn and garden equipment repairs.
---
Our priority has been to provide facilities to take care of our customers and a quality place for our people to work…
– Darrell Pankratz, PrairieLand Partners CEO
---
Balzer says the building's sheer size leads to efficiencies because large equipment can be staged inside for repairs, for instance, 3 combines deep on one side. This eliminates the previous hassle of having to move equipment outside when machines need to be moved inside. Tall ceilings with new cranes and the extra space makes large repairs easier, such as when engines need to be replaced.
The shop area also features a set-up area and two wash bays, each nearly four times the size of the previous facility. Other innovations include a separate engine repair room and a 4,400 square-foot tool room (a significant increase from the previous 960 square feet). Specialty tools are displayed in coded racks, so technicians can easily locate them — a design that Balzer created. The shop has in-floor heating that uses waste oil.
Balzer says he had a perpendicular design in mind, as opposed to a long vertical flow, which means managers, tools, the technical library and parts support personnel are located midway along the shop. Managers' offices have windows facing the shop as well as the store.
The facility also boosted its learning centers, adding an online training center with extra space for hands-on training as well as a seminar-style conference room. The new learning spaces will save costs and lost time if technicians can be trained at the dealership instead of traveling off-site. The facility also provides space for an initiative now being discussed regarding an intern-type training program, where new technicians study for half a day and then work in the shop.
The parts counter features 6 stations. Fast-moving parts are located in cabinets directly behind the stations. Parts that are waiting for pickup are located just behind the cabinet wall and additional parts storage is located nearby.
"This will help us develop the caliber of employees we need and they can get a faster start," says Kelly Pitts, store manager.
Several other spaces have been designed for possible future initiatives, including the McPherson store being the central location for dispatching mobile technicians.
A large break room in the mezzanine level features a full kitchen for catering events, a separate kitchen facility for employee use and windows that overlook the shop and the retail space. Administrative offices are located at the mezzanine level and other snack areas and conversation spaces are located throughout the facility.
Working with Contractors
PrairieLand worked with HASTCO Construction of Topeka, Kan. The dealership group used the design/build company on three other projects, and HASTCO has worked with Deere dealers in other states as well. Construction kicked off in February 2015 and the team began moving in on Jan. 20, 2016.
"To me, that's fast for a structure of this size. We had ideal weather conditions going through last winter and then also this past winter, so that helped a lot. I figured it would take at least a year to get the project to where we could move in and it took right about 11 months, so it was a good timeline," Balzer says.
Balzer met with HASTCO and the company's subcontractors at least weekly and more often during phases where a lot of decisions had to be made. During those times, he often talked daily as well as visited the site three or more times a week.
"In any construction project, there's the unexpected and you're going to have things that are not quite what you thought they would be. But, we had a good working relationship with our subcontractors and with our general contractor," Balzer says.
Local subcontractors supported the project. "I thought Loren and our contractor did a good job of utilizing people from our area. We cover all of south central Kansas, so we used some subcontractors from other areas, but we were able to put the money back in our communities," Pankratz says.
The new retail space is laid out to direct customers toward parts, service or the sales team. Just off the retail floor is a showroom for seasonal equipment.
Making the Move
To make the move to the new location, the old store was shut down for business at noon on Wednesday, Jan. 20. Employees moved equipment and supplies the next 3 days and the dealership was back open for business on Monday, Jan. 25.
"We have a good staff here and we challenged them before the project was finished about what it was going to take and they were ready for that challenge," Balzer says.
Employees were responsible for their own areas, with the major departments, like parts and tools, assigned to managers. "It was just the right amount of organization to say, 'Here's what you do, here's your responsibility, get it done' and they went to work," Pankratz says.
The move included many details. "We probably had over $2 million in parts — 23,000 line items of parts to move. It was a little over 6 miles from the old facility to the new facility and we had a partial ice storm during that time, but our people came through, our McPherson employees along with other PrairieLand employees," Balzer says. The location employs about 45 people and another 45 or so came to help from other locations. Large equipment was driven and smaller equipment was hauled by trailers.
PrairieLand Partners Opens New McPherson, Kan., Facility
Goals for PrairieLand Partners New Facility in McPherson, Kan.
Balzer and the team made carts on casters, so employees could more easily load parts and other items. The carts were loaded on trailers and then pushed to the right spot at the new location. The parts manager and inventory manager had bar coded parts location at the new store. "It wasn't like once the product got there they were trying to figure out which row to go down or which shelf or whatever, it was already mapped out," Balzer says.
Expanding Reach
The McPherson location offers opportunities for continued market expansion. The ag base is solid and the company supports hay and forage customers over several states. The rural lifestyle customer base is strong also. Many in the area work in several of the large companies based in McPherson and live on small acreages outside of town.
"When we started running out of room at our old facility, we started envisioning what type of dealership we need to create for all kinds of customers. We wanted everybody to have a unique experience when they came to visit us and, ultimately, do business with us. We thought of a lot of different things to make it a destination experience," says Neufeld, who was instrumental in developing the project.
Pitts says the new facility is also enhancing community relationships. "The new facility gives us a lot of new opportunities to support the community. We've already hosted the local Chamber of Commerce and an FFA group and the location will soon host a forage seminar," he says.
Pankratz didn't disclose the dollar investment of the new facility. "It's really a value investment rather than a dollar investment. We're going to be able to do more business more quickly and more effectively and attract better employees and, hopefully, get some new customers," he says.
He says the facility is proof of PrairieLand's corporate commitment. "Our mission statement is delivering the right solution, and I think that would be what we applied in this design. We're going to deliver the right solution. We're not going to go half way, so I think that we are being true to our mission statement," Pankratz says.