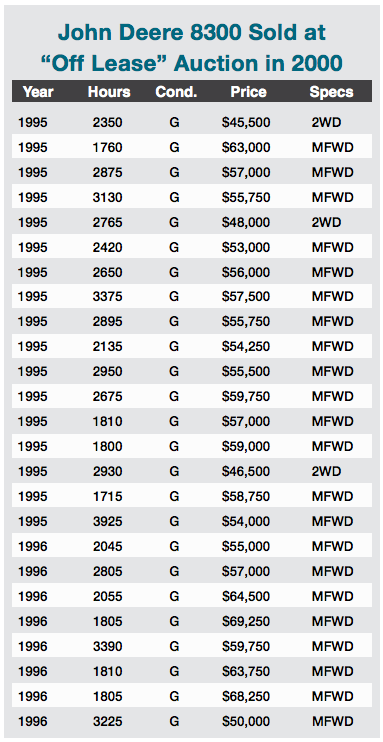 2015 is turning into "The Year of the Lease." There's been a big push by equipment manufacturers (CNH and Deere in particular) to offer attractive lease deals, and farmers have responded in big way, in great part for the safety of the warranty protection aggressive farmers have gotten used to with all the new equipment they've purchased over the past 8 years. Farmers are viewing leasing almost as insurance.

So here's my perspective: For almost 26 years, I've been standing on the side reporting on what everything sells for "hard cash" at auction. What's it worth? Put it up for sale, and we'll find out together — the buyer decides.
With all this new leasing activity here in 2015, what I'm wondering is what it all will be worth when it comes off lease and goes back to the manufacturers in a couple years? We all know the market has been dealing with a very tough, persistent problem of a large excess of large, late-model used units stuck on dealer lots.
There continues to be a shortage of "second buyers." Will this problem, this excess of large late-model used inventory, be solved by the time these new leases expire? We'll see. I'm old (turning 50 in December), and my head for numbers turns back 15 years to the last time I saw a big leasing push result in a flood of "off-lease" tractors hitting the used market. It wasn't pretty.
Check out what the very popular John Deere 8300 model tractors (200 horsepower) were selling for back then on a "dealer only — off lease auction" in northeast Iowa on Sept. 20, 2000.
So, 15 years ago, the "off lease" John Deere 8300 tractors were only a couple years old with low hours, but were only worth in the $50,000-$60,000 range. Now check out what John Deere 8300 tractors were selling for 12 years later in 2012 when they were much older.
Wow, 5 sold for over $80,000. That's real proof of the power of "buy low, sell high." Life really is all about timing.