Most industry observers agree that before ag equipment dealers and manufacturers see a significant upturn in unit sales we'll need to see two things: an increase in commodity prices and a decrease in the volume of used machinery on dealers' lots.
Unfortunately, we haven't seen a lot of progress in either of these, at least not enough to move the needle on new equipment sales.
Results of the latest Ag Equipment Intelligence Dealer Sentiments & Business Conditions Update survey, a net 33% of dealers reported used equipment inventory as too high vs. 42% in August.
The used combine inventory remains "too high," as well, with a net 25% of dealers reporting inventories above where they would like them. However, this was the most favorable level seen in 2015 and continues to be a key focus area for dealers.
The October 2015 World Agricultural Supply and Demand Estimates report, although somewhat better than the previous report, also didn't add much to the industry's confidence level.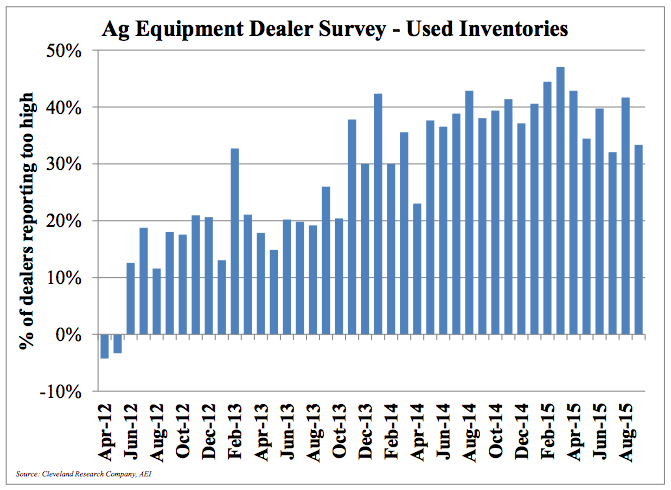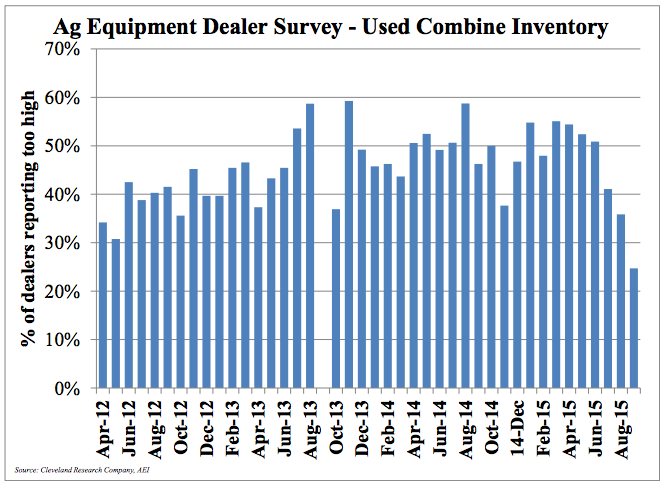 "There was a slight decrease to our 2015-16 cash receipts forecast of -6.8% year-over-year vs. the prior month's -6.4%," said C. Shon Williams, analyst with BB&T Capital Markets. "Therefore, we still remain cautious on the names in our space with exposure to agricultural machinery demand."
USDA raised the 2015-16 season price range for corn at $3.50-$4.10 vs. $3.45-$4.05 last month. It projected the 2015-16 season average price for soybeans to be $8.40-$9.90 per bushel, unchanged vs. last month's estimate and updated its pricing for wheat prices to $4.75-$5.25, compressed by $0.10 on both ends of the range when compared to last month.