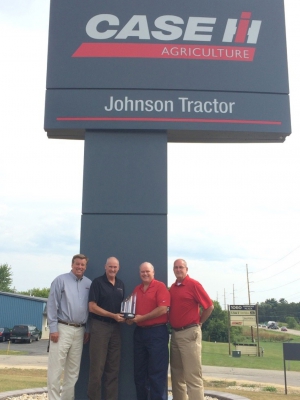 Of the 467 dealerships to complete the detailed Pinnacle assessment, Johnson Tractor Inc., dealerships were two of only 16 locations in North America to achieve the highest ranking in all categories. Photo courtesy of Johnson Tractor
RACINE, Wis. — Case IH is pleased to recognize Johnson Tractor Inc., locations in Janesville, Wis., and Rochelle, for achieving Pinnacle Excellence status in all five areas of their businesses — Sales, Marketing, Operations, Parts and Service.

The Pinnacle Excellence Program is a company-wide initiative developed cooperatively by Case IH and the Case IH Dealer Advisory Board to help dealers deliver a best-in-class experience in today's constantly changing agriculture landscape. It recognizes dealerships for achievement in the key areas identified as important to success by both dealers and Case IH.

Farm Equipment magazine recognized Johnson Tractor as the 2012 Dealership of the Year in the "Over $50 Million in Annual Revenue" category.