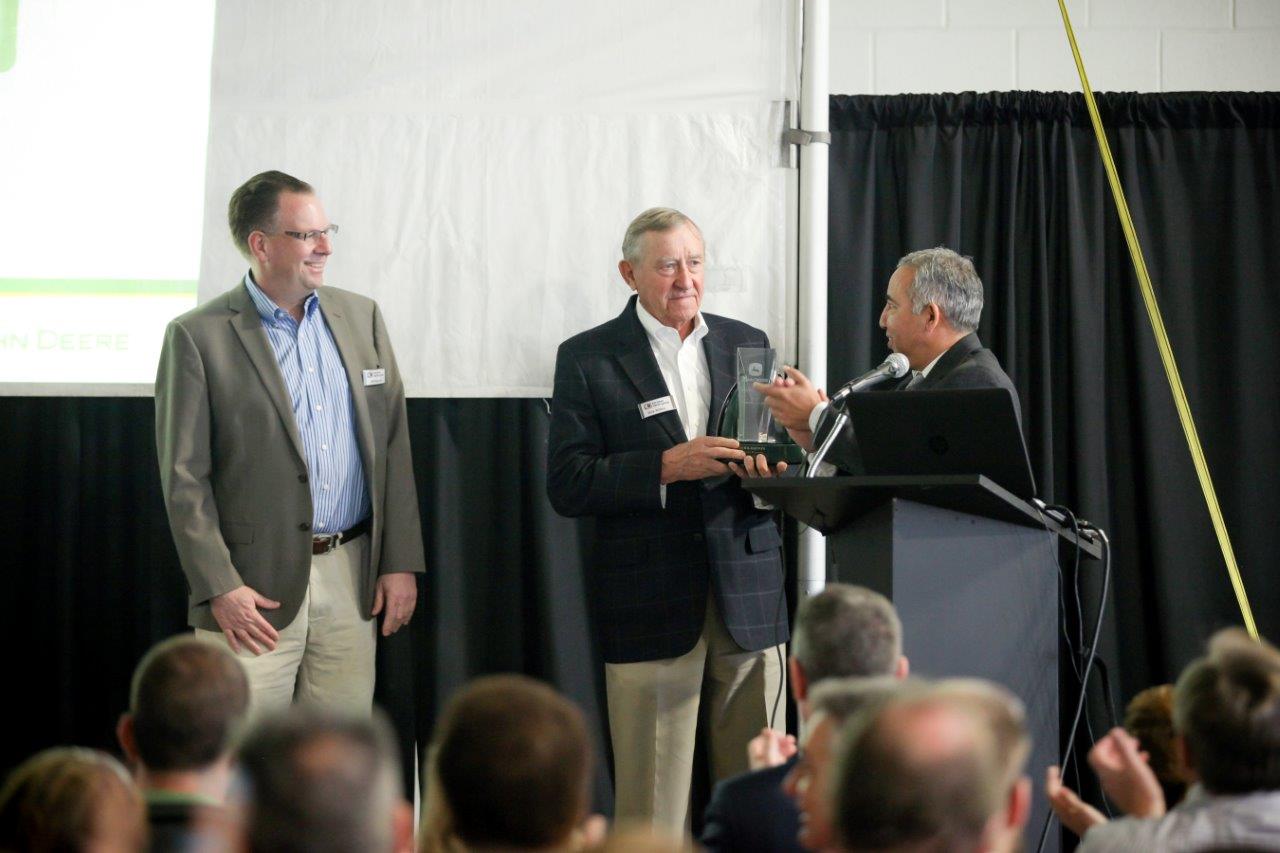 WAUKESHA, Wis. — The Fisher Barton Group was named John Deere Agriculture and Turf Division's Supplier of the Year in the John Deere Achieving Excellence program, and also earned recognition as a Partner-level supplier for 2014.  Partner-level status is Deere & Co.'s highest supplier rating. The Waukesha, Wis.-based company is honored in recognition of its dedication to providing products and service of outstanding quality as well as its commitment to continuous improvement. Fisher Barton Group President Greg Wilkey accepted the awards during formal ceremonies held at the Waterfront Convention Center in Bettendorf, Iowa on March 3, 2015.  "We are honored to receive this award from one of the world's most admired businesses, celebrating our common dedication to integrity, quality, commitment and innovation," said Wilkey.
Fisher Barton Group divisions Fisher Barton Blades, Fisher Barton Specialty Products, TST (Thermal Spray Technologies), Fisher Barton South Carolina and Lund Precision Products Ireland are direct materials suppliers to John Deere operations in North America, France and Germany.
Suppliers who participate in the Achieving Excellence program are evaluated annually in several key performance categories, including quality, cost management, delivery, technical support and wavelength, which is a measure of responsiveness. John Deere Supply Management created the program in 1991 to provide a supplier evaluation and feedback process that promotes continuous improvement.
Fisher Barton has been doing business with John Deere since 1982, when they were awarded their first John Deere Horicon blade and today is a supplier of high-wear components for John Deere Agricultural Harvesting and Turf Care equipment worldwide. Fisher Barton is recognized as an industry leader in materials and surface engineering, receiving numerous awards and rankings.
Representatives from John Deere visited Fisher Barton's Wisconsin facilities March 6, to present Fisher Barton management and employees with a banner and award to thank them for their contributions. 
To learn more about the Fisher Barton Group, visit www.fisher-barton.com.