PERRY, IA — Van Wall Equipment recently announced that it has finalized an agreement with AgriVision Equipment Group to purchase three locations – Knoxville, Indianola, and Albia.
This move is part of a longer term strategy for both companies to realign their John Deere agricultural, commercial, and consumer territories to better match and serve their other areas of responsibility.
"We are very pleased we have the opportunity to extend our location footprint in the Des Moines metropolitan area and south central Iowa," said Don Van Houweling, President and Chief Executive Officer of the Van Wall Group. "We look forward to both serving existing AgriVision Equipment customers and growing the John Deere business at all three locations."
The operational effective date of the business transition is Wednesday, September 2nd.
At that time, Van Wall Equipment will own and operate a total of 14 John Deere dealerships that are located in central Iowa. "Our focus is to be very competitive as the clear first choice for the markets we service. The addition of these three locations should also enable us to better serve our existing markets with the additional scale we can leverage," said Van Houweling.
---
You May Also Be Interested In...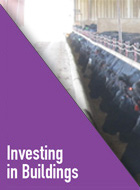 Case Study: When is Investing in a New Structure the Right Decision?
In this year's SOURCEBOOK Special Report, we went in-depth with 5 different scenarios examined in a format similar to Harvard Business Review case studies. In one case study, we explored how a consultant might approach a farmer questioning whether they should invest in a new building. 
---
About the Van Wall Group
Based in Perry, Iowa, the Van Wall Group has a proud history as a John Deere dealer dating back to 1944. At that time, the first dealership, known as Wall Implement, was opened on Main Street in Woodward, Iowa.
Since that time Van Wall Equipment has grown into one of the largest John Deere dealership groups in the country spanning five states in the Midwest. Van Wall is proud to sell and service a wide range of John Deere equipment including products specialized for agriculture, golf & turf, light construction, commercial, and lawn and garden applications. Additionally, the precision agriculture team and the wind/solar energy team deliver a breadth of complementary products and services to improve the profitability and competitiveness of the producers it serves.
The diversified dealership group also includes two additional locations that, together with its John Deere locations, provide the foundation for our Van Wall Powersports division. Van Wall Powersports provides sales and service across a wide range of brands including Polaris, Honda, Yamaha, Victory Motorcycles, and BMW Motorcycles.
As a family owned business, Van Wall Equipment supports the core values of honesty, integrity, courtesy, respect, and safety to exceed its customer's expectations while supporting the communities it serves.