When Jack VanBussel opened Huron Tractor in 1961 in Exeter, Ontario, he didn't plan to fail but he understood the importance of a backup plan. So, the original building was designed as an automobile service station. If his dream didn't turn out the way he expected, VanBussel reasoned he could always pump gas.
Huron Tractor, Exeter, Ontario, Canada

Founded: 1961 by Jack VanBussel
Common shareholders: Frank Winters, Peter Hakvoort, John Rudderham, Paul Vanoss, Henry Winters, Nick Studnicka, Cam Barton, Dave Fulton and Leon Cormier
Preferred shareholders: Darryl Speers, St. Thomas store; Brian McGregor, Mitchell store; Jeff Eby, Walkerton-Chatsworth stores; Todd Wilkie, Walkerton-Chatsworth stores; Scott Gilmore, Walkerton-Chatsworth stores; and Chris Hare, Stayner store
Customer base: Cash crops, livestock, edible beans and specialty crops, and turf and commercial worksite markets
Locations: 9 (eight agricultural and one turf)
Mainline: John Deere
Shortlines: Crary (eastern Canadian distributor), J&M, Unverferth, Landoll, MacDon, Pot-tinger, Gregoire Besson and MS Gregson
Employees: 220
2013 Revenue: $200 million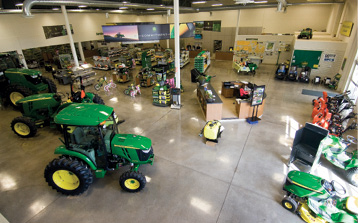 In the late 2000s, Huron Tractor built a new facility, which includes administration for all 9 stores. The 67,500-square-foot facility was modeled after Agland, a John Deere dealership in Lloydminster, Alberta. Huron Tractor and Agland are in the same Friend Management peer group.
Fortunately, there was no need to implement Plan B. Today, more than 50 years later, the John Deere dealership is on a steady path guided by the leadership of its third ownership team. With 220 employees and 9 locations in central and Western Ontario, Huron Tractor is one of John Deere's larger dealerships in Canada. It covers 25% of the market potential in the province. In addition to serving ag customers, the dealership also has a turf and commercial worksite customer base.
"Located in the Great Lakes basin, we're fortunate to have predictable moisture and consistent crops," says Cam Barton, general manager of sales. "There is a lot of diversity among our producers, from beef, dairy, poultry, traditional cash crops, edible beans to specialty vegetables. This, along with the diversity of the turf and commercial worksite markets, reduces year-to-year sales fluctuations at our stores."
With the foundation of a scalable business information system and emphasis on documented processes, multiple locations are well managed by the owner/partners at each store.
Each succession has been carefully orchestrated, using the same, meticulous approach. This blueprint for success is proven; in 2013 annual revenues topped $200 million.
"We recognize the vision of those who came before us," Barton says. "It is the culture of this company to be disciplined about investing in facilities and people with a focus on parts and service. This has been good for our customers, too. Our vision hasn't changed, and that is to remain the dealership of first choice.
At present, Huron Tractor's ownership group includes 9 common shareholders and 6 preferred shareholders. Barton says this organizational structure continues to evolve.
"The intent through transitions in the past," he explains, "has been that common shareholders are active in the business. With a larger business and the goal of maintaining the ability to capitalize on growth opportunities that may arise, this becomes more difficult."
Barton acknowledges recent agriculture industry trends where private equity groups and publicly traded companies have changed the ownership landscape of multi-store dealerships.
He says, "They provide a solution from a long-term capital standpoint that gives the manufacturers a level of comfort. The proper mix of local ownership motivates the right type of behavior at the store level to keep customers running, drive sales and responsibly manage assets."
Vision Remains the Same
Through the years, Huron Tractor's vision remains true to the original philosophy of careful controlled structure.
Studnicka says, "The foundation of this company hasn't changed since 1961, which is to look after customers through strong parts and service to maximize uptime. This foundation will not change as we move forward."
Barton adds, "Going through succession puts demands on the business, and we don't want to be in a position where we can't capitalize on an opportunity. That's part of our vision and growth. We've had very good growth since we came on board, and it's our intention to continue to grow. We're in a tougher economy today than we have experienced for the past 3 years, so we have to be more focused on what our customers need today.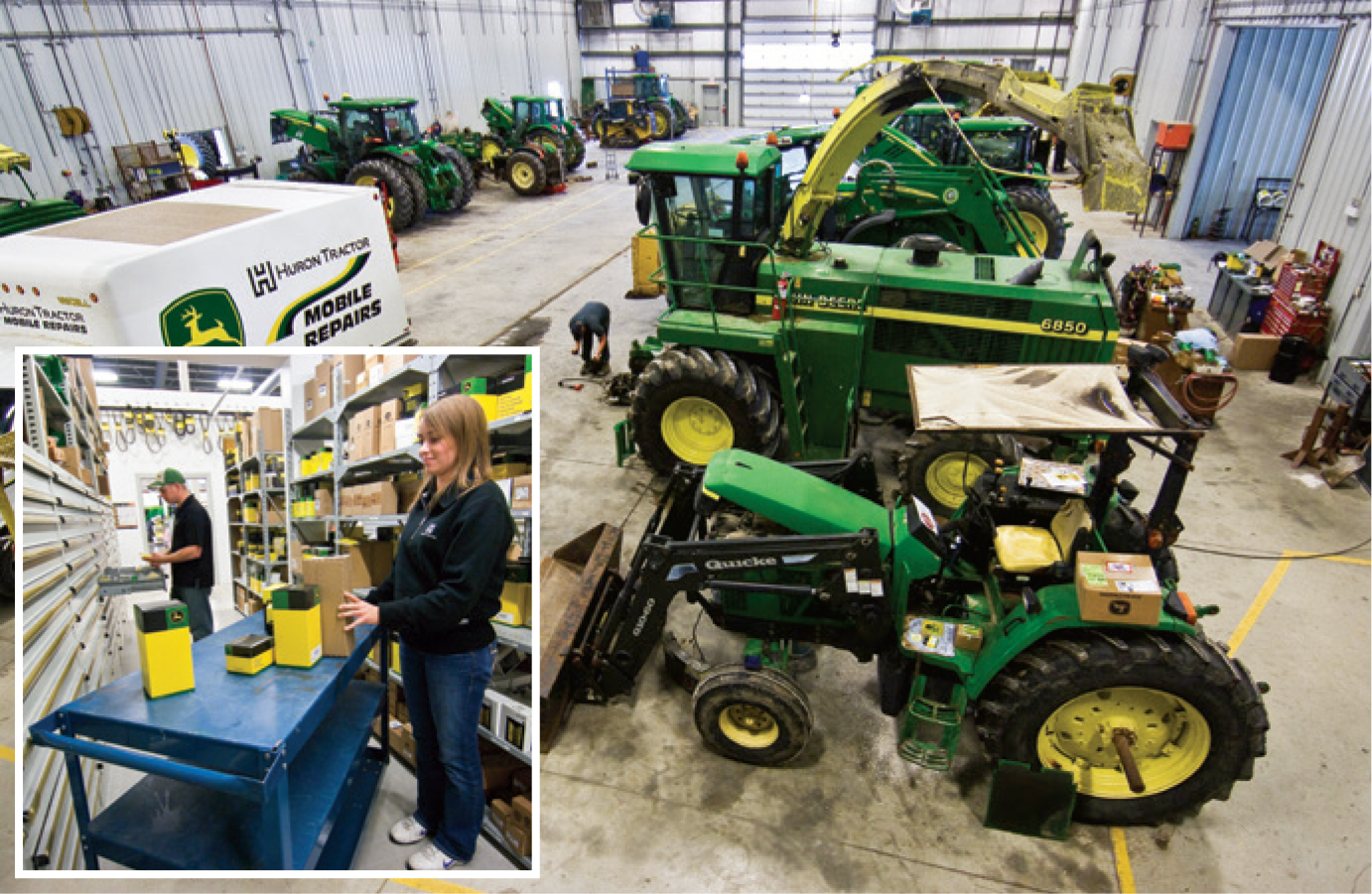 At the Huron Tractor Execter, Ontario, store, 80% of the facility is dedicated to parts and service — 50% for the service shop and 30% for the parts department. Since the dealership first opened its doors over 50 years ago, parts and service excellence have been a primary focus.
 "We can't be complacent," he continues. "We can't take for granted what we have and what's been built. Huron Tractor has a strong brand from both our manufacturer and our own company. We have to protect and defend that brand because we've got strong competitors who are doing a good job, both from a manufacturer and a dealer standpoint. There is less differentiation between products than there was 10 or 15 years ago. At the end of the day, the latest technologies are very important, but what's critical to our customers is uptime. Success in this business comes down to who keeps customers running on Saturday night and Sunday morning."
Huron Tractor is much more than a sales-driven organization. Parts and service are a pillar of the company. The practices and policies embedded in these departments were key to the vision of the company founders.
"Huron Tractor has been able to drive consistent growth mostly because of our focus on the aftermarket," Leon Cormier, general manager of product support, says. "This helps take the humps and valleys out of the sales side, and represents another unique piece of our culture. Ownership has always focused on parts and service and the processes to improve the performance of these departments."
Customer Service Drives New Facility
Since 1975, Huron Tractor's main store was a 32,000-square-foot building in Exeter. In the late 2000s, realizing they had outgrown the facility, the partners began an expansion project on an adjacent 15-acre parcel.
"We had people working at another site, and larger implements had to be assembled outdoors," Barton says. "For the volume of business we were doing, we couldn't look after our customers as well as we wanted. Senior leadership evaluated going through expansions and additions at the current site. It quickly became evident to them that starting fresh with a new building would far better serve our customers."
Huron Tractor worked with Agland, a John Deere dealer based in Lloydminster, Alberta. The dealer principal, Ken Kay, is a member of Huron Tractor's Friend Management peer group. The design of the 67,500-square-foot facility is modeled after Agland's building, a very practical and functional customer-focused layout. The new, larger building offers more efficiency in all departments, primarily with parts and service.
The Huron Tractor Story



Huron Tractor has a long and proud history. Here is a brief chronology:
1960s — In 1961, Jack VanBussel, with his family, opened the Exeter facility. As the business grew, he persuaded Harry Winters to join as a partner.
1970s — Hard work pays off, and new hands are needed to feed the expanding business. Herb Verbeek, Bruce Hasselback and Earl Long join the team. Stores in Blyth and Walkerton are opened.
1980s — The company needs a place where machinery can be stored and marketed during the long, cold winters. The Trade Barn was established. Huron Tractor also brought automation to the dealerships, and introduced sophisticated business management software. This later became PFW Systems Corp., a leading provider of management software for North American equipment dealers.
1990s — Thoughts of retirement entered the partners' minds, and early in the decade a new partnership was formed. Frank and Henry Winters, Paul Vanoss, Peter Hakvoort and John Rudderham were named to point the company toward future growth. The Thamesford location was added in 1993, and St. Thomas in 2000. Darryl Speers joined as a preferred shareholder in this store.
2000s — In 2002, the Arva store opened as a satellite lawn and grounds care dealership. In 2006, shares of Logan Equipment in Mitchell were acquired. Brian McGregor joined the ownership team as a preferred shareholder in this store. Two years later, an all-new Huron Tractor retail environment was launched in north London. Designed to John Deere retail specifications, the store provides improved support to residential, commercial and agricultural customers, in addition to a growing number of large property owners. In 2009, Huron Tractor and Northridge Tractor of Walkerton and Chatsworth merged operations. With new preferred partners Scott Gilmore, Todd Wilkie, Jeff Eby, Bradley Carmichael and Mryrna Feltis, the company acquired Dave Rawn Equipment in Stayner, Ontario. Chris Hare joined the preferred ownership team in 2014 as store manager in Stayner.
Today — In 2010, Cam Barton and Nick Studnicka joined the ownership team following 10-year careers with John Deere Canada. In 2011, Dave Fulton joined the team after 20 years as a PFW employee and partner. Last year, Leon Cormier joined the partnership group with a 15-year background in operations at a PFW forestry equipment dealership.
The previous team of 5 provides organizational leadership and support and maintains a significant equity position in the company.
"The new building is intended to keep our customers up and running with a proper number of service bays and technicians and the right parts in stock," Cormier says.
There are 70 people in the new building, which includes administration for all stores, and is responsible for payables, receivables, ordering and accounting. General Manager of Administration Dave Fulton says with the increase in the number of stores over the years, centralizing payables and receivables and other administrative processes allows for efficiencies and overall cost reduction.
He explains, "The administrative team was cross trained in all areas of our processes, from John Deere finance programs to settlements and equipment invoicing. With most of our business happening in April and October, this extra capacity allows us to seamlessly process customer transactions even during our very busy times when deadlines are strict."
There are 30 employees for service and trucking. In addition, across all stores there are 22 agriculture salespeople and 8 employees dedicated to turf and commercial markets.
At all locations, service and parts departments account for 80% of the building's space. In Exeter, 50% of the facility is used for equipment repairs, 30% is for parts inventory and the remaining 20% is for the showroom, sales, administration and training.
"Investing in proper facilities is key to providing the parts and service support our customers need," Cormier says.
Each store has mobile service units, either 4WD crane trucks for in-field service or cube vans for on-farm calls.
The new facility includes space for an integrated solutions department with a manager and staff of three. In addition to precision farming hardware, this group offers services such as training and support packages. Other services include data setup and management within a customer's software.
"Technology is certainly changing rapidly, and is impacting everything we do," General Manager of Marketing Nick Studnicka says. "Today, technology is the machine; it's not an add-on. We train our people from sales, parts and service to be as knowledgeable as possible. It's an ongoing challenge and initiative, and one of the vital areas we're working on. In fact, we're working with an outside firm on prescription-based seeding, spraying and fertilizer programs. We have completed our second year of this initiative and are pleased with the results and growth. We need to find new revenue streams for that department as the hardware becomes part of the machine."

(l to r) Cam Barton, general manager of sales; Leon Cormier, general manager of product support; Dave Fulton, general manager of administration; and Nick Studnicka, general manager of marketing, make up 4 of the 9 Huron Tractor common shareholders.
He adds, "Farming is rapidly changing with respect to technology. We strive to be valued partners with our producers to help them select and implement value-added technology into their farm operations. Technology is a great thing, but only if it is properly implemented and helps our producers make more educated, profitable decisions for their farm operations."
Huron Tractor started an ASI (Annual Service Inspection) equipment certification program in 1982. It was originally intended to even out the workflow throughout the year, but gradually became a point of differentiation for the company across all of Ontario.
"The reconditioning or certification standards are governed by the service department," Cormier says. "It is a very high level of inspection. An ASI seal differentiates the equipment when we sell it, or when the customer trades it in. It is a standard dictated by our service department, with senior technicians doing the inspections."
Huron Tractor is much more than a sales-driven organization. Parts and service are a pillar of the company. The practices and policies embedded in these departments were key to the vision of the company founders.
"Huron Tractor has been able to drive consistent growth mostly because of our focus on the aftermarket," Cormier says. "This helps take the humps and valleys out of the sales side, and represents another unique piece of our culture. Ownership has always focused on parts and service and the processes to improve the performance of these departments."
So, what does the future hold for Huron Tractor?
"Expectations and demands are changing," Barton says. "They're getting higher all the time. Our customers ask us to keep them going, and we want a focus on the customer to be ingrained into the culture of every employee."