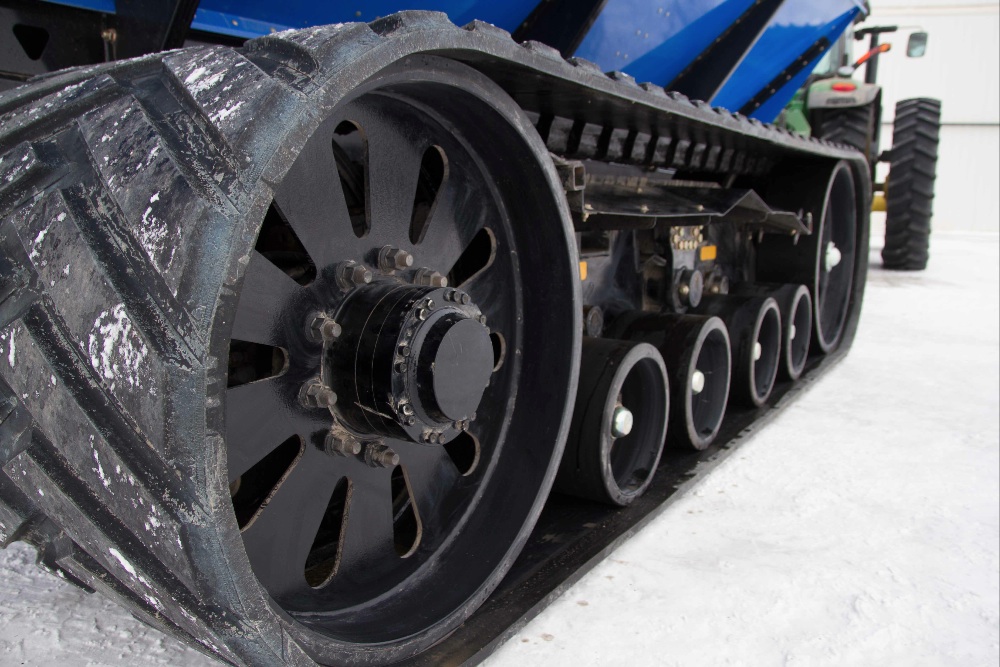 Elmer's Manufacturing, a market leader in tracked technologies and grain cart innovations has teamed up with Horsch Germany to develop the first-ever Power Tracks Hydrostatic-Powered Track System. The new Power Track System was unveiled on the Elmer's Nutri-Master Fertilizer Caddie at the 2014 Canada's Farm Progress Show in Regina, Saskatchewan this June.
Eric Braun, director of sales for Elmer's Manufacturing says, "With our truly innovative Power Track System, it is nearly impossible for a farmer to get their grain cart or fertilizer caddie stuck, even in the worst field conditions. Simply engage the Power Track system that can add up to an additional 250 horsepower in forward or reverse and crawl right out. Once the system is back to normal field speed the Power Track System will automatically disengage."
The simple electric control of the hydraulic system works automatically in either forward or reverse when set to the mode of action you desire. When activated the system matches ground speed from the tractors radar to maintain seeding or harvest control.
The amount of power applied is controlled by the operator using the dial on the screen. Hitting the boost button instantly applies 100% power to the system to get through those tough spots.
Automatic disengagement: When the system is deactivated, or ground speed exceeds 8 mph, the system seamlessly switches to freewheeling mode automatically protecting the system from any possible damage.
Power Unit: The system is powered by the electronically controlled axial pump that is capable to transmit up to 117 gallons per minute of flow and operates at 6,000 psi, far more than any tractor hydraulic system. The electronically controlled transfer case allows the operator to independently control the auger and power tracks.
Tracks: Where the muscle meets the dirt, or mud. The four rear wheels are equipped with radial piston hydraulic wheel assist motors. All together they are capable of transferring up to 250 horsepower to the tracks providing a superior tractive effort.
For further information contact Elmer's Manufacturing at (204) 324-6263 or visit elmersmfg.com.