Kory Anderson of West Fargo, N.D., president of Horsch LLC and Anderson Industries LLC, was selected as the Fargo, N.D., area ChamberChoice — Entrepreneur of the Year.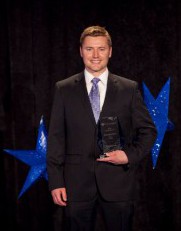 Anderson began his entrepreneurial journey in 2006, at the age of 22, when he started Anderson Industries LLC a small business in his garage in Andover, S.D., specializing in on-site welding and machining of heavy construction equipment.  After a few years he began working with Iron Foundries and learned the trade of making foundry patterns, which is the specialized tooling used to make molds for iron castings. 
In 2009, Anderson moved from his garage to a factory in Aberdeen, S.D., where he expanded into metal fabrication involving laser cutting, welding and machining. Anderson later acquired the product lines of Anderson Machine, a company founded by his father Kevin Anderson, and also took over as partner and president of Horsch LLC, a joint venture started by Anderson's father and Michael Horsch, founder and managing director of Horsch Machinen GmbH from Germany.
Nearly 800 people were in attendance at the 2014 Chamber Choice awards ceremony where Anderson stated in his acceptance speech, "The journey of entrepreneurship is really a life journey, starting with building a business with your hands, to hiring and managing people and running a business with your head, to realizing the importance of developing people to reach their full potential and leading from the heart."    
Anderson currently operates from 5 factories in North and South Dakota and manufacturers agricultural and industrial equipment sold worldwide.