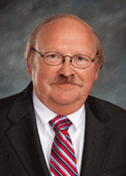 Sandy Kimball
During the 61th Annual Fall Convention, October 26-29, in St. Louis, Missouri the Farm Equipment Manufacturers Association elected Von "Sandy" Kimball, of Bigham Brothers, Inc., as the 60th President of the Association. Kimball has served on the Association's Board since 2003 and has been a member of the Association's Dealer Relations Committee since 2006.
Kimball is the President of Bigham Brothers, Inc., located in Lubbock, Texas. Bigham Brothers manufactures and markets a wide range of agricultural tillage and cultivating equipment designed to assist the farmer in gaining maximum crop production while conserving valuable resources. The company markets its products in the U.S. through its dealer network, and to other countries in cooperation with partner firms.
Kimball, along with his wife Annette, will host the Association's upcoming Spring Management Clinic in Biloxi, Mississippi, March 28-30, 2012 and the 2012 Fall Convention in Jacksonville, Florida, October 31-November 3, where his term as President will conclude.
Also during the annual Fall Convention the following were elected to serve as the 2011-2012 Executive Committee: Andrew Cummings, T.G. Schmeiser Co., Inc., 1st Vice President; Marc McConnell, Art's-Way Manufacturing Co., 2nd Vice President; Robert Atkinson, W & A Manufacturing Company, Treasurer; Mike Kloster, Worksaver Inc., Secretary; and John Malinowski, Leon's Mfg. Company Inc, as an Ex Officio member.
The Farm Equipment Manufacturers Association is an international not-for-profit trade organization representing more than 300 manufacturers of specialized farm equipment, more than 250 industry supplier companies and 35 marketing firms.
Founded in 1950, the Association is headquarted at 1000 Executive Parkway, Suite 100, St. Louis, Missouri. For more information about the Association, please visit FarmEquip.org.