There's little doubt that the Prospective Plantings and Grain Stocks reports USDA issued last week continue to support the longer-term projections for rising prices for the major ag commodities. For equipment dealers this is good news because strong commodity prices support new machinery sales.
USDA expects corn plantings to reach nearly 96 million acres in 2012, the highest since 1937, and 4% higher than 2011 acreage. Soybean acres are expected to fall slightly (down 1%) and acres planted to wheat are forecast to rise by 3% in the year ahead vs. last year.
Apparently, USDA doesn't see much changing in the next several years. According to the agency's "Agricultural Projections to 2021" report issued in February, "the long-run prices for corn, wheat and soybeans are projected to decline in the near term as global production responds to recent high prices. Nonetheless, after these near-term price declines, long-term growth in global demand for agricultural products, the continued presence of U.S. ethanol demand for corn, and EU biodiesel demand for vegetable oils are expected to keep long-term prices for corn, oilseeds and many other crops at historically high levels."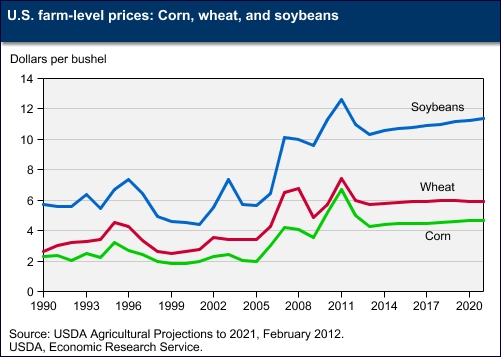 While our instincts and past experience tell us we need to plan for the eventual, inevitable decline in commodity prices and ag equipment sales — the worst-case scenario — I was wondering if anyone ever plans for the best-case scenario.
As has been reported time and again continued population gains are expected to boost food and feed demand for the next several decades. Some say we've clearly entered the new ag of agriculture.
Do you agree? I'd like to hear from you whether or not you are planning for the best-case scenario during the next decade. We pose this question in the "Industry Q&A" section in this edition of E-Watch. Take a minute or two and let us hear from you.