By now, you're aware of the Dealership Minds Summit (DMS) that's taking place this summer in Iowa City. What may be less familiar is the annual conference for farmers that commences as soon as the Summit wraps up. 
It's the National Strip-Tillage Conference (NSTC), now in its 9th year. Patterned after 30 years of successful National No-Tillage Conferences (NNTC), the NSTC features general sessions, classrooms and peer-to-peer roundtables and is the only educational event we know of devoted 100% to strip-tillage. The event is the flagship of our Strip-Till Division that was started in 2009 and now includes the national event, a quarterly print magazine, podcasts, webinars and special reports.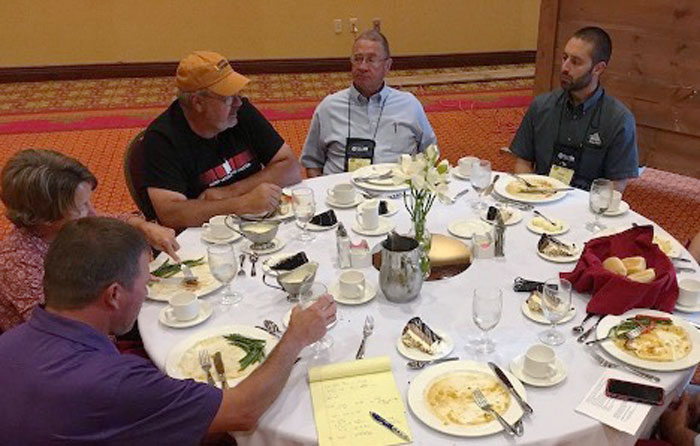 Strip-Till Farmer Focus Group. From left Nebraska's Kerry and Angela Knuth, Iowa's Jeff Reints, and South Dakota's Tim Leischner. At far right is Chad Huedepohl from NovAtel.
We routinely invite farmers to a private focus group dinner at these events. I usually take a few moments at each to inquire about their local equipment dealers and performance. And having done these regularly for close to 10 years, the feedback is always the same …
These farmers need YOUR help, and they believe there are profits to be had for dealers who make an investment in "knowing" specialized equipment like strip-till.
---
"It doesn't take much to fan a flame, but it does take a spark, and that's the NSTC … H&R Agri-Power has brought customers on 1,400-mile roundtrip for the annual conference, to learn alongside them and invest in both parties' know-how in one fell swoop…"
---
A Lesson From the Past?
Right or wrong, farmers have long expressed that understanding conservation tillage practices rarely get their due in machinery dealerships. A few notable exceptions come to mind (Binkley & Hurst in Pennsylvania is one who's made a successful business out of being no-till planter experts), but I've heard this at my first NNTC in 2004 and almost every year since. 
While no-till was resisted due to less tractor and implement requirements,  it's no secret that no-till is no longer a niche practice. When my dad put out the first No-Till Farmer in 1972 (10 years after the first commercial no-till crop was planted in Kentucky), total U.S. acreage was 3.3 million acres. Since that time, the practice had grown 33-fold in 50 years to 110 million acres. There were a lot of naysayers about the no-till practice in those early days. Some dealers jumped in early, while a lot sat on the sidelines. 
Now take strip-till. While strip-till is in its relative infancy (perhaps like no-till was in the 1970s), there's more upside for machinery dealers. Strip-till requires a more powerful tractor, and the large equipment that offers both wholesale and parts sales. Even the most protectionist of machinery dealers should be able to see gains by establishing a foothold in strip-tillage.
Farmers Largely Left to Their Own
Farmers tell us they're often left to their own devices to figure out the equipment, the unique set-ups, the differences in nutrient application, seeding depth, etc. That's precisely why we have a successful conference. While farmers generally get their questions answered, the transfer of that technological know-how back home is plodding along at a much slower pace than they'd like. They want you, their machinery dealer, to brush up on strip-tillage too. And because of our unique position of also serving dealers via Farm Equipment & Precision Farming Dealer, they're suggesting we can facilitate that synergy.
Below is a small portion of context for dealers, voiced from peers and from customers.
Dealers Speak Up
"You need to understand the agronomy of strip-till to sell the equipment. It's way more than just iron," says James Fehr, vice president at Illinois' Jenner Ag, an award-winning dealer. "If you don't understand the importance of even, young and fast emergence, you will struggle in strip-till. We target the customer who's got a farmer dad getting close to retirement, and the son taking over the operation can't afford to replace his dad," he says. "Strip-tilling in fall takes the pressure off farmers in the spring because they don't have to worry about leveling the ground. They just need to plant in spring."
Jerry Baysinger, owner of JBI Enterprises in Nebraska, paints the ROI picture for farmers and how the machine payback will arrive through less nitrogen costs and increased yields. "One thing farmers don't realize is that strip-till will help reduce fertilizer use because you're placing it so precisely," he says, noting a farmer can save a great deal by using 10-20 pounds less per acre.
Shortline dealer Gary Fennig of Fennig Equipment admits strip-till requires hand holding, especially at first. It requires some in-depth knowledge of fertilizer placement and attachments. "I'm not going to call it expertise," he says. "I'd say it's more a matter of thinking outside the box." He adds that if your dealership only cares about the mainline equipment, strip-till may not be a good fit "because you need to think more about nutrient placement, making strips, applying nutrients at various depths. That really sets the dealers involved in strip-till apart from the other dealers who just sell equipment."
Farmers Speak Up
Indiana strip-tiller Bob Kent increased corn yields by 10% per acre and trimmed his fertilizer application by 40% per acre since adopting the practice. "It doesn't take long for the equipment to pay for itself when you get that kind of return," he says. He advises dealers new to strip-till to partner with a farmer who can show and demonstrate the value.
Texas strip-tiller Steve Olson adds that even if dealers aren't strip-till equipment experts, they should understand the basics. This includes sizing a strip-till rig to match a farmer's operation, making sure row units are level and set to the desired depth and being able to sell and service GPS systems, which many strip-tillers view as a necessity.
Iowa strip-tiller Jeff Reints sees an unfilled niche for a dealership to sell and support a comprehensive strip-till equipment system. "We've seen some growth in adoption, but I think it could be accelerated if farmers didn't have to put their system together one piece at a time," he says. "They want a complete unit. An equipment dealer could fill that need and be a resource for the farmer to purchase other machinery or parts from as well."
View the National Strip-Tillage Conference Program (www.striptillconference.com)
Losing Out
Farmers say the natural tie-in to precision that strip-till brings is an opportunity for dealers. Yet some mainline dealers are allowing the independents to "own the strip-till market." 
That's good for the precision dealers, but a lost opportunity for equipment dealers to entrench themselves deeper into the farmer's operation. As an example, Nebraska strip-till farmer Kerry Knuth told me the genesis of switching from green machinery took place when Titan Machinery ended up hiring his trusted precision farming advisor.
Focus groups always reinforce what's most important to the farmer. That is, the dealer always trumps the brand. Angela Knuth, who handles precision and data for the Knuth farm, noted that while the technology must meet a minimum threshold, decisions to purchase and remain with a dealership are almost always about the dealer's service. 
While farmers are known to switch the color of their combines or tractors to whomever comes to play with the lowest cost per hour scenario, strip-till equipment could be called a boot-latch sale – if your service can back it up. In other words, if a dealer's knowledge in any given farm practice is at an "expert level" that adds unrivaled value, these farmers won't be likely to jump around. They can't afford to.
The Strip-Till Spark
It doesn't take much to fan a flame, but it does take a spark, and that's the NSTC. That's why several dealers from North Dakota, Ontario and Texas quietly attend the conference (and would just as soon prefer they get to keep enjoying the captive audience). H&R Agri-Power has brought customers on 1,400-mile roundtrip for the annual conference, to learn alongside them and invest in both parties' know-how in one fell swoop.
The farmers who I've met at the NSTC would tell you that participating at the event will go much farther with them than dropping your price or giving a few extra bucks on a trade. There's knowledge to be gained by studying, understanding and working in the trenches together. When doing so, you hear the same challenges and solutions, and retrieve that knowledge back in your equipment set-up bay and on the customer's farm. 
So if you're heading to Iowa City for the DMS, consider this invitation to check out the National Strip-Tillage Conference. Most of the leaders in strip-till equipment will also be on hand to answer your questions. 
Check it out at www.striptillconference.com and you'll see a half-dozen presentations directly applicable to the equipment business. Dealers attending both events can claim a DMS/NSTC discount by using promo code NSTC99. 
P.S. If you want to bring customers with you, or provide a personalized promo code to farmers in your area who'd like to learn more about strip-tillage, contact Dallas Ziebell at dziebell@lessitermedia.com, 262-777-2412.