Significant increases in productivity sometimes come in unexpected and obscure innovations. Case in point: Danfoss Power Solutions' new MultiAxis-Steer in use on farms across Europe.
The Danish company's technology is rooted in a software-driven electro-hydraulic valve that allows on-the-go independent control of a vehicle's front and rear axles from the cab. The result is significant improvements in maneuverability, which can save time, fuel and operator fatigue in operations requiring tight turns and repetitive motions.
The system is a 2021 winner of an AE50 award from the American Society of Agricultural and Biological Engineers for engineering innovation.
Phillip Bolton, commercial sales manager for Danfoss in Chicago, says while some manufacturers have developed their own rear-axle controls, they have had to write their own software to lock out the rear axles hydraulically or mechanically pin the axle.
"We can do all that with standardized software and third-party testing has proven we can accomplish that and still meet the tough safety standards found in the EU," he explains. The system takes cues from wheel angle and vehicle speed to provide safe and precise vehicle control in various modes of steering.
The technology is increasingly popular in Europe, with nearly all new sprayers being equipped with secondary axle steering, Bolton says.
Charged with implementing the system for equipment operating in Europe, Danfoss engineer Yvon Blot says its use on the SAME Frutteto CVT tractor with ActiveSteer has been very successful in vineyards in Italy.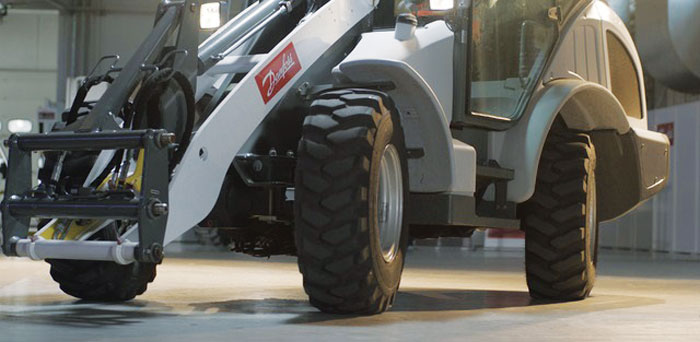 Offering all wheel steering through a system of computer-controlled electro-hydraulic valves operating on industry standard software, Danfoss Power Solutions says its Multi-Axis Steer product can boost productivity of equipment by eliminating wasted motion as operators seek to align equipment in limited spaces. The technology is in use on tractors in European vineyards and on construction and material handling equipment in the EU.
Photo Courtesy of Danfoss Power Solutions
There, grower Lorenzo Menghi has used the four-wheel-steering SAME tractor on his 600-acre operation in Rimini for nearly a year and is particularly pleased with its performance on his 250-acre vineyard. Front-mounted orchard equipment and tight headlands in the vineyard have been challenges in the past, but Menghi estimates the in-cab control of the multi-axis steering system is responsible for a 30% boost in productivity in the vineyard because of tighter radius turns and reduced operator fatigue.
Danfoss says the system enables up to 28% tighter turns over two-wheel steering systems.
Blot says the system is capable of compensating for tractor and implement tilting in irregular fields. Also, it can be used to steer with a crab angle in material handling operations to allow the operator better visibility when moving large bulky loads, or when steering down a fence line to feed livestock.
---
"Growers estimate 30% productivity improvement in vineyard operations using four-wheel steering to reduce wasted motion and operator fatigue…"
---
Bolton notes the increased maneuverability of a multi-axis steering system also can eliminate rear-wheel tracks to minimize the vehicle's footprint. The technology also allows the operator to change steering behavior on-the-go to reduces time aligning a vehicle into correct positions, which reduces fuel consumption.
Because of larger farm operations in North America, the extra maneuverability of multi-axis steering has not been a priority, but the material-handling efficiencies of the system will likely sell themselves in the future. Also, as precision farming continues to require additional mechanical agility to follow RTK signals and finer field map resolutions the Danfoss system could easily become a player on broad-acre farming operations.
Bolton says the MultiAxis-Steer system and its standardized-language control software is available and easy to integrate for any OEM. 
"This system is tested and proven and is in production, so OEMs can use our software to reduce time developing their own new products," he explains.