Something was noticeably missing the last 10 days from a summer rite of passage within our company here in Wisconsin. Normally, most of our staff would make its way home on a Friday night after a long but rewarding week on the road, and the following Monday the trucks would be emptied with our entire office high-stepping to break the previous years' time trials— in unloading and organizing backdrops, boxes, projectors and camera equipment. And most every year, a case of beer (local to our event city) would make it into the breakroom fridge for a celebratory lunch or happy hour. (Well, as long as it isn't Sculpin Pineapple IPA — which continues to be sore point and what forever relieved Darrell Bruggink from drink-procurement duty.)
So instead of calling Omaha home for the first week of August this year, the COVID-19 pandemic grounded us for our 2 national conferences we hold each year (Dealership Minds Summit for machinery dealers and the National Strip-Tillage Conference for growers.)
Cancelling the live events — especially when they were projecting near-record sponsor and attendance participation — was not an easy decision in early June, though the eventual cascading farm show and conference cancellations made it the only choice just weeks later. Our decision included a full-on commitment to both audiences that we'd pivot to a 100% Virtual Conference (delivered through computers, smartphones and tablets), even though we had no playbook or experience with the app). Had you stopped in our offices, you would've seen evidence of some sleepless nights and bloodshot eyes.
Of course, we knew we would not have the same income to work with on this new model, which like most businesses added weight to it all. Long before our plans were solidified, I knew that what would really sting was the team not getting to feel the gratitude and energy that the live event always brings. Each year, those days reminds us why and what we're here to do, and it can sustain us all year long.
But we learned something new about ourselves that I think will be written into our company lore in the same way earlier challenges were met. There's a saying of "Never waste a crisis," and I'm confident that our people didn't, because they were battled tested and came out on the other side, learning and managing all the details of a virtual conference, which conservatively was 2-3 times the effort as a live event.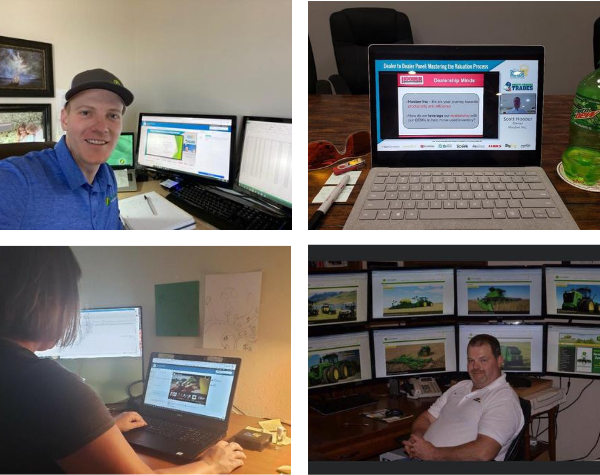 2020 Virtual Dealership Minds Summit attendees sharing their conference setups
Virtual Events Team — Summer 2020
Kim Schmidt (Dealership Minds Summit) and Jack Zemlicka (National Strip-Tillage Conference) Content Directors ... Both were credited with assembling the best lineup of practical speakers and topics to date.
Bree Greenawalt, Senior Manager of Data & Events
Joe Kuenzle, Audio & Visual Manager
Dallas Ziebell and Luke Weigel, Marketing Managers 
John Bennett, Director of Digital Media
Patrick Sharpe, Vice President of Audience Development
Michael Ellis, Director of Sales
And numerous others who joined in to assist in IT support and assisting in the live online roundtables, another first for our company.
The result? A total of 236 attendees for the Dealership Minds Summit, hailing from machinery dealerships across 33 states, 4 Canadian provinces and Australia.
Dealership Minds Summit Stats
199 App Downloads
1,335 Sessions Viewed
30,572 Minutes Watched
841 Messages Sent Between Attendees
6,701 Sponsor Impressions
Thanks to many of you who faithfully supported us and building our confidence that the spring's reliance on Zoom Meetings and other platforms had been enough to project a successful outcome. And a sincere thank you for letting us walk you through the technology and answer your questions in the days leading up to the event. We learned every bit as much as you did during that process. And thanks to our presenters too, who were willing to do their presentations and revisions nearly 2 weeks earlier than originally asked. You don't forget that kind of support.
And the last-minute phone calls to reach those we hadn't heard from to ensure no one showed up at an empty conference center in Omaha yielded a lot of insightful conversations about business conditions, some timely and needed laughs, and appreciation just days before we went live.
Did you and your team miss out on the opportunity to find clarity on used equipment? Farm equipment dealers can still access nearly 20 presentations and materials as well as access a wide arrange of content for a fraction of the price that the travel and hotel stay would have brought with a live event.
We'd be remiss if we didn't mention the Sponsor Support. While several companies walked away upon the pivot to a virtual format, each of the following supported dealers' education and learning in an event that by design, had to first and foremost be about the dealer, not the sponsor. Thank you to AgDirect, BigIron Auctions, CLAAS, Dealer Institute / Equipment Dealer Consulting, LLC., e-Emphasys, Iron Solutions, Machinery Scope | Finance Scope, PowerEQ and Yetter Farm Equipment.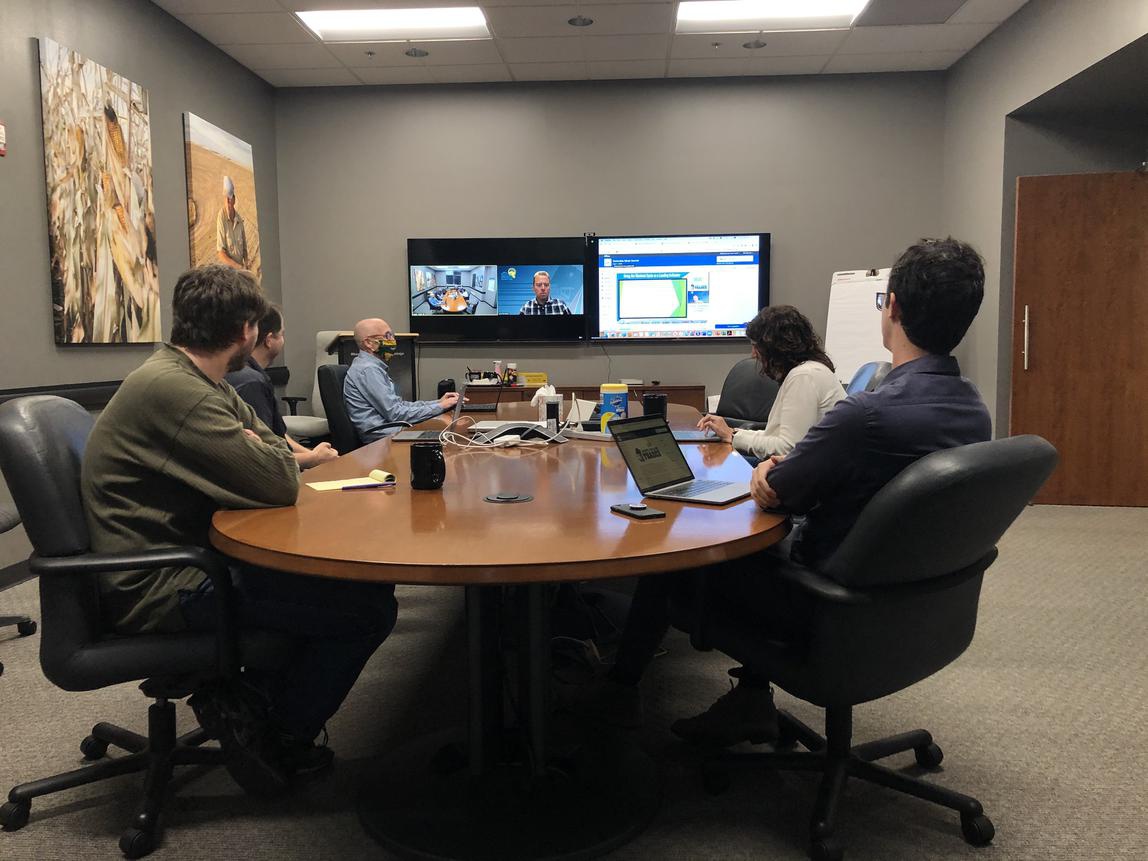 A look at the Farm Equipment/Dealership Minds Summit 'war room' on day 1
At our quarterly meeting last week, my dad, Frank, concluded by reinforcing how 2020 has changed what "business as usual" means. Like you, we are challenging ourselves not to accept COVID-19, economy or trade, or election year obstacles as something we can just wait out. Get close to the customer, innovate, stretch, and deliver. These we can control.