This will come as no surprise to John Deere dealers, but your major OEM wants you to share the risks of leasing farm and construction equipment with them.
Following the release of the company's fiscal second quarter earnings and during its quarterly conference call with analysts last Friday, Deere reported that its financial services unit net income fell by 24%. Much of the decline was "primarily due to higher losses on lease residual values, less favorable financing spreads, and a higher provision for credit losses," said Josh Jepsen, Deere's manager of investor communications during a conference call with analysts.
According to a report in the Wall Street Journal, "Deere has stepped up its leasing activity in recent quarters, with leases accounting for about a quarter of its customer-financing deals lately, compared with about 15% in the past, according to estimates by industry analysts.
"New leases also will likely cost farmers more as the company lowers residual equipment values at the end of the leases to reflect the depressed prices for used equipment.
"The focus is on how do we reduce some of that risk, primarily around the short-term portion of the business," Deere investor relations director Tony Huegel said on a call after the company reported a 28% drop in second quarter profit and cut its 2016 outlook for a second time this year."
In his presentation to analysts, Jepsen outlined some of the steps the company is taking to reduce the decline its financial services business has experienced. He said, "Recent experience have seen both the higher rate of matured lease inventory being returned to John Deere Financial in addition to higher loss rates upon the remarketing of these lease returns. We've taken a number of actions to mitigate risk on our operating lease portfolio, a few examples include lowering residual values for future leases most heavily impacting short-term leases, significantly restricting our short-term lease offerings, and increasing risk sharing with dealers."
---
You May Also Be Interested In...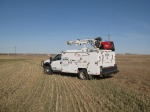 Evolving from Repair Shop
to Shortline Machinery Dealer
Ag Plus Mechanical has evolved from a one man repair shop to a sophisticated shortline dealership that carries a number of lines.
---
As one analyst explained it, a customer may be guaranteed that a vehicle is worth $50,000 when he returns it at the end of the lease, but the company can only sell it to another party for maybe $45,000.
RW Baird analyst, Mircea (Mig) Dobre, reported that Deere is asking dealers to guarantee residual value for short-term leases on used ag equipment. "Short-term leases (12 months or less) account for 15-20% of the lease portfolio but accounted for more than 60% of the impairment charges in the quarter (year-to-date, 25% of volume has been operating leases, 75% retail notes). In some cases, dealers are guaranteeing the residual value for 12-month lease on used ag equipment," he told investors.
Igor Maryasis, senior research analyst with Avondale Partners, believes these moves by Deere coupled with stable used large ag equipment pricing "are likely to diminish any further downside risk to the operating leases portfolio, in our view."
In a note, he said, Deere management is reporting that pricing for large ag machinery in the fiscal second quarter was stable year-over-year, and their inventories were down 23% from fiscal year 2014 highs. "Management noted that the company remained on-track with its original dealer inventory reduction plan for the year. Declining dealer inventories and stable new equipment pricing should provide a tailwind for used ag equipment pricing going forward, in our view," said Maryasis.
Over the past couple of years, we've devoted considerable space to the topics of farm equipment leases and used equipment pricing and inventories. And we worried some (a lot?) about the impact the growing volume of leases would have on used equipment pricing and inventories. I would like to hear from Deere dealers, (dkanicki@lessitermedia.com) and others for that matter, if they are optimistic or not about the company's newly announced approach. And does this mean we can stop worrying about it. Anonymous comments are welcome.