Bigger farm sprayers with wider booms continue to generate sales across the U.S. and European farmscape, but farmers and engineers in the nutrient and chemical application business are increasingly taking a serious look at "what comes out of the sprayer" and how best to maximize the effectiveness of that output.
At Europe's annual giant farm show, Agritechnica, in Hannover, Germany, in November, there were sprayers with three axles, 177 foot booms and 3,100 gallon product tanks. Likewise, in the U.S. 130 foot booms are available and farmers continue to look beyond pull-type sprayers to self-propelled rigs, a market metric that has tripled in the last 10 years, according to AGCO's Mark Sharitz, director of marketing for application, seeding and tillage equipment.
"Overall, we've seen the self-propelled sprayer market double since 2007," he explains, noting farms are getting larger and growers are justifying bigger sprayers to provide them flexibility in timing their applications vs. having to schedule custom operators to do the same job.
Miller's patented Spray Air technology uses "paint gun-like" nozzles spaced 10 inches apart across the boom to provide precision control and canopy-busting airflow to apply crop protectants from the top of the plant to the bottom.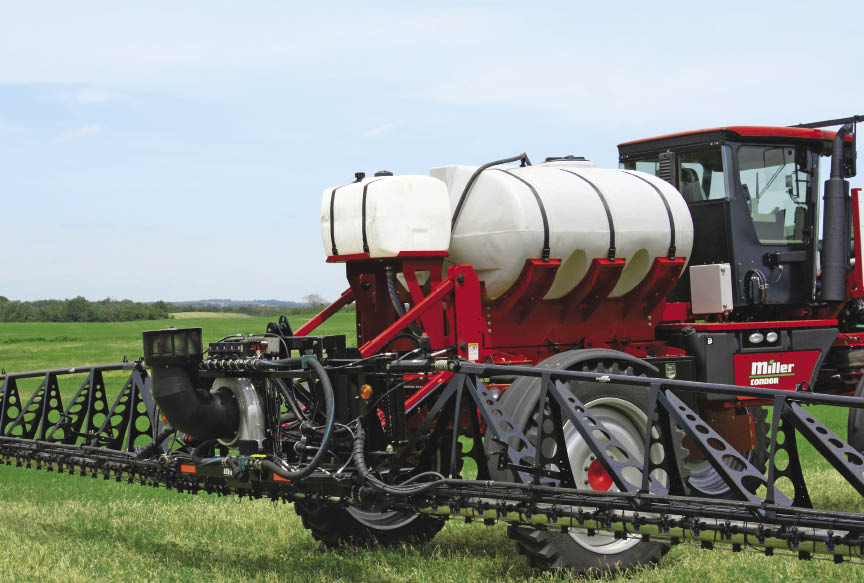 In a similar vein, I recently visited a 1,100 acre farm in northwestern Kansas where the grower and his neighbor (with a similar size operation) share a late model self-propelled sprayer, which shows even modest size farms are moving away from pull-type units.
At Bestway, marketing director Dave Benson says his company's sales history is trending to larger sprayers each year, and attributes that to operators not wanting to refill sprayer tanks as often, plus the fact many producers are using sprayers to apply liquid nitrogen.
"Growers are looking for larger units because of this dual-purpose feature," he explains, noting that has presented its own engineering challenges, as farmers also want less compaction.
"We've always used radial tires, and on our 1,600-1,800 gallon sprayers we're using an optional 18.4R46 tire with a 31 inch footprint and a machine weight of about 20 pounds per square inch."
Benson says Bestway's Fiberworks hybrid steel and fiberglass/composite boom saves another 30% in weight over other all-steel booms.
Another Bestway innovation aimed at more effective sprayer application is its AutoGlide boom height control which provides an on-the go consistent boom-to-canopy distance.
Phil Needham, of Needham Ag Technologies, says the Europeans are weight conscious also, with many sprayers sporting aluminum booms, and tracked sprayers, which he says offer significant advantages of reduced compaction and rutting, particularly in higher moisture no-till fields.
It's Not All About Size
Bigger machines offer the ability to get over more farm ground in less time, and they certainly help amortize themselves in reduced labor. But growing environmental concerns about weed resistance to popular broad-spectrum herbicides are causing manufacturers to take a closer look at the "business end" of the sprayer - the nozzle and its plumbing and controls.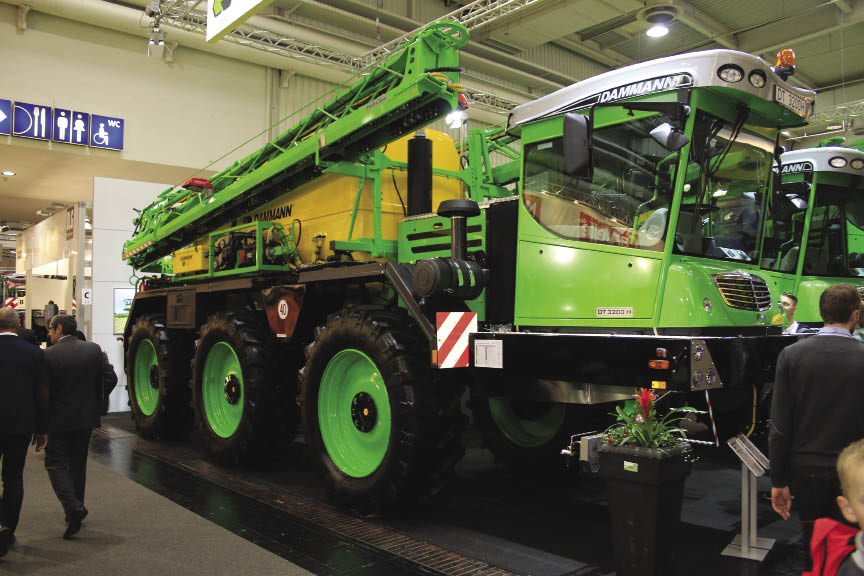 The Dammann-Technik DT3200H sprayer from Germany sports three heavy axles, a 3,100 gallon tank and a 138 foot boom. Other European sprayers are equipped with up to 177 foot booms.
Spot spraying resistant weed areas in farm fields has become a fact of life across the Southeast U.S., and if similar resistance patterns creep farther into the Corn Belt, it will become an American agricultural byword in short order.
At Trimble, Market Manager Micah Eidem, says weed resistance is driving a concerted effort in the industry to "tweak" existing machinery. "We don't see a doubling of sizes in sprayers over the next 10 years as we've seen in the past, but we do see increased emphasis on optimizing the machinery we have through improved precision controls.
"With the 130 foot booms, it's so much more important now to keep track of everything, and to manage ever-decreasing section sizes on those booms. In fact, the reality is as an industry we're heading for individual nozzle control with technologies like WeedSeeker and chemical injection," he explains.
WeedSeeker uses Normalized Difference Vegetation Index (NDVI) and near infrared to "read" a 6 inch window on the ground from the boom to turn nozzles on and off when it senses weeds. It reads in real time and operates on an individual nozzle basis.
The problems that have arisen with the need for such rapid "on and off" cycles is not with the electronics, after all, common rail diesel engine technology allows for multiple injections per combustion cycle. The problems come when a hydraulic system has to meet the needs of a 130 foot boom with scores of nozzles turning on and off at a rapid rate.
That's where engineering like Hardi USA's year-old Dynamic Fluid 4 system comes in.
Brad Frazier, Hardi's national sales manager says Hardi's new system - featuring a centrifugal hydraulic pump -- shortens sprayer response time to keep up with modern electronics and provide a more precise application.
"On our self-propelled sprayers this system can achieve 15-30-gallon per minute rate changes in 1.5 seconds, while the on-rate processor analyzes spraying data 20 times per second to provide pre-emptive rate control with pinpoint accuracy," says Frazier.
Precision Nozzle Systems
Other engineering aimed at improving the precision of timely "on and off" spraying comes from TeeJet with its Rapid Stop system built into nozzle bodies. Rapid Stop forces air out of the nozzle system, eliminating compressed air behind the liquid. When used with the company's Flow Back technology, growers can see a significant improvement in individual nozzle timing performance.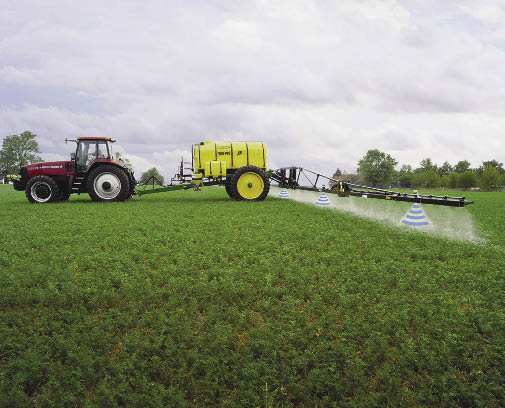 AutoGlide boom height control is another innovation manufacturers are using to add consistency to the application process.
Tim Stuenkel, TeeJet's marketing communication manager, says monitoring droplet size with in-cab monitors such as his firm's Sentry 6120 is another area growers can improve their efficiency. "When matched with the Sentry 6140 tip flow monitor, the operator can catch malfunctioning tips quickly in the field. The 6140 uses a small turbine style flow meter in each nozzle body to measure flow and look for 'outliers' along the boom. Each nozzle is equipped with an LED so locating a malfunctioning nozzle from the ground is much easier," he explains.
Tim Criddle, marketing director for Miller SP sprayers, says Miller's patented Spray Air Technology is poised to offer increased precision in the chemical application field by mounting nozzles every 10 inches on an air tube across the width of the boom. "This works like a paint gun, where the air does the atomizing of the liquid instead of a flat-fan nozzle," he says.
"We own this technology and have installed it on the Condor rear boom mechanical drive sprayers, and plan to put it on our Nitro models in the spring of 2014.
"Spray Air gives the operator immediate control of droplet size with the twist of a knob in the cab," he says. "Then, that droplet is driven deep into the canopy of the plant from top to bottom with air traveling over 100 mph out of the nozzle. This can be particularly important when you are wanting complete coverage for disease control or weed resistance applications."
Criddle says Miller also has been taking a much closer look at chemical injection technology. He says chemical injection will allow an operator to carry water in the primary tank and mix only what chemicals are needed, when they are needed.
"This can be a big positive if you consider carrying around 1,200-1,600 gallons of 'hot mix' and it rains. Injection won't leave a full tank of spray solution to settle out overnight. It may lend itself to spot spraying mixes on demand in problem areas of the field, without having a primary tank full of tank-mix combinations.
"It's safer and much more economical," he explains.